Whilst Essaouira is far more relaxed than Marrakesh and provides a soft landing for a first time travel experience to the African continent, if you have flown in directly from Europe the differing sites, sounds and smells still hit immediately and may be unsettling initially.
But any worries about visiting Essaouira for a first time can be dissipated with some local knowledge before your arrival.
You may also want to download our Essaouira ebook travel guide (updated for 2023) for offline reading on the go.
---
Explore Essaouira ebook
Updated for 2023, the Explore Essaouira ebook is the only travel guide you need for exploring Essaouira. It is jam packed with inspiration on what to do, where to eat, where to stay, and also includes a step-by-step self-guided walking tour (with photos).
This is a PDF download for use offline and on the go (and ad-free!). Save it to read on the plane to Morocco, download to your phone to follow the self-guided walking tour around the medina, or print it off at home before you leave on your adventures and highlight all the bits you want to remember for your visit.
---
Where is Essaouira?
Essaouira is situated on the western Atlantic coast of Morocco, in the region of Meṛṛakec-Asfi. It's a three hour drive west of Marrakesh, a 4.5 hour drive south of Casablanca, and a 3 hour drive north of Agadir.
What time zone is Morocco?
Morocco is one hour ahead of GMT, but they do not observe daylight saving hours. This means that during British Summer Time (when clocks go forward one hour), the time is actually the same in Morocco as they don't move their clocks forward.
However during Ramadan the clocks go back an hour in Morocco.
Is Essaouira worth visiting?
READ: 10 reasons to visit Essaouira
Absolutely! Otherwise we would never have set up this travel blog. Essaouira is such a beautifully vibrant town, with a fascinating fusion of its maze-like medina, bustling fishing port, and windswept beach.
Plus there are so many things to do in Essaouira; from surf lessons to Moroccan cooking lessons, camel riding to quad biking. But equally, this is the place to wind down and relax, spending your days browsing the medina with tea stops and long sunset strolls along the beach.
And the sunsets in Essaouira… WOW! You can expect to see some pretty amazing sunsets over the Atlantic Ocean.
For those have more time to spend in Essaouira and are looking to venture deeper into the countryside or along along the Atlantic coastline, then check out our guide to the best day trips from Essaouira, which includes Safi, Taghazout, and even Marrakech.
How long should I stay in Essaouira?
Essaouira really is one of those places where travellers stop for a night or two, and then end up staying a month or longer (guilty as charged!) It's the best base in Morocco for digital nomads who are looking to slow down their travels.
So many people only visit Essaouira as a day trip from Marrakech or Agadir. But really, you should allow at least a week to settled into the laid back vibe of this port town.
However, if you are short on time and only have a day or two, then follow our detailed itineraries for: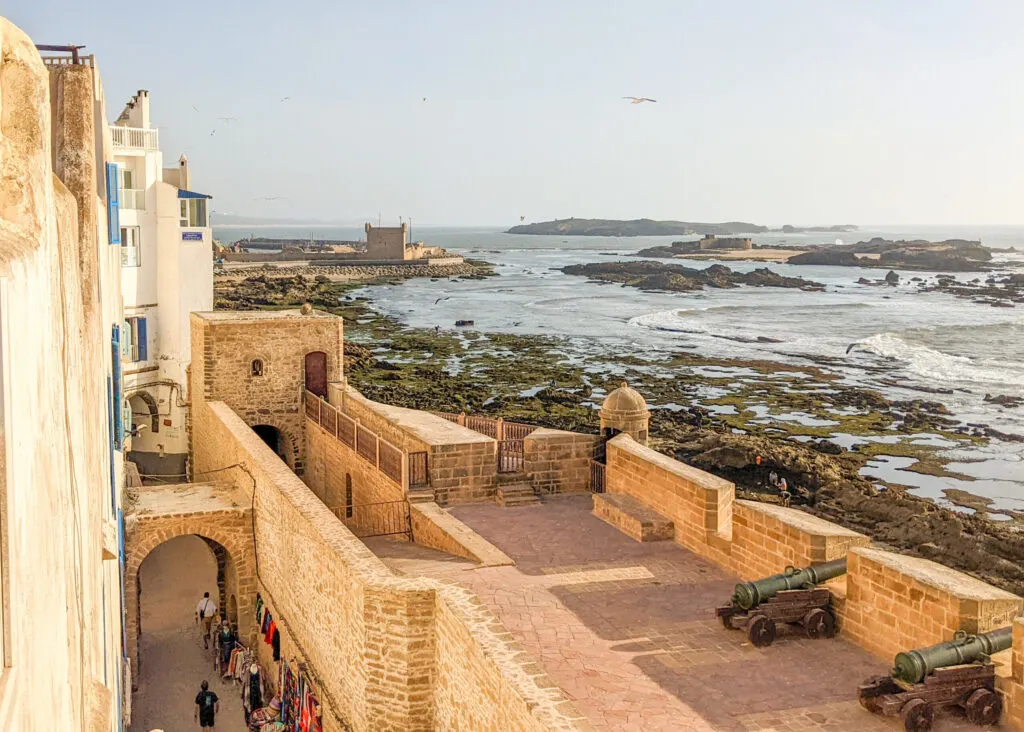 Do you only have one day to spend in Essaouira? Here we provide a comprehensive one day Essaouira itinerary for you to follow so that you can get the most out of your visit.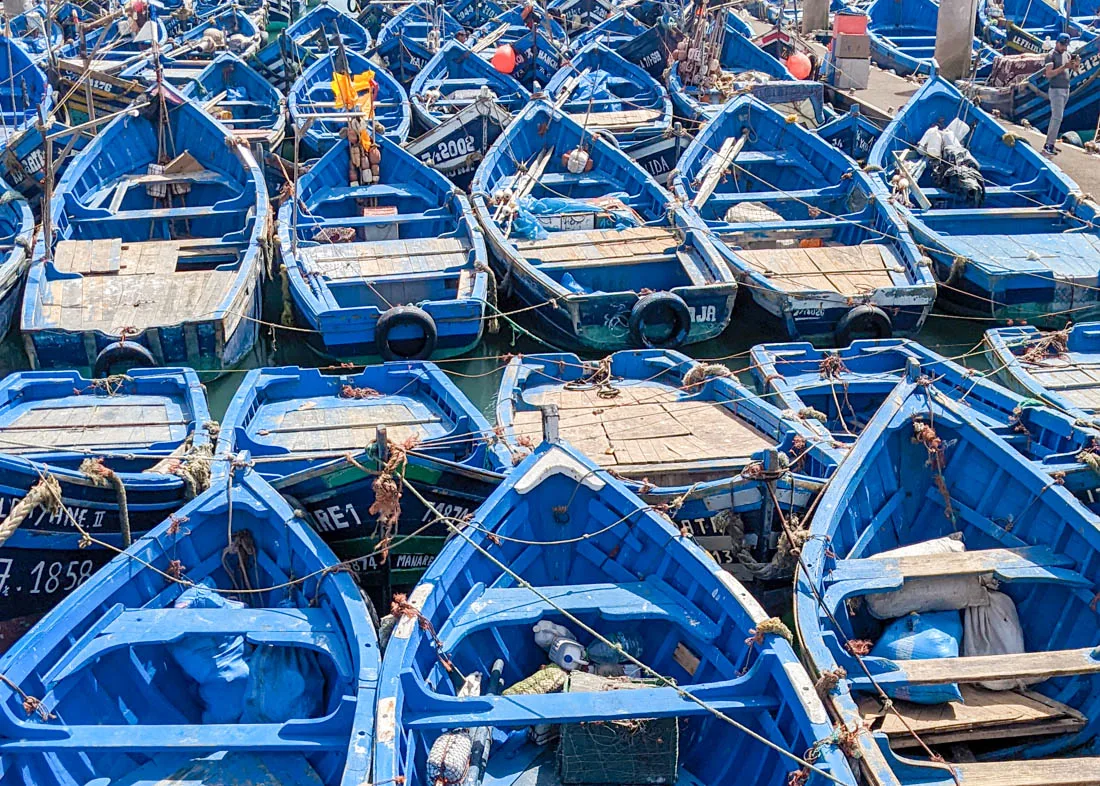 Two days are a typical length of time in Essaouira for those travelling around Morocco for their holiday. Here we provide a comprehensive itinerary for your two days in Essaouira, and provide inspiration for any extra days you may have up your sleeve.
If you're looking for a place to relax after a Moroccan road trip, Essaouira is the place to come, and we suggest checking out these top recommended hotels in Essaouira.
Is Essaouira safe?
Yes, Essaouira feels very safe to visit. Whether you're a solo female traveller, young family, or retired couple, the relaxed and friendly vibe of locals makes it very safe. Indeed, it's much more relaxed in Essaouira than in Marrakech, where touts and stall sellers have a reputation of being rather pushy.
Like any tourist town, beware of pickpocketing, especially around the bus station.
However, the vast majority of travellers to Essaouira experience no problems with crime or violence at all. And if you're visiting Essaouira with kids, Essaouira's medina feels much safer than that of Marrakech as it's closed to vehicles and so there are no mopeds whizzing by.
When is best time to visit Essaouira?
READ OUR GUIDE: When is the best time to visit Essaouira?
Being on the Atlantic coast, Essaouira doesn't experience the extreme temperatures of other Moroccan tourist destinations, and with an average of 300 days of sunshine, it's generally a great year-round destination.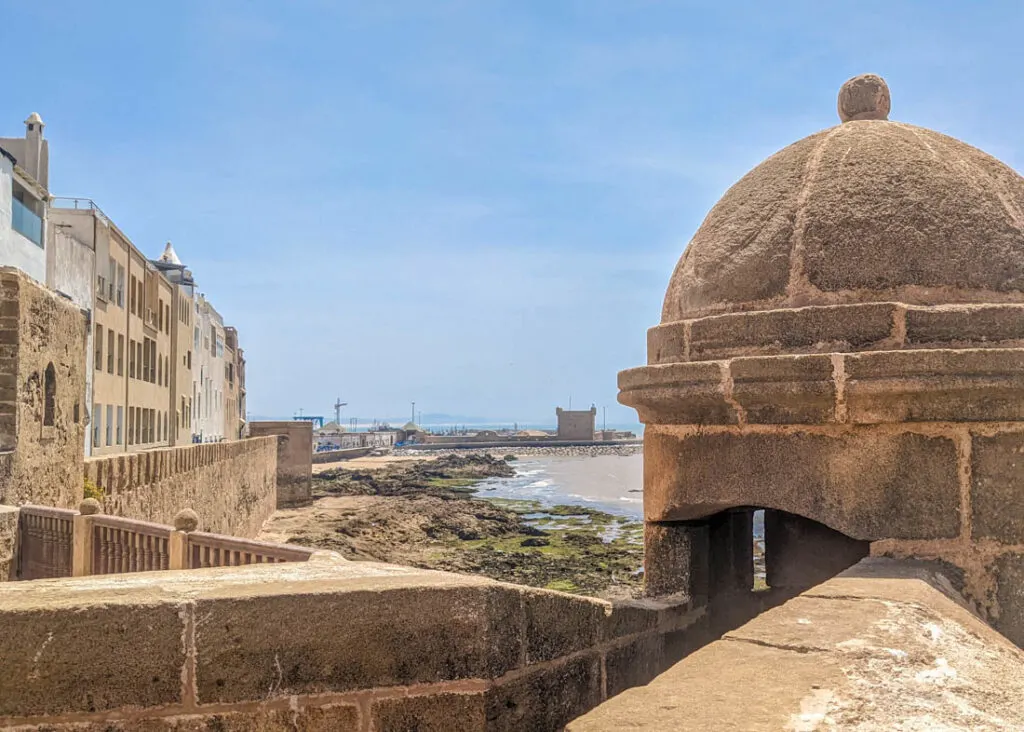 January is the coolest month with an average temperature of 18°C (perfect for some winter sun!), and in the summer months of July and August, the average temperature is 25°C. However, in the medina it may feel warmer than this, and on the beach, a little cooler.
However, the wind can make all the difference to how warm (or cold) it may feel in Essaouira, especially on the exposed beach. Indeed, Essaouira has been coined the "Windy City of Africa"; that Atlantic breeze sure blows off the cobwebs. But this is also why beaches around Essaouira are popular with surfers (in particular kite-surfers). This wind drops considerably in September and even more so in October.
Essaouira does experience some cloudy and drizzly days. Indeed it even rains sometimes in Essaouira, although heavy rain is very rare. Drizzly days are more commonly between December and February, but even still, only a couple of rainy days per month are expected. Generally you can expect the sun to be shining for your visit to Essaouira, even if you're just visiting Essaouira for a day or two.
So if you are in need of warmth and sunshine and want to avoid the high season crowds, the best time to visit Essaouira are the shoulder season months between April and June, and between September and October. And if you want to avoid the wind as much as possible, September and October are the best months to visit Essaouira. March and April also coincides with Ramadan in 2023.
Is is a good idea to visit Essaouira during Ramadan?
READ: Visiting Essaouira during Ramadan
The Holy Month of Ramadan is a time of great religious significance for Muslims, and involves fasting from dusk until dawn (this means no food or drink, including water). The majority of businesses close during this time, and for non-Muslim visitors to Essaouira, Ramadan perhaps doesn't seem like an ideal time to visit and enjoy all the things to do in Essaouira.
But if you want to experience something very special, that only happens once a year, then it's a wonderful time to visit, and the town is open to tourists. Many restaurants and shops are closed, but there are still enough open. The added bonus is that Essaouira is very quiet for exploring, especially during the day, and accommodation prices are slightly cheaper.
Visiting Essaouria (or anywhere in Morocco) during Ramadan requires a fair bit of preparation with stocking up on food when shops are open. Self-catering accommodation is a good idea so that you're not tied to eating in the same places every day, due to lack of choice.
For 2024, Ramadan in Morocco will begin in the evening of Monday 11th March and will continue for 30 days until Tuesday, 9th of April, although the exact dates are subject to change.
How to get to Essaouira
READ: How to get to Essaouira
USEFUL GUIDES:
Essaouira airport guide
How to get from Marrakech to Essaouira
Marrakech to Essaouira bus
Essaouira to Casablanca bus
While most tourists enter Morocco via Marrakech, Agadir, or even Casablanca, there are also direct flights from European cities to Essaouira.
These include:
Paris Orly to Essaouira (4 flights per week with Transavia France)
London Stansted to Essaouira (2 flights per week with Ryanair)
Brussels South Charleroi to Essaouira (2 flights per week with Ryanair)
Marseille Provence to Essaouira (2 flights per week with Ryanair)
New flights are being added all the time. Flights from Madrid and Gran Canaria have started in 2023.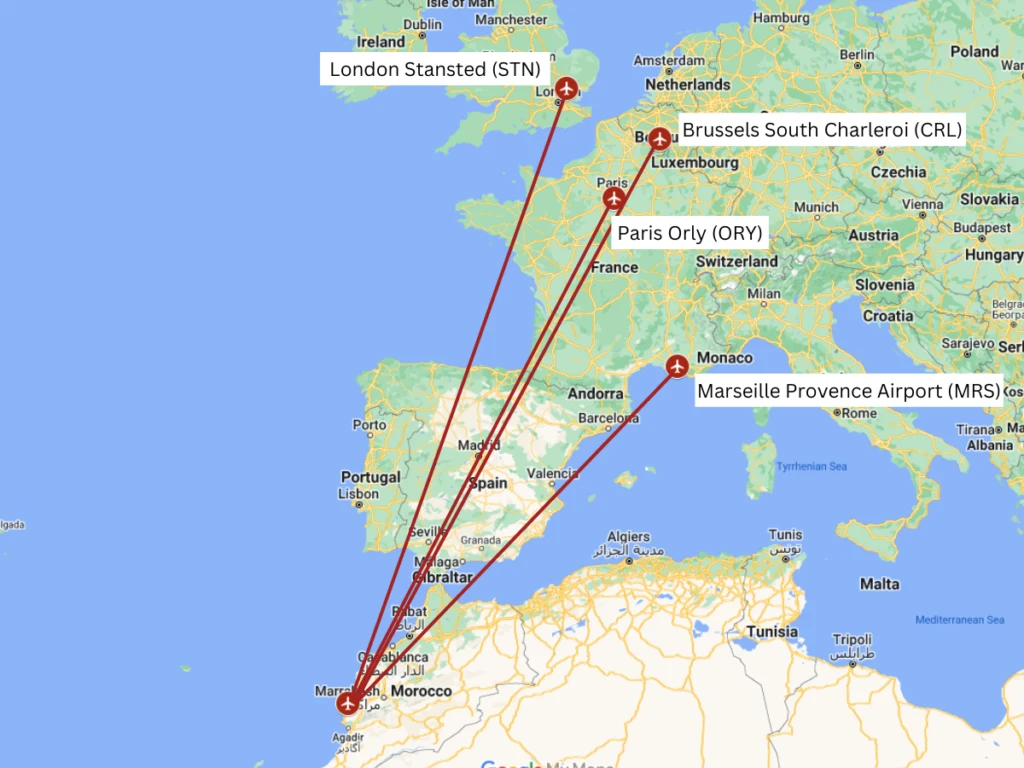 However most commonly, visitors to Essaouira travel from Marrakech as this is he main tourist hub.
To travel from Marrakech to Essaouira you can either hire a private transfer (your accommodation host will be able to help you with this), grand taxi, or travel by bus (which is the cheapest option, especially for single or couple travellers). If you are visiting Essaouira with kids, you may find that a private transfer is easier and more cost effective for a family. Click here for further information on getting from Marrakech to Essaouira.
Alternatively, if you are coming to or from Casablanca, check out our guide for the Essaouira to Casablanca bus.
Click here to read our full guide on how to get to Essaouira.
How to get around Essaouira
READ OUR GUIDE: Best way to get around Essaouira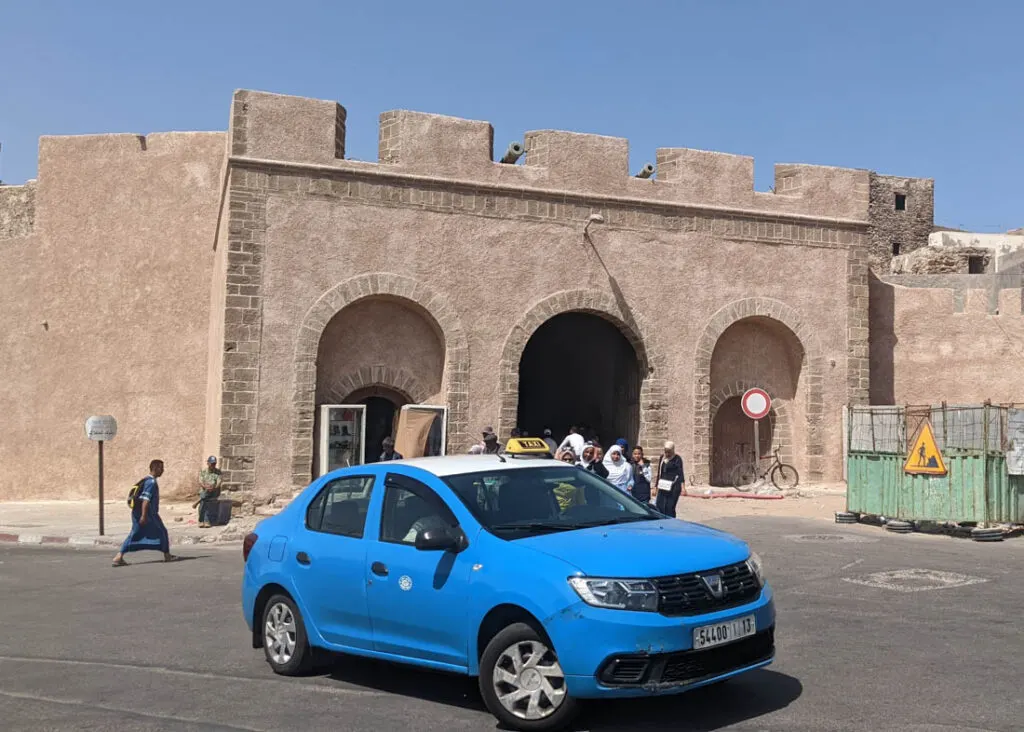 Being a small town, Essaouira is easy enough to get around by foot; the Medina is small enough to walk from one end to the other, and the 2km promenade walk along the beach is really lovely.
However, if legs are feeling tired or perhaps you need to head to the Carrefour supermarket, it's easy enough getting around Essaouira (outside the Medina) via taxi. These are the blue taxis you will see all over Essaouira.
It's a flat fee of 7DH (8DH at night) around Essaouira. The only slight problem for families or groups of 4+ is that these taxis are limited to only three people, and drivers are very strict on this. So if you are a group of 4 or more, you will need to split up across taxis.
It's easy enough to flag a taxi down, and there's generally a queue of them just outside Bab Sbaa (click here for Google Maps location).
What type of electric plugs are used in Essaouira?
As with all of Morocco, the plug with two round pins (Type C) is common. Also know as a Europlug, this is the type of plug that is most common in Europe.
If you are travelling from the UK with electrical items that use UK plugs, you will need to bring a travel adaptor with you. We recommend this one.
What language do they speak in Essaouira?
Arabic is the official language of Morocco. Nevertheless, due to its history and close ties with France, many Moroccans speak French. And particularly in Essaouira, French is widely spoken. However, as Essaouira is a very cosmopolitan town, so you will also hear a variety of European languages spoken throughout the town.
You can get by on English alone, but you will be better understood in French. However, to show respect, we recommend you learn a few Arabic words to use during your visit.
| | | |
| --- | --- | --- |
| hello | ssalamū 'lekum | مرحبا |
| goodbye | mae alsalama | مع السلامة |
| thank you | shokran | شكرا |
| It's okay | Mashi moshkil | ماشي مشكل |
| sorry | asf | آسف |
| excuse me | aiedhirni | اعذرني |
To get a good idea of the Arabic pronunciation, you can type these words into Google Translate.
Alternatively, you could watch some Arabic language YouTube videos before your visit. This one from Learn With Safaa is a good starting point.
What to do about money in Essaouira
The Moroccan currency is the dirham (MAD), which is divided into 100 centimes. Notes are in denominations of MAD20, MAD50, MAD100, and MAD200.
Whilst some larger hotels and restaurants take cards, for shopping in Essaouira medina and smaller, local restaurants and cafes, you will need cash.
Try and break your big notes up whenever you can and try and save small change. Shop owners and waiters often have to run off for some time to find the correct change, or otherwise they just don't have any.
The dirham is a restricted currency, meaning that you can't take it out of the country and it's not available abroad. This means that you can only purchase it once you arrive in Morocco. So as soon as you arrive to the country, head straight to an ATM. You will find an ATM at both Marrakesh Airport and Essaouira Airport. On the rare chance you can't find an ATM, bring cash with you to change and a Bureau de Change (US$ are always best for exchanging money).
There are plenty of ATMS in the square between the Medina and Port, around Place Moulay Hassan. Click here for the Google Map point.
Current exchange rates
Check xe.com for current exchange rates. But as a guide, the current exchange rates are (April 2023):
100 MAD = £7.95
100 MAD = €8.92
100 MAD = US$9.87
Is tipping expected in Essaouira?
Yes, tipping is an integral park of Moroccan life and a tip is always expected (this is another reason to store up your small change whenever your can). A 10% tip at restaurants is a good guideline.
Is bartering expected in Essaouira?
READ OUR GUIDE: Shopping in Essaouira
Hand-crafted rugs, quirky metalwork ornaments, hand-carved woodwork, soaps and spices, vibrant artwork, stunning ceramics, and lots more… there are so many cool things to buy in Essaouira! No traveller is able to visit without taking at least something home.
And whilst there are a few items that have fixed prices, bartering / haggling / bargaining is very much expected whilst shopping in Essaouira, indeed it is a fundamental part of Moroccan life and culture.
Our top tips for haggling in Morocco are:
Ask around in different shops first to get an idea of prices
Keep a poker face and never appear too eager
Never accept the first price you are give, as it's often three times the amount it should be
Buying in bulk brings the price down
Always keep it friendly and smile
If you're not reaching an agreed price, keep it pleasant, say Shokhran, and walk away
Never say that you'll come back another time unless you really mean it
Keep a cool head with numbers, and know your currency exchange.
Don't rush, take your time. Don't feel bad about leaving and saying you'll come back another time (in fact this is a sure way to get them to lower the price).
Check your change
Be fair. The idea is to get to a price that both the seller and the buyer thinks is good. It's not a competition to see how cheap you can get an item. This is a family business and if you can afford to travel to Morocco, it's probably the case that you have a larger disposable income than the seller.
Haggling isn't for everybody, but it can be fun, and it's also a great way to get to know local people and build relationships. The main thing is to keep a cool head, and keep it friendly.
What to wear in Essaouira
READ OUR GUIDE: What to wear in Essaouira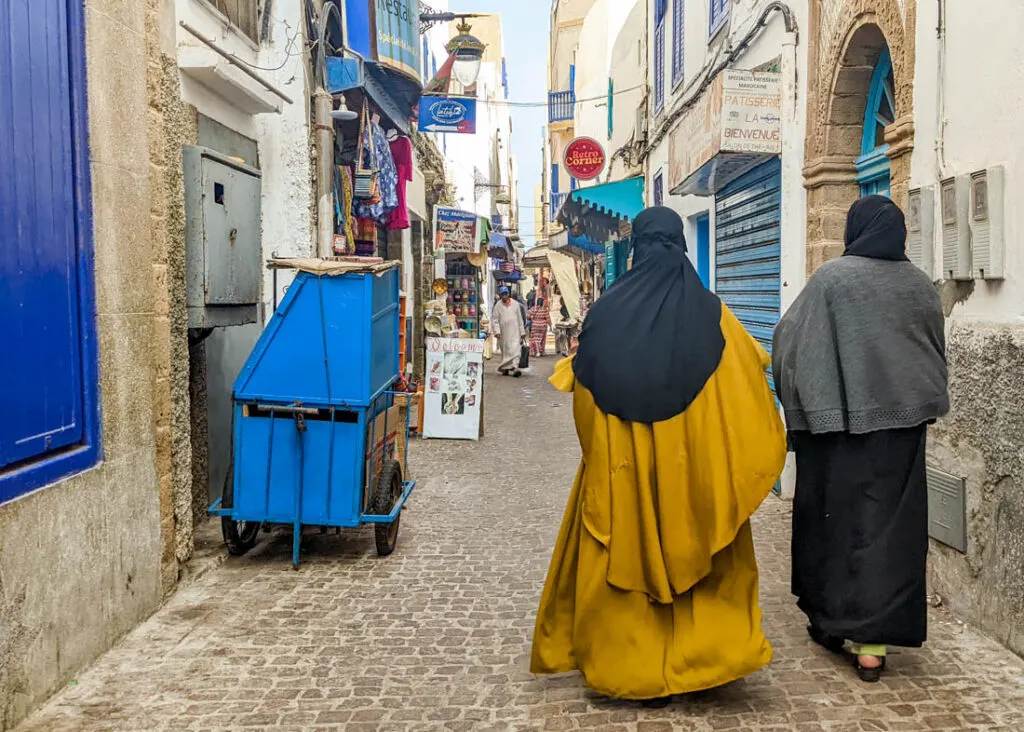 Morocco is a Muslim country and out of respect we advise you to dress modestly. It's best to cover your shoulders and your knees, and women should avoid low cut tops. Children are absolutely fine in T-shirts and shorts.
On Essaouira beach, bikinis may attract attention away from the sunbed and parasol areas, and topless sunbathing is extremely inappropriate. Leave the thong-bikini at home.
Bring your sunglasses and maybe a spare pair (or is it just me who always looses / breaks sunglasses?). Not only will they protect your eyes from the sun, but when the wind kicks up the sand, they will protect you from getting sand in your eyes.
Also, make sure you keep topped up on sun cream. That Atlantic wind can lull you into thinking the sun isn't as strong as it really is.
Is the tap water in Essaouira safe to drink?
Whilst the locals drink the tap water, if you are only visiting Morocco for a short time, the last thing you want is a stomach bug. Best to stick to filtered or bottled water, and avoid ice cubes in your drinks at restaurants and cafes.
To save on water bottles, consider buying a water filter bottle. The WaterWell™ Travel Ultra 2 Stage Filter 700ml Water Bottle removes bacteria and parasites (including Salmonella, E-coli, Giardia) and chemicals. It's the perfect water bottle for travellers.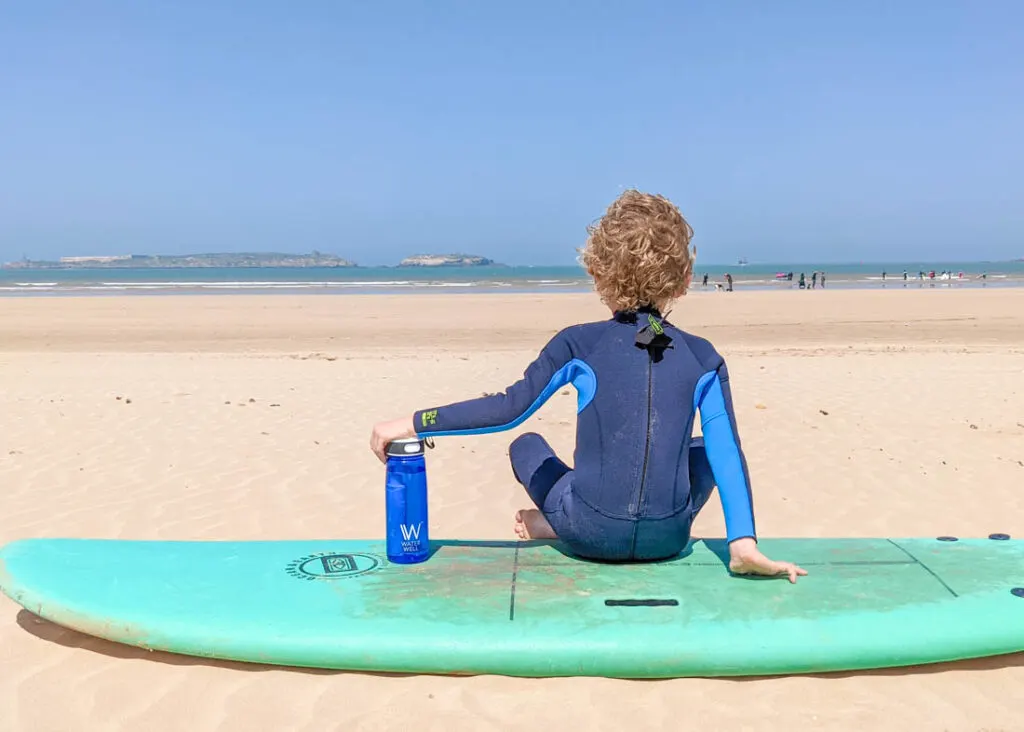 Can I drink alcohol in Essaouira?
READ OUR GUIDE: Alcohol in Essaouira
Being a Muslim country, alcohol isn't as readily available in Morocco as it is across much of Europe. Muslims don't tend to drink alcohol, and it's not at all a part of day to day life. Tea on the other hand, well that you can get everywhere; and often you will see groups of men sitting outside cafes drinking mint tea (often with a lot of sugar), instead of alcohol.
This doesn't mean that it's impossible to get alcohol in Morocco. Indeed, Essaouira has a relatively large expat community and is a popular tourist town, especially with European travellers, so the market is definitely there for alcohol in Essaouira!
Most of the hotels will serve alcohol and there are a handful of restaurants and bars in and around the media that serve alcohol.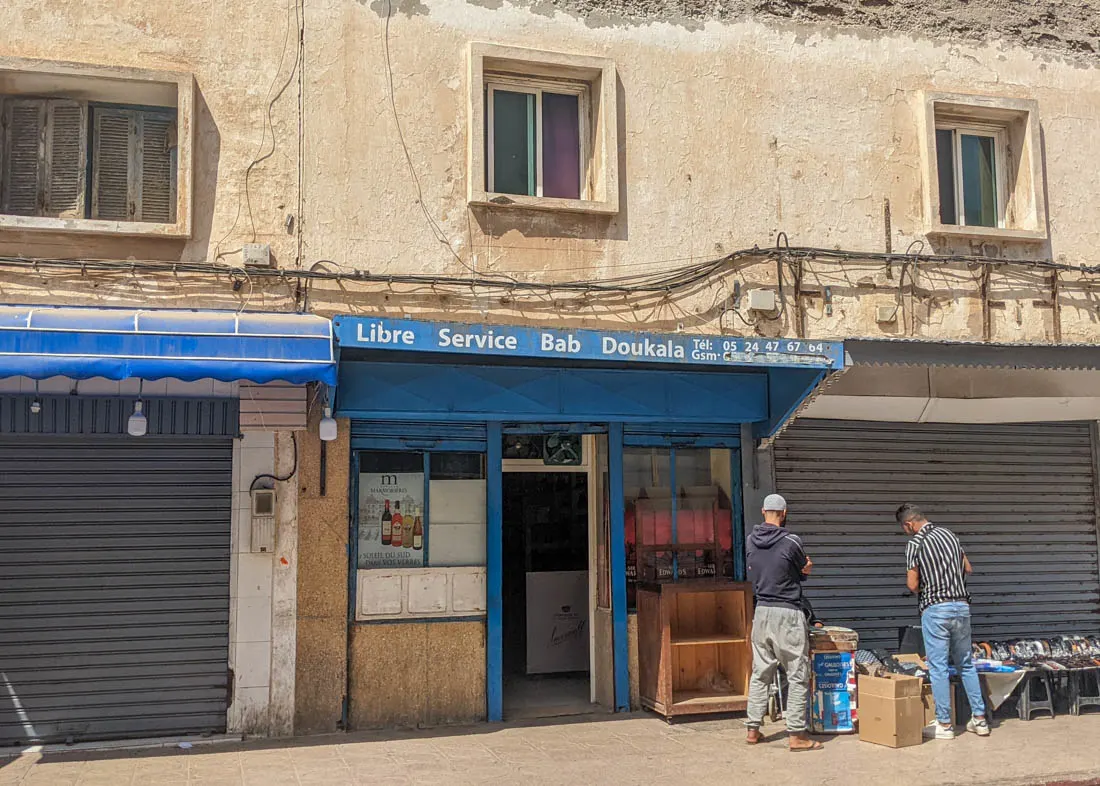 There are also two main shops selling alcohol in Essaouira (Carrefour, and a small liquor store near Bab Doukkala). Please note that these Essaouira alcohol shops are closed over Ramadan and Eid Al-Adha (in fact they tend to close a couple of days before).
And you may be interested to hear that Essaouira even has it's own vineyard, Val d'Argan, which is open for wine tasting, or dine at their restaurant overlooking the pool.
Are there good vegetarian options in Essaouira?
READ OUR GUIDE: Essaouira for vegetarians
For a relatively small town, there are a good variety of restaurants in Essaouira and some worthwhile vegetarian options. Indeed there are just as good options for vegetarians in Essaouira as Marrakech, and even a designated restaurant for vegetarians and vegans in the heart of the medina, serving incredible food and run by the most lovely family.
Vegetarian tagines are the staple main meal for any vegetarian traveller to Morocco. That, or vegetarian couscous if the restaurant have couscous available that day (often not the case). Perhaps mix in a veggie pizza (on a pre-made base) or a veggie burger (check that this isn't just a normal meat burger without the patty!). Maybe just a Moroccan salad with a portion of fries?
Morocco isn't the best destination for adventurous vegetarian foodies, as the cuisine is heavily meat based, and very few restaurants cater to vegetarians beyond a veggie tagine or Moroccan salad. No judgement if you tire of the veggie tagines served in restaurants after a few days, most vegetarians have been there.
But if you're heading to Essaouira, vegetarians are much better catered for.
---
Explore Essaouira ebook
Updated for 2023, the Explore Essaouira ebook is the only travel guide you need for exploring Essaouira. It is jam packed with inspiration on what to do, where to eat, where to stay, and also includes a step-by-step self-guided walking tour (with photos).
This is a PDF download for use offline and on the go (and ad-free!). Save it to read on the plane to Morocco, download to your phone to follow the self-guided walking tour around the medina, or print it off at home before you leave on your adventures and highlight all the bits you want to remember for your visit.
If you have found this website useful for planning your Essaouira adventures, you can show your support by buying Jenny a coffee. Thanks so much!