Can I wear my normal summer clothes in Essaouira? Are shorts ok or do I need to cover up? Can I wear a bikini on the beach in Essaouira? Here we answer your questions on what to wear in Essaouira.
Disclaimer: This post contains affiliate links. Should you click to purchase, it is at no additional cost to you, but we receive a small commission.
Firstly, thank you for taking the time to research what to wear in Essaouira. Many visitors don't and choose to wear what they would wear in European summer destinations, which may not quite be in keeping with the local culture in Essaouira. The fact that you're reading this post, means that you want to be respectful to local customs and are a responsible traveller.
Essaouira is a tourist town and beach destination, and consequentially is one of the least conservative destinations in Morocco. However, this is still Morocco with a very strong Muslim culture, and visitors should be respectful of this, especially around Ramadan.
What clothes to wear in Essaouira
Whilst everyone should be free to wear what they want, out of respect, we advise you to dress modestly, especially around the medina and outside mosques. It's best to cover your shoulders and your knees, and women should avoid low cut tops. Children are absolutely fine in T-shirts and shorts.
In the summer months, light and breathable fabrics will be more comfortable, and you will need a light jumper or cardigan for the evenings, as it can still feel rather cool on those sunset walks and evening beach strolls.
In the winter months, you can still expect warm sunny days, but it will be much cooler in the mornings and evenings, so pack layers. A light waterproof jacket is also a good idea for the odd rainy day.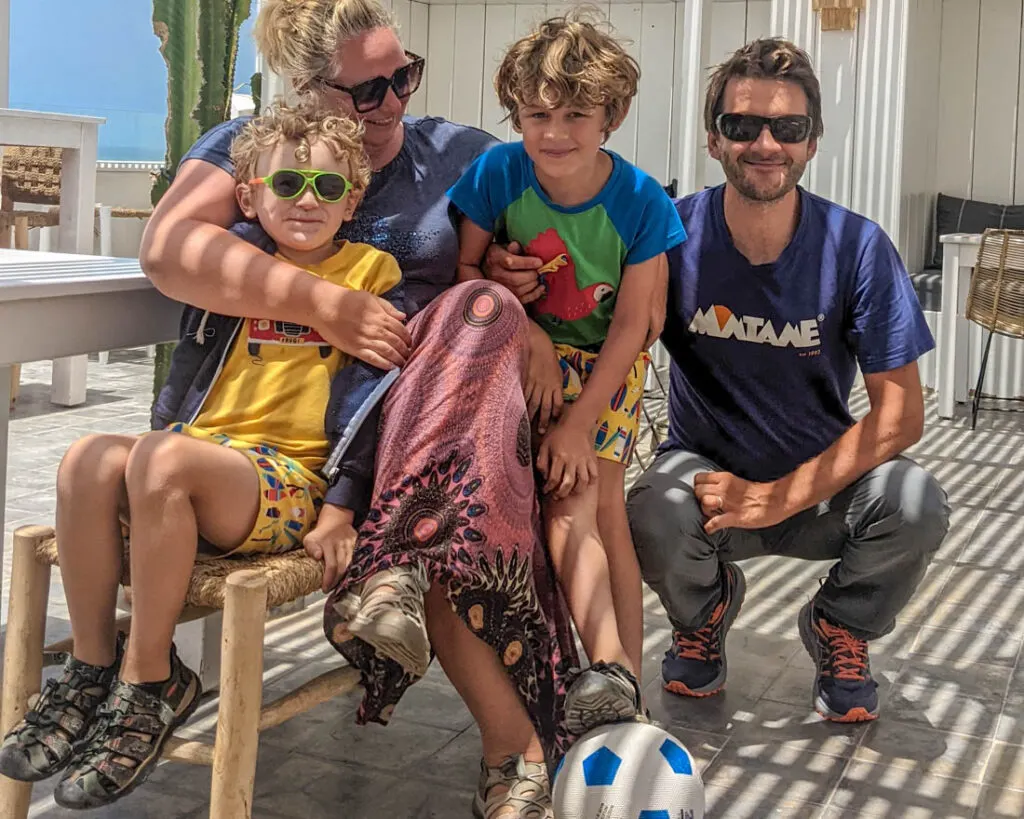 What shoes to wear in Essaouira
Flip flops are absolutely fine along the corniche and for short walks in the medina. However, if you plan on longer walks (such as on our self-guided Essaouira walking tour), or heading down to the port, we suggest wearing hiking sandals for comfort (such as KEEN sandals).
KEEN Women's Whisper Sandal
TRACTION and PROTECTION: Multi-directional lugs with razor siping help provide superior grip on…
SUPPORT and COMFORT: Lace-lock bungee capture system provides a secure fit while offering a quick…
FIT and INSOLE: Built on a women-specific foot form that is wider than the industry norm for…
CARE TIPS: All KEEN water sandals are machine washable; Use a small amount of detergent, wash on…
ODOR-PROTECTION: Includes Eco Anti-Odor, a natural, pesticide-free probiotic-based technology…
There are often raised objects to stub your toe on and uneven paths around the medina, or discarded fish parts on the floor of the fishing port (you really don't want to squish your flip flop into a discarded fish head).
These hiking sandals are great all year round. But in the winter in the evenings, you may prefer a light trainer.
In the winter months, you will be more comfortable in trainers as it's rather chilly for open-toed shoes in the mornings and evenings.
Also, the stretch along Essaouira beach from the medina to Diabat is fantastic for a run, either on the beach or along the corniche. If you're a keen runner, it's worth bringing your running trainers with you.
What to wear on the beach in Essaouira
Local men all wear swimming shorts (sometimes underpants) and are topless on Essaouira beach. So men and boys are absolutely fine in normal swim shorts.
Local ladies will be covered in a abaya and hijab. However, being a tourist beach, and especially in the summer months, you will be fine in a bathing suit or bikini. If you are basing yourself around the parasols and sunbeds towards the medina end of the beach or opposite the large Essaouira hotels, you may feel more comfortable as this is where most tourists sunbathe. However, away from the sun lounger areas, if a woman is on her own in a bathing suit or bikini, she may receive a few stares from young men and attract attention.
Topless sunbathing is extremely inappropriate in Essaouira, and perhaps leave the thong-bikini at home.
It is also insensitive to walk along the Corniche and away from the beach in your swimwear.
If you plan on doing a lot of surfing or kite-surfing in Essaouira then you may wish to bring your own wetsuit, although these are always provided with lessons.
Be sun safe in Essaouira
With more than 320 days a year of sunshine, it's very likely that your visit to Essaouira will coincide with a sunny day.
The sun is strong in Essaouira, and that wind off the Atlantic may lull you into thinking it isn't as strong as it really is, especially in the summer months. Don't get caught out.
Slap on the high factor sunscreen, and if you need to get hold of more, you can purchase it at Carrefour supermarket on the main road out of Essaouira (although the choice of product is limited). We particularly love Green People Sunscreen as it's for sensitive skin, scent free, and ocean friendly.
Sale
Green People Scent Free Sun Cream SPF30 200ml | Natural,…
NATURAL & ORGANIC sun cream provides broad-spectrum UVA & UVB sun protection whilst being gentle on…
Use by date: This product's use by date is determined by the Period After Opening symbol (symbol…
EASY TO APPLY, NON-GREASY formula allows smooth application with quick absorption. Sinks in quickly…
ALOE VERA, GREEN TEA & EDELWEISS naturally nourish and protect skin. Moisture-retaining for a…
REEF SAFE & CRUELTY FREE ingredients mean you can enjoy beach holidays safely whilst being kind to…
Zinc is also a good idea if you're heading into the surf.
Sale
Sun Zapper Zinc Stick – Pink, Blue, Green, Yellow Face…
SPF 50+ Sun Cream with more than 4 Hours Water Resistance. Designed in Australia to meet the…
Save Money & Bring the FUN with Our Best Value 4-Pack! This Pack Contains x1 Pink, x1 Blue, x1 Green…
Zinc Oxide Mineral Sunscreen Blocks Various Types of Rays (UVA & UVB). Making Zinc based Sunscreens…
Perfectly Safe & Enjoyed by Kids of all ages. Suitable for Children Over 6 Months Old. Sun Zapper…
Sun Zapper Zinc Sticks are Widely Used at the Beach, in Surfing, in Sports such as Cricket, Ski &…
Whilst Instagram may lead you to believe that floppy hats are an essential item in Essaouira, they will just blow off in the wind. We recommend wearing a cap for extra shade on your beach strolls, or a wide-brimmed hat with a strap under the chin.
And don't forget your sunglasses and maybe a spare pair (or is it just me who always looses / breaks sunglasses?). Not only will they protect your eyes from the sun, but when the wind kicks up the sand, they will protect you from getting sand in your eyes.
---
Explore Essaouira ebook
Updated for 2023, the Explore Essaouira ebook is the only travel guide you need for exploring Essaouira. It is jam packed with inspiration on what to do, where to eat, where to stay, and also includes a step-by-step self-guided walking tour (with photos).
This is a PDF download for use offline and on the go (and ad-free!). Save it to read on the plane to Morocco, download to your phone to follow the self-guided walking tour around the medina, or print it off at home before you leave on your adventures and highlight all the bits you want to remember for your visit.
If you have found this website useful for planning your Essaouira adventures, you can show your support by buying Jenny a coffee. Thanks so much!