Do you only have 2 days to spend in Essaouira? Here we provide a comprehensive 2 days in Essaouira itinerary for you to follow so that you can get the most out of your visit; perfect for a weekend in Essaouira. And if you're looking for a 3 day Essaouira itinerary, we have provided options for extended days. Indeed, many arrive to Essaouira for a day or so, and find themselves still there, weeks late. This may be you!
For those visitors to Morocco who are travelling around and trying to see as much of the country as possible on their visit, two days in Essaouira is a good amount of time to get a feel of the town. Whilst we believe that you could stay a week or even a month in the "Windy City of Africa", we appreciate that not everyone has the time, especially when there are so many beautiful places to visit in Morocco.
There are so many things to do in Essaouira, but we've cherry picked the very best components to compile this two days in Essaouira itinerary for you. This itinerary includes a walking tour around the medina, passing through the Jewish Quarter and through to the fishing post, with of course some stops for shopping in Essaouira and mint tea, exploring Essaouira's beaches beyond the main sandy arc, some adrenaline-fueled activities, but also more sedate activities (indeed, experiencing a traditional Moroccan hammam in Essaouira is a must)
So if you're planning a weekend in Essaouira, or a couple of days, then read on. But be be warned, by the end of day one you will be swept up by the chilled and breezy vibes of this coastal town, and may be making arrangements to stay just that little bit longer.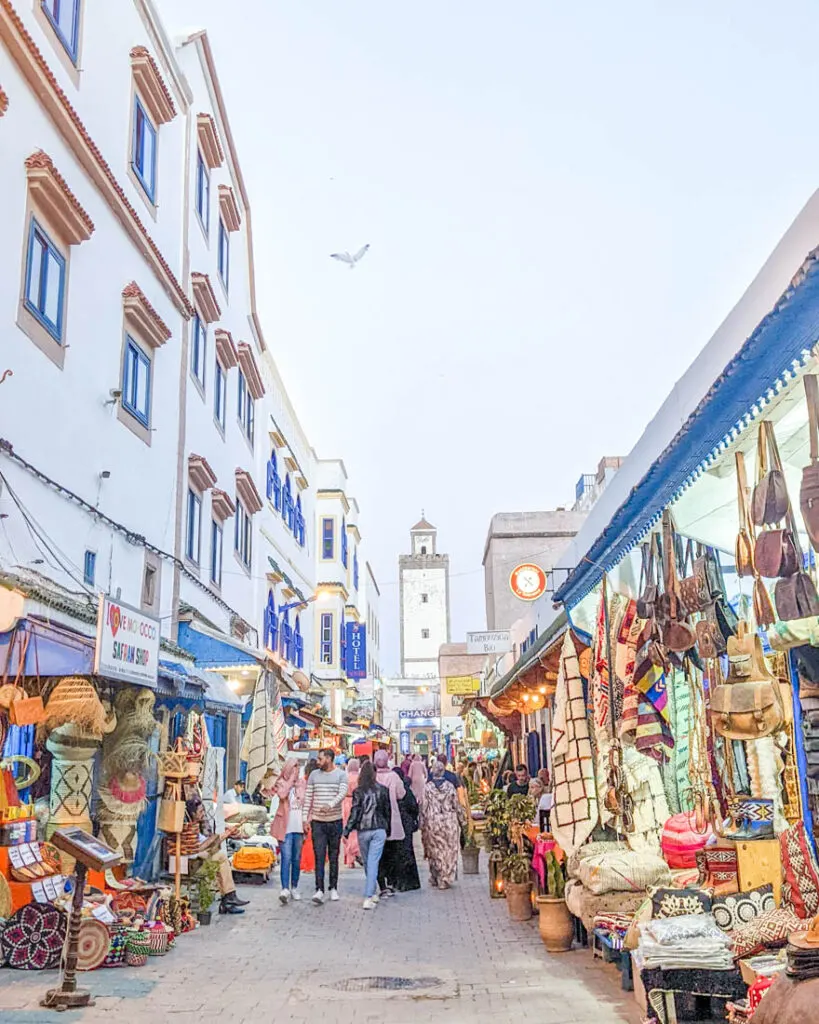 Are you limited to one full day in Essaouira?
Then follow our one day in Essaouira itinerary.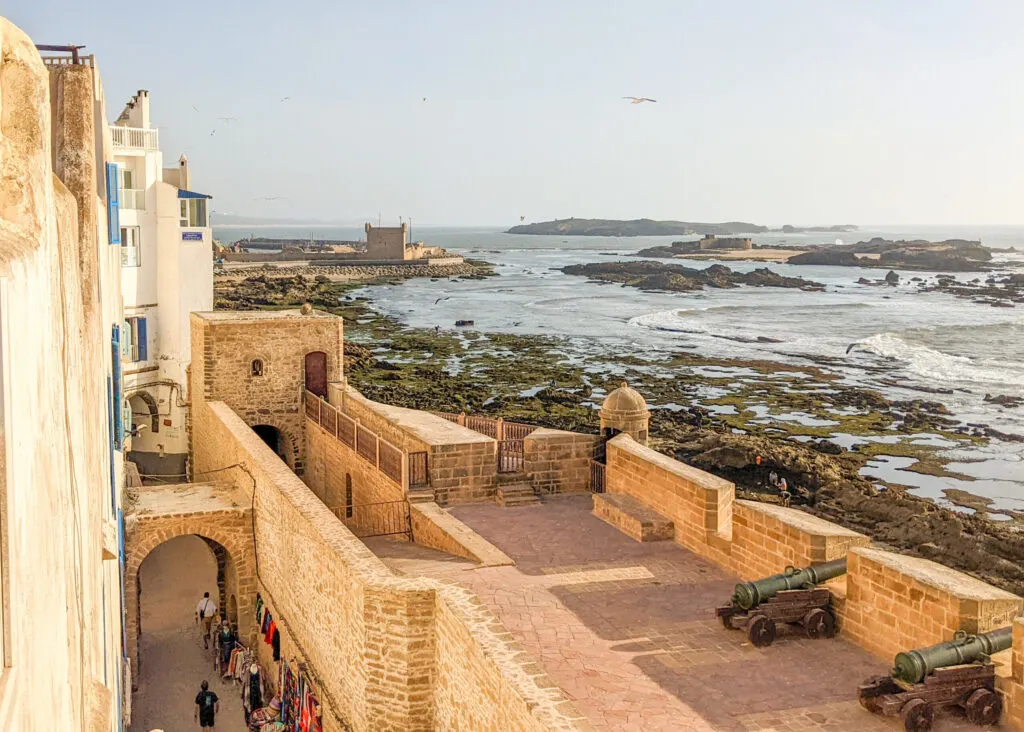 Do you only have one day to spend in Essaouira? Here we provide a comprehensive one day Essaouira itinerary for you to follow so that you can get the most out of your visit.
How to get to Essaouira from Marrakech
READ OUR GUIDE: How to get from Marrakech to Essaouira
Typically, tourists who only have two days to spend in Essaouira visit from Marrakech. So how do you get from Essaouira to Marrakech?
Whilst it may feel easier to book an Essaouira tour from Marrakech, it's actually very easy (and perhaps cheaper) to get there independently. Plus, it makes for a much more exciting adventure!
Essaouira is a three hour drive west of Marrakech, and there are really only three options for transport; bus, taxi, or private transfer. All three options will drop you by Essaouira Medina. There is no train line to Essaouira and a one-way car hire is not possible.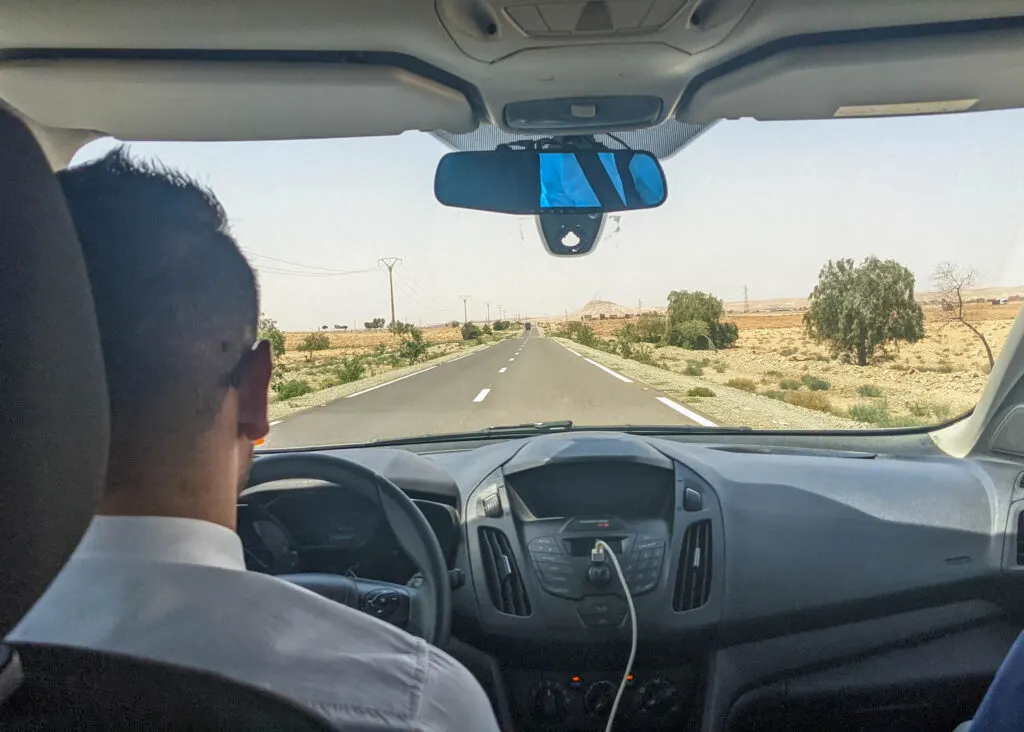 Take a private transfer
If there are 4-6 members in your party and you want to keep travel simple, a private transfer from Marrakech to Essaouira is your best option. It is also the most comfortable option. It's only a little bit more expensive to hire a private transfer, especially when you take in the cost of a taxi to get to the bus station in Marrakech, or the hassle factor of negotiating with a grand taxi driver. Expect to pay a minimum of €80 for a private transfer between Marrakech and Essaouira.

Take a Grand Taxi
There is a fixed fee of 600DH for a grand taxi from Marrakech to Essaouira. You will need to go to a Grand Taxi station in Marrakech (such as outside Marrakech Train Station) and you cannot pre book. Just turn up and ask. Despite there being a fixed fee, you will probably be quoted 1000DH initially (this is Marrakech after all!). Well done if you can get them down to 700DH.

Take the bus from Marrakech to Essaouira
Supratours is the main bus company that travels between Marrakech and Essaouira. The journey takes 3 hours by bus, with a 20 minute comfort break enroute. There are six buses per day from Marrakech to Essaouria leaving at 07:45, 09:00, 10:45, 14:45, 16:45 and 19:00. Click here to read our guide for getting the bus from Marrakech to Essaouira.
How to spend 2 days in Essaouira
So with just 2 days in Essaouira, what is the best way to spend it? There are so many things to do in Essaouira, so you need to be selective to get the most out of your visit. This is what we recommend…
Day 1 in Essaouira
Morning
After breakfast at your Essaouira accommodation, head over to Bab Sbaa (the medina gate closest to the main beach) to begin our self-guided Essaouira walking tour. Don't worry if you missed breakfast, as you will be passing Brunch&Co Essaouira just a few minutes into this walking tour along Avenue Sidi Mohamed Ben Abdellah.
This walking tour leads you up through the main street for shopping in Essaouira (now is a good time to check prices and get a feel for what you may want to purchase) and into the Jewish Quarter, to then take you out of the medina from Bab Doukkala.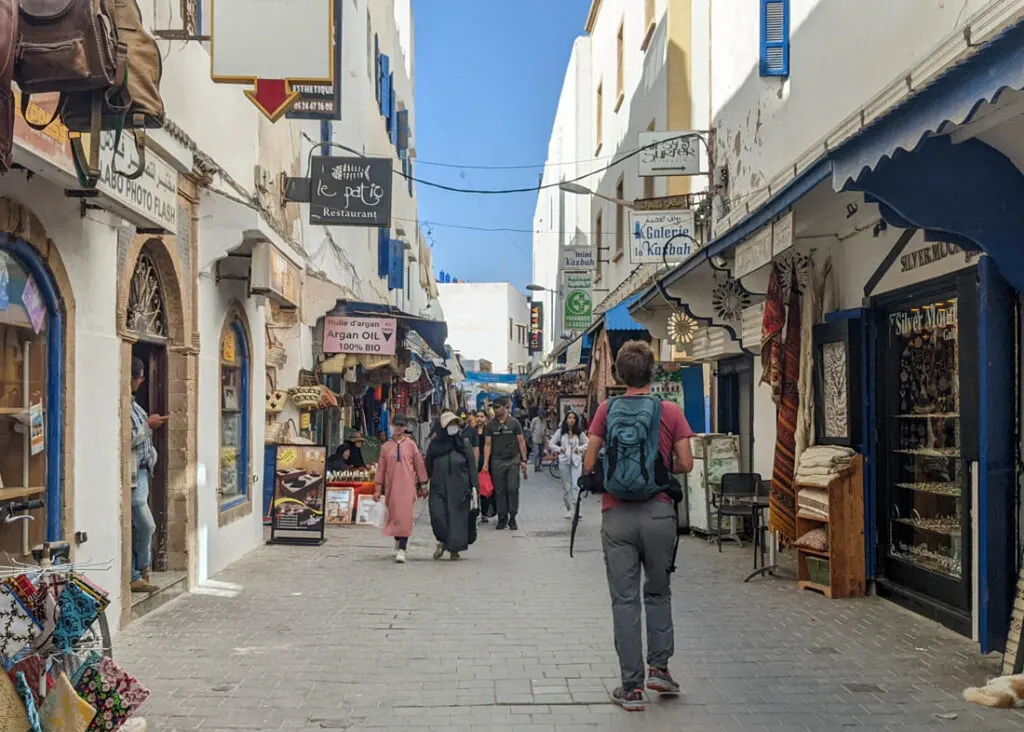 The longer version of the walking tour takes you to the beach just north of the medina. However, for something a bit different, how about hopping on a horse and carriage to the far northern beach of Essaouira, known locally as 'Safi Beach'. The horse and carriages can be found just past the Petit Taxi rank on the left as you come out of Bab Doukkala. Expect to pay around 50DH for a return fare to Safi Beach (your horse and carriage will wait for you, or you can arrange a pick up time). Alternatively it's just a 30 minute walk each way.
If you're visiting Essaouira in July or August (the high season), this is a great place to escape the crowds. Hardly anyone goes here, and there's an end-of-the-world, abandoned feel to it. It's eerily beautiful and wild, especially on a commonly windy day with sand whipping up everywhere. Run down a huge sand dune, explore the rock pools, or just find a good spot to sit and watch the waves roll in from the Atlantic Ocean.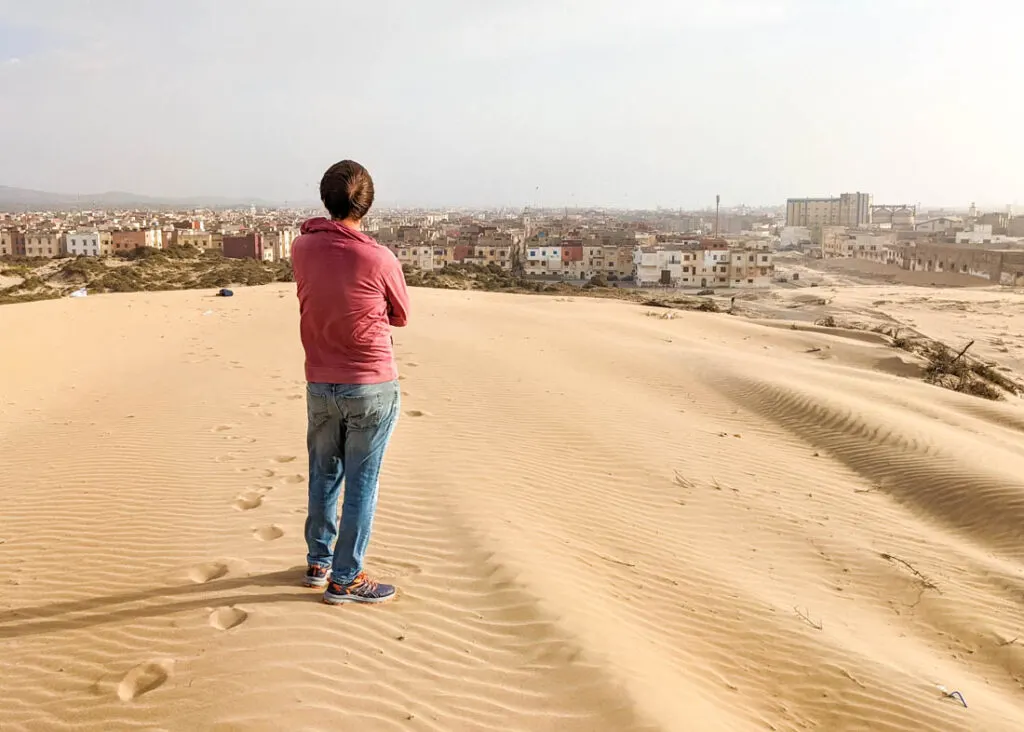 Afternoon
Back at Bab Doukkala, continue our Essaouira walking tour along the main boulevard (maybe pick up some msemen, a Moroccan pancake, as a snack), and then down the backstreets of the medina to explore the Ramparts (which was used as a location set for the HBO hit TV series, Game of Thrones), to emerge out to Place Moulay Hassan (this is a good place to stop for a coffee or crepe, or both).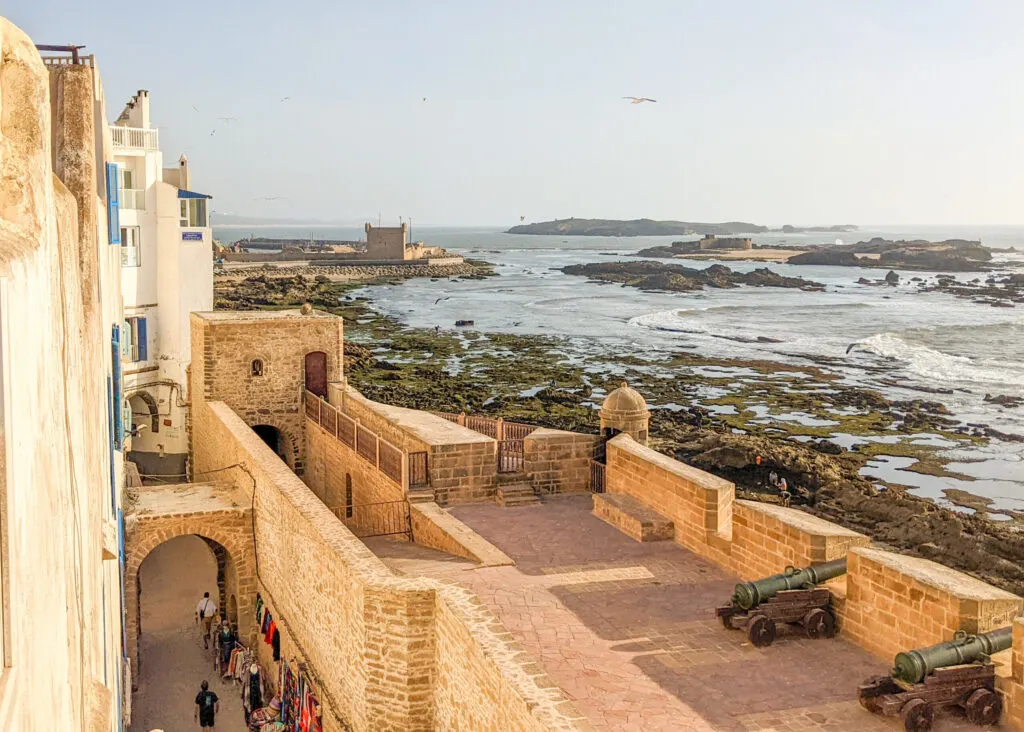 From Place Moulay Hassan, it's a short hop across the square to Essaouira's fishing port past a few fresh orange juice stands and through the grand entrance of Skala du Port (also used in Game of Thrones).
The port is a fascinating place to wonder with all the fish laid out for sale, and fisherman bringing in their catch and preparing their nets. It's busy, smelly, and dirty, but an absolute treat to be able to witness. You will see sardines, pilchards, hake, sole, crab, lobster, octopus, flat fish, eels, and unfortunately you may see shark. You can even buy fish direct from the fisherman here and have it cooked at one of the open restaurants at the port – just ask one of the sellers and they will point you in the right direction. Perhaps a good lunch option?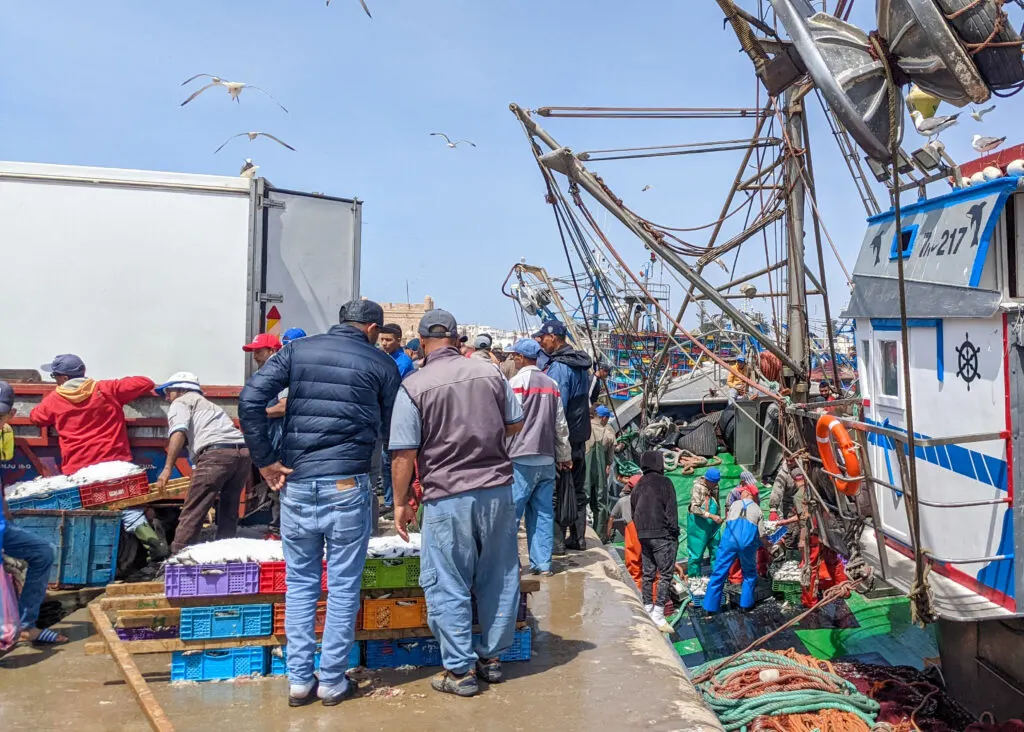 After all that walking, it's time for some relaxation. How about trying a traditional Moroccan hammam in Essaouira? A hammam is a tiled, hot room, where you strip down to your underwear and enjoy a good scrub and soapy clean. All inhibitions need to go out of the window with this, as everything is on display and everything gets a good scrub. You can opt for a private or public hammam. A private hammam is more expensive, and means that you get a hammam all to yourself. A public hammam is a local hammam to share with other people, and is much cheaper and a more authentic experience.
If you're not feeling quite brave enough for a hammam, perhaps try a Berber Massage instead. This is similar to a standard, relaxing massage, except that it includes some light tapping with cupped hands. Ladies, we recommend advising your masseuse whether or not you would like your chest and stomach massaged; otherwise, you may receive a chest massage towards the end of your massage. Recommended spas to try are Spa Cocooning, and Azur Spa Essaouira for a bit of well-deserved pampering.
Evening
In the evening, it's time to try out one of our recommended restaurants in Essaouria. If you've been dining on tagine for a while, you may be relived to hear that Essaouira restaurants offer a lot more variety, including for vegetarians. From traditional woodfired pizza, to an extensive vegan menu, trendy rooftop restaurants, to Asian food, there's choice in Essaouira to keep even the fussiest eater happy.
Depending on what time of year you are visiting Essaouira, make a note of when sunset is (check out our Essaouira sunset guide) and head to the Ramparts in time to watch the sun dip below the Atlantic Ocean; it really is a beautiful setting and the perfect end to your first day in Essaouira.
Day 2 in Essaouira
It's time to hit the main beach!
As Essaouira is coined the "Windy City of Africa" it may come as no surprise that Essaouira is one of the top destinations in the world for kite-surfing! The season typically runs from March through to September, with July and August being the best months for strong winds.
If it's a rare day with little wind, or your are visiting Essaouira with young kids, grab the surf boards instead. The waves at the far end of the beach (opposite end of the medina) are a great spot for beginner surfing lessons.
In fact, the kite-surfing and surfing all takes place at the far end of the beach (where the camels reside). So start your day with a walk along either the shoreline or the corniche, along to Moga Surf, one of the best surf schools in Essaouira who will be able to get you all set up (email ahead to arrange lessons).
If watersports aren't your thing, how about exploring the coastline south of Essaouira on a quadbike or horse? Indeed riding a horse along a deserted beach is a total bucket-list item. Check out Diana Quad for quad biking, and Diana Dromedaries for horse riding.
After your adventures, head to one of the beach bars by the camels for lunch and a beverage. Choose between Ocean Vagabond and Beach and Friends, two of only a handful of places that serve alcohol in Essaouira.
Both offer a very cool beach vibe, which may remind you of Thailand or Goa. Ocean Vagabond has more table seating, is shadier, and there's a small play area for kids out the back. Beach and Friends serves better food (including tapas, and the chips are amazing), has large, comfy beach loungers to sink into, but offers little shade. Both are on the pricier end of the scale when it comes to eating out in Essaouira.
Don't be surprised if you end up staying at one of these beach bars for the rest of the day. It's the perfect place to unwind after your 2 days in Essaouira. When you're finished, take a stroll back along the beach to the medina (if that's where you're staying). If you don't fancy the walk, hop in a Petit Taxi. It's a flat fee of 8DH during the day and 9DH at night (read our guide: how to get around Essaouira).
Extra days in Essaouira
If you have extra days to spend in Essaouira (or you've decided to stay longer, as we predicted!) check out our guide to all the things to do in Essaouira for more inspiration.
You could either try out another beach activity, or if you're wanting more of a chill day, how about visiting a vineyard or enjoying a pool day pass out in the countryside, such as as day pass to Les Jardins de Villa Maroc or Hôtel Domaine de L'Arganeraie?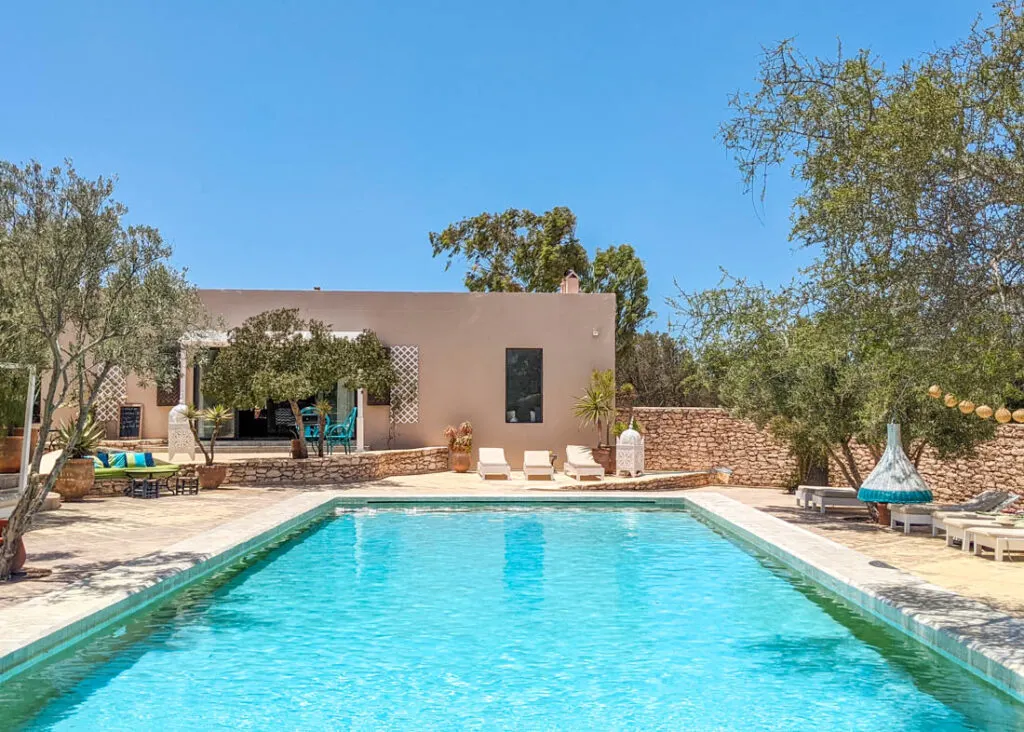 Or just enjoy your extra time walking around the beautiful medina and along the beaches. Essaouira is the perfect place to relax and there really is no need to rush.
---
Explore Essaouira ebook
Updated for 2023, the Explore Essaouira ebook is the only travel guide you need for exploring Essaouira. It is jam packed with inspiration on what to do, where to eat, where to stay, and also includes a step-by-step self-guided walking tour (with photos).
This is a PDF download for use offline and on the go (and ad-free!). Save it to read on the plane to Morocco, download to your phone to follow the self-guided walking tour around the medina, or print it off at home before you leave on your adventures and highlight all the bits you want to remember for your visit.
If you have found this website useful for planning your Essaouira adventures, you can show your support by buying Jenny a coffee. Thanks so much!