Essaouira Airport (known formally as Essaouira Airport Mogador) is the closet airport to Essaouira (15km from the city) and serves both domestic and international flights.
This is a very small airport and a much more chilled entry point to Morocco compared to Marrakech or Casablanca.
Here we cover what you can expect on both arrival to and departure from Essaouira Airport, and answer important questions such as; is there an ATM at Essaouira Airport? And how to I get from Essaouira Airport to the town?
What is the airport code for Essaouira?
The airport code for Essaouira is ESU.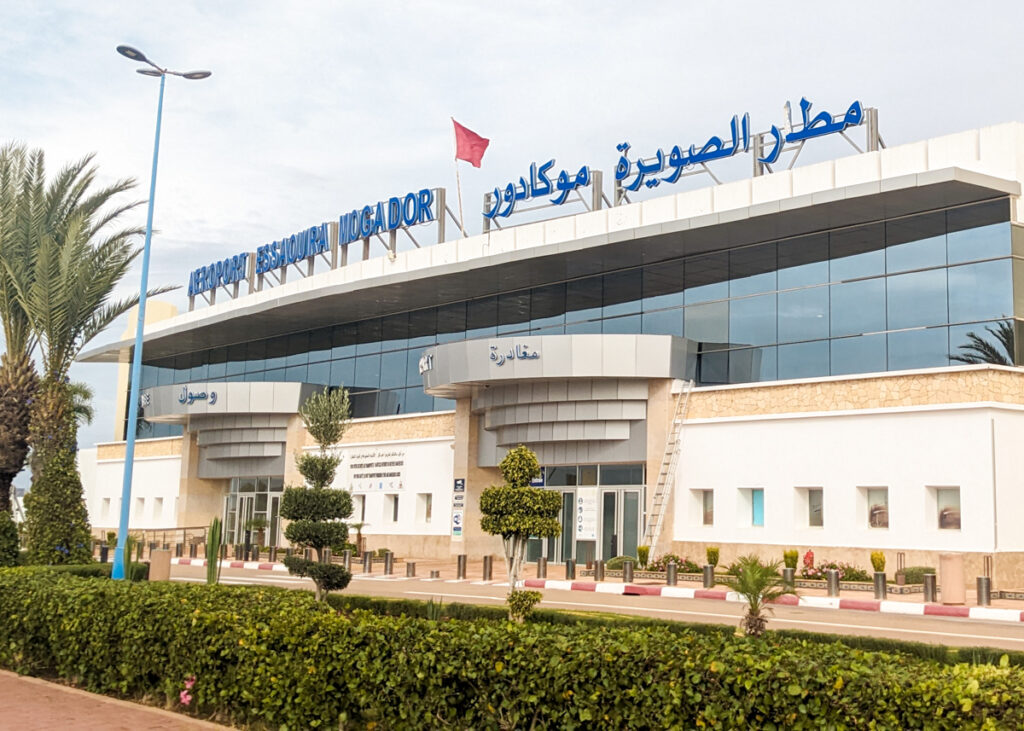 Direct flights to Essaouria from Europe
While most tourists enter Morocco via Marrakech, Agadir, or even Casablanca, there are also direct flights from European cities to Essaouira.
These include:
Paris Orly to Essaouira (4 flights per week with Transavia France)
London Stansted to Essaouira (2 flights per week with Ryanair)
Brussels South Charleroi to Essaouira (2 flights per week with Ryanair)
Marseille Provence to Essaouira (2 flights per week with Ryanair)
Landing at Essaouira airport
Once your flight lands at Essaouira airport, there is no jet bridge to walk along to take you from the plane into the terminal. Descend the steps from your plane and walk the 50 metres or so to the terminal. This leads straight into passport control.
Pass Sanitaire
You currently need to hand in a completed pass sanitaire (health form) before commencing to the passport control desks. You can either complete this and print at home before your arrival (click here for the form), or you can pick up a the form on arrival and complete there (have a pen handy). We recommend completing it before your flight and having it ready so you can be at the front of the queue for passport control.
Although due to the small number of flights arriving to Essaouira, there is rarely (never?) a long queue at passport control, so don't worry too much if you haven't completed it before your arrival.
Passport control
At passport control you will be asked the address of your accommodation, and may be asked your job.
Once you're stamped into Morocco, another security guard will check your passport before you exit to the baggage carousels, which are just to the right (two small ones).
Collect any checked luggage if you need to, and then exit to the left. You will be asked to put your bags through a security scanner before you exit.
Essaouira Airport ATM
From customs, you walk out into the main entrance to Essaouira airport. Here you will find an ATM (there is only one at the airport), toilets, and a small café with seating.
As the Moroccan Dirham is a closed currency, the ATM at Essaouira airport is your first opportunity to get out cash. There's a maximum limit of DH2000 (€200) to take out, which is standard across all ATMs in Morocco, and there is an option for English instructions.
How to get to and from Essaouira airport to Essaouira city centre
It's 15km from Essaouira Airport to the centre of Essaouira. If driving, allow 20 minutes.
Airport transfer organised through your accommodation
Your accommodation will be able to arrange an airport transfer for you. This is a good idea if you're a first time visitor to Essaouira and unsure how to get to your accommodation. Your driver will be waiting for you as you leave the terminal, holding a sign.
Expect to pay DH200 for an airport transfer arranged through your accommodation.
Taxi from Essaouira Airport to town
Otherwise, it's very easy getting a taxi. Taxis will be waiting to the far left as you exit the terminal. Look out for the group of light blue cars.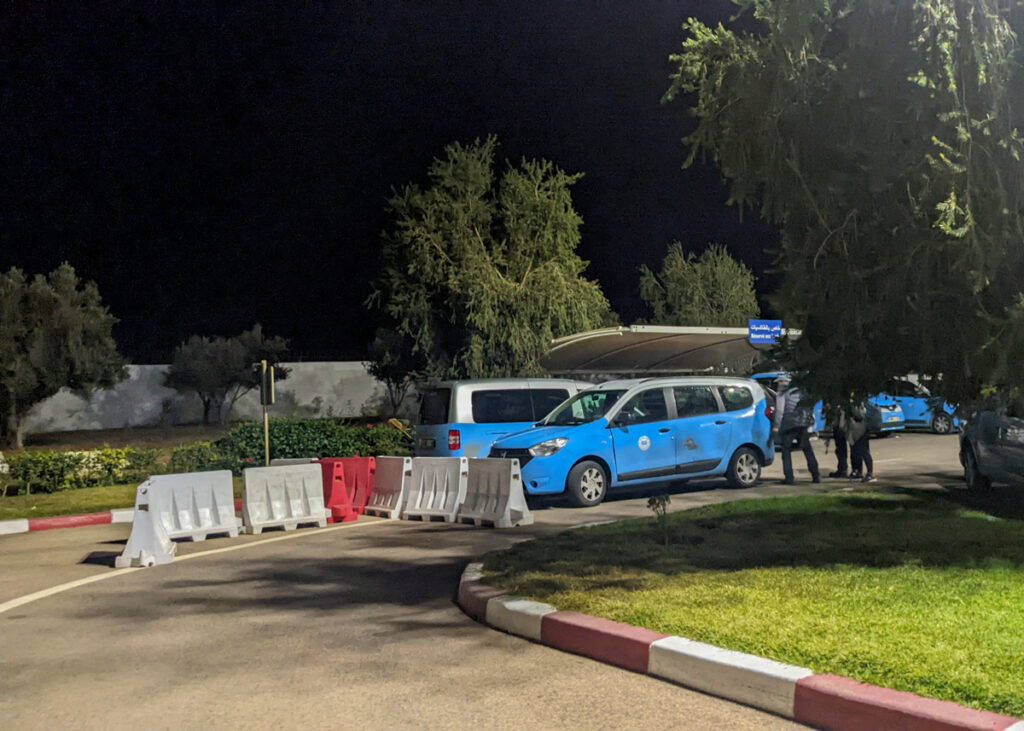 It is a flat fee of 150DH (€15), even if you arrive after dark. Please note that you need cash (Moroccan Dirhams) to pay your driver, cards are not accepted. So make sure you get cash from the ATM before you leave the terminal. If, on the off chance, the ATM at the terminal doesn't work, your driver will be able to stop at one on the way to your destination.
It is unlikely that your driver will haggle with you, but they may not have the right change. The ATM ejects DH200 notes, and the fare is DH150. Just ask twice about the change.
Also, it's worth getting the mobile number of the driver if you are returning to Essaouira airport at the end of your trip. The petit taxis around Essaouira are not permitted to drive passengers to the airport, and the only way the get to the airport (aside from catching the bus) is by prearranged a taxi / transfer. Don't worry if you didn't get the driver's number for any reason, as your accommodation will be able to help you arrange a transfer to return to the airport should you need it. Otherwise you could catch a Grand Taxi from the Grand Taxi station to the north of Essaouira medina (click here for location).
No 2 Lima bus
Alternatively, take the No 2 Lima bus. This is the cheapest option and runs between 6:30am and 6:30pm, every day of the week. However, the bus doesn't always go directly to the terminal and may only stop at the main road at the junction to the airport. From the junction, it is a 3km walk.
Best to take a taxi. Much easier.
Departing from Essaouira Airport
As it's such a small airport with infrequent flights, you don't really need to arrive at the airport more that 2 hours in advance, which is when the gates generally open leading through to passport control and the boarding area.
At the immediate entrance to the terminal building, you will need to show your boarding pass and passport, and put your bags through the security scanner.
If you do arrive early, you will need to wait in the main arrivals terminal. Here you will find a small café, toilets, and a small souvenir shop. There is supposed to be free WIFI, but don't be surprised if it doesn't work.
Get your boarding pass stamped
Make sure you get your boarding pass stamped at check in when it opens. Even if you have no bags to check in, you've checked in online and have your boarding pass printed out (only printed boarding passes are accepted), you need to queue at check in to get your boarding pass stamped.
Security at the departure gates will not allow you through until your boarding pass is stamped. The check in desks are to the right when you first enter the terminal.
Departures
Once your boarding pass is stamped, proceed through to Departures where your passport will be checked and your bags need to go through a security scanner (all electronics, batteries, and liquids in clear bags need to come out, shoes can be kept on) and then passport control.
At passport control you may be asked for the most recent accommodation and your job. 
Your passport and tickets are then checked again, and then you may be selected for further security checks.
The boarding area
In the boarding area there are clean toilets, a small café, a small souvenir shop, and a duty free shop. Wait here until you are asked to board your flight home.
---