Surrounded by succulent orange trees and bright bursts of bougainvillea in the December sunshine, I sipped a crisp white wine and was immediately transported to the Mediterranean. Except this isn't the French Riviera or the rolling hills of Tuscany, but the Moroccan desert, just a 30 minute drive inland from Essaouira.
Yes, the are wineries in Morocco! Being a Muslim country and also a country largely made up of desert, those not in the know are surprised to learn that Morocco produces about 40 million bottles of wine annually (source: Wine Mag). In fact, Morocco is Africa's second largest wine exporter after South Africa, and has a long standing history of wine making, dating back to the era of Phoenician explorers and the Roman empire.
Most Moroccan wine is produced in the north of the country (closer to the Mediterranean), particularly around Meknes where red grape varieties grow particularly well. However, Val d'Argan winery in the Essaouira region is an exception to the rule and is Morocco's most southerly vineyard, hence the wines produced at Val d'Argan offer a slight different taste compared to other Moroccan wines.
If you have tried to buy wine in Essaouira, whether its at the Carrefour supermarket or at one of the hotels or few restaurants that sell alcohol in Essaouira, then you may have already spotted Val d'Argan wines. But there's something special about tasting a wine at it's home vineyard, so why not book into a winery tour at Val d'Argan? It's one of our suggested things to do in Essaouira.
About Val d'Argan
Baked by the desert and benefiting from the trade winds off the Atlantic, Domaine du Val d'Argan (to provide the vineyard's full name) is the first and only Moroccan vineyard exclusively dedicated to grape varieties of the Rhône Valley. Over the past 20 years, the vineyard has grown from 5 to 50 hectares, with 13 different grape varieties from the Rhône Valley.
Val d'Argan was founded by Charles Melia, a winemaker at Château de la Font du Loup in Châteauneuf-du-Pape since 1977, who recognised the richness of the Rhone vineyard in southern Morocco with its combination of clay and limestone soil. Starting from 1994, it took four long years to clear, dig, wells and gradually plant the vineyard, build the cellar, and establish the property.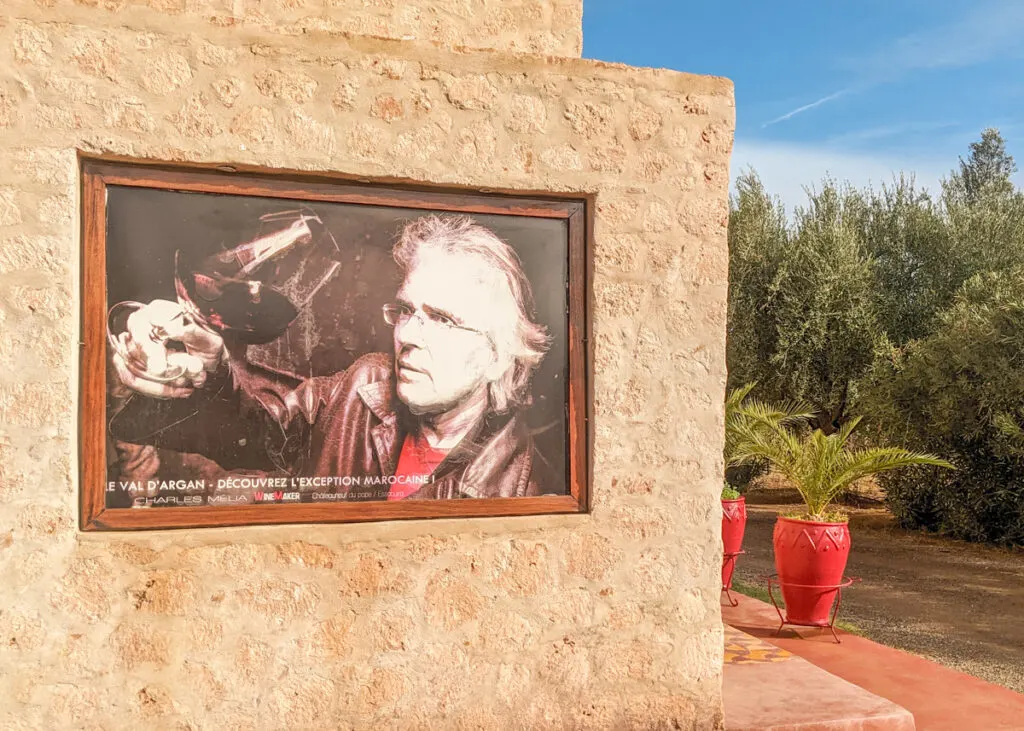 The winery tour
On arrival to Val d'Argan I walked into reception to make myself known, ready for my first experience of wine tasting in Morocco. A tall gentlemen from Cameroon, Rony, then introduced himself as my guide for the tour. Rony was full of warmth and character, and has worked at Val d'Argan for seven years, so knows the winery inside out. Thankfully for me, he speaks fluent English as well as French.
The winery tour starts at the factory where you can see the wine being matured, mixed, bottled and labelled. Being only a small winery, the factory isn't too big to walk around.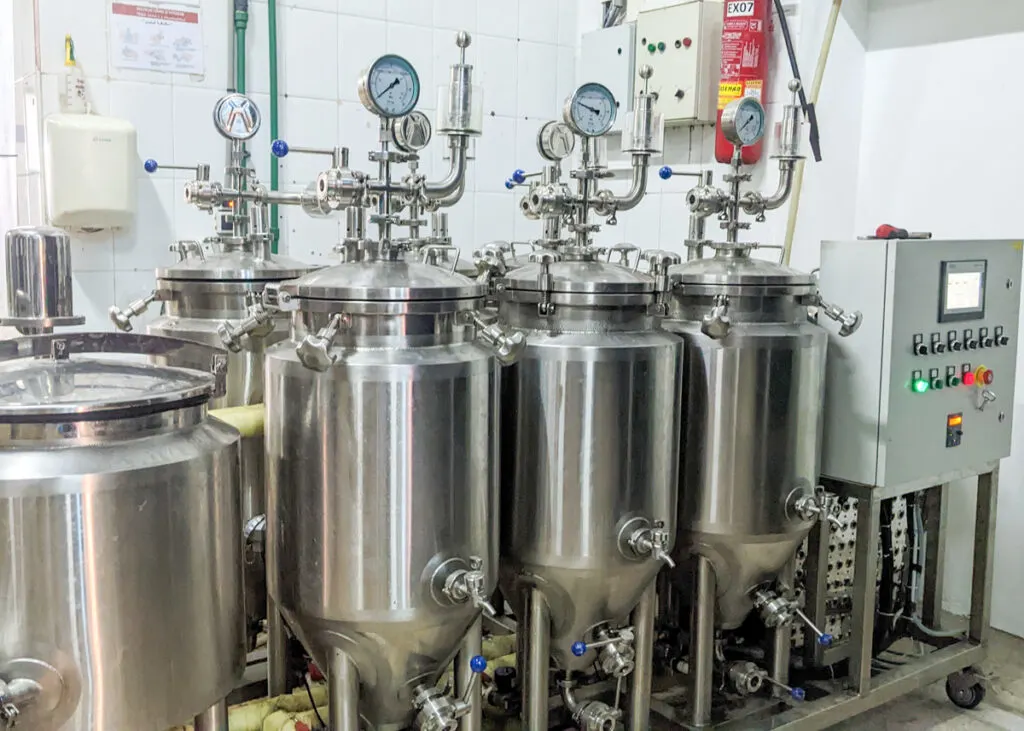 Then a stroll alongside the vines. Interestingly, due to the heat, the vines here are left to grow freely, rather than on a trellis. Being a good 30km from Essaouira means that the vineyard doesn't experience the maritime climate of Essaouira, but rather the arid climate of Marrakech, with intensely hot summers, and winters of warm sunshine to cold temperatures at night.
Sunshine isn't the issue here, it's water, and an irrigation system is set up around the vines. However, with global warming, hotter summers are something that the vineyard needs to contend with. In the summer of 2022 with temperatures at 57°C, 80% of the vines were lost.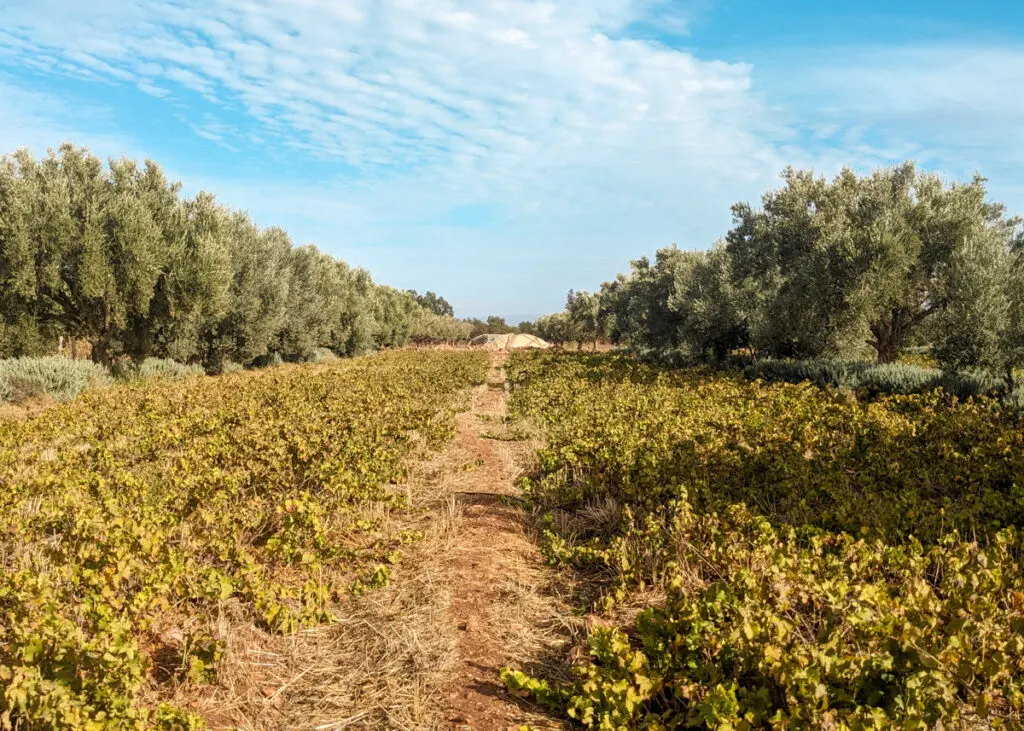 The walk along the vineyard brings you to the wine tasting area. Pull up a chair, and enjoy. A selection of six wines will be leisurely brought out for tasting, accompanied by a light tapas.
This is when I got to know a little more about my tour guide, Rony. He is one of the most fascinating and inspiring individuals I've ever met in Morocco and the story of how he arrived in Morocco and came to work at Val d'Argan is incredible. Val d'Argan is a winery that was built on a knowledgeable trust of the land, and it's heart-warming to know that the founder extended this trust to his employees.
How to book a Val d'Argan tour
Val d'Argan is open for tours Monday through to Saturday (closed Sundays). Email in advance to reserve your wine-tasting session. The price is 200DH and includes tasting:
Le Val d'Argan Blanc (white wine)
Argania du Val d'Argan Blanc (white wine)
Le Val d'Argan Rosé (rosé wine)
Le Val d'Argan Rouge (red wine)
Argania du Val d'Argan Rouge (red wine)
Wine-tasting session times are:
11am to 11:30am
2:30pm to 3:00pm
3:00pm to 3:30pm
What else is there to do at Val d'Argan?
If you would like to stay longer at Val d'Argan, there are rooms available. Or you may wish to book in for a lunch, and take the opportunity to have a dip in the pool (not heated).
How to get to Val d'Argan from Essaouira
There is no shuttle service to the vineyard, so visitors need to make their own way over (a Grand Taxi, private driver, or bus).
A private driver can be organised through your accommodation (expect to pay DH300 return).
To take a Grand Taxi, go to the Grand Taxi station to the north of Essaouira medina. Click here for location. Expect to pay 120DH return for the entire taxi. You will need to pay for the taxi as a private car, as it's highly unlikely that any locals will be visiting the vineyard to share the journey with you.
However, there will be a Grand Taxi going to Had Draa and you could ask to be dropped off at Val d'Argan. This is a much cheaper option as a seat only costs 10DH, although the Grand Taxi will only leave Essaouira once it is full. Also, it will be tricky getting back to Essaouira as any Grand Taxis leaving Had Draa will be full. An option would be to wait for the bus, which leaves approximately every hour. Check at the Val d'Argan reception for bus times.
If you're feeling adventurous, you can take a bus to Had Draa from Essaouira, and ask to be dropped off at Val d'Argan. Bus times are irregular and no one seems to know the exact times. It's a case of turning up to the bus stop outside Bab Doukkala (to the right), asking around and waiting. The bus fare between Had Draa and Essaouira is 10DH per person, same price as the Grand Taxi from Essaouira to Had Draa.
What else is there to do in the area?
Val d'Argan is just on the outskirts of Had Draa. Every Sunday, thousands of locals descend on this sleepy town to buy and sell goods at the Had Draa market. You can find everything from shoe menders to basket weavers, blacksmiths to carpenters, spice sellers to butchers. It's a fascinating and authentic insight into traditional Moroccan life, and one of our recommended top things to do in Essaouira.
However, Sunday is the one day that Val d'Argan is closed for wine tasting, and Sunday is the only day that the market takes place. So unfortunately, it's not possible to combine the two. By all means take a wander into the town after your visit to Val d'Argan. It will be an interesting walk around a town unaffected by tourism and witness the every day goings on.
Although during the summer months, the restaurant at Val d'Argan is open on Sundays for lunch and a dip in the pool. So it's possible to combine a walk around the markets with lunch at Val d'Argan; quite contrasting experiences!
You may also want to combine a stop at Val d'Argan with getting between Essaouira and Marrakech. This is only really possible if you're travelling via private transfer, of course. You can't really expect the Marrakech to Essaouira bus to stop for wine tasting 😉.
Final thoughts on visiting Val d'Argan
The winery tour of Val d'Argan felt like such a unique experience in Morocco. The novelty factor alone is reason to visit as a day trip from Essaouira.
But what pleasantly surprised me is how really lovely the wines tasted, and I used to work in the Australian wine industry in a previous life. It may have been something to do with the bright blue skies and warm December sunshine, the beautiful setting, or the fascinating company of Rony, but the care and love that goes into the wine production is definitely a major factor.
Something tells me that this won't be my only visit to Val d'Argan. There will definitely be a next time. Perhaps to enjoy the wines over a lunch a dip in the pool.
---
Explore Essaouira ebook
Updated for 2023, the Explore Essaouira ebook is the only travel guide you need for exploring Essaouira. It is jam packed with inspiration on what to do, where to eat, where to stay, and also includes a step-by-step self-guided walking tour (with photos).
This is a PDF download for use offline and on the go (and ad-free!). Save it to read on the plane to Morocco, download to your phone to follow the self-guided walking tour around the medina, or print it off at home before you leave on your adventures and highlight all the bits you want to remember for your visit.
If you have found this website useful for planning your Essaouira adventures, you can show your support by buying Jenny a coffee. Thanks so much!