Considering remote working in Morocco or being a digital nomad in Morocco? Is the WIFI good enough and where is a good base? Read on for our personal experience, with a focus on remote working in Essaouira.
With the boom in remote working since the pandemic, digital nomads are turning to Morocco, especially those working for UK businesses due to the convenience of time zones. This exotic North African country bursting with a vibrant culture and fabulous weather may feel a million miles away, yet is only a few hours flight from London and can provide a wonderful work-life balance for adventurers, whether you're looking to work from Morocco for a few days or a few months.
Disclaimer: This post contains affiliate links. Should you click to purchase, it is at no additional cost to you, but we receive a small commission.
But is Morocco ready and geared up for remote workers and digital nomads who first and foremost need excellent internet connection, but also a affordable accommodation with Western comforts? And where is the best town / city in Morocco for remote workers to base themselves? Read on as we share our personal experience of Morocco digital nomad life.
Our story
Both my husband and I work remotely. I'm a blogger (this website your reading is one of three that I run) and my husband is a software engineer. But we also have two primary-aged boys, so digital nomad life isn't totally free an easy as we have their schooling to consider.
In 2022 we deregistered our boys from their UK school for the summer term to travel and live in Morocco for 4 months. To keep up with their schooling whilst we were in Morocco, the boys were enrolled in online schooling. So not only did we have our own work commitments to manage, but also online schooling for our boys. Their online schooling was often over zoom, and my husband was also on video calls for most of his working days. Good bandwidth was essential.
Why Morocco is good for digital nomads
Morocco's time zone is very convenient for European business, but it's the wonderful weather, the fascinating and vibrant culture, laid-back vibes, and reasonably cheap cost of living that tempts digital nomads to Morocco. It's also one of the safest and most developed African country.
However, Morocco is nowhere near the level of digital nomad ease experienced in Thailand or Bali, and co-working spaces with other remote workers are few and far between. So if you are someone looking for a digital nomad community to immerse yourself in, then Morocco is not for you. But if you want to immerse yourself into a wonderfully warm community around your working life, and live like a local, then this is very much achievable in Morocco.
Morocco digital nomad visa
There is no Morocco digital nomad visa, and no rumours of there ever being one.
Most remote workers and digital nomads to Morocco enter on the free 90-day tourist allowance. Click here for the list of countries whose citizens are exempt from visas (British nationals are included). At the time of writing, it was possible to extend this for another 90 days either by paying a fee at a local police station, or doing a visa run (we opted for a visa run to Spain using the Tangier-Med to Algeciras ferry).
However, it should be noted that this visa is for tourism purposes only, not for working. But we've not yet heard of anyone having an issue remote working in Morocco using a tourist visa.
Do check the UK Government website for current travel advice for Morocco.
Is the WIFI good enough in Morocco for remote working?
For most of the main cities in Morocco, including Essaouira, we found the WIFI to be good enough for our needs.
The best WIFI we experienced was actually in the village of Diabat, just south of Essaouira along the coast. Casablanca WIFI was also very impressive.
But the bandwidth in most places we stayed (this tended to be in medinas) really only seemed to cope with one person on a video call at a time. Any more than that, and the internet would grind to a halt.
So on the few occasions when two family members were on a video call, or say I was uploading photos whilst someone was on a call, we would use a back-up internet connection. This is a WIFI device with a local sim loaded with data that we could access. Data is available from little shops all around the medinas, and it's about 50DH for 5GB of data. This worked really well.
In medinas around 8pm, we find that the internet tends to slow down with so many people trying to access it at the same time in a small area. Just something to bare in mind.
Remote working in Essaouira
During the four months we were travelling and remote working in Morocco, we based ourselves for two separate months in Essaouira, allowing another two months to move more freely around the country to explore. We therefore had a taste of digital nomad life almost everywhere in Morocco (including Casablanca, Marrakech, Fes, and Chefchaouen).
However, Essaouira was easily our favourite place to base ourselves for remote working in Morocco with its laid-back and friendly vibe, variety of restaurants (including Moroccan, Western, and even Asian), affordable accommodation, and good WIFI (not super fast, but good enough for video calls and photo editing). Plus, it really is one of the most beautiful towns in Morocco with its traffic-free medina and vast stretches of beach, and even features in the hit TV series, Game of Thrones, as Astapor.
But what Essaouira has, over say Marrakech or Fes, is the beautiful arc of beach; perfect for a morning run, or a sundowner later in the day, and a great spot for surfing. Medinas are beautiful spaces, but can feel rather confined, so being able to combine the convenience of medina-life with big open, natural spaces, provides a good balance to work and schooling life.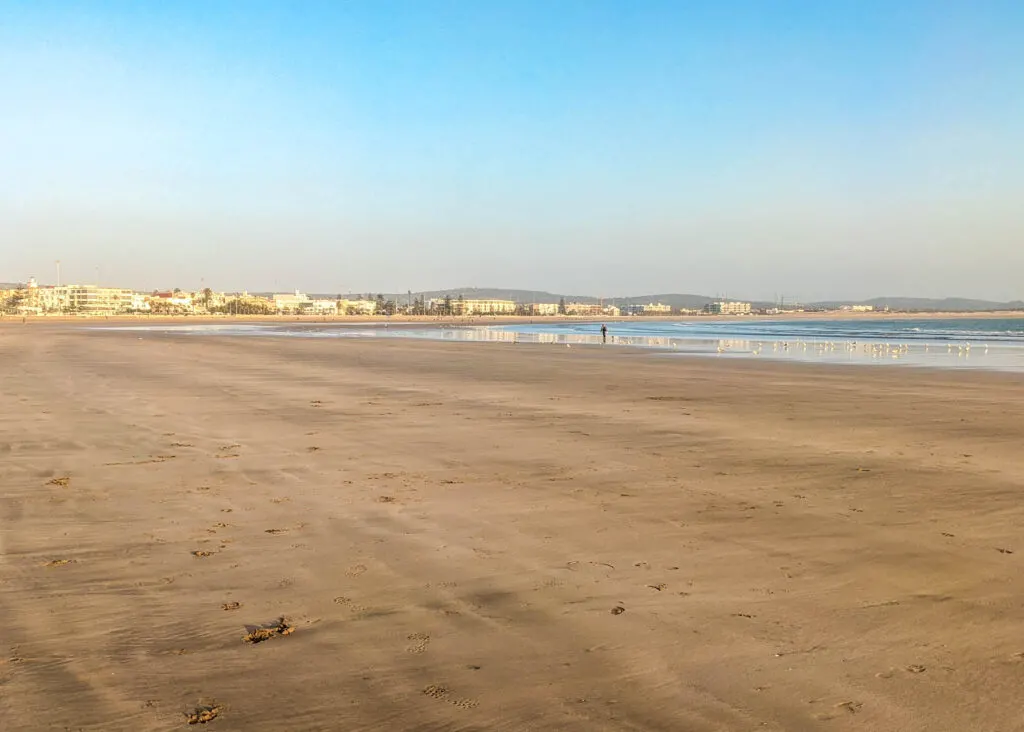 A month's stay in a decent two-bed house in Essaouira medina costs around £800 (you can find cheaper, but being a family of four, we needed the space). Fresh breads, eggs, fruit and vegetables can be purchased around the markets of the medina. But if you need Western food items such as pasta, cheeses, and cereal, there's a large Carrefour supermarket on the main road into town.
In between work (and schooling), there are so many things to do in Essaouira, more so that other Moroccan towns and cities. Take a stroll around the medina and through the working fishing port on our Essaouira walking tour, or wander along the main beach, try quad biking or camel riding, or perhaps surfing. With the strong winds off the Atlantic, Essaouira is one of the top places in the world to learn how to kite surf. If you're looking to wind down, perhaps experience a traditional hammam in Essaouira after an afternoon shopping around the medina. If you feel the need to venture further afield, there are some lovely day trips from Essaouira, including Diabat, Sidi Kaouki, Safi, and even Marrakech.
Noqta Space: Essaouira's only co-working space
noqtaspace.com
Click here for Google Map location
Essaouira even has it's own co-working centre, Noqta Space, geared towards both local and international digital nomads in Essaouira, with a strong focus on community.
There are three double bedrooms, plus an open café-style coworking space, and two quiet work spaces single/shared. Additionally there are two terraces for working outside.
Noqta Space is open 9am to 8pm, Monday to Saturday (closed Sunday). Drop in by the hour or book in for an entire day. Please see below for prices at time of writing. Up to date information can be found on their Instagram page.
Essential items for remote working in Morocco
Our WIFI device was invaluable. This also meant that we could access data from anywhere outside of our accommodation, but we could keep our sim cards from home in our phones (useful for keeping phone numbers, WhatsApp etc).
Make sure you have the right plug adaptor for Morocco. The plug with two round pins (Type C) is most common. This Also know as a Europlug, as it's the plug type most common in Europe. We recommend this one, as the USB slots are super handy too.
We also recommend using a VPN to protect your data; a VPN changes your IP address and obscures your virtual location, keeping your sensitive data safe. Also, not all countries see the internet in the same way. The VPN can make it look like you're in the UK, so you can bypass censorship and enjoy your favourite TV shows from home (Netflix, BBC iPlayer etc). We use NordVPN and have had no problems whatsoever.
Oh, and don't forget the laptop ;-).
---
Explore Essaouira ebook
Updated for 2023, the Explore Essaouira ebook is the only travel guide you need for exploring Essaouira. It is jam packed with inspiration on what to do, where to eat, where to stay, and also includes a step-by-step self-guided walking tour (with photos).
This is a PDF download for use offline and on the go (and ad-free!). Save it to read on the plane to Morocco, download to your phone to follow the self-guided walking tour around the medina, or print it off at home before you leave on your adventures and highlight all the bits you want to remember for your visit.
If you have found this website useful for planning your Essaouira adventures, you can show your support by buying Jenny a coffee. Thanks so much!