Are you a GoT fan? Check out the set locations for Game of Thrones in Essaouira on your visit to the "Windy City of Africa" and know exactly where to go with our comprehensive Essaouira Game of Thrones guide.
Perched on the Morocco's Atlantic coast, the picturesque Moroccan port town of Essaouira features as Slaver's Bay, Astapor, in HBO's hit TV show, Game of Thrones. The main set location of Game of Thrones in Essaouira are around the Ramparts and Sqala du Port, which are both free to enter and walk around, and fans will notice that there was little in the way of CGI touch ups; Essaouira really does look like Astapor in real life, well minus the 'Unsullied'.
So a visit to Essaouira really is a must for Game of Thrones fans. But how do you get to Essaouira? Where are the Game of Thrones set locations in Essaouria? Which are the Games of Thrones Essaouira episodes? Well read on GoT fans and we'll tell you all.
About Essaouira
Essaouira's chilled and relaxed vibe, especially in comparison to Marrakech, makes it very popular with visitors to Morocco. If you are visiting for the Game of Thrones locations, it's certainly worthwhile staying for at least a few days to take in all the things to do in Essaouira.
It's medina (old town) is protected by 18th-century ramparts, there's an active fishing port to explore, and a wide long arc of beach which offers surfing, kitesurfing, horse-riding, camel-riding, and quad-biking. But if you prefer a more sedate activity, try a traditional Moroccan hammam in Essaouira, or just wander the medina to browse the shops and stopping occasionally for mint tea.
How to get to Essaouira / Astapor
Pre-pandemic, there were direct flights to Essaouira from London. These have since be cancelled and there is no mention yet of this route restarting. However, you can still get a direct flight from Paris and Bordeaux in France.
The majority of visitors to Essaouira fly into Marrakech. It's then a 2.5 to 3 hour drive from Marrakech to Essaouira. There is no train line to Essaouira and a one-way car hire is not possible.
These are your options to get from Marrakech to Essaouria.
Take a private transfer
If there are 4-6 members in your party and you want to keep travel simple, a private transfer between Marrakech and Essaouira is your best option. It is also the most comfortable option. It's only a little bit more expensive to hire a private transfer, especially when you take in the cost of a taxi to get to the bus station in Marrakech, or the hassle factor of negotiating with a grand taxi driver. Expect to pay a minimum of €80 for a private transfer between Marrakech and Essaouira.

Take a Grand Taxi
There is a fixed fee of 600DH for a grand taxi from Marrakech to Essaouira. You will need to go to a Grand Taxi station in Marrakech (such as outside Marrakech Train Station) and you cannot pre book. Just turn up and ask. Despite there being a fixed fee, you will probably be quoted 1000DH initially (this is Marrakech after all!). Well done if you can get them down to 700DH.

Take the bus from Marrakech to Essaouira
Supratours is the main bus company that travels between Marrakech and Essaouira. The journey takes 3 hours by bus, with a 20 minute comfort break enroute. There are six buses per day from Marrakech to Essaouria leaving at 07:45, 09:00, 10:45, 14:45, 16:45 and 19:00. Click here to read our guide for getting the bus from Marrakech to Essaouira.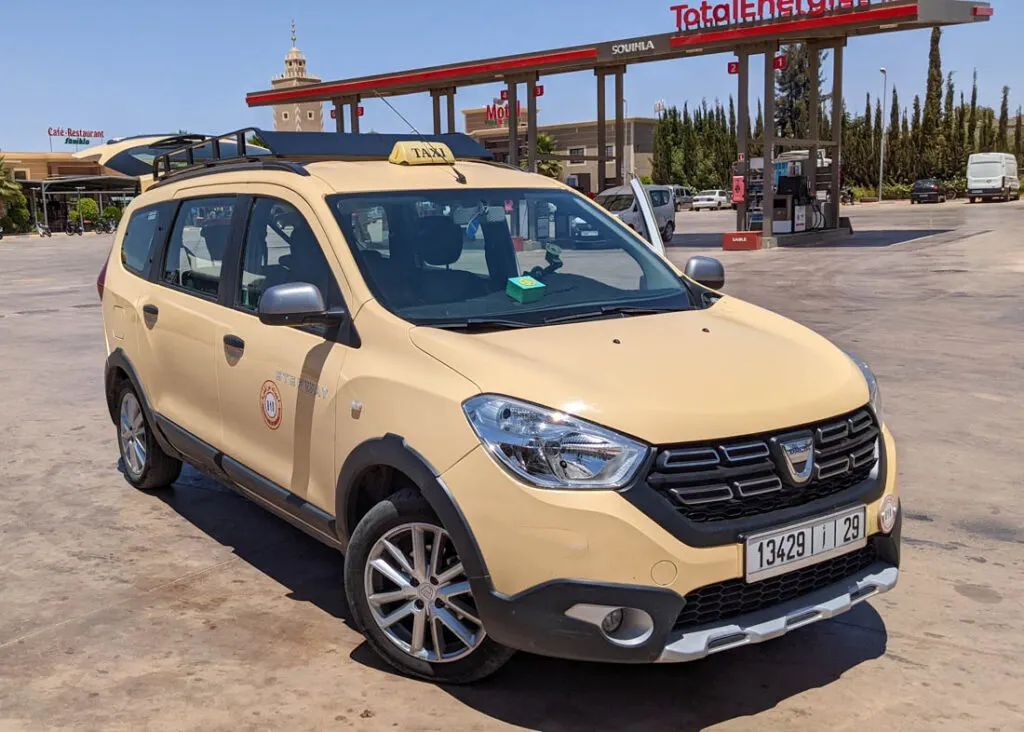 Alternatively, if you are coming to or from Casablanca, check out our guide for the Essaouira to Casablanca bus.
Where is Game of Thrones set in Essaouira?
There are two set locations in Essaouira for Game of Thrones:
Essaouira's Ramparts (click here for Google Map location)
Sqala du Port d'Essaouira (click here for Google Map location)
It's a short walk between the two locations, and both feature on our free and self-guided Essaouira walking tour.
Both are free to visit.
Essaouira's Ramparts
open 9am to 8:30pm every day, free entry
Essaouira's Ramparts are featured most in the Game or Thrones' Astapor scenes. Firstly when Daenerys Targaryen arrives to Astapor, and then again as 'The Walk of Punishment' two episodes later.
These fortified walls were constructed around the medina in the 18th century to protect the port from attack and are remarkably well preserved. Walking along these ramparts are one of the top things to do in Essaouira; take in the windswept views of the Atlantic Coast, with the wooden fishing boats bobbing in the water, rocky outcrops, and an offshore bird sanctuary.
The entrance to Essaouira's Ramparts can be tricky to find and not where you expect them to be. Head to the top of Rue Skala (which is lined with artisan shops) and through a stone arch. From here, walk up the slope to the top of the ramparts. At the top of the slope take a right first to check out the views to the north (although this side doesn't feature in Game of Thrones), before heading along the line of canon, which GoT fans will certainly recognise.
You can climb up on top of the canon and onto the wall. It's a lovely place to sit looking out onto the Atlantic Ocean, watching the world go by, especially at sunset.
Sqala du Port
open to the general public and no fee to view
Sqala du Port is one of the main fortifications of the city, and is located at the entrance to the port. It's perhaps the most iconic sight in Essaouira and features on the homepage of this website!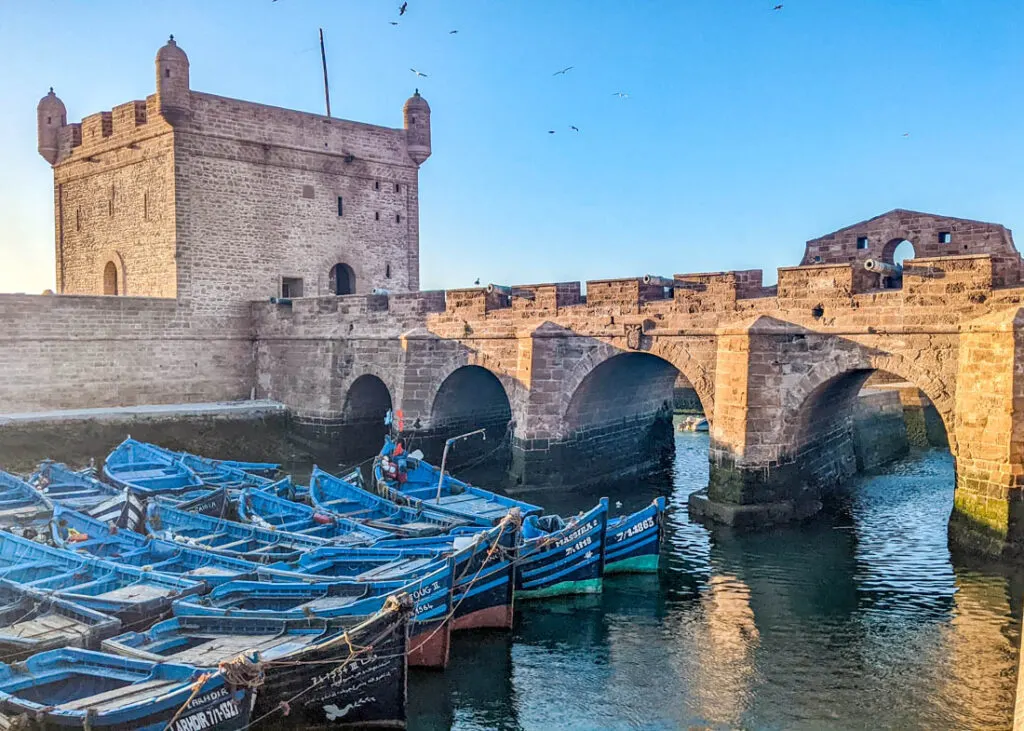 However, it is often photographed from within the fishing port, as the above photo shows. In Game of Thrones, Sqala du Port actually features from the other side, before you walk through the arch leading into Essaouira's fishing port, just opposite the orange juice stalls.
It only appears for a couple of minutes in Game of Thrones as Daenerys discusses the value of the Unsullied with her advisor, Ser Jorah, and they meet Ser Barristan Selmy.
Which are the Game of Thrones Essaouira episodes?
The following details which Game of Thrones episodes and scenes feature Essaouira. It's worth re-watching these scenes before your visit.
Episode 1, season 3: Valar Dohaeris
Astapor / Essaouira is first featured 46 minutes into episode 1, season 3 of Game of Thrones. This is when Daenerys Targaryen sails to Astapor to buy an army of 'Unsullied' and learns that this is an army of slaves who have be trained as children, and only one in four boys (the most disciplined, loyal and fearless) survive. Here, Daenerys walks along Essaouira's ramparts when she first arrives to Astapor and meets the leader of the Unsullied, Kraznys.
This episode then moves along to Essaouira's Skala du port, as Daenerys discusses the value of the Unsullied with her advisor, Ser Jorah, before meeting a little girl with poisonous scorpion hidden inside a ball. A hooded man stops the scorpion from attacking Daenerys and as he chases the girl away, you can spot the distinct blue fishing boats that are common today around Essaouira's port.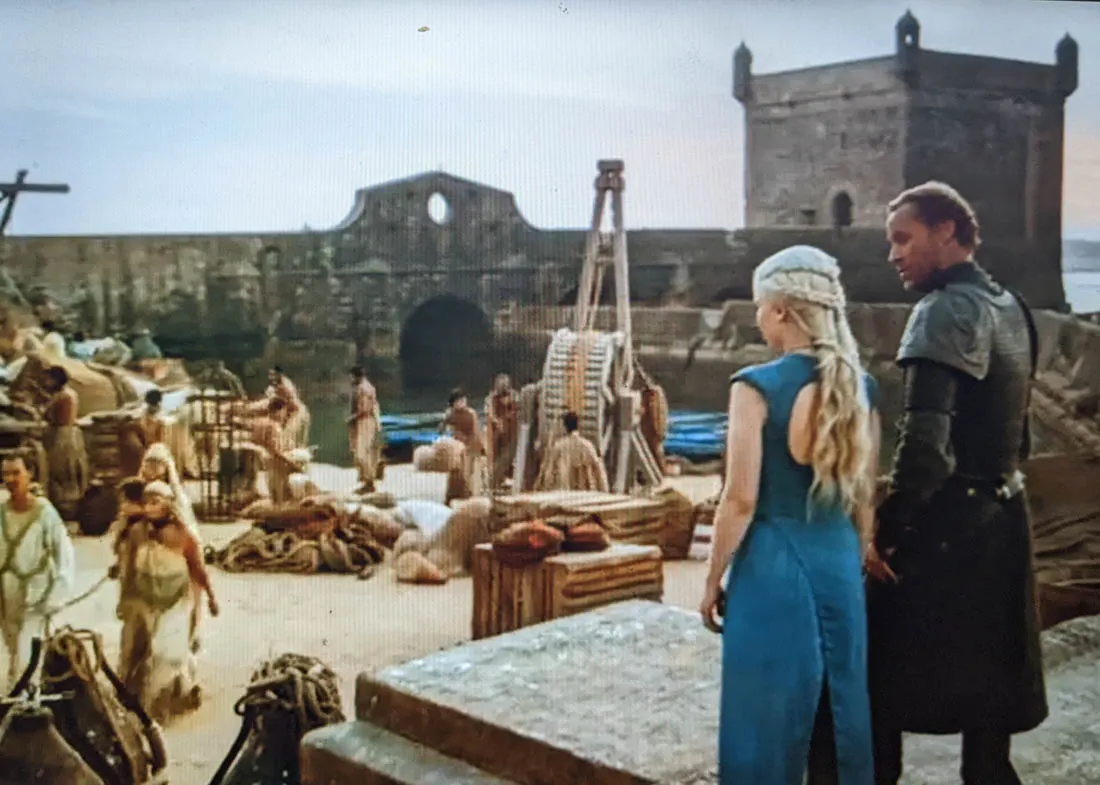 Episode 3, season 3: Walk of Punishment
Essaouira's Ramparts are featured again, 28 minutes into episode 3, season 3, as the 'Walk of Punishment' in Astapor. Here the canon which sits along the Ramparts have been built over to create the base for each crucifix.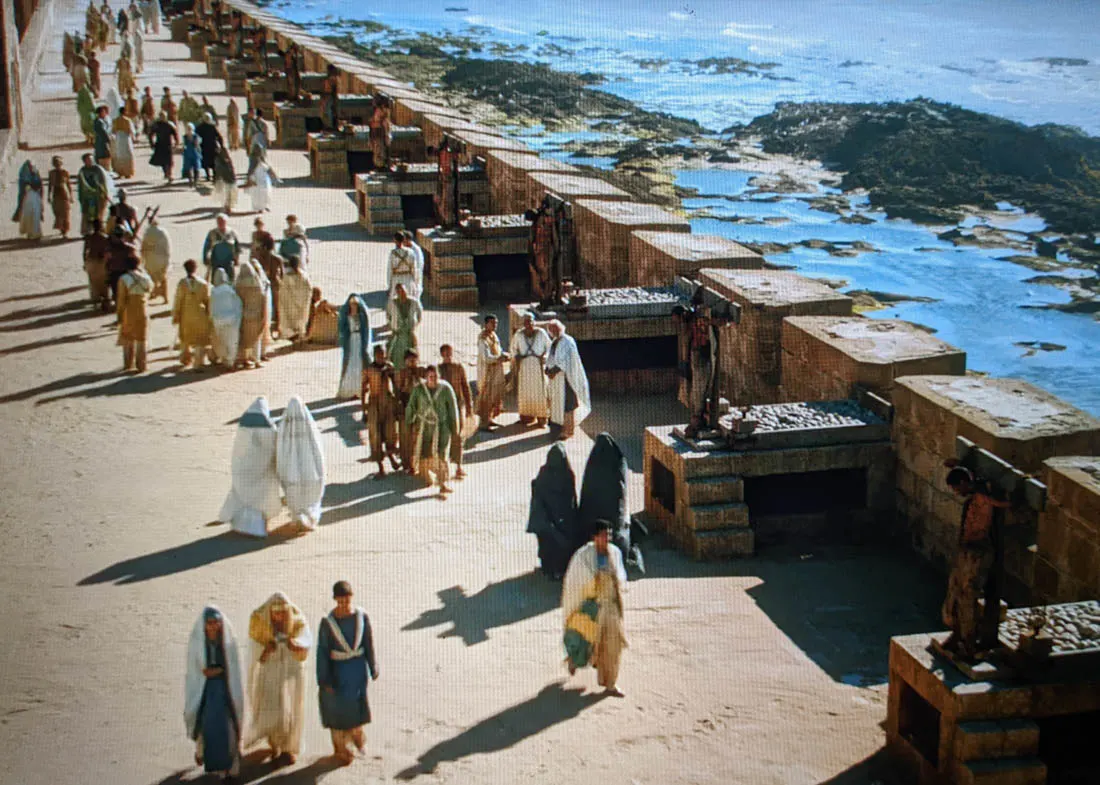 Daenerys' negotiations to purchase all of Kraznys' Unsullied then take place in the central base of Essaouira's Ramparts. To get there, facing the base of the slope up to the ramparts, continue straight ahead to the left of the slope and continue around to the right. Just as you exit back into the alleyways, stop, turn around, and look behind you to spot the set of below scene.
Episode 4, season 3: And Now His Watch Is Ended
45 minutes into episode 4, season 3, Astapor is featured again, but not recognisably Essaouira. Indeed, the large scenes of the 8000 Unsullied army gathering are too big scale to fit in Essaouira's Medina.
Although as Daenerys marches the Unsullied out of Astapor, the sea backdrop dotted with islands are still clearly the Atlantic Ocean by Essaouira, but there is a lot of CGI used here to show the extent of Astapor, with a few dragons added in (which can definitely not be found in Essaouira).
---
Explore Essaouira ebook
Updated for 2023, the Explore Essaouira ebook is the only travel guide you need for exploring Essaouira. It is jam packed with inspiration on what to do, where to eat, where to stay, and also includes a step-by-step self-guided walking tour (with photos).
This is a PDF download for use offline and on the go (and ad-free!). Save it to read on the plane to Morocco, download to your phone to follow the self-guided walking tour around the medina, or print it off at home before you leave on your adventures and highlight all the bits you want to remember for your visit.
If you have found this website useful for planning your Essaouira adventures, you can show your support by buying Jenny a coffee. Thanks so much!