Desperate for a change from vegetarian tagines and veggie pizzas on your Moroccan travels? With the variety of restaurants in Essaouira, you may be wondering if this is the town to diversify your diet.
Well you'll be pleased to hear that you don't need to make a beeline for bustling Marrakech for your fix of veggie food. There are just as good options for vegetarians in Essaouira, and even a designated restaurant for vegetarians and vegans in the heart of the medina, serving incredible food and run by the most lovely family.
Vegetarian tagines are the staple main meal for any vegetarian traveller to Morocco. That, or vegetarian couscous if the restaurant have couscous available that day (often not the case). Perhaps mix in a veggie pizza (on a pre-made base) or a veggie burger (check that this isn't just a normal meat burger without the patty!). Maybe just a Moroccan salad with a portion of fries?
A veggie tagine is a wholesome casserole, and especially tasty when those spices become caramelised with the veg at the bottom. But you may be surprised to hear they rarely have a kick to them, and can sometimes be on the bland side.
Morocco isn't the best destination for adventurous vegetarian foodies, as the cuisine is heavily meat based, and very few restaurants cater to vegetarians beyond a veggie tagine or Moroccan salad. No judgement if you tire of the veggie tagines served in restaurants after a few days, most vegetarians have been there.
But if you're heading to Essaouira, vegetarians are much better catered for.
Alternatively, how about making your own vegetarian Moroccan dish on an Essaouira cooking class?
Best vegetarian restaurants in Essaouria
1. Le Corail Vegan Food
BP423 Place Al Khaima, Heb, 44000
Click here for Google Maps location
All vegetarians, and especially vegans, need to make a beeline to Le Corail Vegan Food in a little square near to Sidi Mohammed ben Abdallah Museum. The food choice and quality here is absolutely incredible! You will not be disappointed.
And if you have meat-eaters in your travel group who aren't too keen on vegetarian or vegan food, do not worry. One of the restaurants across the way are more than happy for you to all sit and eat there, and order food in from Le Corail Vegan Food, or vice versa.
2. Restaurant les remparts
G67H+4WV, Rue du Rif, Essaouira
Click here for Google Maps location
With a colourful rustic interior steeped in history, this good value Essaouira restaurant serving Moroccan cuisine is wonderful. The veggie starters (samosas and the goats cheese) are particularly good, and it's worth going to have a selection of these starters as your main.
3. Taverna Bolognese Da Maurizio
7 Rue Youssef Ibn Tachfine, Essaouira
Click here for Google Maps location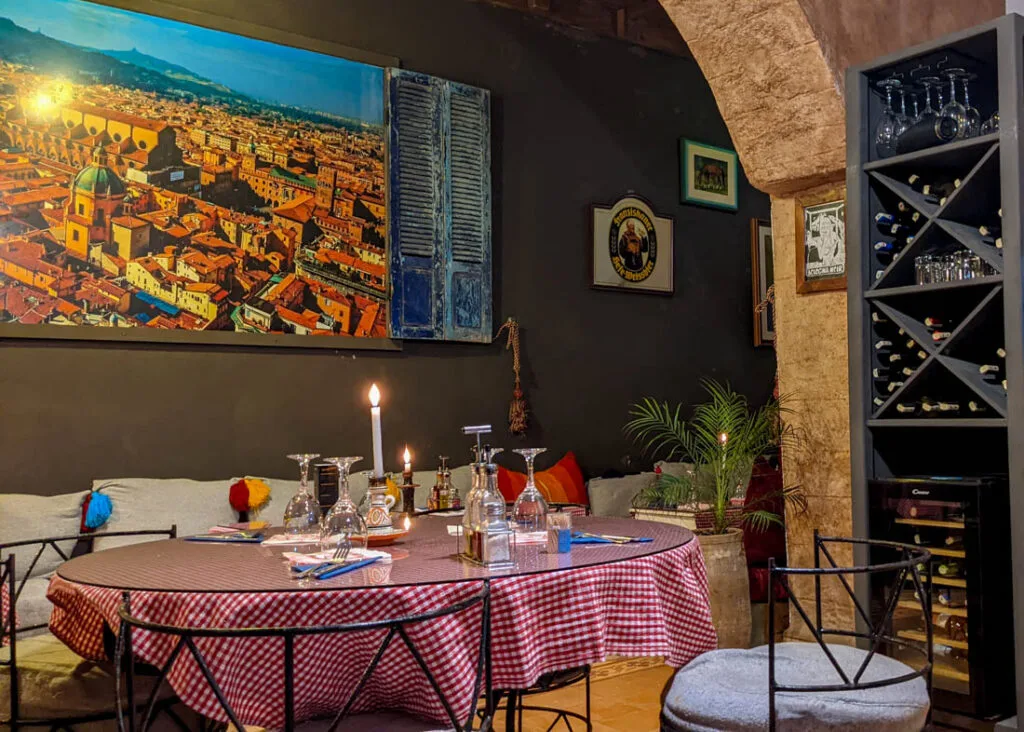 The run of carboard-based pizzas served in tourist restaurants across Morocco are rather uninspiring. But just off the main tourist street of Av. Sidi Mohamed Ben Abdellah, is a true taste of Italy in the heart of Essaouira's medina.
Here at Taverna Bolognese Da Maurizio you will find the best pizzas in Essaouira, or perhaps in all of Morocco, for the same price as the pizzas served elsewhere in Essaouira restaurants. I am salivating as I type this and think of their four cheeses pizza (yum).
And if it really couldn't get any better, there is a good value beer and wine menu to accompany your Italian dish. In fact, Taverna Bolognese Da Maurizio is one of the few medina restaurants that serve alcohol in Essaouira.
The décor is quintessentially Italian with red-checked table cloths with candles flickering, a wine cabinet, and a large picture of Florence on the wall.
4. Asian Red Food
G67H+4H6, Essaouira, Morocco
Click here for Google Maps location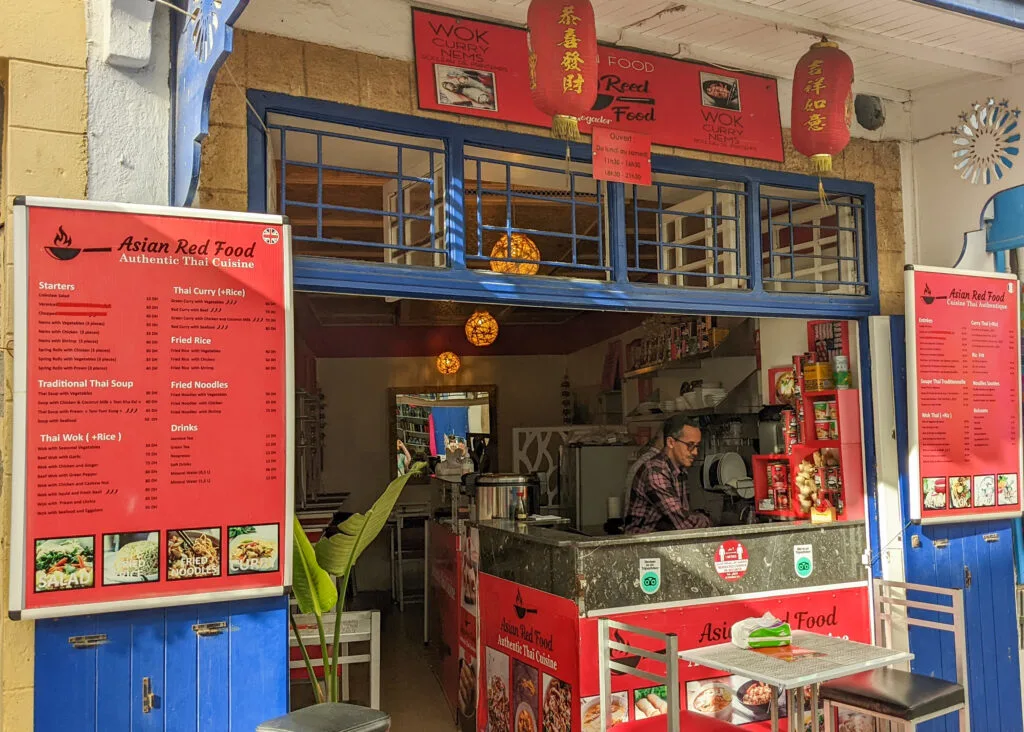 An authentic taste of Asia in North Africa serving a range of Thai dishes. Dine in or take away. Service is quick and friendly, and the food is good value and delicious.
Vegetarians who been travelling Morocco for a while, will appreciate the veggie noodles for the ultimate change of cuisine.
5. Beach And Friends
Av. Mohammed V, Essaouira 44000, Morocco
Click here for Google Maps location
For the best veggie burger in town, head along Essaouira beach to where the surfers and camels hang, to Beach and Friends. The menu also serves tapas. It's a little pricier here compared to other restaurants in Essaouira Medina, but it's worth it for the view and vibe.
After your veggie burger, sink into one of the comfy sofas and hang here a little longer to enjoy a beer or cocktail as the sun sets behind the Atlantic Ocean.
This is a good place to head to after your surf lesson or on your way back to the medina after a quad biking tour.
Self catering in Essaouira
With it's chilled, laid-back vibe, and the variety of things to do, Essaouira is place that many travellers decide to base themselves for a few days, or longer. Indeed, Essaouria gets our vote as the best Moroccan town for remote workers and digital nomads.
So if you do decide to base yourself in Essaouira for more than a couple of days and have self-catering set up at your accommodation, vegetarians and vegans may be relieved to learn that there is an excellent Carrefour supermarket on the main road into town. Being a French supermarket chain, you will be able to find Western comfort food, cheeses, pasta, cereals, and also stock up on tea. Expect to pay Western prices or more as all these items are shipped in. Oh, and Carrefour is also a good place to stock up on alcohol in Essaouira.
It's a flat fare of 8DH in a taxi (9DH at night) around Essaouira. Wait at the same place you are dropped off at Carrefour to get a taxi back into the medina.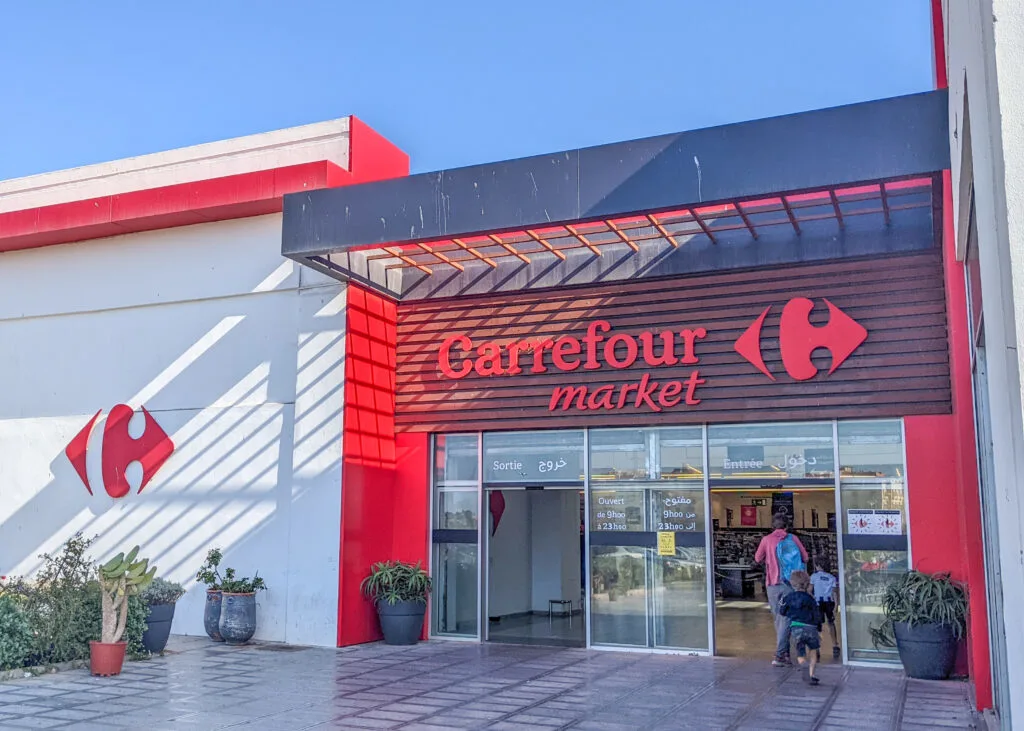 Tips for vegetarians in Essaouira
1. Make the most of breakfast. A typical Moroccan breakfast is entirely vegetarian with a selection of breads, jams, and eggs. This will be served in hotels, or you can head to one of the breakfast bars in the medina, such as Brunch&Co Essaouira, The Coast Essaouira, and Retro corner Essaouira.
2. If you're staying at a riad with a restaurant, give them advance warning that you are vegetarian. If they know to prepare a vegetarian dish, you may be in for quite a treat with something a little different. But if they're caught on the spot, expect the standard vegetarian tagine.
3. Shop the local markets and eat the street food. Along the main stretch of Avenue Mohamed Zerktouni there are street cafes serving msemen (Moroccan pancake) and Harira (a local soup that can be made without meat). There are also creperies around Place Moulay Hassan. Plus, you can stock up on fresh fruit and vegetables along at the food stalls along Avenue Mohamed Zerktouni.
4. Have Google Translate handy in case you need help explaining dietry requirements to waiters. Whilst English is fairly well spoken in Essaouira, French (and more so Arabic) will take you a lot further. And if you don't understand the menu, you can always take a photo and get your phone to translate it for you using Google Lens, although most restaurants in Essaouira have a menu in English.
5. Look to the international restaurants to vary your vegetarian options. If you're heading along the coast or over to the desert after your stay in Essaouira (i.e. travelling anywhere in Morocco aside from Marrakech) you will be limited to vegetarian tagines and tourist pizza. This is your time to enjoy the variety of vegetarian meals in Essaouira.
---
Explore Essaouira ebook
Updated for 2023, the Explore Essaouira ebook is the only travel guide you need for exploring Essaouira. It is jam packed with inspiration on what to do, where to eat, where to stay, and also includes a step-by-step self-guided walking tour (with photos).
This is a PDF download for use offline and on the go (and ad-free!). Save it to read on the plane to Morocco, download to your phone to follow the self-guided walking tour around the medina, or print it off at home before you leave on your adventures and highlight all the bits you want to remember for your visit.
If you have found this website useful for planning your Essaouira adventures, you can show your support by buying Jenny a coffee. Thanks so much!