Whether you're looking for a camping spot, a characterful Airbnb in the heart of the medina, a high end hotel, or a beach resort with swimming pool, there will be something in Essaouira to suit your budget and needs. The range of accommodation for such a small town is really quite impressive, but can be rather overwhelming to decide where to stay in Essaouira.
So if you need help deciding where to stay in Essaouira, we've done the research for you and got you covered!
Disclaimer: This post contains affiliate links. Should you click to purchase, it is at no additional cost to you, but we receive a small commission.
Camping in Essaouira
READ OUR GUIDE: Camping in Essaouira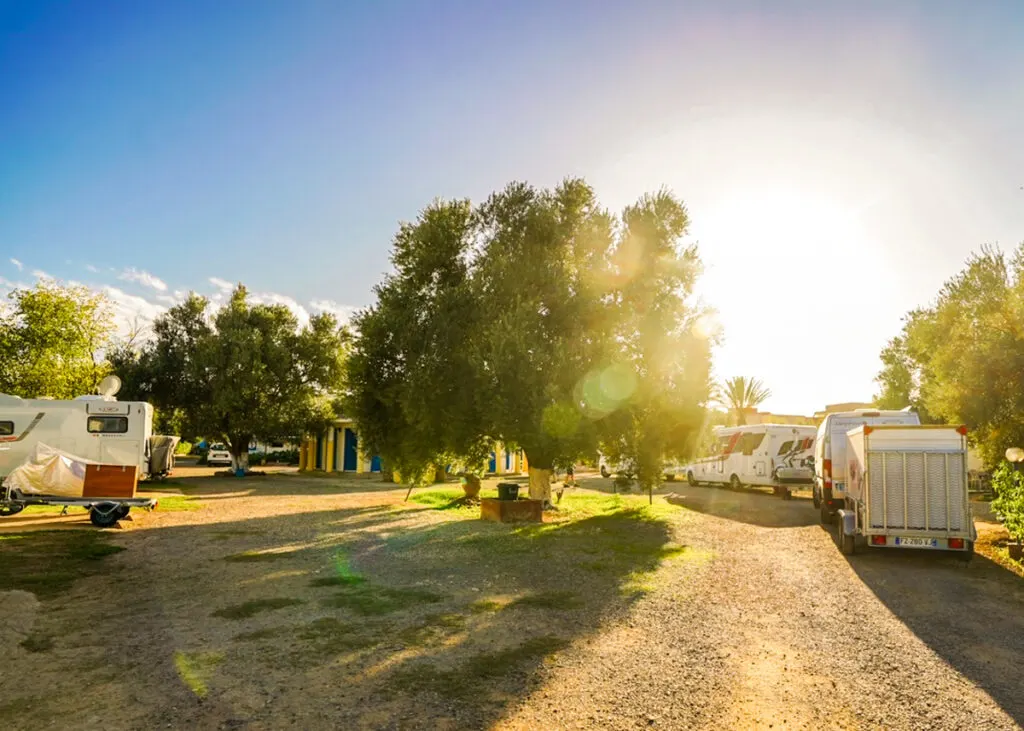 If you're thinking of wild camping in Essaouira, you may need to think again. There are regular reports of camper and motorhome owners being asked to move on by the police.
Whilst there aren't any camping sites directly next to the town of Essaouira, there are a few options a short 15-20 minute drive away.
These include Dar El Bernicha, which is a walled parking area with toilets, and Camping Esprit Nature, which is a more upmarket campsite in a sheltered forest setting, with a swimming pool.
Airbnbs in Essaouira
Airbnbs are perfect for those who want to immerse themselves into the culture and everyday life of Essaouira. You are after all staying in someone's home.
If you're taking the Airbnb option, we very much recommend staying in the heart of the medina where there are a plethora of beautifully furnished home, often with a roof top.
The beauty of an Airbnb is that this is a home from home, with a kitchen and washing machine. Self-catering is always the easier option if your visiting Essaouira with kids, as you can be flexible with your meal times and have a fridge to stock all the snacks. Plus, an Airbnb rental also gives families the space to spread out, and kids can often have their own rooms (this is often important factor for finding accommodation if you are visiting Essaouira with teens).
And if you're planning on staying in Essaouira for a month (indeed, Essaouira is a popular base for digital nomads in Morocco), you can often get up to 50% off your stay.
However, if you feel that you need a swimming pool for your stay in Essaouira, you won't find an Airbnb with one in the medina.
Hotels in Essaouira
READ OUR GUIDE: Best hotels in Essaouira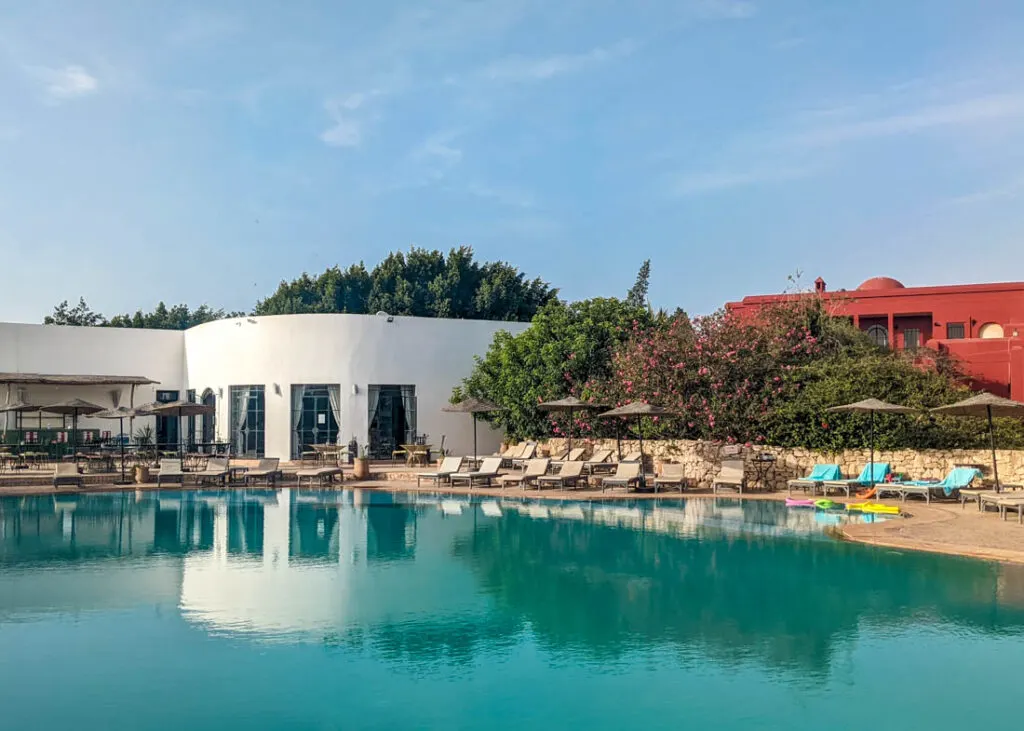 For those seeking a sprinkling of luxury and convenience for their visit, here we feature the best hotels in Essaouira. Especially if it's your first visit and you're wondering where to stay in Essaouira, a hotel or resorts provides a calm and relaxing oasis away from the hustle and bustle. This is a holiday after all! And self-catering is the last thing you want to do every night.
If you're looking for an international resort-style hotel, there are two options: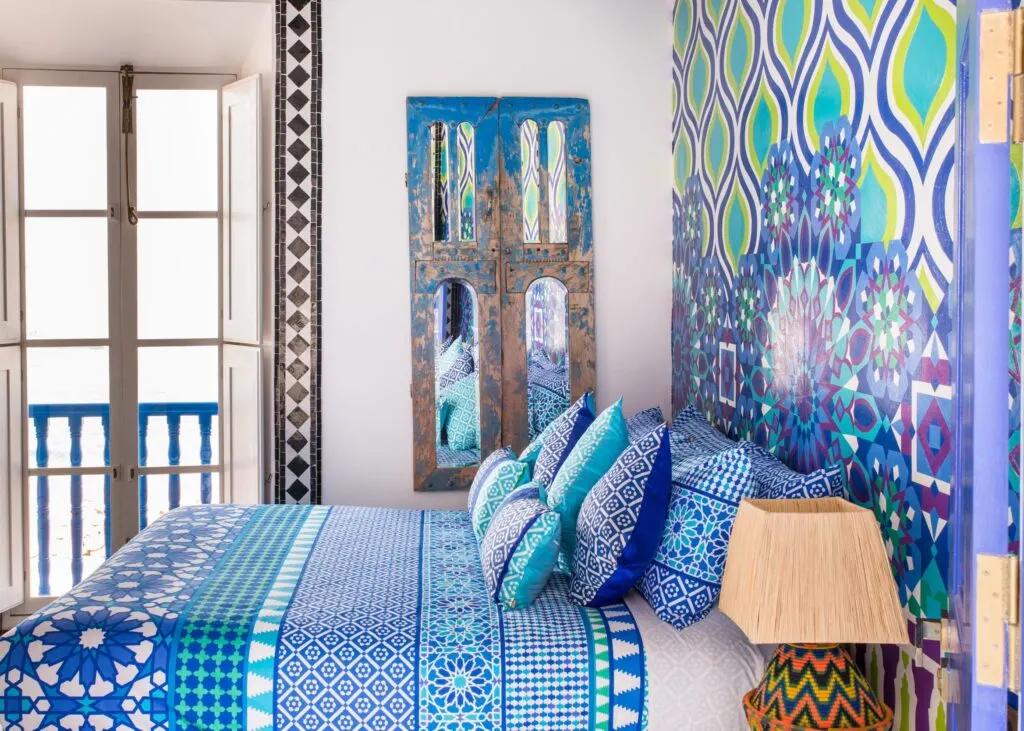 However, check out our recommend best hotels in Essaouira. Whether you're looking for a luxury 5-star Essaouira hotel, an Essaouira beach hotel, or want to stay in the heart of the bustling medina, we've got you covered.
---
Explore Essaouira ebook
Updated for 2023, the Explore Essaouira ebook is the only travel guide you need for exploring Essaouira. It is jam packed with inspiration on what to do, where to eat, where to stay, and also includes a step-by-step self-guided walking tour (with photos).
This is a PDF download for use offline and on the go (and ad-free!). Save it to read on the plane to Morocco, download to your phone to follow the self-guided walking tour around the medina, or print it off at home before you leave on your adventures and highlight all the bits you want to remember for your visit.
If you have found this website useful for planning your Essaouira adventures, you can show your support by buying Jenny a coffee. Thanks so much!