Wondering what to do in Essaouira? Whether you're seeking adventure, fun things to do in Essaouira, or need to relax and unwind, here we provide a comprehensive Essaouira travel guide to all the things to do in Essaouira, so that you can get the most out of your visit. After reading this article for inspiration, make sure your browse around this Essaouira travel blog for more information on best hotels in Essaouria and where to eat in Essaouira.
Perched on the Atlantic coast, just a three hour drive west of Marrakech, Essaouira is one of those places where travellers come for a day or two and end up staying much, much longer. Indeed, too many people visit Essaouira just for one day, often on a crammed, site-ticking tour from Marrakech, only to return wishing they'd spent longer.
Essaouira really is a place to allow yourself to slip into Morocco-time. While away your days with long strolls along the beach and afternoons spent browsing the medina, ramparts and fishing port with plenty of mint tea stops, before heading back to the beach to watch the sun dip behind the fishing port.
It's a great place to visit whether you're a solo traveller, couple, retired, or a family. Indeed the expansive beach is what makes Essaouira great for kids, as your little ones can be let loose after the confines of the Medina. Plus if you're visiting Essaouira with teens, it's one of the few Moroccan towns that you can let them be independent and wander on their own, yes Essaouira really is that safe. Essaouria is a fantastic base for digital nomads in Morocco who looking to slow down their travels and stay put in the one place for a while.
But whilst it's a relaxing town (indeed Essaouira is a much tamer version Marrakech), there are also an array of activities in Essaouira to balance your chilled vibe with an adrenaline hit. Head to Essaouira beach for surfing, kite-surfing, wind surfing, plus there is also quad biking and camel rides! Although if you're after a more sedate activity, maybe try a traditional Moroccan hammam in Essaouira; though be warned, all inhibitions need to go out the window!
Indeed, we appreciate that many travellers come to Essaouira just to relax. If that's the case, your accommodation is key. So do check out our recommendations for the best hotels in Essaouira. And if this is your first visit to Essaouira (or you haven't been for a while), check our our essential travel information for visiting Essaouira, which includes lots of tips, such as what to wear in Essaouira and how to get around Essaouira.
So is Essaouira worth visiting?
Most definitely. If you found Marrakech a bit too full on and touristy, then you will perhaps fall in love Essaouira; much more laid back, but still oozing with Moroccan charm and character. The sellers here are much less pushy than Marrakech, and often just fancy a chat to practice their English, and the taxis don't haggle at all (there's a flat fee of 7DH, check out our guide to getting around Essaouira).
And this best thing is that the Medina is traffic free! So no looking over your shoulder for a moped to come grazing past, although there is always the odd one that somehow manages to find their way into the medina.
Whilst there isn't a long list of sites to tick off, there are so many things to do in Essaouira, and with it's relaxed vibe, the days melt away.
And for Game of Thrones fans, Essaouira is an absolute must visit as Essaouira was the set for Astapor in Game of Thrones! Read our guide to Game of Thrones in Essaouira to find out how to get to the exact locations, as well as which episodes and scenes feature Essaouira.
When is the best time to visit Essaouria?
READ OUR GUIDE: When is the best time to visit Essaouira?
Being on the Atlantic coast, Essaouira doesn't experience the extreme temperatures of other Moroccan tourist destinations, and with an average of 300 days of sunshine, it's generally a great year-round destination.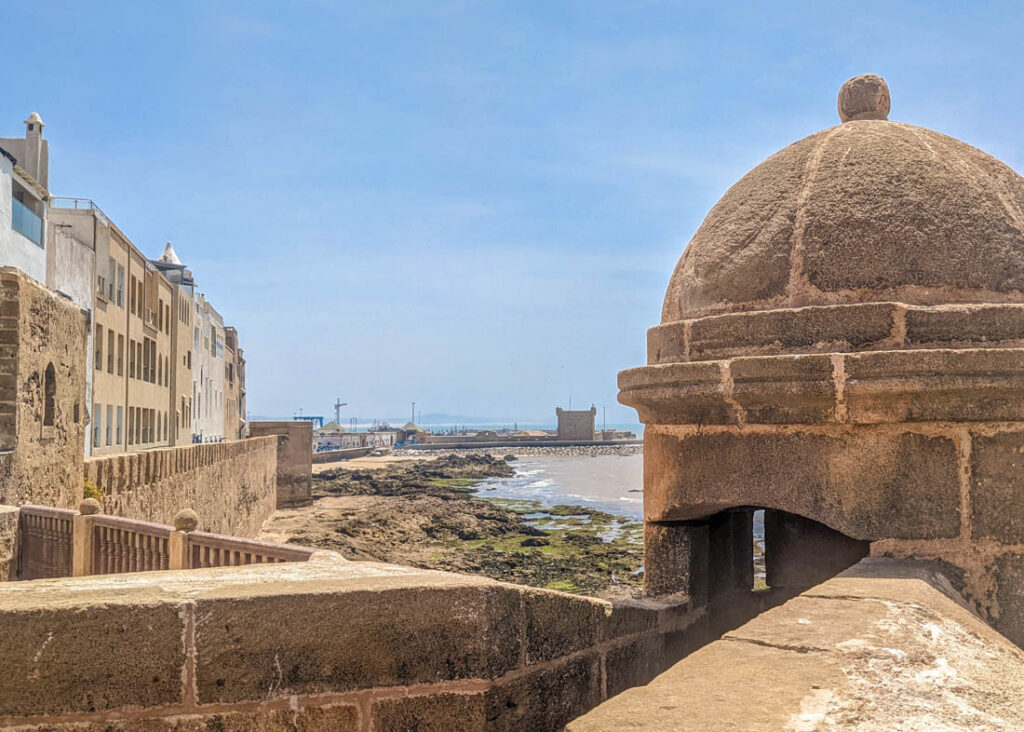 January is the coolest month with an average temperature of 18°C (perfect for some winter sun!), and in the summer months of July and August, the average temperature is 25°C. However, in the medina it may feel warmer than this, and on the beach, a little cooler.
However, the wind can make all the difference to how warm (or cold) it may feel in Essaouira, especially on the exposed beach. Indeed, Essaouira has been coined the "Windy City of Africa"; that Atlantic breeze sure blows off the cobwebs. But this is also why beaches around Essaouira are popular with kite-surfers. This wind drops considerably in September and even more so in October.
Essaouira does experience some cloudy and drizzly days. Indeed it even rains sometimes in Essaouira, although heavy rain is very rare. Drizzly days are more commonly between December and February, but even still, only a couple of rainy days per month are expected. Generally you can expect the sun to be shining for your visit to Essaouira, even if you're just visiting Essaouira for a day or two.
So if you are in need of warmth and sunshine and want to avoid the high season crowds, the best time to visit Essaouira are the shoulder season months between April and June, and between September and October. And if you want to avoid the wind as much as possible, September and more so October are the best months to visit Essaouira. Do note that March and April coincides with Ramadan in 2023.
Short on time in Essaouira?
Whilst you could easily spend a week in Essaouira, and many travellers have been known to while away a couple of months or more (personally guilty here!), many visitors only have a day to explore "Africa's Windy City". Indeed, many visit Essaouira as a day trip from Marrakech, which is only a 3 hour drive away.
So if you are short on time, here are a couple of Essaouria itineraries to help you get the most out of your visit: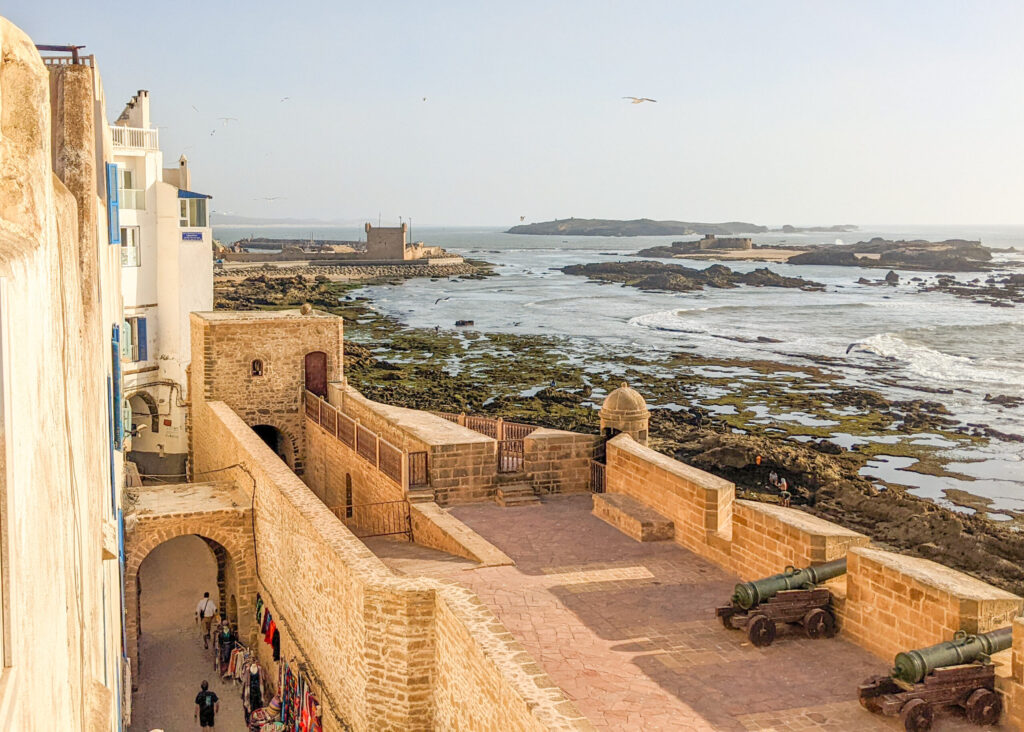 Do you only have one day to spend in Essaouira? Here we provide a comprehensive one day Essaouira itinerary for you to follow so that you can get the most out of your visit.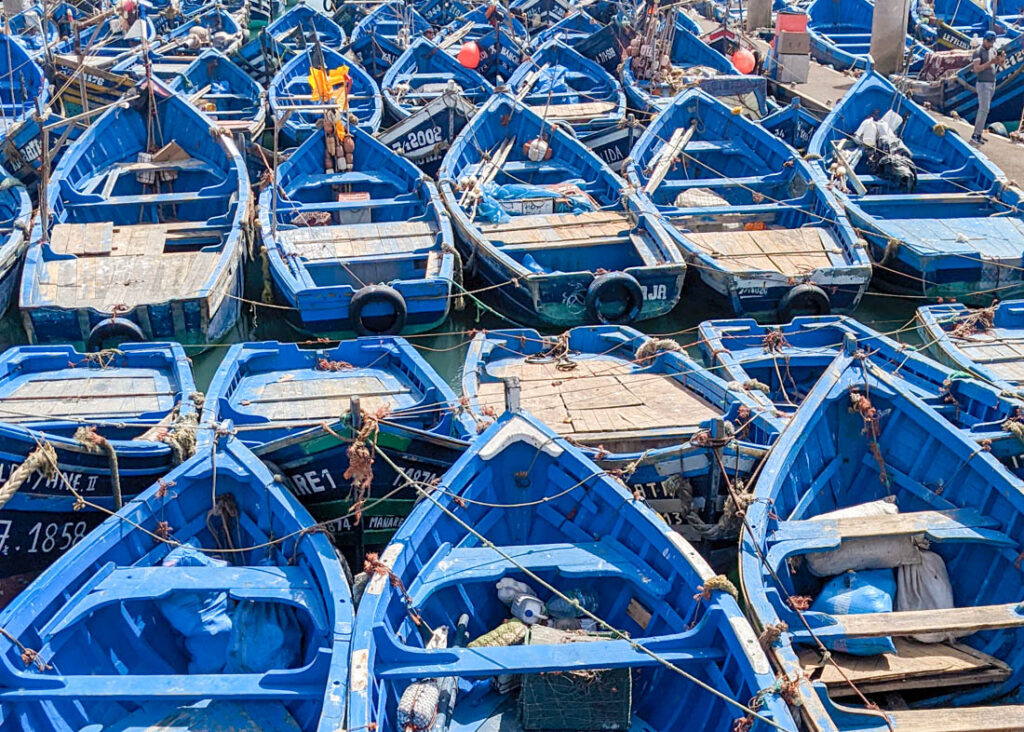 Two days are a typical length of time in Essaouira for those travelling around Morocco for their holiday. Here we provide a comprehensive itinerary for your two days in Essaouira, and provide inspiration for any extra days you may have up your sleeve.
How to get around Essaouira
READ OUR GUIDE: How to get around Essaouira
One of the best ways to do some sightseeing in Essaouira, is on our self-guided Essaouira walking tour. You don't need to follow a map, just follow the directions and photos in our guide. This will take you all around the medina (including the ramparts and Jewish Quarter), the fishing port, and to both beaches.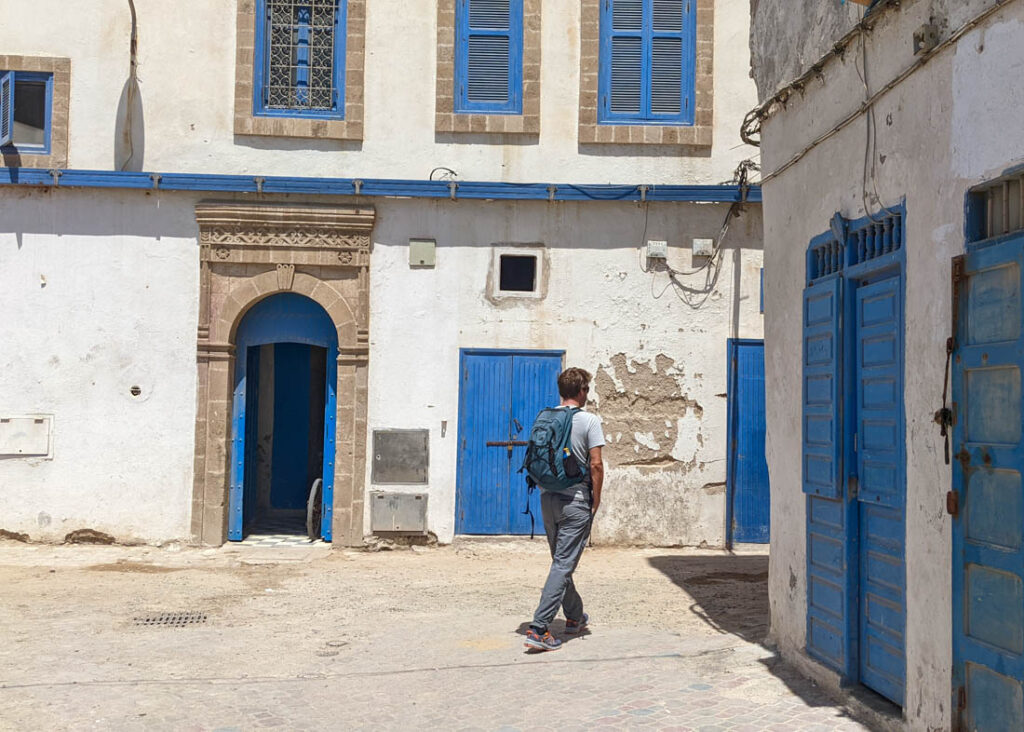 Essaouira is a relatively compact town and both the traffic-free medina and long stretch of promenade that hugs the sandy beach beckon for a morning or afternoon stroll. Here we have put together a lovely self-guided walking tour for you to follow at your own pace. We take you to the main sites, but also off the beaten track along quieter alleyways.
After walking, the best way is by using the petits taxis. These are a flat 7DH fee around Essaouira (8DH at night). Click here to read our guide to petit taxis in Essaouira.
What are our suggested things to do in Essaouira? Well read on…
1. Stroll the medina
READ: self-guided Essaouira walking tour
The Medina of Essaouira, formerly known as Mogador, is UNESCO World Heritage site built in the late 18th-century. Cars and mopeds are not permitted to enter the medina (although you will spot the odd moped chugging through), so it's a lovely place to wander and get lost. Though don't worry about getting too lost as it's not too big and in a grid pattern; you will always be able to find your way out again and locals are always happy to help you out.
Spend your time in the Medina browsing and shopping in the souks, stopping at cafes for a mint tea, and noticing all the beautiful doorways.
2. Wander along the ramparts
open 9am to 8:30pm every day, free entry
Walking along Essaouira's Ramparts enables you to gain a fresh perspective on the city. These fortified walls were constructed around the medina in the 18th century to protect the port from attack and are remarkably well preserved. Take in the windswept views of the Atlantic Coast, with the wooden fishing boats, rocky outcrop, and an offshore bird sanctuary.
The entrance to Essaouira's Ramparts can be tricky to find and not where you expect them to be. Head to the top of Rue Skala (which is lined with artisan shops) and through a stone arch. Click here for the Google Map pinpoint on your phone. From here, walk up the slope to the top of the ramparts. At the top of the slope take a right first to check out the views to the north, before heading along the line of canon.
You can climb up on top of the canon and onto the wall. It's a lovely place to sit looking out onto the Atlantic Ocean, watching the world go by.
These ramparts are an Essaouira must see, but also feature heavily in HBO's hit TV show, Game of Thrones as the set of Astapor. Firstly when Daenerys Targaryen arrives to Astapor, and then again as 'The Walk of Punishment' two episodes later. Read our guide to Game of Thrones in Essaouira.
3. Buy fresh fish from the port
The port is a fascinating place to wonder with all the fish laid out for sale, and fisherman bringing in their catch and preparing their nets. It's busy, smelly, and dirty, but an absolute treat to be able to witness. You will see sardines, pilchards, hake, sole, crab, lobster, octopus, flat fish, eels, and unfortunately you may see shark.
You can even buy fish direct from the fisherman here and have it cooked at one of the open restaurants at the port – just ask one of the sellers and they will point you in the right direction.
The Scala du Port is the castle-like entrance to the port with stone arches, which features in Game of Thrones. Even though there are signs saying not to swim, you will spot local kids diving into the waters on warm days.
Walk through the fish stalls and then follow the harbour wall to the end. It is possible to climb up onto the wall for more sea views.
4. Visit the Jewish corner
The Jewish corner of Essaouira's Medina shows how the Muslim and Jewish religions worked in harmony. This is also included in our Essaouira walking tour.
This area of the Medina is not as well maintained as the rest of the Medina; buildings are crumbling away and the streets aren't very clean. There are also a few shacks as temporary homes. However, there are signs of restoration projects and it's fascinating to see a very different and raw side to Essaouira Medina. You certainly feel like you've stepped away from the main tourist drag.
There are a number of synagogues to visit (at the time of writing, tourists were allowed inside Haim Pinto Synagogue), as well as the Jewish cemetery past Bab Doukkala, which also has a Christian cemetery adjacent.
To get to the cemetery, walk out of the Medina through Bab Doukkala. Just next to the Petits Taxis sign on the left is a wooden door. This is often closed in the evenings and on Sundays. A man will be sitting outside if it is open. There is no entry fee.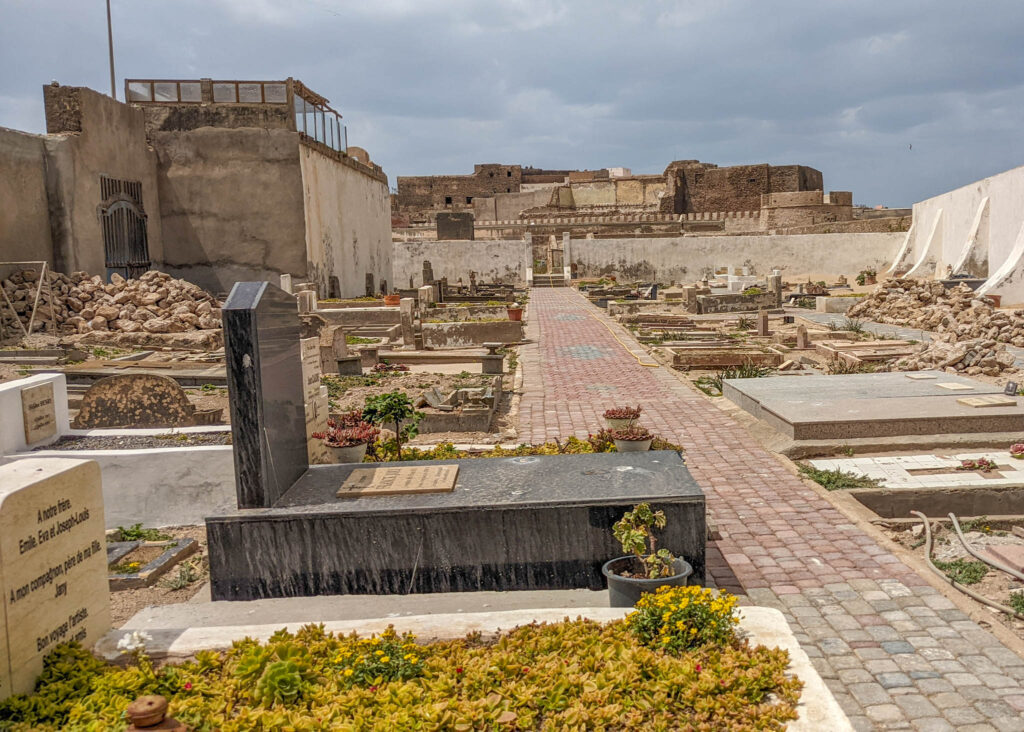 5. Blow off the cobwebs on the beach
READ: Essaouira Beach: everything you need to know
There are beaches to the north and south of Essaouira. The beach to the south is the main tourist beach, and the beach to the far northern edge of town is know by the locals as Safi Beach. There is also beach between the Ramparts and Safi Beach, but can be tricky to access.
Essaouira's main beach
To the south of Essaouira's Medina is a 2km arc of sandy beach with a wide paved promenade along the entire stretch. The waters here are very shallow, but the strong Atlantic wind brings waves that are great for surfing and kitesurfing.
It's a stunning place to visit for sunset, and this is where locals come to play football. It's also a refreshing place to breathe in the fresh air after the confines of the medina or the bustle of the port.
There are sun loungers to rent for 25DH closer to the Medina end of the beach. About half way along is a concrete football / basketball play area, as well as a small children's playground with trampolines (10DH per child). On the far end of the beach, away from the Medina, is where you'll find the surfers, kite surfers, and camels.
There are also a handful of oh-so-cool beach bars at the far end of Essaouira Beach, including Ocean Vagabond and Beach & Friends, which are our personal recommended spot for a sundowner and a couple of our favourite places to eat in Essaouira; Beach & Friends does great tapas. If you've stayed a bit too long at the beach bars and need to get back to the Medina, hop in a Petits Taxi for 7DH.
The beach is generally clean, although you will unfortunately find a fair bit of litter close to the promenade and along the shoreline. On sunny, hot weekends when there is no wind, the beach can get very busy. August is when the beach is busiest as not only is it the European and Moroccan school holidays, Essaouira is one of the coolest places in Morocco at this time where elsewhere temperatures are soaring to the unbearable mid-40s.
The beach north of Essaouira's Ramparts
Looking north from Essaouira's Ramparts (which were used as the set of Astapor in Game of Thrones), you can see a sandy beach buffeted by the Atlantic waves. But from the Ramparts, there is no obvious way down, unless you are bold enough for a big jump.
In fact the closest entry point to this beach is from Sqala du Port, climb down to the beach on the right hand side and then walk northwards. This will only be passable at low tide.
Otherwise, walk through the medina to the Jewish Quarter, and exit through Bab Doukkala, follow the road straight ahead past the Jewish Cemetery, the Petits Taxis, and a line of horse-drawn carriages. Continue for 550 metres to the Total Energies petrol station. Just past here on the left is a short road that leads to the beach. Walk down here, and continue to the left to get down to the beach. It seems remarkable that this is the first entry point from the Ramparts, but the high walls of the medina and subsequent buildings, just mean that any other entry point is not possible.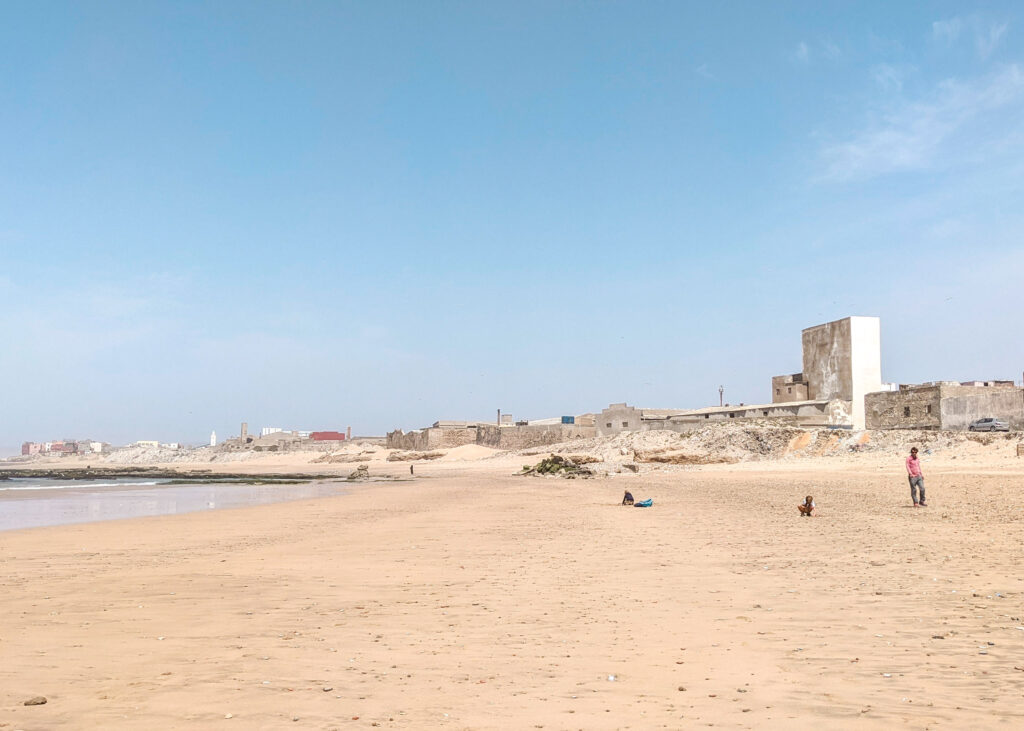 But past the litter, the beach opens up, and even on a summer Sunday, you may get this beach to yourself. There is also lots of broken ceramics to be found here on this beach. Kids may like to collect a few to make a mosaic.
This is a great place for a stroll and the beach stretches towards Safi Beach.
Safi Beach
If you're visiting Essaouira in July or August (the high season), Safi Beach at the far northern end of town is a great place to escape the crowds. Hardly anyone goes here, and there's an end-of-the-world, abandoned feel to it. It's eerily beautiful and wild, especially on a commonly windy day with sand whipping up everywhere. Run down a huge sand dune, explore the rock pools, or just find a good spot to sit and watch the waves roll in from the Atlantic Ocean as the sun sets.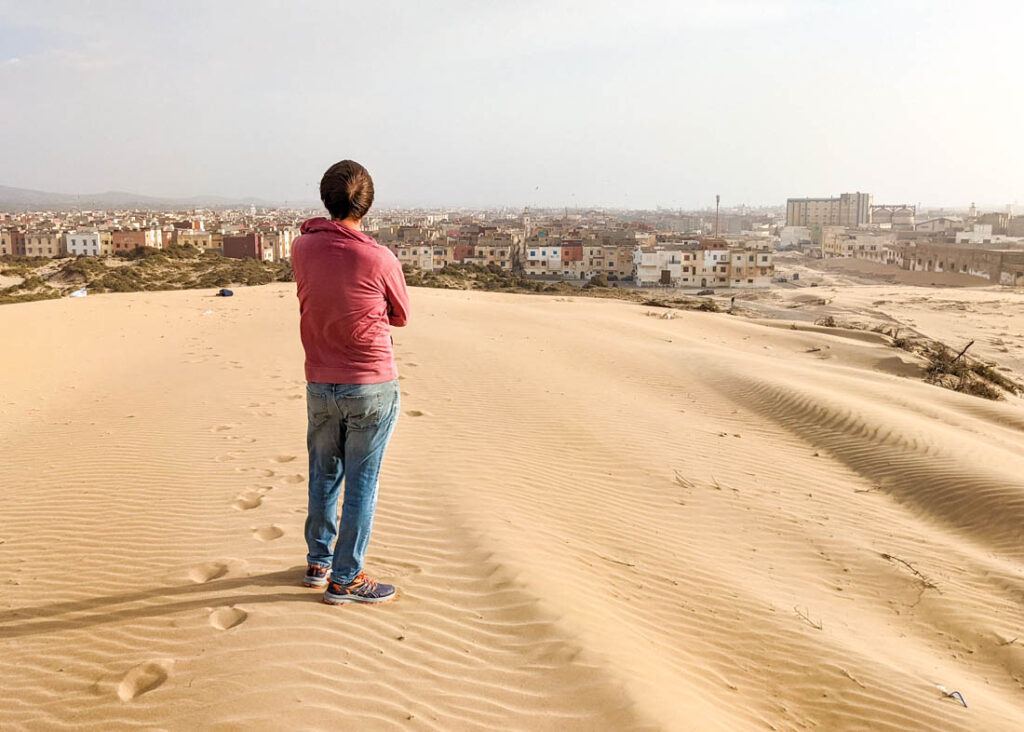 There are no facilities at Safi Beach (no shop, café, or toilets). So if you plan to stay for a few hours, ensure you have drinks and snacks with you.
6. Take a horse and carriage to Safi Beach
A novel way of getting to the Essaouira's far northern beach is to take a horse and carriage from outside Bab Doukkala, just a bit further on from the Petit Taxi rank. Yes, a horse and carriage is still a regular form of transport in Essaouira!
It's just a 2km ride and 50DH will secure you a private return fare. Your carriage driver will be happy to wait for you as you explore, or arrange a collection time.
7. Eat crepes at Moulay Hassan Square
There's a strong European vibe at Moulay Hassan Square with restaurants spilling out onto the pavement and street musicians injecting life into passersby. Pull up a chair at one of the cafes, or if you're just passing through to the beach or the fishing port, pick up a fresh crepe from one of the stalls.
8. Horseriding
Ride a horse along the quiet beaches south of Essaouira. This is a total bucket list moment and even beginners can do it!
There are a handful of horseback riding companies that cater to all abilities. We have personally experienced and can recommend Diana Dromedaries (yes they do camel riding, but also horse riding).
Staff are experienced riders and know the horses very well. Riding helmets are provided, and we recommend you wear long trousers and closed-toe shoes, although absolute beginners will be fine in shorts as you will just be walking.
9. Surfing and kite-surfing
READ OUR GUIDES: Kite-surfing in Essaouira and Learning to surf in Essaouira
Considering Essaouira has been coined, the 'Windy City of Africa", it's no surprise that it is one of the best places in the world for kite-surfing. Indeed, the wind in Essaouira is remarkably strong, especially in the months of July and August; with sand whipping up in all directions, this isn't really a beach to top up the tan, so let's get active!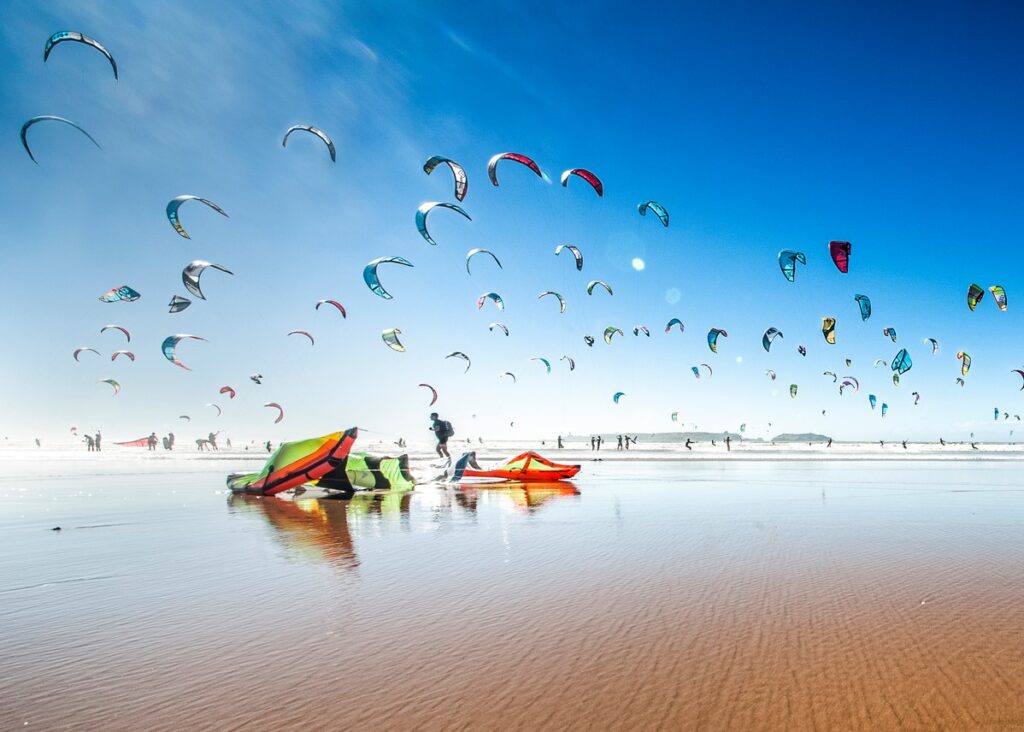 As the main beach of Essaouira is a 2km arc, the prevailing north-east winds are in a safer direction for learning (cross-onshore) at the far end of the beach, away from the medina. This is where all the kite-surfing schools teach, and also where the camels tend to reside (watch out for camel poop in the shoreline).
There are a number of kite-surfing schools in Essaouira. All the equipment, including wetsuits and helmets, is provided. All schools speak Arabic, French, English and Spanish.
Moga Surf is based right across the main area for kite-surfing, and offer excellent tuition under the professional kite-surfer and F-One competitor, Ismail Adarzane. There is also BleuKite, Explora, and Kitesurfmaroc. These schools also provide surfing and SUP lessons.
If you're visiting Essaouira with teens, then kite-surfing is a must do activity! They need to be good swimmers as the wind can sail the kite out quite far.
If the wind isn't strong enough, or your have younger kids, Essaouira is also a great place to learn how to surf. All the kite-surfing schools also offer surfing tuition, and will get you standing up on that board, riding a wave, by the end of your first lesson.
10. Camel riding
On the far end of the beach from the medina you can arrange camel rides. Anything from a short ten minute ride to an overnight trek can be organised for you. This is a must do if you're visiting Essaouira with kids.
You can just turn up to the camel area and organise a ride then and there, or you will be approached by 'tour guides' along the promenade to the camels. It is also something that can be arranged through your accommodation.
If you want a more organised, longer trek, contact Diana Dromedaries.
11. Quad biking
READ OUR GUIDE: Essaouira quad biking
Essaouira quad biking is brilliant fun and a great way to explore the beach further south from Essaouira. There are a handful of quad biking companies in the nearby village of Diabat, and we recommend Diana Quad.
You can book anything from an hour session to a full day tour. Although most people will find 2 hours is enough. Kids under 8 are free. You will have a personal guide with you on a quad bike to show you the way and help you out if needed.
You can double up on a quad bike to keep costs down (two people on one quad bike), or if you are doing a tour with kids under 16. Your guide will probably let the kids have a go driving, whilst sat in front of him.
There is very little in the way of training, and you are taken straight out onto the dunes. Take your time and trust the quad bike, and you'll be fine. Most of a two hour tour will be along a long stretch of beach, which is easy driving. But there are sections where you are taken up into the dunes. You will also pass Berber villages along the way.
There are no facilities on the tour, so bring any drinks and snacks with you.
12. Enjoy a traditional Hammam
READ OUR GUIDE: Experiencing a traditional hammam in Essaouira
To rejuvenate the skin and revitalize the body, experience a traditional Moroccan hammam in the heart of Essaouira's medina.
A hammam is a tiled, hot room, where you strip down to your underwear and enjoy a good scrub and soapy clean. All inhibitions need to go out of the window with this, as everything is on display.
You can opt for a private or public hammam. A private hammam is more expensive, and means that you get a hammam all to yourself. A public hammam is a local hammam to share with other people, and is much cheaper and a more authentic experience.
There are separate male and female public hammams in Essaouira. Most of the Essaouira spas offer a private hammam experience, which is often combined with a massage.
Once you get over any initial inhibitions, it really is the most amazing feeling, and you will feel the cleanest you ever been in your life!
13. Experience a Berber massage
If baring all in a hammam isn't quite to your fancy, how about trying a Berber massage instead? This is offered at all of the Essaouira spas in the medina.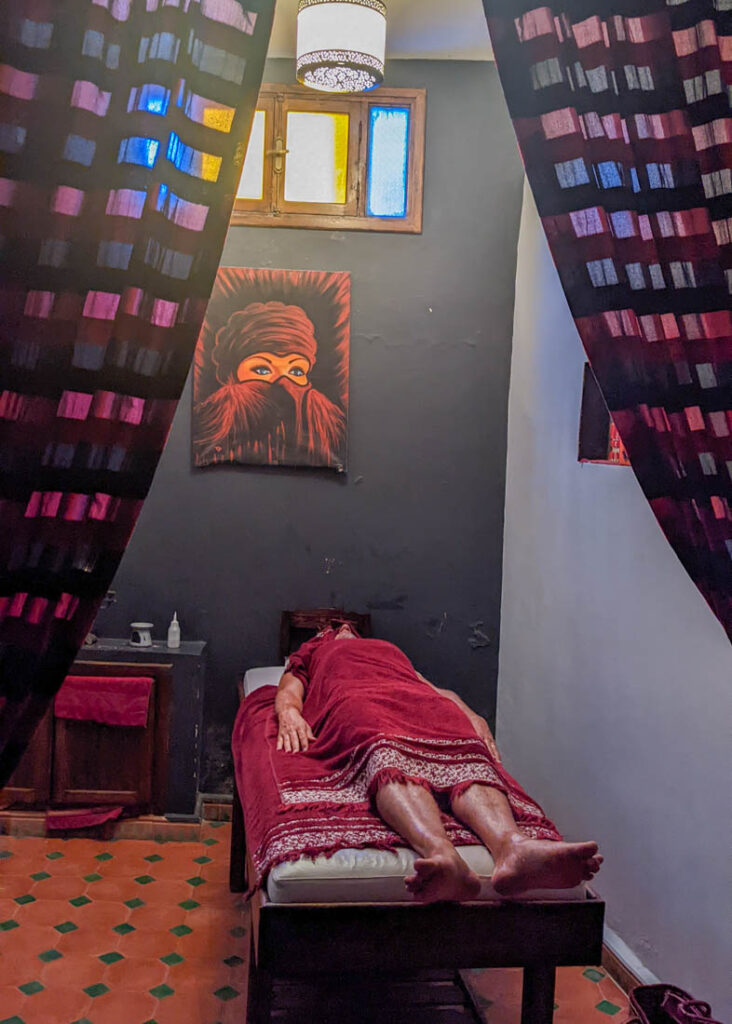 A Berber massage is similar to a standard, relaxing massage, except that it includes some light tapping with cupped hands.
Ladies, we recommend advising your masseuse whether or not you would like your chest and stomach massaged. Otherwise, you may receive a chest massage towards the end of your massage.
Recommended spas to try are Spa Cocooning, and Azur Spa Essaouira for a bit of well-deserved pampering.
14. Shop for local crafts
READ OUR GUIDE: Shopping in Essaouria
Hand-crafted rugs, quirky metalwork ornaments, hand-carved woodwork, soaps and spices, vibrant artwork, stunning ceramics, and lots more… there are so many cool things to buy in Morocco! No traveller is able to visit without taking at least something home. But many are put off, and often feel ripped off, by the pushy sellers in Marrakech. Trust me, we've all been there.
However, shopping in Essaouira is a much calmer and friendlier experience compared to Marrakech. So if you have tried shopping in Marrakech, please don't let this put you off; you were just shopping in the wrong Moroccan city! Indeed the shop sellers in Essaouira will proudly tell you that shopping with them is much more relaxed than in Marrakech.
Keep a cool head with bartering, and make sure you check out a few shops first to check prices. But most of all, enjoy connecting with local people and collecting a few items to take home to remind you of your wonderful Moroccan travels.
15. Sidi Mohammed ben Abdallah Museum
READ OUR GUIDE: Sidi Mohammed ben Abdallah Museum
Sidi Mohammed ben Abdallah Museum is a small museum in the heart of the Medina and one of the few Essaouira tourist attractions which requires an entry fee.
Housed in an 1800s colonial house with an impressive stairway and ceiling, it displays old photography, utensils found from prehistoric ages, musical instruments, old photography of Essaouira, jewellery and some armoury.
All the written explanations are in French and Arabic, there is no English. So unless you speak French or Arabic, it's not really possible to give the items context as they are displayed in a bland glass box.
If you do have the time, don't mind the fee (70DH per adult), and are passing by, it's worth a browse for a different change of pace. But don't make a special effort to visit if you're short on time.
16. Dine in one of the many restaurants in Essaouira
READ OUR GUIDE: The BEST restaurants in Essaouira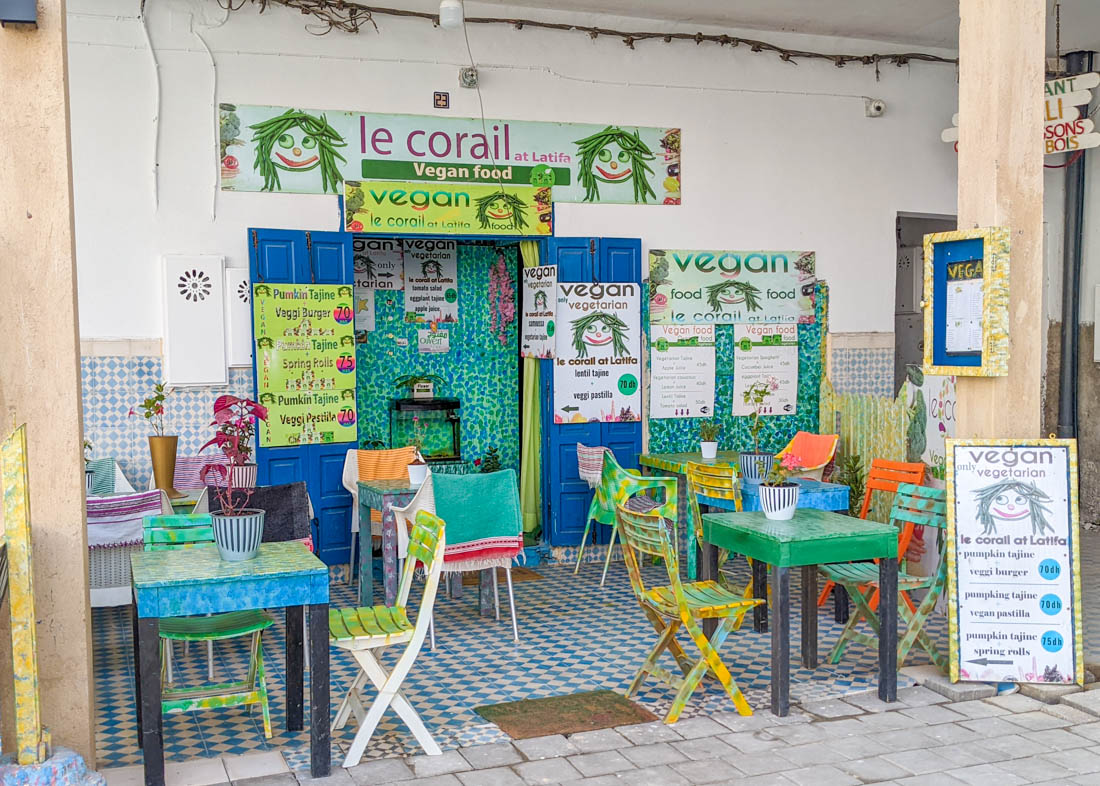 Being a fishing port, it will come as no surprise that Essaouira is haven for seafood lovers. You can even buy food directly from the fishmongers at the port and take it to a local restaurant at the port for them to cook for you.
But the French history of the town also means that there are some fantastic patisseries and creperies dotted around the medina. Indeed around Moulay Hassan Square, there's a distinct European vibe with restaurants spilling out onto the pavement and street musicians to entertain. And at the opposite end of Essaouira Beach you'll find some oh-so-cool beach bars, which are perfect after a surf or quad biking in the dunes.
There are so many choices for restaurants in Essaouira, that dining out is really one of the best things to do in Essaouira. Indeed, there is a different eatery almost every 15 meters in the medina. You will find the standard tagine, couscous, brochette, and Western standards at most of the restaurants. But there are also Asian and Italian restaurants if you have been travelling Morocco for a while and need a bit of variation.
Vegetarians will also be pleased to hear that they don't need to make a beeline for bustling Marrakech for a fix of veggie food (indeed there is only so much veggie tagine a person can eat). There are just as good options for vegetarians in Essaouira, and even a designated restaurant for vegetarians and vegans in the heart of the medina, serving incredible food and run by the most lovely family.
17. Explore Dar Sultan Palace in Diabat's sand dunes
READ OUR GUIDE: Diabat, Morocco: Jimi Hendrix and sand castles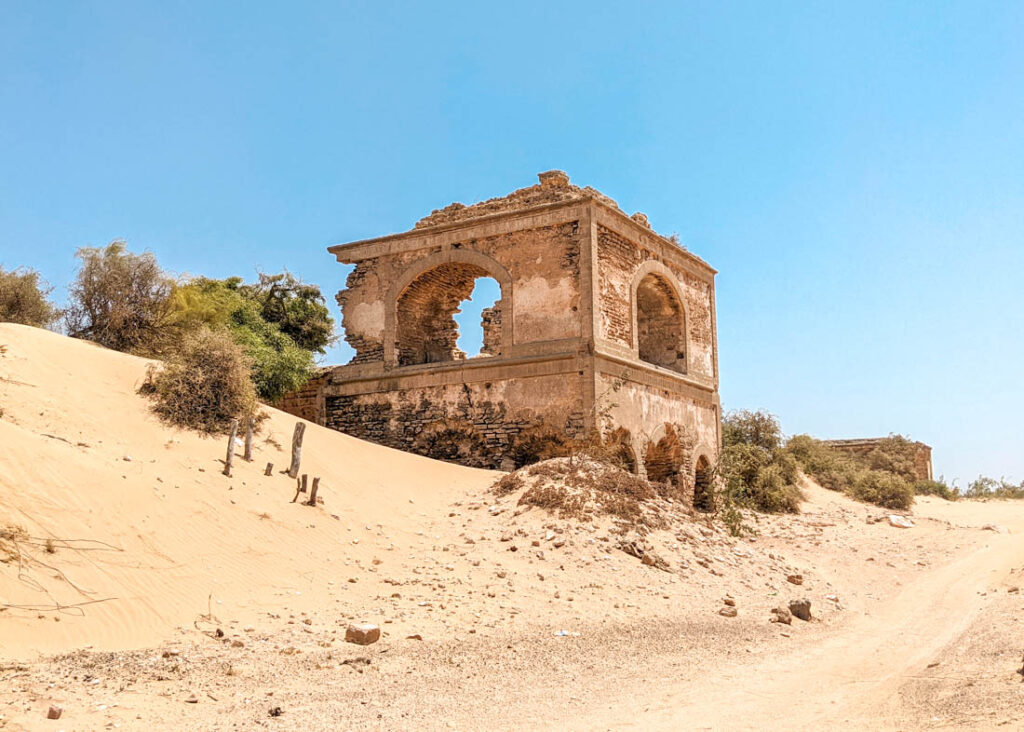 Four kilometres south of Essaouira's medina is the dusty, sleepy village of Diabat, which enjoys the similar maritime climate of its big brother despite rolling sand dunes creating a barrier between the village and Atlantic. Back in the early 1970s, Diabat (and Essaouira) was firmly on the hippie trail, solidified by a visit from the legendary musician, Jimi Hendrix, in 1969. He may have only visited for a couple of days (in fact, apparently he wanted to buy Diabat), but this was a good enough reason to open a Jimi Hendrix café and hotel in the village, which are still open today.
Diabat sees only a small fraction of the tourists compared to Essaouira, and the hippie communes are long gone. But if you are visiting Essaouira during the high season months of July and August and want to escape the crowds, Diabat is the place to come and is one of the easiest day trips from Essaouira. Visitors only tend to come here for a quad biking or horse riding tour, or they may be staying at the Sofitel Essaouira Mogador Golf & Spa (which is actually in Diabat rather than Essaouria) and tend to stick to the confines of luxury.
However, it's worth the visit over to Diabat to explore Dar Sultan Palace, a once-grand palace that has been left to the elements, and is now nestled amongst the sand dunes between Diabat village and the beach. It's a fascinating place to explore and open to all to wander around (there's no fee or gated entrance). The stone arches and even the mosaic tiles are still clearly on display.
It has been rumoured that Dar Sultan Palace inspired Jimmie Hendrix to write Castles Made of Sand. This is a great story, except the song was released two years before his visit to Morocco.
It's a very pleasant walk along the shoreline from Essaouira to Diabat (when the river between the two places isn't flowing). The entire stretch from Essaouira's medina to Diabat beach is 4km. From Diabat beach there's a wide stone track that leads up to the village. It's then a 1.5km walk along this track from Diabat beach to Diabat village (Dar Sultan Palace is half way along here).
Alternatively if you don't fancy the walk, a petit taxi will take you to Diabat from Essaouira for a fixed fare of 30DH. However, the taxi won't drive down the track to the beach, you will need to walk this. Take the track opposite the mosque by the roundabout as you enter Diabat.
18. See the goats in the trees
About a 30 minutes drive out of Essaouira on the road to Marrakech, you will notice goats sitting in the trees! You can also find them on the road between Agadir and Essaouira.
These goats are after the tasty bean-like fruit in the Argan trees.
Farmers have caught on to how tourists like to get photos, so you will be expected to give some small change to the farmer if you take a photo.
19. Visit the beach at Sidi Kaouki
READ OUR GUIDE: Sidi Kaouki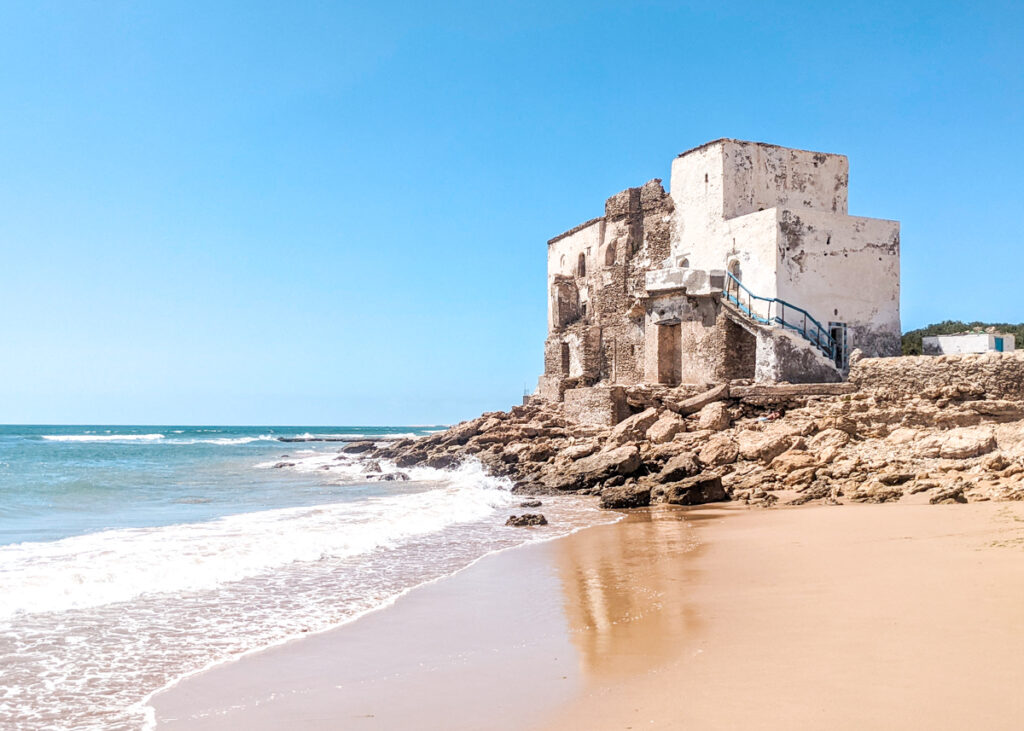 Sidi Kaouki is surfing beach, 30 minutes drive south of Essaouira and makes for a lovely day trip from Essaouira. It's a beautiful spot, but the secret is out on this sandy stretch, so don't expect to have it to yourselves at weekends. Here you will will find a handful of restaurants, and locals offering camel and horse rides along the beach.
The surf here is stronger than Essaouira beach and popular with surfers. There's a surf shop next to the restaurants if you want to hire a surfboard or boogie board, or perhaps have lessons.
Hire sun loungers and a parasol on the beach, 50DH for a pair. Although laying your towel out is free. 
On the opposite site to the white building are rockpools to explore.
To get to Sidi Kaouki, take a Grand Taxi from Essaouira. You will need to get to the Grand Taxi station, which is next to the main bus station in Essaouira. Click here for the Google Map point. There is a flat fee of 15DH per person, or 90DH for the whole taxi (i.e. 6 people), to Sidi Kaouki. They may try and charge you more. Ask to see the official tariff if they do (see photo below). To get back to Sidi Kaouki, arrange a collection time with your driver.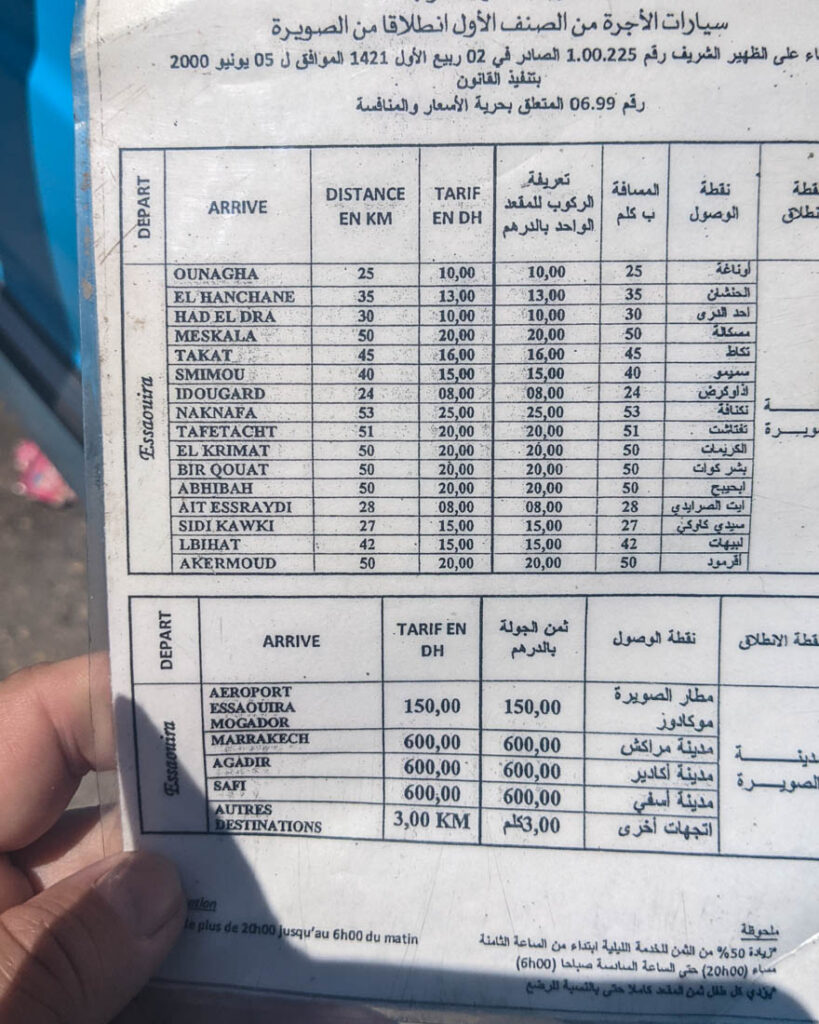 If it also possible to get the local bus over to Sidi Kaouki. Bus number 2 runs from Bab Doukkala to Sidi Kaouki every 2 hours and tickets cost 7DH per person (purchase tickets on the bus). The bus will take longer to get to Sidi Kaouki than a taxi (approximately 1 hour) and it sometimes stops at Essaouira Airport enroute. Click here for the bus timetable.
20. Enjoy a day pass at a pool in the countryside
READ OUR GUIDE: Enjoy a day pass at Les Jardins de Villa Maroc
If your Airbnb, riad, or hotel in Essaouira doesn't have a swimming pool, how about treating yourself to a day pass at a swimming pool. There are a couple of options: Les Jardins de Villa Maroc and Hôtel Domaine de L'Arganeraie.
Les Jardins de Villa Maroc is stylish, small resort, nestled in the Swiri countryside 10km from Essaouira, just off the road to Marrakech, and offers a day pass (11am to 5pm) to visitors to use the heated swimming pool and dine at the restaurant. This is the sister hotel to Villa Maroc, Morocco's oldest riad-hotel situated in the heart of the medina, and a transfer is included in your day pass fee. It's the more expensive day pass of the two (250DH per person) , but it's a slightly more upmarket place and the BBQ buffet spread is fantastic. Click here for more information.
Hôtel Domaine de L'Arganeraie is an equally beautiful setting, hidden off a dusty road through the village of Ghazoua, which is a 20 minute drive from Essaouira. The heated pool is larger, and as the day pass (11am to 6:30pm) to use the pool is slightly cheaper (from 100DH per person), it's popular with families. The lunch menu is a good selection including pizzas, burgers, tagines, and vegetarian options. You need to pay extra for a transfer from Essaouira (100DH – priced by car rather than person). Click here for more information.
If you are staying in Essaouira during the warmer months for more than a few days and your accommodation doesn't have a pool, a day pass at one of these countryside boutique hotels is a must do.
21. Visit a vineyard
READ OUR GUIDE: Essaouira wine tasting at Val d'Argan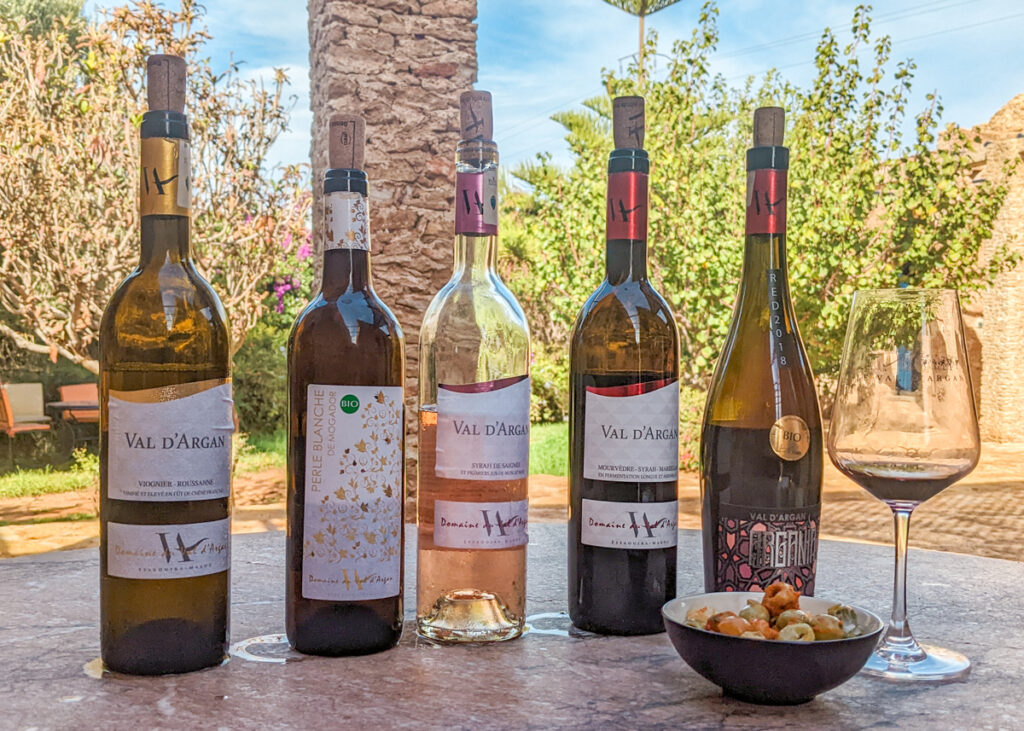 People are often surprised to hear that there has been a vineyard in Essaouira since 1994. Just 25 minutes along the road from the centre of Essaouira to Marrakech is Domaine du Val d'Argan.
Baked by the desert and benefiting from the trade winds off the Atlantic, Domaine du Val d'Argan is the first and only Moroccan vineyard exclusively dedicated to grape varieties of the Rhône Valley. Over the past 20 years, the vineyard has grown from 5 to 50 hectares, with 13 different grape varieties from the Rhône Valley.
Visitors are welcome for wine tasting, or to enjoy Moroccan cooking accompanied by the wines harvested on site. There is also bed and breakfast accommodation available, with guest rooms spread around the gardens with a swimming pool.
Email in advance to reserve your wine-tasting session. The price is 200DH and includes tasting:
Le Val d'Argan Blanc (white wine)
Argania du Val d'Argan Blanc (white wine)
Le Val d'Argan Rosé (rosé wine)
Le Val d'Argan Rouge (red wine)
Argania du Val d'Argan Rouge (red wine)
Wine-tasting session times are:
11am to 11:30am
2:30pm to 3:00pm
3:00pm to 3:30pm
There is no shuttle service to the vineyard, so visitors need to make their own way over (a Grand Taxi or private driver).
22. Had Draa market
READ OUR GUIDE: Had Draa market
Had Draa is a dusty, non-descript village in the countryside around Essaouira. But on Sunday mornings it comes alive with one of the largest markets in the region.
Animals and produce have been traded for centuries at Had Draa Souk, and is the place to come if you need to pick up a camel, goat, or donkey (do check your Ryanair baggage allowance though). There's also an on-site halal abattoir and stalls selling grilled-meat kebabs.
Aside from livestock, there's everything from baskets, to fresh fruit and vegetables, carpets, clothes, kitchenware, and much more.
It's a fascinating insight into local culture and enables you to discover authentic rural life in Morocco.
Local buses leave from outside Bab Doukkala to Had Draa (ask around on a Sunday morning), or take a Grand Taxi from the Grand Taxi station. Either way it's 10DH per person.
Ideas for Essaouira day trips
If you have more time to spend in Essaouira and are looking to venture deeper into the countryside or along along the Atlantic coastline, then check out our guide to the best day trips from Essaouira, which includes Safi, Taghazout, and even Marrakech.
Essaouira can be a lovely base for Moroccan adventures further afield. From a 10min to 3hr drive, here we share the best day trips from Essaouira, including Safi, Sidi Kaouki, Taghazout, and even Marrakech.
---