With so many cool things to buy in Morocco, here is your essential guide to shopping in Essaouria, including where to shop, what to buy in Essaouira, and how to haggle. Our top tip though? Don't shop in Marrakech with the pushy sellers, shop in Essaouira where everything is much more chilled and friendly.
Hand-crafted rugs, quirky metalwork ornaments, hand-carved woodwork, soaps and spices, vibrant artwork, stunning ceramics, and lots more… there are so many cool things to buy in Morocco! No traveller is able to visit without taking at least something home. But many are put off, and often feel ripped off, by the pushy sellers in Marrakech. Trust me, we've all been there.
However, shopping in Essaouira is a much calmer and friendlier experience compared to Marrakech. So if you have tried shopping in Marrakech, please don't let this put you off; you were just shopping in the wrong Moroccan city! Indeed the shop sellers in Essaouira will proudly tell you that shopping with them is much more relaxed than in Marrakech.
Indeed, shopping in the medina is one of the best things to do in Essaouira, and if you are travelling Morocco, we recommend saving your souvenir shopping until you reach this beautiful coastal town.
Read on for our essential guide to shopping in Essaouira. Here we include where to go, tips on haggling and what to buy.
Do you need to barter or haggle in Essaouria?
Bartering / haggling / bargaining is a fundamental part of Moroccan life and culture and is expected at the shops around Essaouira.
However, some shops in Essaouira have cottoned on to the fact the bartering is uncomfortable for many Westerners and that it sometimes puts them off shopping, so have fixed prices fore smaller items. Although this is most commonly the case for smaller ceramics to initially get you in the door.
Nevertheless, for the majority of shopping in Essaouria, an element of haggling is still required. This is where the seller and buyer offer their best prices for an item, finally meeting at an agreed price.
Our top tips for haggling in Morocco are:
Ask around in different shops first to get an idea of prices
Keep a poker face and never appear too eager
Never accept the first price you are give, as it's often three times the amount it should be
Buying in bulk brings the price down
Always keep it friendly and smile
If you're not reaching an agreed price, keep it pleasant, say Shokhran, and walk away
Never say that you'll come back another time unless you really mean it
Keep a cool head with numbers, and know your currency exchange.
Don't rush, take your time. Don't feel bad about leaving and saying you'll come back another time (in fact this is a sure way to get them to lower the price).
Check your change
Be fair. The idea is to get to a price that both the seller and the buyer thinks is good. It's not a competition to see how cheap you can get an item. This is a family business and if you can afford to travel to Morocco, it's probably the case that you have a larger disposable income than the seller.
Haggling isn't for everybody, but it can be fun, and it's also a great way to get to know local people and build relationships. The main thing is to keep a cool head, and keep it friendly.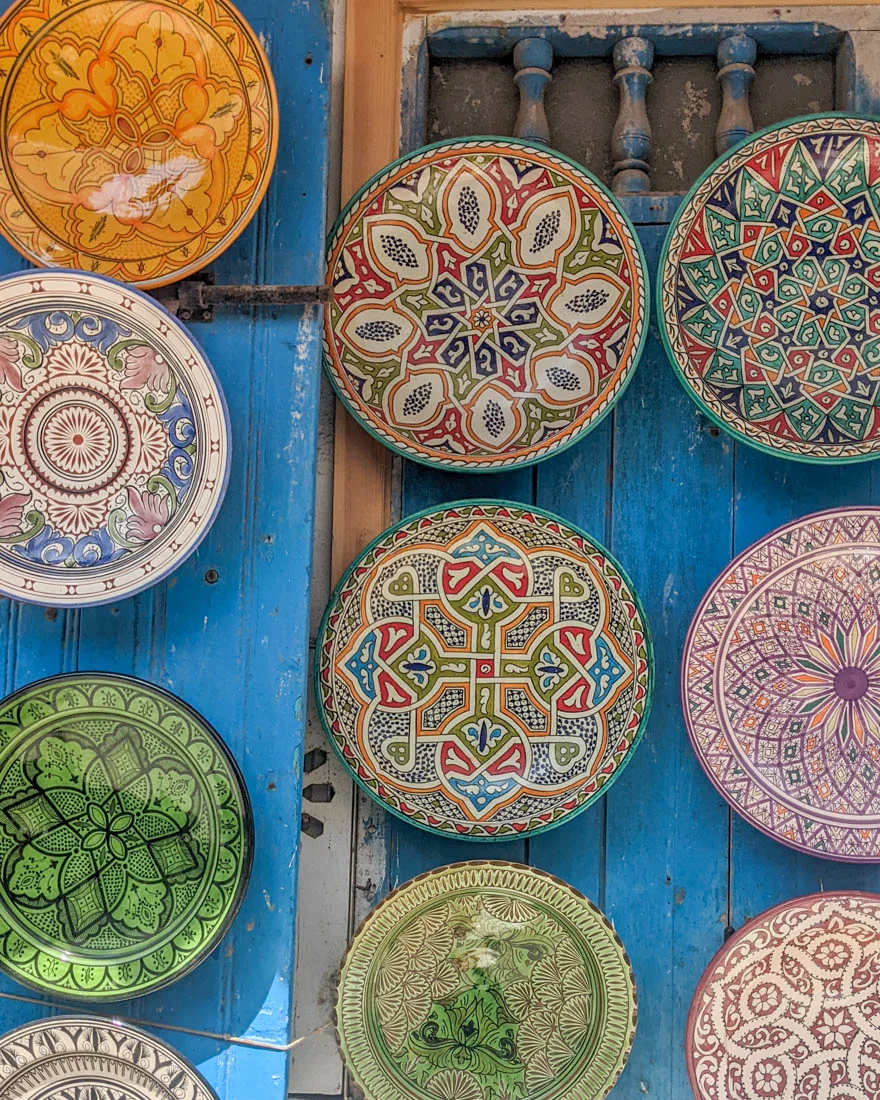 Can I use card to pay?
Morocco is still very much a cash-based society. Whilst some of the bigger shops do take cards, expect to pay cash.
There are ATMs in Place Moulay Hassan, and also just outside Bab Sbaa on the left, coming out of the medina.
Where to go shopping in Essaouira
The main shopping street is along Avenue Sidi Mohammed Ben Abdellah for tourist souvenirs. This runs parallel to Avenue Oqba Ibn Nafiaa, which also has a few shops closer to the beach end (the other end is local food markets).
There are also small alleyways branching off the main shopping street with more shops, so it's worth detouring to these as they often offer better prices.
Rue Skala, which runs alongside the main ramparts (this is where Essaouira features in Game of Thrones), is also a good shopping stretch for woodwork, ceramics, and art.
We don't recommend individual shops in this article. The Essaouira shops are all local businesses and by recommending one place over another potentially takes business away from a family. The woodwork shops, ceramic shops, spice shops, rug shops, etc. are all very similar to one another, and it would be unfair to pick out one over another. Most shops have their goods presented out onto the street, so you can clearly see what they are offering. Walk around, browse, and pop in for a friendly chat.
When are the shops open?
The tourist shops in Essaouira are generally open from 10am to 9pm every day. In the high season of July and August, the main shopping street can get very busy, so it's worth doing your shopping earlier or later in the day when the Essaouria day trippers have left.
Please note that the majority of shops in Essaouira close over Ramadan and also Eid al-Adha. These festivals are not the time to visit Essaouira for shopping.
What to buy in Essaouira
There are a range of local products, handmade crafts and other items to buy in Essaouira:
Rugs, blankets, cushion covers
Ceramics (plates, bowls, mugs, ashtrays, burners)
Metal artworks (including fish and teapot chickens)
Woodcarvings (bowls, chess sets, ornaments, tables, lamps, trays)
Essaouira hoodies
Hippy style trousers and dresses
Argan oils (used in cooking as well as for hair and skin)
Woven straw baskets and handbags
Spices and soaps
Leather good (hand bags, carry bags, jackets)
Shoes
Local canvas artwork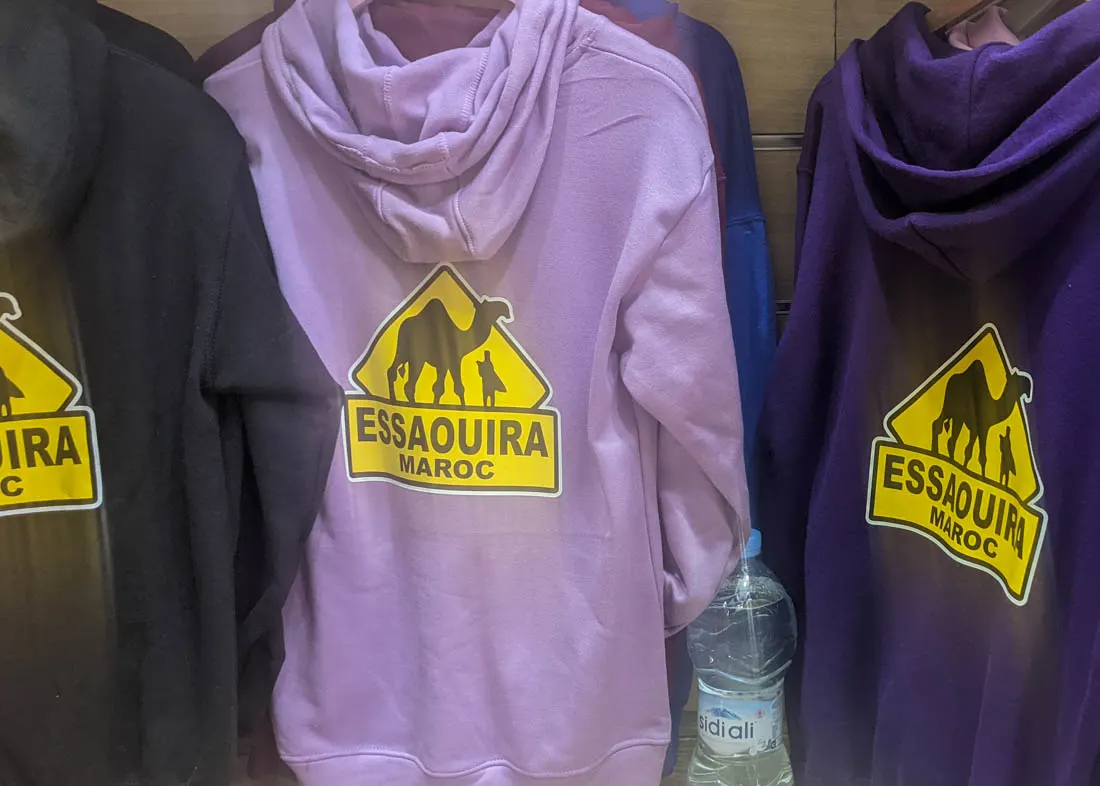 How to get your shopping home
With all these fabulous local products in Essaouira to buy, who can blame you for getting carried away? So what's the best way to get them home?
One option is to buy an extra suitcase and pay for the extra luggage for your flight home. The best place to buy a large suitcase is along Avenue Al Massira Al Khadra (click here for Google Map point). There are a handful of shoe stores that sell them. Expect to pay 300DH for a large suitcase, and 200DH for a smaller suitcase.
Alternatively, head to the the Post Office in Essaouira and post your items home. If you are buying in bulk from the one shop in Essaouira, they will be able to help you. But if you have bought lots of different items from a selection of shops, you will need to sort yourself. Staff at the Post Office are friendly and helpful.
Click here for the location of the Post Office in Essaouira, open Mondays to Fridays, 8am to 4:15pm (closed Saturdays and Sundays).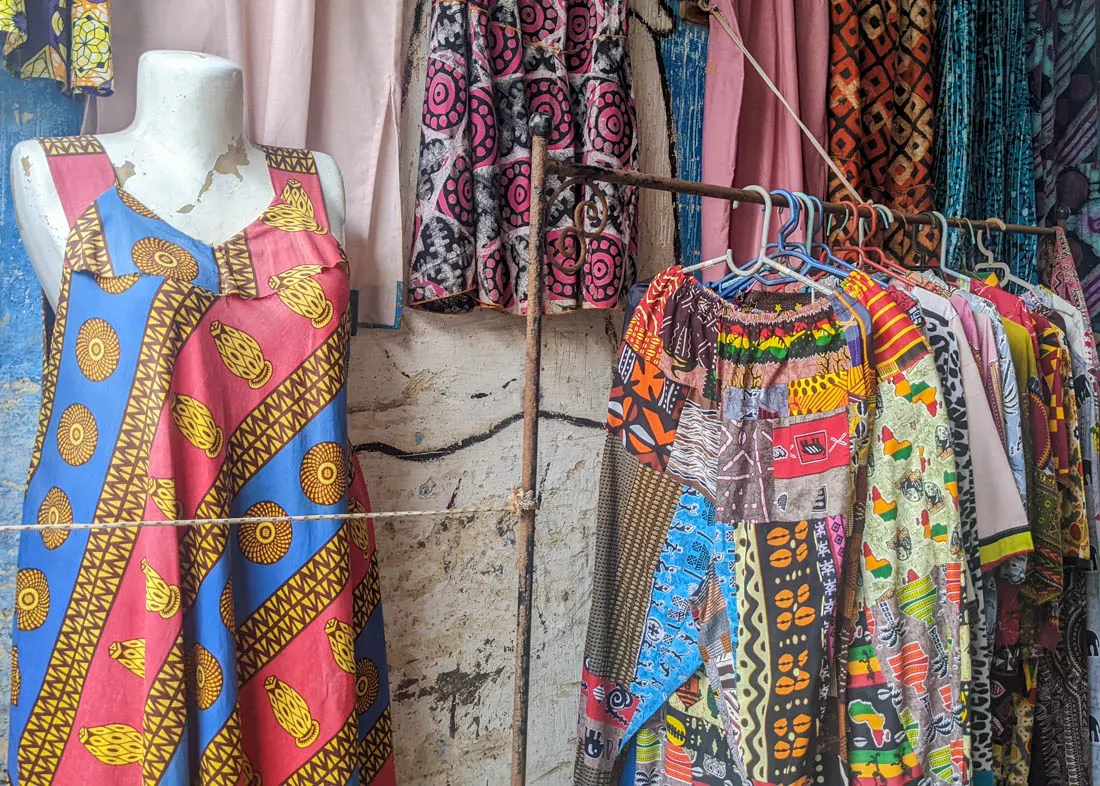 Final thoughts on shopping in Essaouira
The items to buy around Essaouira are very similar to what is on offer in Marrakech. So avoid the hassle and stress of shopping in Marrakech and instead enjoy a friendlier vibe in Essaouria.
Keep a cool head with bartering, and make sure you check out a few shops first to check prices. But most of all, enjoy connecting with local people and collecting a few items to take home to remind you of your wonderful Moroccan travels, and especially your visit to Essaouira.
---
Explore Essaouira ebook
Updated for 2023, the Explore Essaouira ebook is the only travel guide you need for exploring Essaouira. It is jam packed with inspiration on what to do, where to eat, where to stay, and also includes a step-by-step self-guided walking tour (with photos).
This is a PDF download for use offline and on the go (and ad-free!). Save it to read on the plane to Morocco, download to your phone to follow the self-guided walking tour around the medina, or print it off at home before you leave on your adventures and highlight all the bits you want to remember for your visit.
If you have found this website useful for planning your Essaouira adventures, you can show your support by buying Jenny a coffee. Thanks so much!