The Holy Month of Ramadan is a time of great religious significance for Muslims, and involves fasting from dusk until dawn (this means no food or drink, including water). The majority of businesses close during this time, and for non-Muslim visitors to Essaouira, Ramadan perhaps doesn't seem like an ideal time to visit and enjoy all the things to do in Essaouira.
You may be wondering if all restaurants, food shops, and activities are closed in Essaouira for Ramadan? How should you behave during Ramadan? Can tourists purchase alcohol during Ramadan? Are tourists welcome to Essaouira during Ramadan? Is Ramadan really the best time to visit Essaouira, or should you visit another time?
We have personally visited Essaouira during Ramadan, and can answer these questions for you. So read on.
You may also be interested to read: Visiting Essaouira during Eid al-Adha
When is Ramadan 2024?
For 2024, Ramadan in Morocco will begin in the evening of Monday 11th March and will continue for 30 days until Tuesday, 9th of April, although the exact dates are subject to change.
This holy month of fasting follows the ninth month of the Muslim calendar, beginning and ending with the appearance of the crescent moon. As the Muslim calendar is slight shorter that the Gregorian calendar, Ramadan begins 10–12 days earlier each year.
Ramadan actually coincides with Easter in 2024 (Easter Sunday in 2024 is 31st March). With the almost guaranteed warm sunshine every day, April is climatically a good time for sun-seeking Europeans to visit Essaouira. Check out our guide to visiting Essaouira in April for information on weather at this time of year.
What is Ramadan?
Ramadan is an extremely important and sacred time for Muslims. This a time for Muslims to practice self-restraint, abstinence, prayer, discipline, patience and gratitude by refraining from food, drink (including water), smoking, and sexual activity from sunrise to sunset. In doing so, they will strengthen their faith and improve their character through cleansing the body, mind, and soul, and learn to let go of grudges, arrogance, vanity, and other poor traits. There is an emphasis on charity, benevolence, compassion, and kindness.
Muslims rise before sunrise to pray and have a small meal (Suhoor) before the morning prayer (Fajr), which begins the fasting day. The fast is broken with Iftar, after sunset prayer, where Muslims gather in their homes or mosques to feast with friends and family.
The end of the Ramadan fast is celebrated as Eid al-Fitr, the 'Feast of Fast-Breaking', which is one of the major religious holidays of the Muslim calendar. During this time, there's a party atmosphere as friends and family come together to feast during the day.
It's also worth noting that not all Muslims fast during Ramadan. There are special dispensations for children and elderly, as well as those who are pregnant, breastfeeding, menstruating, or ill.
How should non-Muslims behave during Ramadan
Non-Muslim visitors to Essaouira are responsible for enabling a suitable environment for Muslims to observe Ramadan. You are not expected to join in with the fasting, but please show respect to those who are.
Dress conservatively with your knees and shoulders covered (women do not need to cover their heads and children are fine in shorts); check out our guide to what to wear in Essaouira. Also, we recommend you abstain from smoking, drinking, or eating, whilst walking around Essaouira, as well as public displays of affection (although with children, this is fine).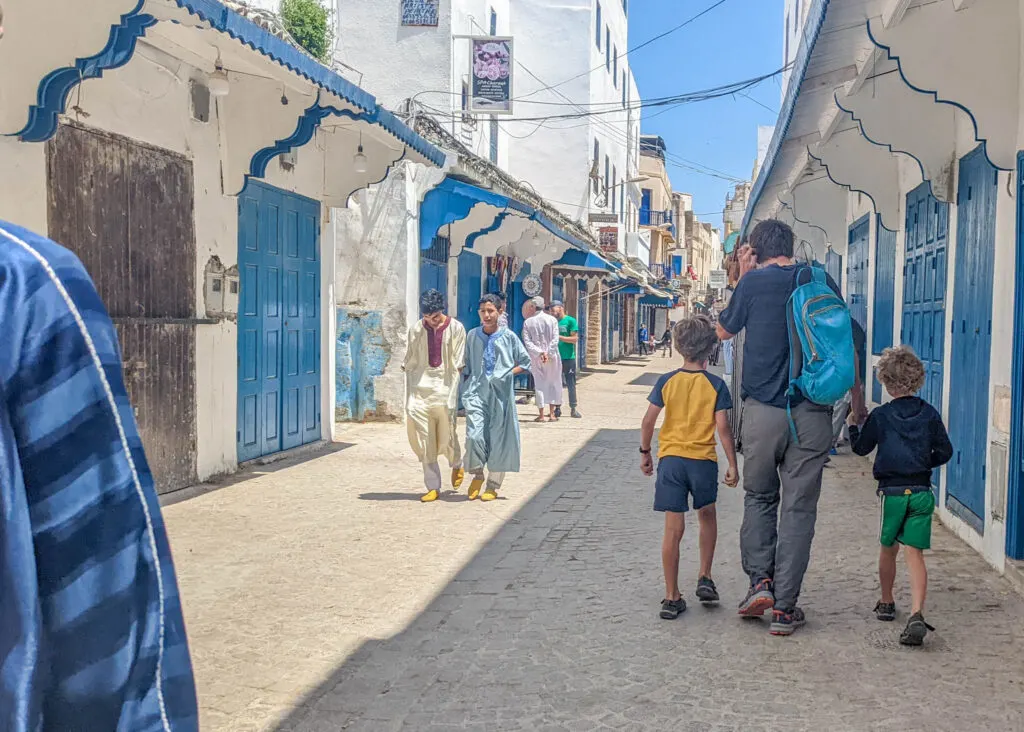 Whilst your at your accommodation, you are free to do as you wish, and most hotels will be serving alcohol.
What can visitors to Essaouira expect during Ramadan
Essaouira is open to tourists and visitors during Ramadan. Almost all accommodations will be open, including the Essaouira hotels, who will be operating usual services (although you may struggle to find staff around prayer time).
However, businesses will be closed, or have significantly reduced opening hours (this includes the Essaouira surf schools and other activities). Blue shutters line the Medina alleyways where usually rug and ceramic goods spill onto the street, street food stalls are almost non-existent, and many local corner shops where you would normally buy bread, milk, and eggs, will be closed. Also, the majority of restaurants in Essaouira will be closed during Ramadan.
But Essaouira is a town that relies heavily on tourism, and after a couple of tough years with the pandemic, it's not surprising that some restaurants and shops are open during Ramadan, especially around Moulay Hassan Square and close to the Ramparts. Hotel restaurants are also open.
You will still be able to find places to buy food. Muslims still eat during Ramadan! The food markets will be open to stock up on fruit, veg, and bread, and there's also the large Carrefour on the main road into Essaouira selling Western items. Self-catering is a good option if you are visiting Essaouira during Ramadan.
However, please note that all alcohol shops in Essaouira (including Carrefour) close for the entire month of Ramadan, and often close a couple of days beforehand.
For any stalls and shops open during Ramadan, you will find that just 5 minutes before sunset, everyone will quickly rush to shut up shop and head off for prayers and Iftar. This is not the time to pop out for milk.
Then after sunset prayers, many Muslims will head to the beach with their friends and extended family to enjoy Iftar.
We recommend buying breakfast items the evening before. Moroccans tend to go to bed very late during Ramadan so food stores stay open late at night. This means that they're never open in the early morning; 11am at absolute best.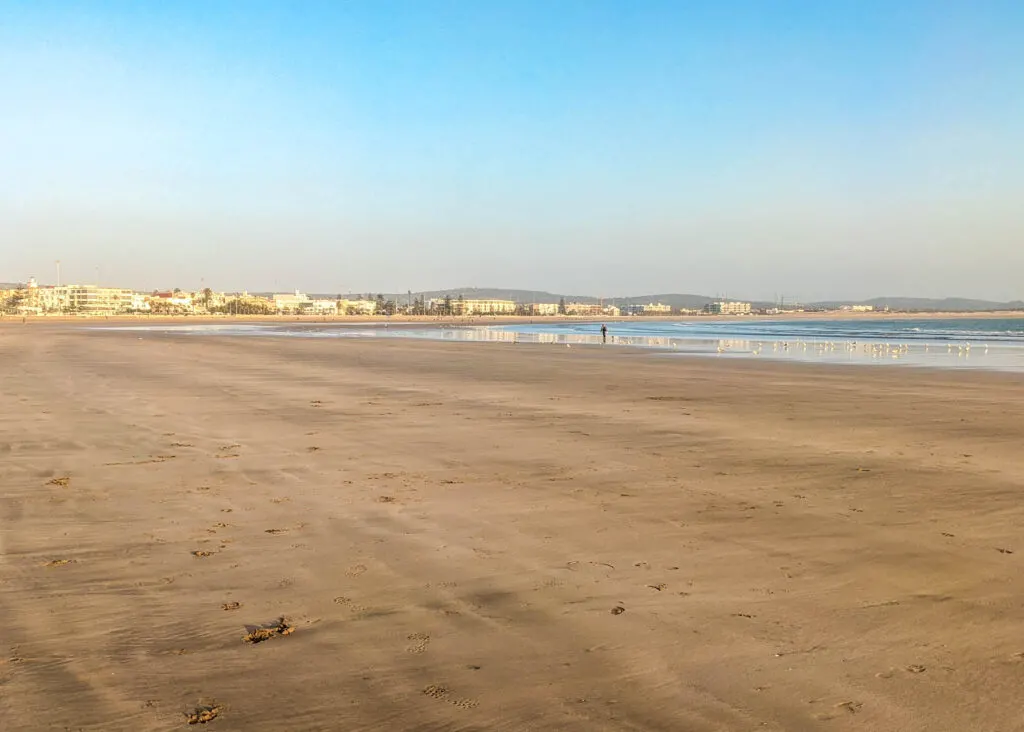 The benefits of visiting Essaouira during Ramadan
Ramadan is a great time to visit a quiet and peaceful Essaouira, and also to witness a truly sacred time of year in the Muslim calendar. It feels the polar opposite to the busy high season months of July and August. There are very few tourists around. The streets will feel quiet and Essaouira's main beach will be empty during the day. The fishing port is particularly quiet.
A very nice benefit of visiting Essaouira during Ramadan is that there are no building works taking place around the Medina. At other times, there is always building work going on, especially close to the Jewish quarter. But over Ramadan, this all stops. So you are guaranteed that there won't be any hammering or drilling happening to disturb your peace.
Is it worth visiting Essaouira during Ramadan?
Not if you want to party and shop till you drop.
But if you want to experience something very special, that only happens once a year, then definitely. Added bonuses are that Essaouira will be very quiet for exploring, especially during the day, and accommodation prices will be slightly cheaper.
Visiting Essaouria (or anywhere in Morocco) during Ramadan requires a fair bit of preparation with stocking up on food when shops are open. Self-catering accommodation is a good idea so that you're not tied to eating in the same places every day, due to lack of choice.
---
Explore Essaouira ebook
Updated for 2023, the Explore Essaouira ebook is the only travel guide you need for exploring Essaouira. It is jam packed with inspiration on what to do, where to eat, where to stay, and also includes a step-by-step self-guided walking tour (with photos).
This is a PDF download for use offline and on the go (and ad-free!). Save it to read on the plane to Morocco, download to your phone to follow the self-guided walking tour around the medina, or print it off at home before you leave on your adventures and highlight all the bits you want to remember for your visit.
If you have found this website useful for planning your Essaouira adventures, you can show your support by buying Jenny a coffee. Thanks so much!