Whether you're in search of fresh seafood, a traditional tagine, woodfired pizza, an extensive vegan menu, or even a taste of Asia, with the array of restaurants in Essaouira (including those with rooftop views) you are spoilt for choice, more so than elsewhere in Morocco. In fact, eating out in the medina is one of the best things to do in Essaouira. From personal experience, we cover here the best places to eat in Essaouira and the best restaurants in Essaouira (including around the medina). Please note that whilst we try to keep the information up to date as possible on this page, new eateries open, old ones close, and others change hands. If you find any inconsistencies here, do drop us an email to keep this updated for our readers.
Being a fishing port, it will come as no surprise that Essaouira is haven for seafood lovers. You can even buy food directly from the fishmongers at the port and take it to a local restaurant at the port for them to cook for you.
But the French history of the town also means that there are some fantastic patisseries and creperies dotted around the medina. Indeed around Moulay Hassan Square, there's a distinct European vibe with restaurants spilling out onto the pavement and street musicians to entertain. And at the opposite end of Essaouira Beach you'll find some oh-so-cool beach bars, which are perfect after a surf or quad biking in the dunes.
There are so many choices for places to eat in Essaouira, and you will find the standard tagine, couscous, brochette, and Western standards at most of the restaurants. But there are also Asian and Italian restaurants if you have been travelling Morocco for a while and need a bit of variation. Plus, some of these Essaouira restaurants serve alcohol (check out our guide to alcohol in Essaouira). Vegetarians also have a lot more choice here compared to elsewhere in Morocco (check out our guide to Essaouira for vegetarians).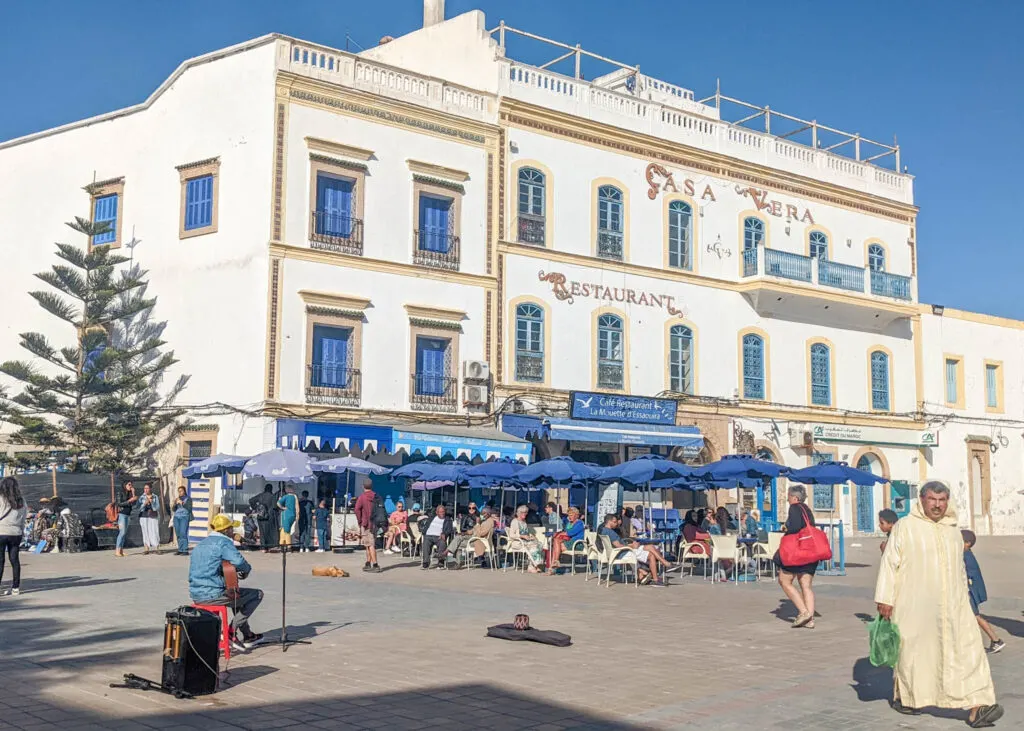 Do note that if you are visiting Essaouira during Ramadan or over the one day of Eid al-Adha, many of the restaurants will be closed, and visitors may prefer to self-cater.
For those who want to self cater, you can pick up fresh breads, fruits and vegetables from the shops around the medina. But for items such as English tea, pasta, and cereal, head to the Carrefour supermarket on the main road into Essaouira (7DH in a taxi, this is a flat fare around Essaouira).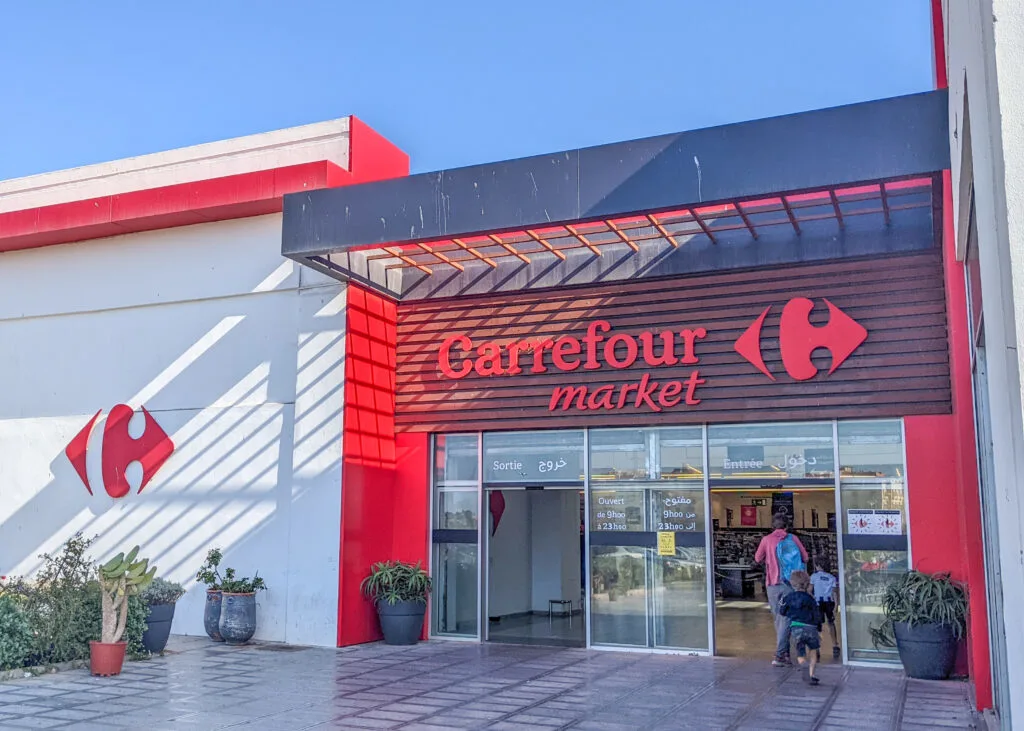 Seafood in Essaouria
The best way to experience the sea food? Well take a stroll through the fishing port and buy your fish directly from the fishmongers. There are even outdoor restaurants at the port where you can take your fish and they'll cook it for you. Just ask around at the port and they will point you in the right direction.
However, if you don't fancy haggling for fish at the port, do not worry. Most restaurants in Essaouira will serve fresh fish caught that day. Although do be weary if there has been bad weather, as this may mean that the fisherman haven't been out that day and it's very unlikely that your fish is fresh.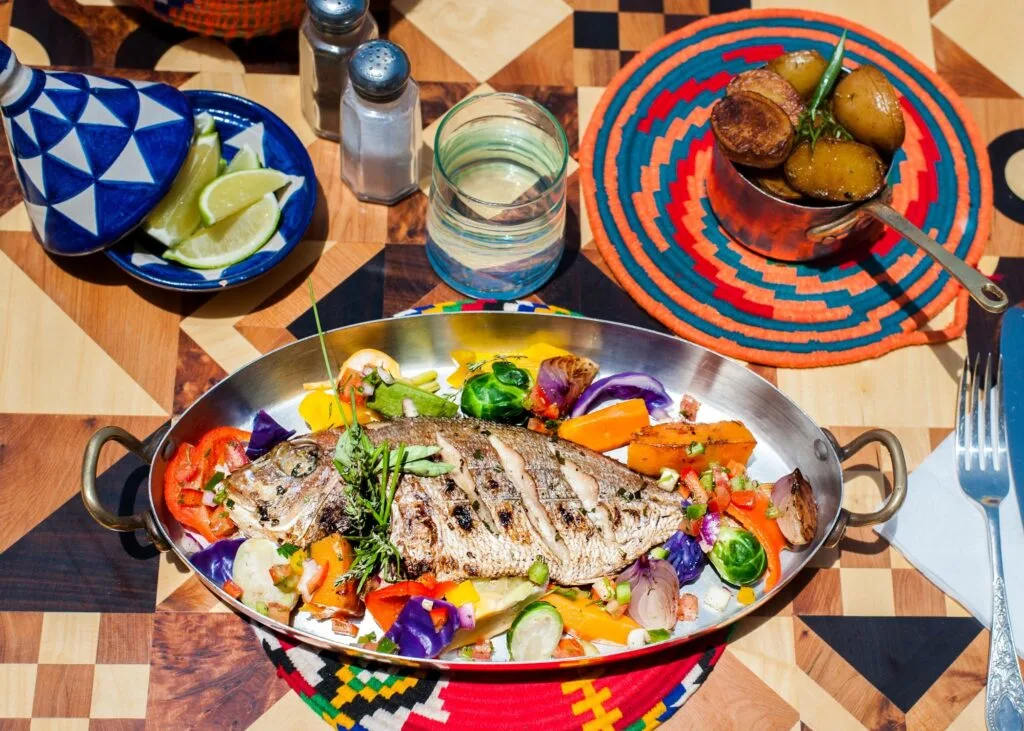 Don't like seafood? Don't worry, there is lots of choice.
Don't worry if you don't like seafood, the restaurants and cafes around Essaouira all serve the classic Moroccan tagine, which is an absolute must try for a first visit to Essaouira. Plus there are a couple of Italian restaurants, an Asian restaurant, and even an incredible vegan / vegetarian restaurant.
If you have a sweet tooth, you'll be pleased to hear that there are some gorgeous French patisseries selling mouthwateringly-delicious baked treats. We particularly love Pâtisserie Driss, who will also bake custom cakes for you if there's a special occasion to celebrate.
At Moulay Hassan Square, there are a couple of cafes serving freshly made crepes. These are Le Club and Crepes Time.
As for breakfast, most hotels will serve a traditional Moroccan breakfast. This consists of locally made fresh breads, cheese, eggs, olives, and olive oil, and will sometimes be served with rooftop views.
However, if you are self catering in an Airbnb or you accommodation doesn't provide breakfast, there are some lovely brunch choices in the Medina, including Brunch&Co Essaouira, The Coast Essaouira, and Retro corner Essaouira.
Our choice of the best restaurants in Essaouira
There are so many restaurants and eateries in Essaouira that if you ate in a different place each day, you would need to stay much longer than a month.
So where are the best places to eat in Essaouira? If you're only visiting Morocco for a short time and spending most of that time in Essaouira, then you really must try a tagine dish, of which there are plenty of places to try one. But if you've been travelling Morocco for a while and perhaps need a bit of variety in you diet, well Essaouira is the place to find that; and if you are heading out to the desert of off the beaten track after your visit to Essaouira, we recommend taking advantage of the variety of food on offer.
We're still on a mission to try out all of the restaurants in Essaouira medina and along the beach, and we're not far off. So here we've compiled a list of our favourite cafes and restaurants Essaouira, and provided a little insight into why we think it's special.
And what about the Essaouria restaurants to avoid? Well, we have eaten at a few places that we would never go back to. But we don't think it's fair to share them here. Maybe they were having a bad day when we visited, or maybe they've had a change of chef since our visit? Things change, and these places are more often than not family-run businesses. That doesn't mean that if an Essaouira restaurant isn't included here that you should avoid; try it out, it may surprise you! And if you did indeed love it, then let us know so we can share your recommendation with others.
Where the best Essaouira restaurants are located
1. Restaurant les remparts
G67H+4WV, Rue du Rif, Essaouira
Click here for Google Maps location
With a colourful rustic interior steeped in history, this good value Essaouira restaurant serving Moroccan cuisine is wonderful. The veggie starters (samosas and the goats cheese) are particularly good. Staff are very friendly, speak English, and are accommodating to kids who are perhaps fussy eaters.
2. Délices et Saveurs
G68J+5MH, Rue Boutouil, Essaouira, Morocco
Click here for Google Maps location
In a quiet corner of Essaouira Medina, near the Jewish Corner, is a small square with a few colourful restaurants spilling out onto the street: Dar Abi specialises in fish, and Chaabi Chic and Délices et Saveurs serve Moroccan dishes.
Délices et Saveurs is the central of the two. Staff are very kind and the range of food on offer is good.
There are quite a few stray cats that hang around here looking for scraps.
3. Chaabi Chic
G68J+5QX, Rue Boutouil, Essaouira, Morocco
Click here for Google Maps location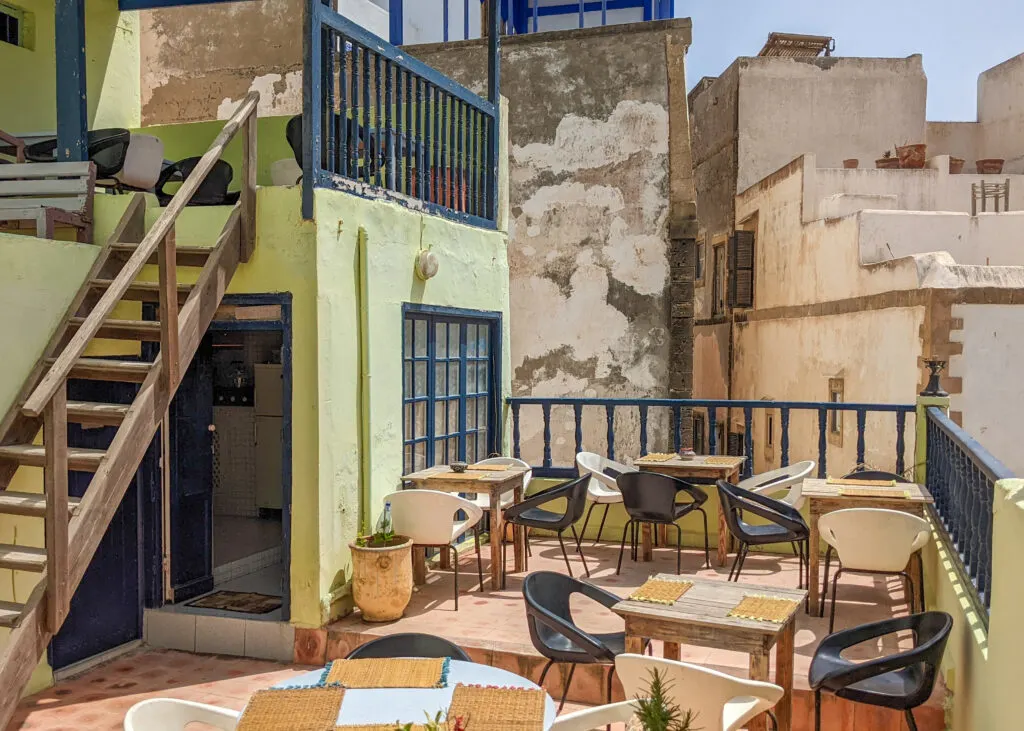 Almost next door to Délices et Saveurs is Chaabi Chic. The roof top area is really lovely. Whilst it's a bit too low to get a good view over the city, it's nice to be away from the foot-traffic and the cats.
The menu is standard for Morocco, although they're open to cooking things that aren't on the menu (within reason). The tagines here are very good.
4. Hostel La Smala rooftop
26 bis Rue Skala, Essaouira 44000, Morocco
Click here for Google Maps location
This is one our personal favourite cafes in Essaouira, not only because of the open sunset views over the ramparts and across to the Atlantic, but because of the delicious, freshly made food. This superb rooftop restaurant specialises in light snacks, including burgers and stylish sandwiches, and mocktails. The avocado and poached egg on toast is divine.
The café is at the very top floor of Hostel La Smala. Walk through the entrance and keep going up the stairs to the top floor. Service is brilliant and the décor is fresh and modern.
This is a good spot for Game of Throne fans to come as the ramparts feature heaving in season 3 as the set for Astapor. Sit on the rooftop and see if you can recognise some of the scenes. We have a useful guide on Games of Thrones in Essaouira to help you.
As the rooftop Essaouria cafe is part of Hostel La Smala, the managers sometimes close it to non-guests in busy periods (especially during the high season month of August).
5. Beach And Friends
Av. Mohammed V, Essaouira 44000, Morocco
Click here for Google Maps location
Sink down into the the huge comfy sofas and gaze across the beach to the Atlantic Ocean as you sip a cocktail. Beach and Friends is an oh-so-cool bar at the far end of the beach where the surfers surf and the camels hang out. It's one of the most popular bars in Essaouira, but they also have a food menu, which serves tapas. It's a little pricier here compared to other restaurants in Essaouira Medina.
This is a good place to head to after your surf lesson or on your way back to the Medina after a quad biking tour.
If you don't fancy the walk along the beach to/from the medina, jump in a petits taxis for 7DH. This is a flat fee, so no haggling required. More information in our guide: The BEST way to get around Essaouira.
6. Ocean Vagabond
Boulevard Mohamed VI, Essaouira 44000
Click here for Google Maps location
Just a few doors further along from Beach and Friends is Ocean Vagabond, another popular beach bar in Essaouira. This place is just as cool, although with slightly more shade from trees. Their menu is geared more towards pizza and burgers.
Again, the perfect place to come after a surf or perhaps a stroll along the beach from the Medina.
7. Chez Rachid
BP423 Place Al Khaima, Heb, 44000
Click here for Google Maps location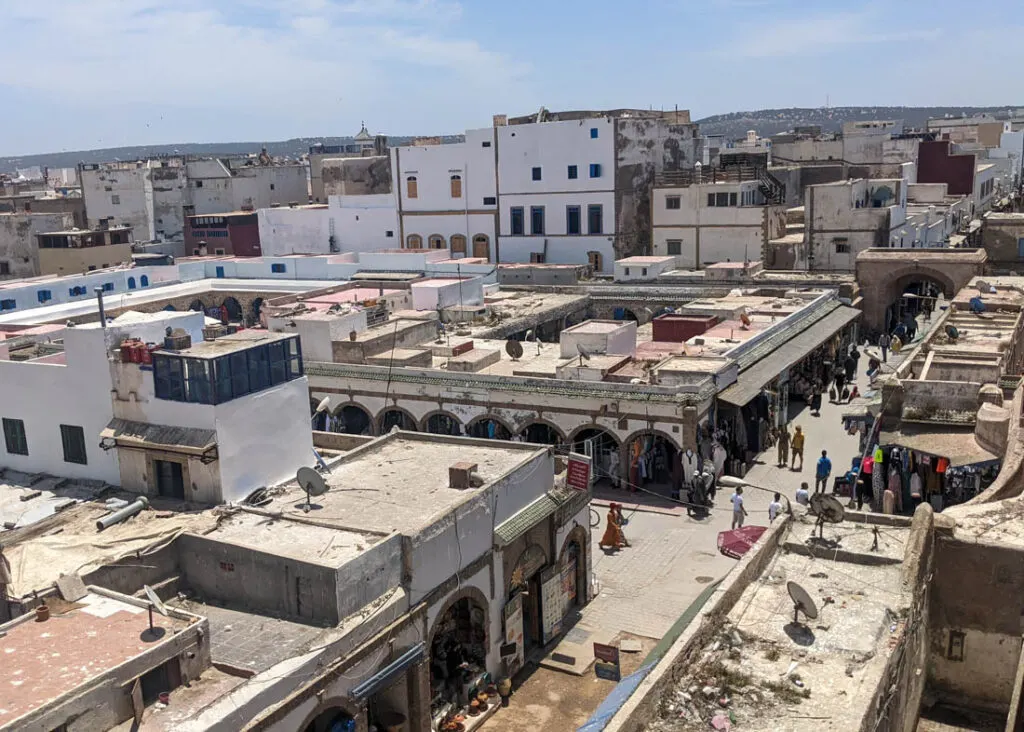 For a very authentic Moroccan restaurant experience, head to Chez Rachid. Climb up the steep steps to the top level for fantastically rustic views across the rooftops of Essaouira, away from the beach. There's no written menu here. Just take a pew on the plastic chairs and ask for the tagine of the day (they will have a vegetarian tagine too).
8. Le Corail Vegan Food
BP423 Place Al Khaima, Heb, 44000
Click here for Google Maps location
Vegetarian food options in Morocco generally come down to vegetable tagine, vegetable couscous, omelettes, and the occasional veggie burger (although be warned if you see a veggie burger on a menu, it often means a normal burger without the patty and for the same price!). Vegan choices are narrowed somewhat.
So if you are vegetarian or vegan and visiting Essaouira, then make a beeline to Le Corail Vegan Food in a little square near to Sidi Mohammed ben Abdallah Museum. The food choice and quality here is absolutely incredible! This is the best restaurant in Essaouira for vegetarians and vegans. You will not be disappointed.
And if you have meat-eaters in your travel group who aren't too keen on vegetarian or vegan food, do not worry. One of the restaurants across the way are more than happy for you to all sit and eat there, and order food in from Le Corail Vegan Food, or vice versa.
9. Taverna Bolognese Da Maurizio
7 Rue Youssef Ibn Tachfine, Essaouira
Click here for Google Maps location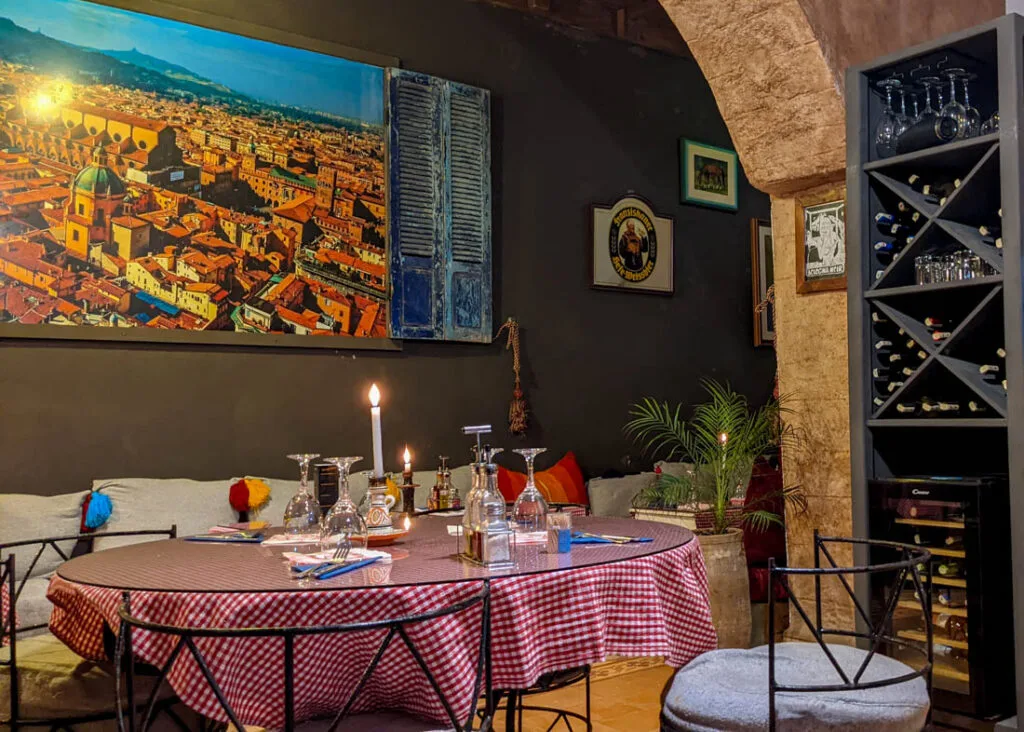 Just off the main tourist street of Av. Sidi Mohamed Ben Abdellah, is a taste of Italy in the heart of Essaouira's medina. Here at Taverna Bolognese Da Maurizio you will find the best pizzas in Essaouira, or perhaps in all of Morocco, for the same price as the pizzas served elsewhere in Essaouira restaurants which tend to use the frozen pre-made pizza base. And if it really couldn't get any better, there is a good value beer and wine menu to accompany your Italian dish. In fact, Taverna Bolognese Da Maurizio is one of the few medina restaurants that serve alcohol in Essaouira.
The décor is quintessentially Italian with red-checked table cloths with candles flickering, a wine cabinet, and a large picture of Florence on the wall.
10. Silvestro
70 44000 Rue Laalouj, Essaouira
Click here for Google Maps location
If Taverna Bolognese Da Maurizio is full or closed, walk around the corner to Silvestro, which comes in a at a very close second to the best Italian restaurant in Essaouira. Here the pizzas are also woodfired, and the gnocchi is particularly good. Service is a little on the slow side.
There's a terrace on the roof top with limited views. Otherwise, eat in the main dining area with red table cloths and rose wallpaper.
11. Asian Red Food
G67H+4H6, Essaouira, Morocco
Click here for Google Maps location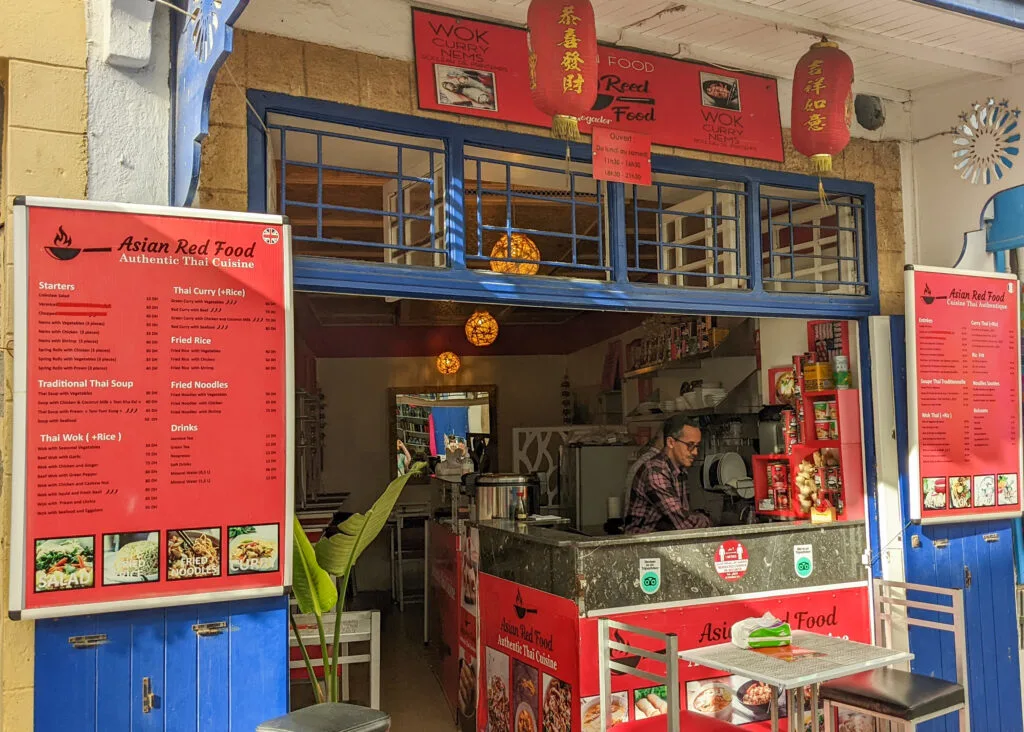 An authentic taste of Asia in North Africa serving a range of Thai dishes. Dine in or take away. Service is quick and friendly, and the food is good value and delicious.
If you've been travelling Morocco for a while, this variation of foods will be appreciated.
---
Explore Essaouira ebook
Updated for 2023, the Explore Essaouira ebook is the only travel guide you need for exploring Essaouira. It is jam packed with inspiration on what to do, where to eat, where to stay, and also includes a step-by-step self-guided walking tour (with photos).
This is a PDF download for use offline and on the go (and ad-free!). Save it to read on the plane to Morocco, download to your phone to follow the self-guided walking tour around the medina, or print it off at home before you leave on your adventures and highlight all the bits you want to remember for your visit.
If you have found this website useful for planning your Essaouira adventures, you can show your support by buying Jenny a coffee. Thanks so much!