Can you really party in Essaouira? Are there nightclubs in Essaouira? What is Essaouira nightlife really like? Read on as we answer these questions and more.
Being a Muslim country, it should come as no surprise that Morocco is not a top party destination. If you are researching Morocco stag or hen party destinations, this isn't the place to come for raucous behaviour. Indeed, it would deemed rather inappropriate and disrespectful.
However, Essaouira is witnessing a burgeoning party scene. This is a tourist town after all and relaxed, hippy vibes have been associated with Essaouira ever since the legendary musician, Jimi Hendrix, visited in 1969.
There are a handful of restaurants in Essaouira that serve alcohol, even in the medina. Indeed a sundowner at Beach and Friends is one of my personal favourite things to do in Essaouira. Plus, there are a couple of shops to buy alcohol in Essaouira should you want to enjoy a beer or glass of wine at your riad (although do check with the riad owner before doing so).
But what if you want to take your night beyond a sundowner or restaurant meal?
Here we chat about what to expect from Essaouira nightlife, including where to go to party into the wee hours.
Bars in Essaouira
There are a handful of bars that serve alcohol in Essaouira, should you fancy a beer, wine, or even a cocktail to wind down after a day of sightseeing, and most of these come with a sunset view… sundowner anyone?
Head over to our guide on the best bars in Essaouira to find out where to go, but these include:
Beach and Friends
Ocean Vagabond
Taros
Salut Maroc!
Hôtel des Iles
Il Mare
These are all open late into the evening, especially Beach and Friends and Taros.
Salut Maroc, Hôtel des Iles and Il Mare are more restaurants than bars.
Gnawa Music
Gnawa music is a traditional and spiritual musical genre in Morocco characterized by hypnotic rhythms, trance-inducing chants, and the use of the guembri, a three-stringed bass instrument, and traditional drums.
Every evening, you will find many restaurants around the medina playing gnawa music late into the evening. Look out for the information boards outside of the restaurants.
Many of these places do not serve alcohol. Head to Salut Maroc or Il Mare to enjoy a beverage while your toe taps along to the traditional music.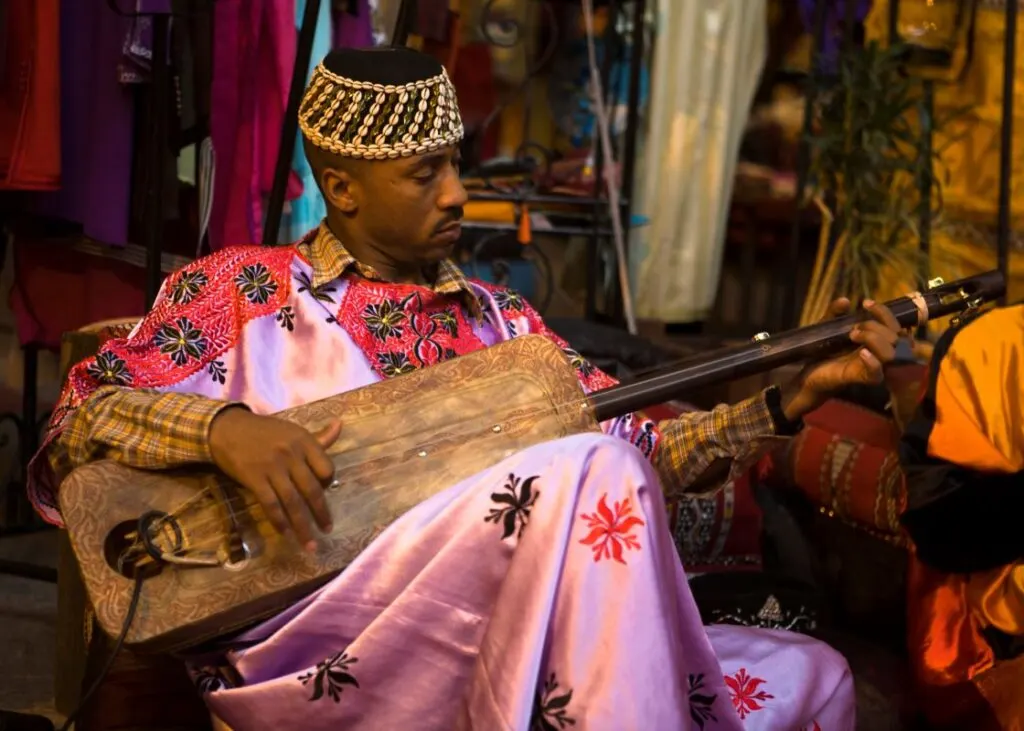 Clubbing in Essaouira
Whilst the gnawa music is a lovely experience for your time in Morocco, it's probably not the 'Essaouira nightlife' you had in mind.
So where to go to party the night away in Essaouira?
Taros
The closest Essaouira has to a club in the city is Taros. This is the place to be and attracts a very trendy crowd from 9pm onwards to dance the night away while sipping cocktails. The on-trend pumping music booms across the rooftops until 2am most nights.
Taros is located in the medina at the corner of Place Moulay Hassan. The entrance is rather non-descript and you could easily miss it if it weren't for the bouncers at the front door. Entry is free.
Walk up the stairs to the rooftop where you will be met by nonchalant bartenders dressed in black dungarees. A large DJ stand sits centre stage, with more stairs leading up to various terraces.
Service can be painfully slow. Don't wait until you've finished your drink to order the next.
Check the Taros Facebook page for up-to-date info on what's on.
So Lounge Mogador
Another nightclub in Essaouria is So Lounge Mogador, at the Sofitel Essaouira Mogador Golf & Spa in Diabat. This is a ten minute drive south of Essaouira and is open Thursday to Sunday from midnight to 4am (yes, that late).
Final thoughts on Essaouira nightlife
Whilst it's probably the relaxed coastal vibe and cultural richness of Essaouira that first encouraged you to visit, this is a holiday after all. So if you have enjoyed a restaurant meal and feel in the mood to extend the night, you can indeed do just that in Essaouira.
This isn't a sleepy town and for those feeling the party vibe you can either enjoy the gnawa music until 11pm or midnight in a handful of restaurants (such as Il Mare) or perhaps take yourself to the rooftop of Taros to away to the trendy hits spinning from the DJ.
When leaving these establishments to return to your accommodation, please be respectful of the local community and return quietly. Drunk and disorderly behaviour around the medina is very disprectful to local culture. Plus, the sunrise call to prayer will be waking you up in a few hours, so best to get your head down.
---
Explore Essaouira ebook
Updated for 2023, the Explore Essaouira ebook is the only travel guide you need for exploring Essaouira. It is jam packed with inspiration on what to do, where to eat, where to stay, and also includes a step-by-step self-guided walking tour (with photos).
This is a PDF download for use offline and on the go (and ad-free!). Save it to read on the plane to Morocco, download to your phone to follow the self-guided walking tour around the medina, or print it off at home before you leave on your adventures and highlight all the bits you want to remember for your visit.
If you have found this website useful for planning your Essaouira adventures, you can show your support by buying Jenny a coffee. Thanks so much!