Looking for things to do in Diabat, Essaouira? There's more to this little village than Jimi Hendrix and castles made of sand. If you plan on visiting this dusty village close to Essaouira, then read on for all the things to do in Diabat.
Four kilometres south of Essaouira's medina is the dusty, sleepy village of Diabat, which enjoys the similar maritime climate of its big brother, Essaouira, despite rolling sand dunes creating a barrier between the village and Atlantic.
Back in the early 1970s, Diabat (and Essaouira) was firmly on the hippie trail, solidified by a visit from the legendary musician, Jimi Hendrix, in 1969. He may have only visited for a couple of days (in fact, apparently he wanted to buy Diabat), but this was a good enough reason to open a Jimi Hendrix café and hotel in the village, which are still open today. It's also the reason why Diabat is often referred to as the 'Jimi Hendrix village'.
Disclaimer: This post contains affiliate links. Should you click to purchase, it is at no additional cost to you, but we receive a small commission.
Diabat sees only a small fraction of the tourists compared to Essaouira, and the hippie communes are long gone. But if you are visiting Essaouira during the high season months of July and August and want to escape the crowds, Diabat is the place to come and is one of the easiest day trips from Essaouira. Visitors only tend to come here for a quad biking or horse riding tour, or they may be staying at the Sofitel Essaouira Mogador Golf & Spa (which is actually in Diabat rather than Essaouria) and tend to stick to the confines of luxury.
Whilst there are much fewer crowds in Diabat than Essaouira, this isn't the place to come for absolute peace and quiet. As this is where all the quad biking starts from, there is a constant drone of quad bikes making their way from the village to the beach.
But what is there to do in Diabat (besides quad biking)? Well read on…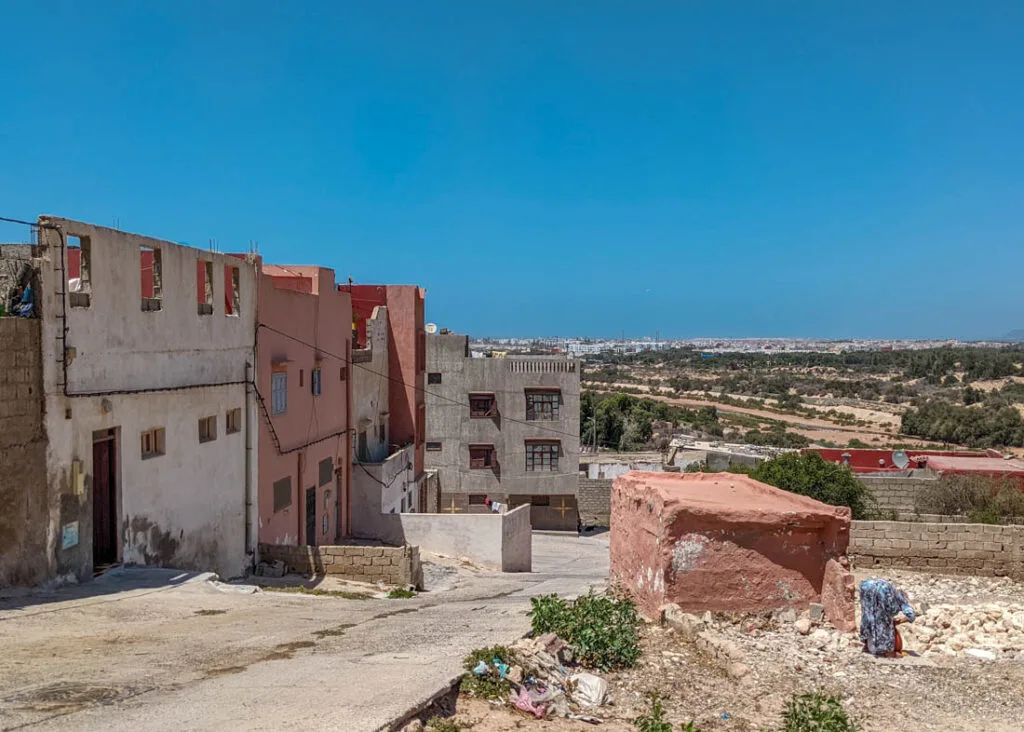 1. Dar Sultan Palace
Diabat is most well known for the ruins of Dar Sultan Palace, nestled amongst the sand dunes between village and the beach. It has been rumoured that Dar Sultan Palace inspired Jimmie Hendrix to write Castles Made of Sand. This is a great story, except the song was released two years before his visit to Morocco. It's a great song though, and worth a listen.
Dar Sultan Palace was the residence of high dignitaries and sometimes Moulay Abderrahmane Khalifa, who was the King of Mogador between 1822 and 1858. The palace was extremely modern for its day, fully furnished in European style, with glass windows installed by Dutch craftsmen.
Over the years the palace has been battered by sandstorms and ocean winds, and attacked by vandals. The ruins are now at one with the sand dunes. It's a fascinating place to explore and open to all to wander around (there's no fee or gated entrance). The stone arches and even the mosaic tiles are still clearly on display.
To get there from Diabat village, follow the off road track next to the roundabout, opposite Diabat Mosque. This is the track that the horses, quad bikes, and even cars take to get to the beach. Scroll down this post to the 'Diabat Beach' section for a photo of the track that you need to take from Diabat to get to Dar Sultan Palace as it's the same one. The palace is half way between the village and the beach along this track.
2. Quad biking
READ OUR GUIDE: Quad biking in Diabat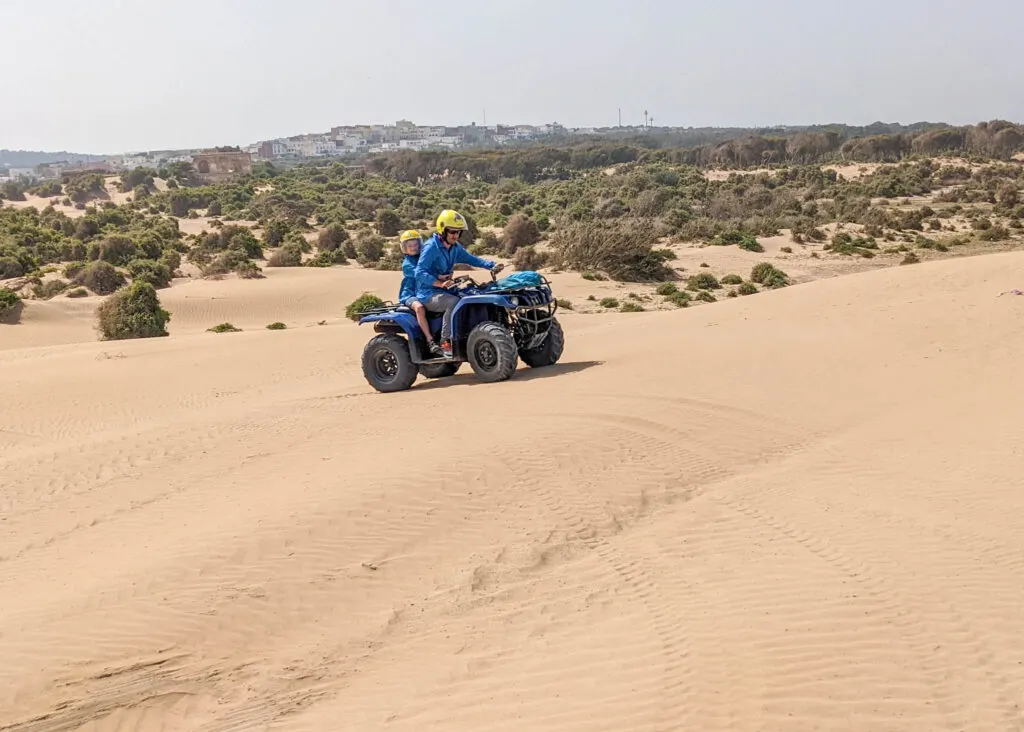 Quad biking is one of the top things to do in Essaouira. But the quad bikes don't actually go from Essaouira, they go from Diabat.
You can book anything from an hour session to a full day tour. Although most people will find 2 hours is enough. Kids under 8 are free. You will have a personal guide with you on a quad bike to show you the way and help you out if needed.
You can double up on a quad bike to keep costs down (two people on one quad bike), or if you are doing a tour with kids under 16. Your guide will probably let the kids have a go driving, whilst sat in front of him.
There is very little in the way of training, and you are taken straight out onto the dunes. Take your time and trust the quad bike, and you'll be fine. Most of a two hour tour will be along a long stretch of beach, which is easy driving. But there are sections where you are taken up into the dunes. You will also pass Berber villages along the way.
There are no facilities on the tour, so bring any drinks and snacks with you.
3. Horse riding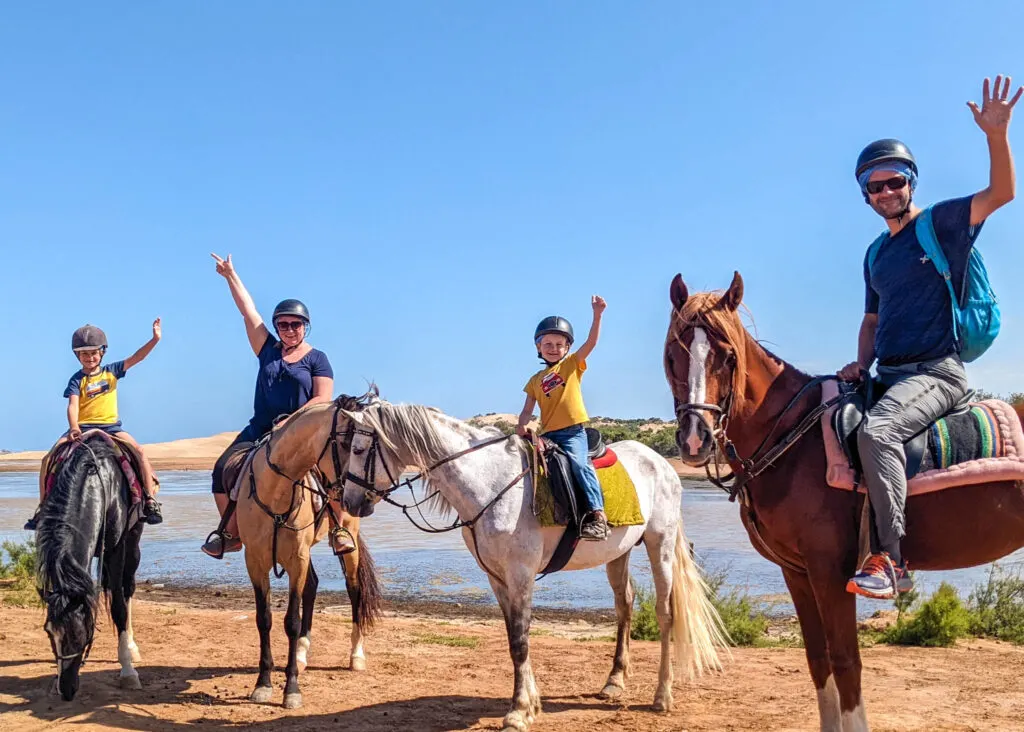 Riding a horse along the African coastline is a total bucket list moment and even beginners can do it!
There are a handful of horseback riding companies that cater to all abilities. We have personally experienced and can recommend Diana Dromedaries (yes they do camel riding, but also horse riding).
Staff are experienced riders and know the horses very well. Riding helmets are provided, and we recommend you wear long trousers and closed-toe shoes, although absolute beginners will be fine in shorts as you will just be walking.
4. Diabat beach
Aside from the horse riders and quad bikers, the beach at Diabat is much quieter than Essaouira beach, and in the evening you are likely to have the beach to yourself, even in the high season.
There are dunes for kids to play in, and the surf is stronger here than in Essaouira if you're a surfer. Otherwise, enjoy a picnic and a relax, or take a long walk south along the coastline, passing Berber tents along the way. Do note though that it is just as windy in Diabat as it is in Essaouira.
There are no surf or kitesurfing schools on Diabat beach, but the Essaouira surfing schools can arrange to bring you here for a lesson.
There are no facilities or cafes on the beach, so take everything that you need.
To get to Diabat beach, follow the off road track next to the roundabout, opposite Diabat Mosque. This is the track that the horses, quad bikes, and even cars take to get to the beach. You will pass by Dar Sultan Palace along the way. It's about a 20-30 minute walk to the beach along this track.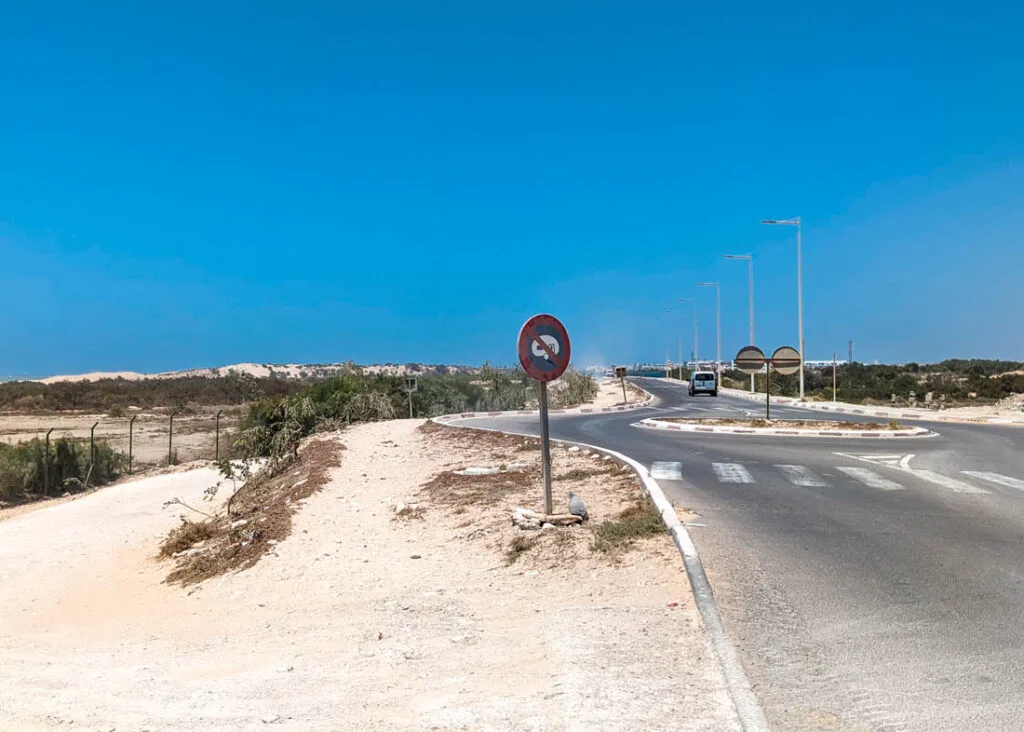 5. Jimi Hendrix café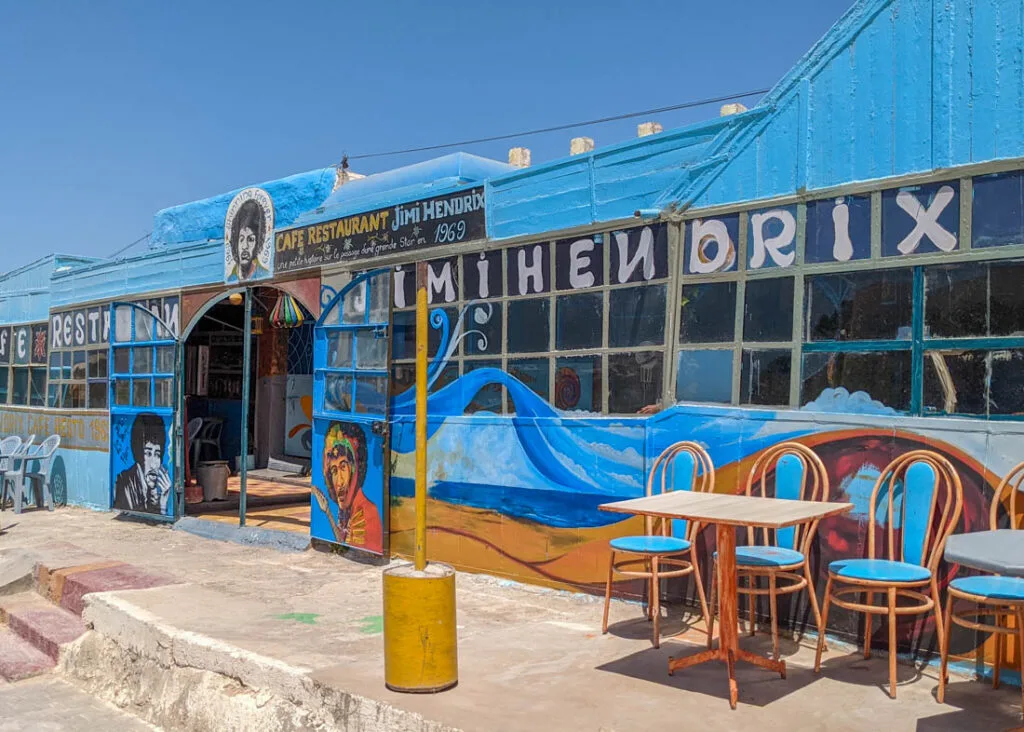 The vibrant Jimi Hendrix café on the main road running through Diabat looks inviting to anyone passing through the village (click here for Google Maps location). Funky artwork adorns the exterior and one would expect a chilled traveller and hippie vibe inside.
However, we feel the owners have missed a trick here. There are no references to Jimi Hendrix inside; in fact there are more Bob Marley references than Jimi Hendrix, with Bob Marley photos and 'sun is shining the weather is sweet' lyrics painted on the walls.
The owners are really lovely, but it's a painfully long wait for food (longer than one usually expects in Morocco) and in all honesty, the food isn't worth the wait. I've had other visitors message me to say they've had the same experience.
The Jimi Hendrix café in Diabat is not a themed café. Don't go in expecting 'The Jimi Hendrix Experience'. But, it's the only place in Diabat for a refreshing drink after your quad biking or horse riding adventures, and for this reason (along with the cool artwork), it's worth popping in.
There's no WIFI, and no alcohol sold here.
Where to eat in Diabat
Diabat is lacking in eating options. The Jimi Hendrix café is fine, but that's your only choice, unless you walk up to the Sofitel Essaouira Mogador Golf & Spa. Otherwise, head into Essaouira. The beach bars (Beach and Friends and Ocean Vagabond) at the Diabat end of Essaouira's main beach are your closest option and a good spot for a sundowner as they are a couple of the few places that serve alcohol in Essaouira.
There are a handful of small shops in Diabat that sell fresh baguettes each morning, drinks, jams, yogurts and other basics. If you are self-catering and staying in Diabat, we suggest you stock up at the Carrefour in Essaouira (a petit taxi from Diabat to Carrefour is 30DH).
How to get to Diabat
It's a very pleasant walk along the shoreline from Essaouira to Diabat (when the river between the two places isn't flowing). The entire stretch from Essaouira's medina to Diabat beach is 4km. From Diabat beach there's a wide stone track that leads up to the village (see photo below). There are often cars parked where this track meets the beach. It's a 1.5km walk along this track from Diabat beach to Diabat village.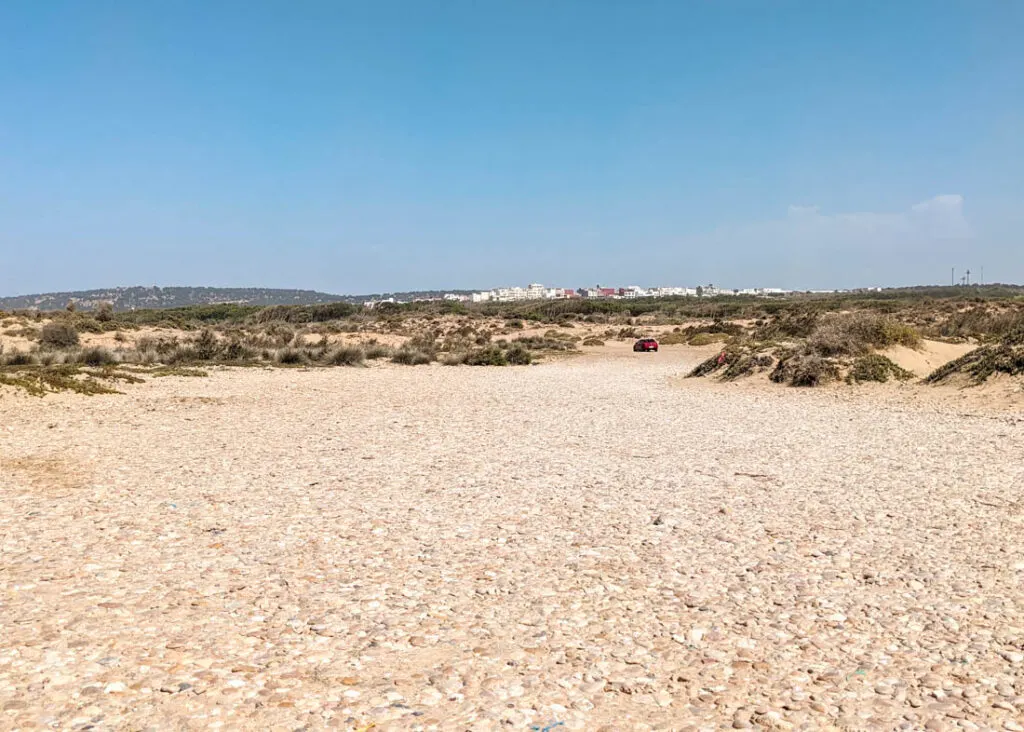 Otherwise, you can flag down a petit taxi from Essaouira to take you to Diabat (read our guide to taking petits taxis in Essaouira). Taxis won't take you along the track to Diabat beach though.
Between Essaouira and Diabat, the fare is fixed at 30DH. Do note that there aren't as many petits taxis in Diabat as there are in Essaouira, so you sometimes need to wait a bit longer if hailing one from Diabat. Also, legally only three passengers are allowed in a petit taxi at one time.
Where to stay in Diabat
The Jimi Hendrix Hotel in Diabat has seen much better days, and on the other end of the scale is the 5* luxury Sofitel Essaouira Mogador Golf & Spa on the opposite end of the village, away from Essaouira.
For budgets in between, your best bet is an Airbnb. We recommend trying to get one with a rooftop view of the Atlantic; those sunset views are pretty special.
---
Explore Essaouira ebook
Updated for 2023, the Explore Essaouira ebook is the only travel guide you need for exploring Essaouira. It is jam packed with inspiration on what to do, where to eat, where to stay, and also includes a step-by-step self-guided walking tour (with photos).
This is a PDF download for use offline and on the go (and ad-free!). Save it to read on the plane to Morocco, download to your phone to follow the self-guided walking tour around the medina, or print it off at home before you leave on your adventures and highlight all the bits you want to remember for your visit.
If you have found this website useful for planning your Essaouira adventures, you can show your support by buying Jenny a coffee. Thanks so much!