Your essential guide to visiting Essaouira with kids, including things to do in Essaouira with kids
Morocco is the 'accessible' Africa and one of the easiest introductions to the continent. It's a great destination for adventurous families; kids will love running around the maze of colourful medinas, camel riding over the sand dunes of the Sahara, and trekking through the snow capped peaks of the Atlas Mountains on a mule, not to mention all the warm interactions they'll experience with locals who make a fuss over them.
But where's the best place to visit in Morocco for families? Essaouira gets our vote. Although we appreciate that this website is a tad biased, though with good reason!
The chilled out coastal town of Essaouira is perfect for kids with it's traffic-free medina, orange juice stands conveniently dotted around, and long stretch of sandy beach. And let's not forget the super fun activities of camel riding, quad biking, and surfing to experience!
Whether you are road tripping Morocco as a family, or looking for a place to base yourself for a week or more, visiting Essaouira with kids is an absolute must. Indeed, we especially believe it's the best destination in Morocco for toddlers and babies too. And on the other end of the scale, visiting Essaouira with teens is also a brilliant idea, as the chilled out and compact medina means that parents will feel more relaxed about them having some independence and exploring on their own.
Read on to find out why Essaouira is brilliant for families…
1. It's easy to get to Essaouira from Europe
No jet lag
Essaouira (and indeed all of Morocco) is in the same zone as the UK. So if you are visiting Essaouira with a baby or toddler, no adjustments required to the daily nap routine whatsoever. Easy. This also means there is no jet lag to deal with, which can effect you whatever age.
Although apologies to our American visitors, with a 5 hour time difference with EST, jet lag is something you may have to negotiate.
No travel vaccinations are required (although adults will need a COVID vaccination pass)
As long as your little ones are up to date with their standard vaccination schedule at home, you're good to go. Just ensure you have adequate health insurance before you travel as the national health service isn't that great and the private hospitals in Morocco are very expensive.
As per the current regulations, travellers over the age of 18 are required to present a valid vaccine pass on entry to Morocco. Children under the age of 18 are exempt from the requirement to present a vaccine pass. Click here for up to date government guidelines.
Reasonable flight
There are direct flights from European cities, including London Stansted, which means that you don't have to do a long transfer once your arrive. In fact the drive from Essaouira Airport to the medina is just 20 mins. Do check out our Essaouira Airport guide.
No expensive visas
Visa costs can build up for a family. But for many countries (including Brits), you are allowed to remain in the country for 90 days. You also get a very cool stamp in your passports.
2. Chilled vibes
Essaouira is much more relaxed than Marrakech (where most travellers fly into). Walking around Marrakech with young kids can be exhausting as mopeds career around you, and touts vye for your attention. It's bustling and chaotic, which can be wonderful, but doesn't make for a relaxing visit.
Essaouira's medina is traffic-free, so that annoying buzz of the mopeds is absent and you can actually let go of your kid's hand, and parents may feel more relaxed about allowing their teenager in Essaouira to explore independently. Plus the people and stall sellers are much less pushy and more relaxed; expect to stop for a nice chin wag. And the taxi drivers won't try and rip you off; it's a flat fee of 7DH to get around Essaouira (check out our guide to getting around Essaouira).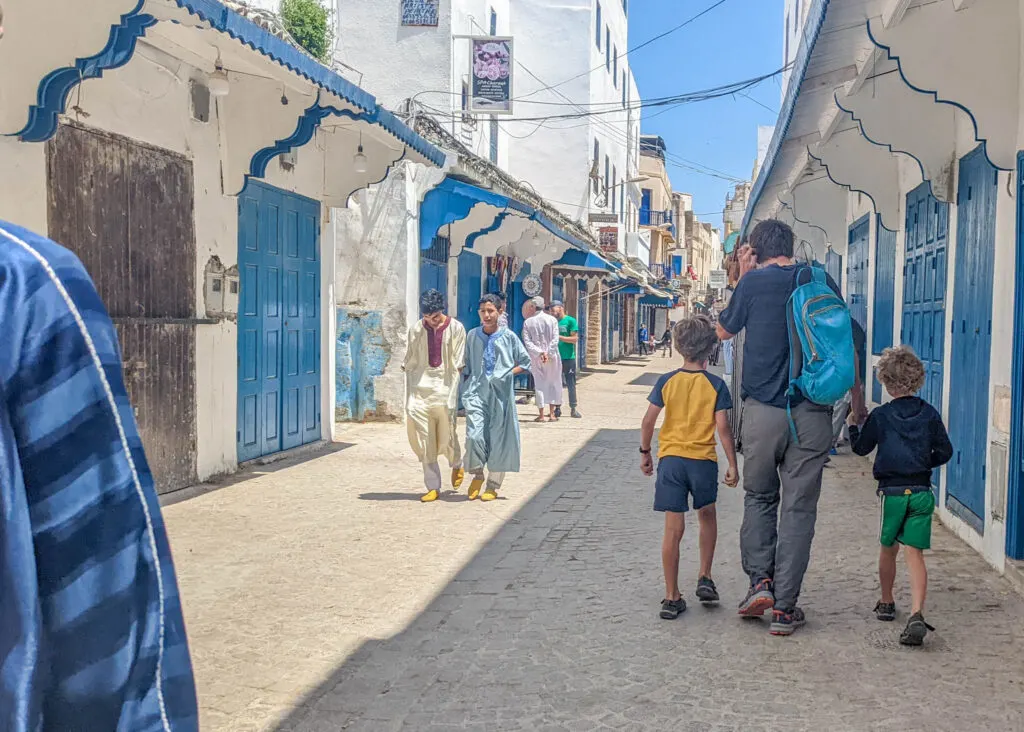 3. Essaouira is pram friendly
Essaouira is very pram friendly whether you're strolling the medina or walking along the wide 2km-long promenade. For elsewhere in Morocco, we usually recommend parents leave the buggy / pushchair / pram at home. But in all honesty Essaouira is probably the most pram and buggy friendly town in all of Morocco!
So if you want to take advantage of your little one napping in the buggy whilst you take a long walk, go for it!
4. There's a beach
READ our comprehensive guide to Essaouira beaches
Having a beach right next to the town is instant entertainment for young kids visiting Essaouira. Grab a bucket and space and allow that wide open sandy beach to be the playground. Plus the shallow waters make it very safe for kids paddling and playing in the water.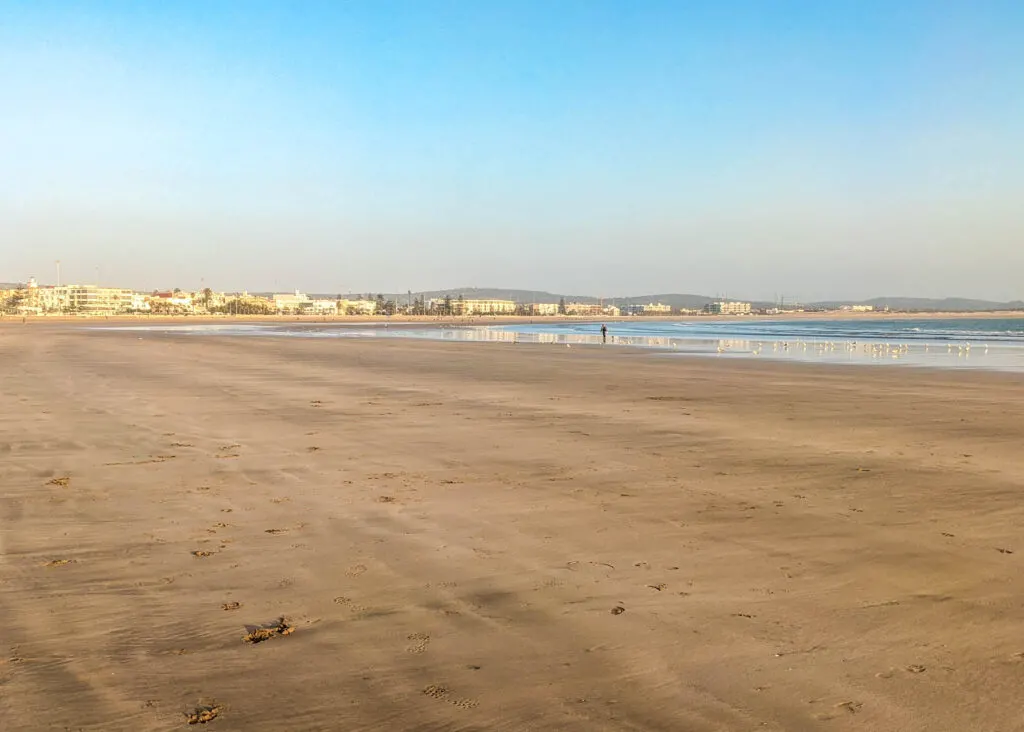 Half way along the promenade is a concrete play area for football and basketball, and just on the sand is a small children's play area with trampolines (10DH per child).
On the far end of the beach is where you'll find the surfing and kite-surfing, as well as camel riding and quad biking.
Sun loungers are available to hire closer to the Medina end of the beach for 25DH per sunbed.
Head to Safi Beach (the beach at the northern end of Essaoiura) or Diabat Beach (south of Essaouira) to escape the crowds in the high season months of July and August. You can get to Safi Beach by horse and carriage from outside Bab Doukkala (50DH return and the driver will wait for you). Here there are big dunes to play in and rockpools to explore.
5. Great selection of affordable accommodation available
Essaouira is a compact town so it's easy to get around, and your tourist dollar goes much further here, so you can treat yourself with a bit of a splurge. Stay in a central riad with a rooftop overlooking the medina, or enjoy something a bit more upmarket with a pool for the kids (check out these Essaouira hotels).
Although do note that for accommodation in the Medina, you will need to negotiate steep stairs and it is unlikely that places will have stair gates. Many riads also have steep drops. Whilst everywhere is very welcoming to families, these steep steps and drops may make some parents of toddlers and pre-schoolers rather anxious (not what you really want from your holiday) and you may choose to go for a more modern style of accommodation outside the medina.
Renting an Airbnb in the Medina is a great option for families, especially if you're visiting Essaouira with teens, as kids can have their own room (and some privacy) and everyone can spread out more.
6. Warm, friendly and open locals
The locals absolutely adore children. Spend your mornings just roaming freely around the medina; waving, high-fiving and chatting to locals. Even down at the port, the hardy fisherman will want to meet your kids and show them how to mend their nets.
And if you have kids who like to play football, just head down to the main beach in the afternoon; they will be sure to find a football buddy to play with down there.
7. Lots to do on the doorstep
Sandy beach with safe, shallow waters, camels to meet and ride, the medina, souqs, fishing port and ramparts to explore, there are so many things to do in Essaouira!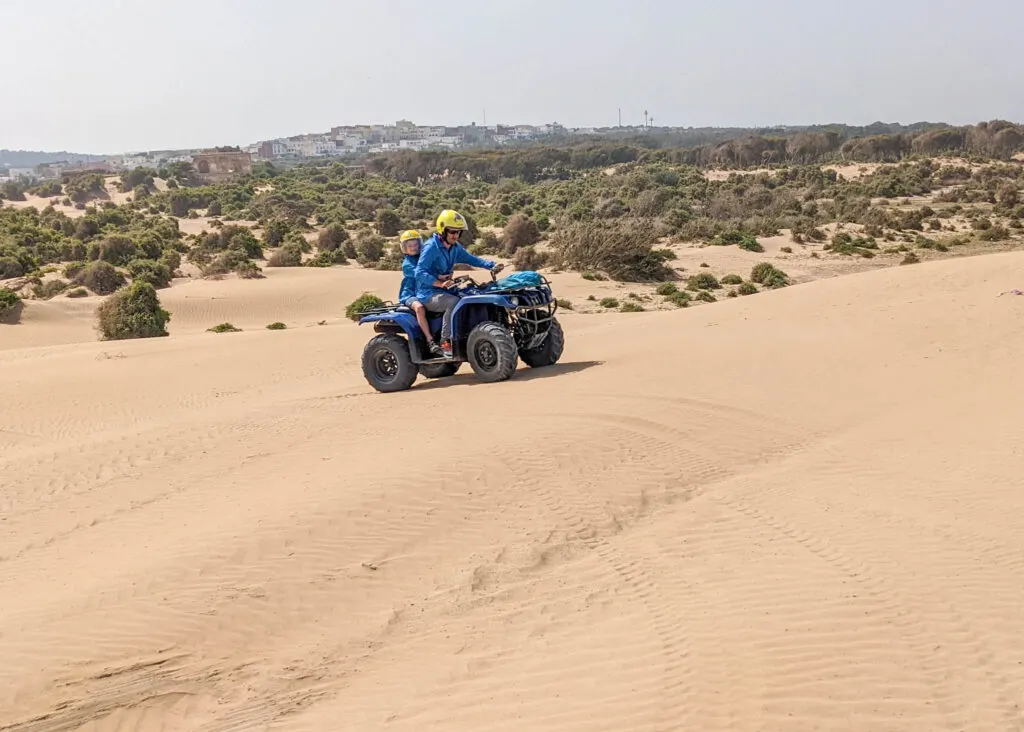 Top 23 things to do in Essaouira
Wondering what to do in Essaouira? Whether you're seeking adventure, or need to relax and unwind, here we provide a detailed guide to all the things to do in Essaouira, so that you can get the most out of your visit. From surfing to souks, we've got you covered.
This North African coastal town really is the perfect sensory playground for your little ones, and there is easily enough to fill a week-long holiday, without having negotiate transport outside of the city (although it's easy enough to get around using the taxis, which have a 7DH flat fee – no haggling required!).
But an absolute must do if your kids are aged 6+ is surf lessons! We recommend Moga Surf who are brilliant with young kids. If you are visiting Essaouira with teens and they are good swimmers, they may want to try out kite surfing! Oh, and there is also quad biking – absolutely brilliant fun and a great way to explore the coastline south of Essaouira.
8. Meal times made easy
Eating out anywhere in the world with little ones is not exactly a relaxing experience. Keeping them entertained until the food arrives can be a challenge, only for them to gobble it up in 5 mins and the meal is over.
Restaurants in Essaouira are very welcoming to children. But be warned, service can be painfully slow. Have UNO, colouring books and / or travel journals handy to keep the kids busy until food arrives, as even a pancake may take 20mins to prepare.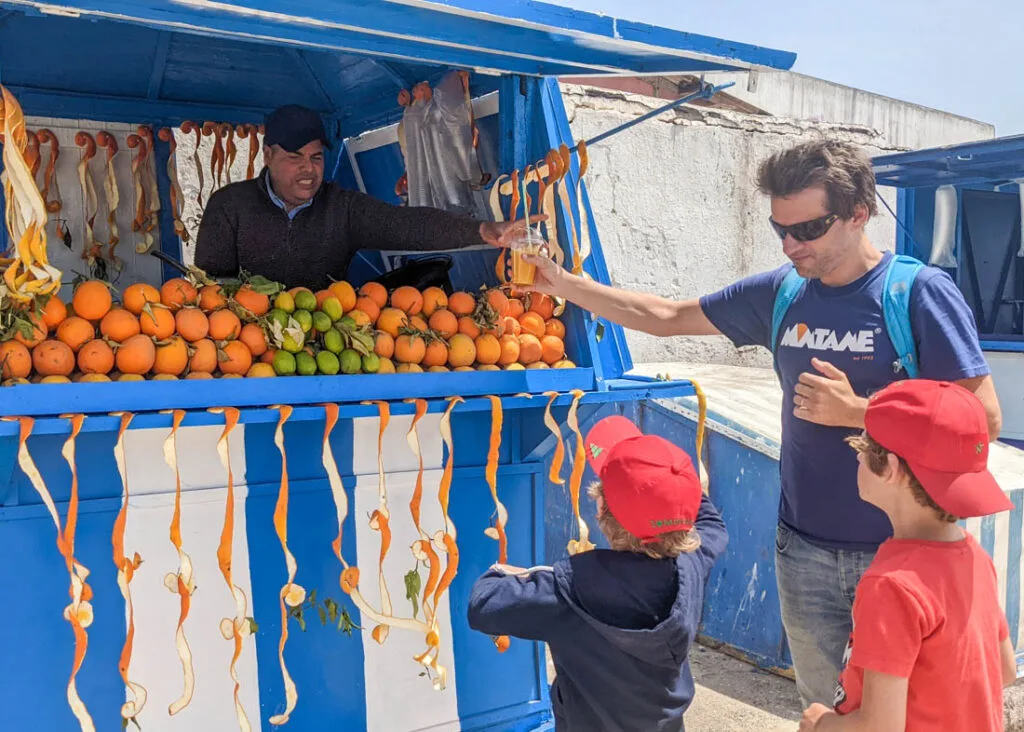 Street food is available everywhere and that requires very little waiting. From tajines and fresh seafood from the port, to the more familiar pancakes, shwarmas and fries, the carts piled high with fresh fruit and veg, and the French patisseries dotted around the medina, there is so much on offer that all family members are happy. Plus a big hit will be the fresh orange juice stalls just at the entrance to the port.
Check out our guide to Eating in Essaouria.
9. Nappies and essentials are available everywhere
And we really do mean everywhere! You will see bags of Pampers hanging from every other street stall! And the staples of milk, eggs, bread, crisps are easily purchased on your doorstep. Your kids will love the interaction with the individual stall holders; allow them to ask for/point to what you need, give them the money to pass over, whilst perhaps attempting a bit of Arabic if they can ('es salaam alaykum' – Hello, and 'shukran' – thank you).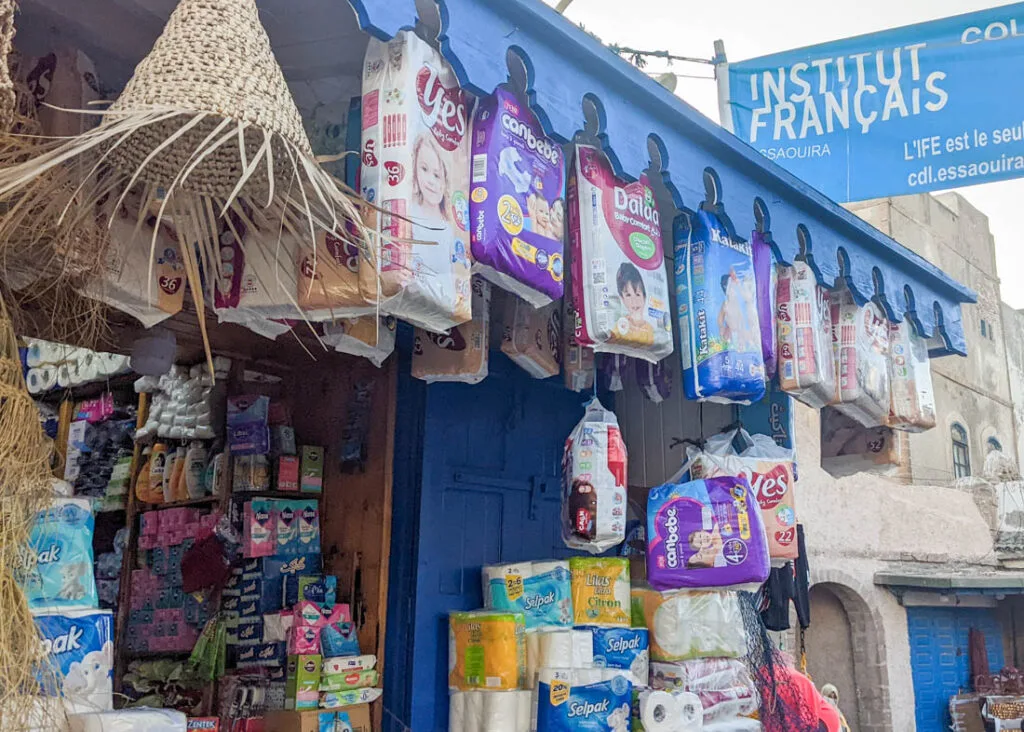 But if you do need a supermarket, there is a large Carrefour supermarket on the main road into Essaouira. This is a large French supermarket chain and you will find absolutely everything you need here.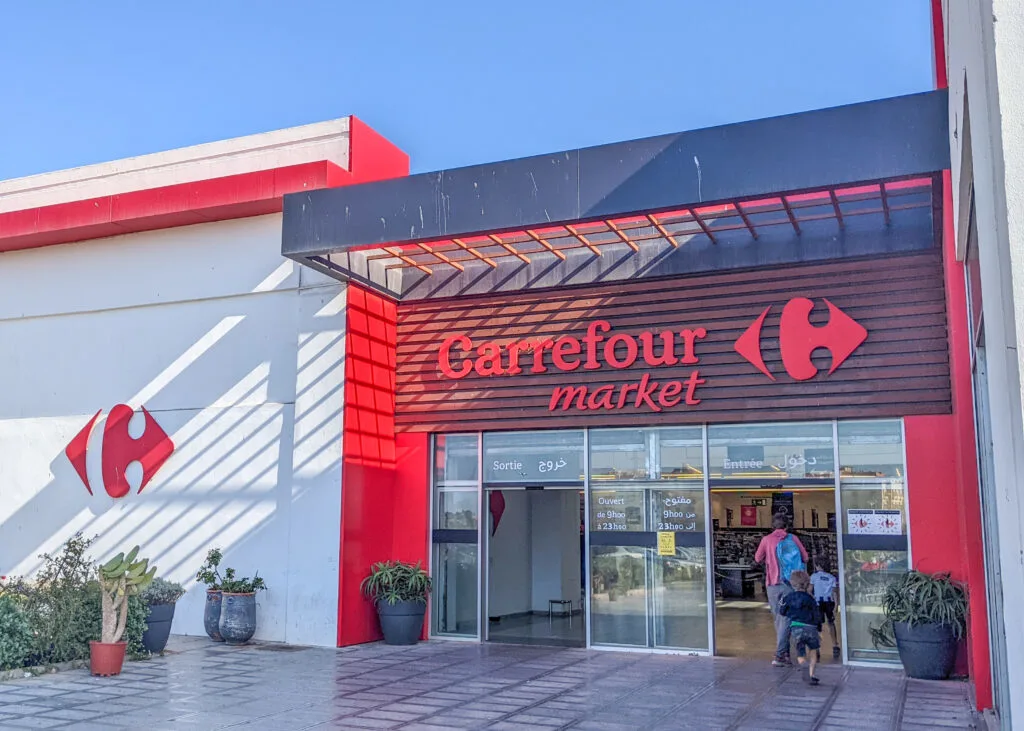 10. Essaouira is also a great destination for teens
Last but not least, we need to mention how great Essaouira is for teenagers! Parents visiting Essaouira with teens will find that it's an easier town to allow them some independence. As the Medina is relatively chilled and it's difficult to get lost, you can let your teens go off exploring without too much worry.
Plus as mentioned above, Essaouira has great activities on offer for teens due to the windy beach location (think surfing and kite-surfing).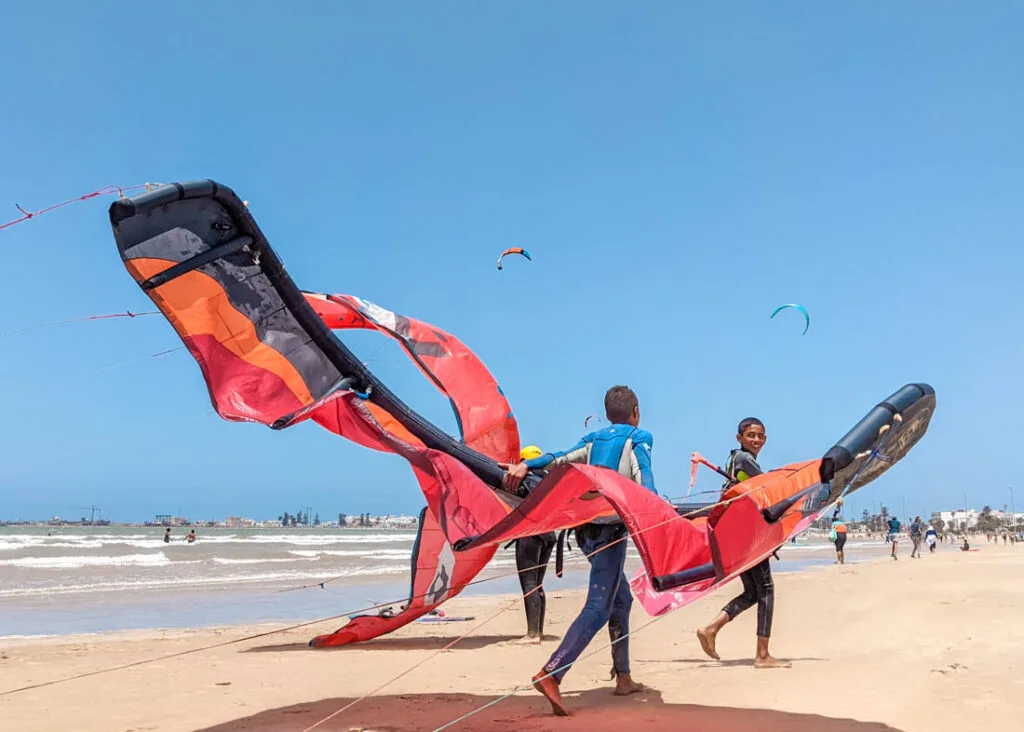 But perhaps most importantly for your teens and keeping things realistic, the WIFI is good (not excellent) for keeping in touch with friends back home. It's absolutely fine for a video call. But if one person is gaming, another on a video call, and parents trying to work, it may all crash to a halt. And that's when the arguments happen. It's an idea to have a back up portable WIFI device for parents (or teens) to use, if everyone needs internet access at the same time. You can buy a local sim to insert into a WIFI device (such as this one).
Final thoughts on visiting Essaouira with kids
Essaouira is easily the most family friendly town in Morocco. The chilled, relaxed vibes make exploring much easier, and the beach activities on offer mean that kids of all ages will be kept busy.
Happy kids means happy parents, right?
Oh and parents, if you need a glass of wine or cold beer at the end of the day, check out our guide to alcohol in Essaouria.
---
Explore Essaouira ebook
Updated for 2023, the Explore Essaouira ebook is the only travel guide you need for exploring Essaouira. It is jam packed with inspiration on what to do, where to eat, where to stay, and also includes a step-by-step self-guided walking tour (with photos).
This is a PDF download for use offline and on the go (and ad-free!). Save it to read on the plane to Morocco, download to your phone to follow the self-guided walking tour around the medina, or print it off at home before you leave on your adventures and highlight all the bits you want to remember for your visit.
If you have found this website useful for planning your Essaouira adventures, you can show your support by buying Jenny a coffee. Thanks so much!