Considering going quad biking in Essaouira? Then read on to find out what to expect from the experience.
Quad biking is easily one of the most fun things to do in Essaouira. However, it doesn't actually take place in Essaouira. The quad biking companies are all based in Diabat, which is 4km south along the coast from Essaouira.
Be warned though, there is little in the way of training when you sign up for a quad biking tour. You will be driving up, down and across those sand dunes just ten minutes into your adventure. Essaouira quad biking is not for the fainthearted.
But for those adventurous souls, Essaouira quad biking us a fantastic way to explore the coast further south from Essaouira, barely seeing a soul and passing Berber villages. Pushing the accelerator as your soar along the shoreline really is a wonderfully exhilarating experience. And if you're visiting Essaouira with teens, this activity is a must do!
There are a handful of quad biking companies around Essaouira. Here we share our personal experience with Diana Quad Essaouira on their 2 hour quad biking tour.
Which tour to do and costs
There are a range of tours you can do. From just a 1 hour ride to a full day. We opted for a 2 hour tour, which felt about right and was probably closer to 3 hours all in all.
The longer the tour, the more it costs. You can also keep costs down by two people sharing one quad bike, rather than getting two separate quad bikes.
Kids under 8 are free and will need to be seated on a quad bike with a parent (sitting behind and holding on).
At the time of writing, a 2 hour quad biking tour with 1 person was 450DH.
Getting to the quad biking tour
A driver will collect you from outside Bab Sbaa of Essaouira's medina. This is included in the total price of the quad biking tour, although you could also get a petits taxi to Diabat for a fixed fare of 30DH (read our guide to getting around Essaouira).
All of the Essaouira quad biking companies are actually based in the village of Diabat, as this is better located to the sand dunes and beach for quad biking. It is just a 10 minute drive from Essaouira Medina to Diabat.
On arrival to your quad biking tour
On arrival you will be introduced to your guide for the Essaouira quad biking tour, and be given a light jacket and helmet. There are smaller helmets for children.
There are no waivers to sign or safety briefings, and you don't need to show your drivers license. This is Morocco 😉. Just make your payment in cash for the tour.
You are then presented with your quad bike and your guide will point out the accelerator and breaks. That's it.
Your quad biking tour
You will drive a short way along the road on your quad bike, before turning right down a quad biking track. This is a good place to get used to how the quad bike manoeuvres.
Although just a few more minutes in a you will be traversing sand dunes to get down to the beach. Trust the quad bike and don't be afraid to use acceleration to get up the dunes.
Soon you emerge onto the beach and it's a lovely drive along the shoreline, passing the occasional make-shift Berber tents.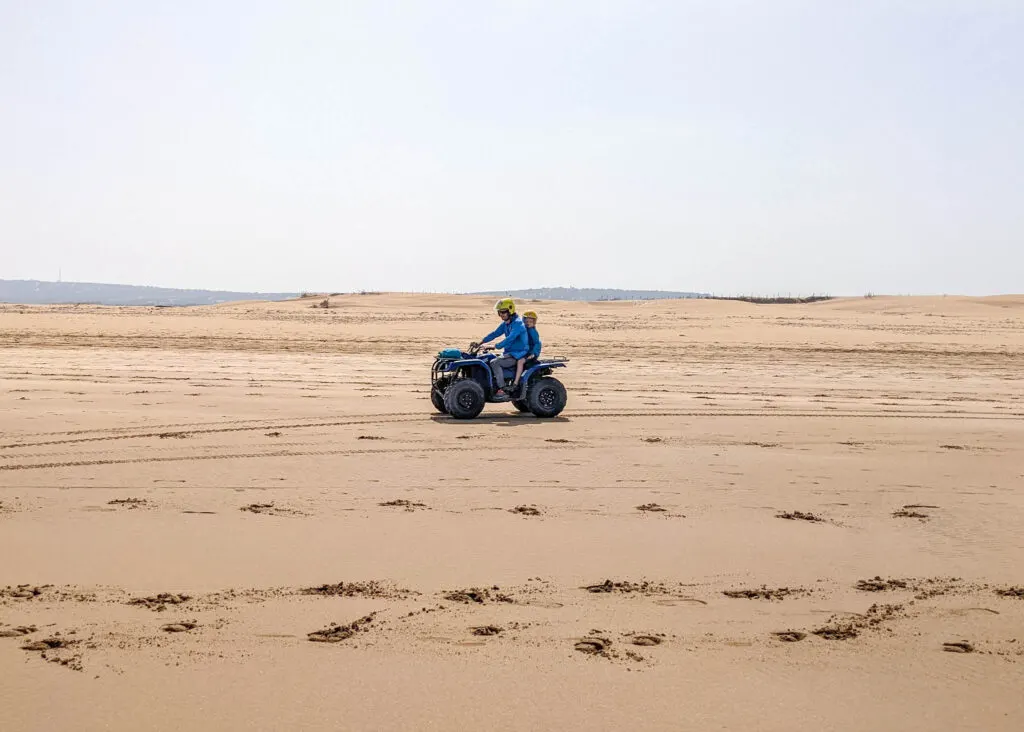 Then just when you're starting to relax, you will be lead back into the sand dunes again. But this time you know what you're doing and it's A LOT more fun.
The tour then turns back around to follow a similar route back to base.
Essaouira quad biking tour for kids
Quad biking is a brilliant activity if you are visiting Essaouira with kids. Our driver, Houccine, let our boys drive his quad along the beach (whilst sat in front of him). You can just imagine how much they enjoyed it. And Houccine was also great at making sure the boys had exactly the same amount of time driving (I'm sure all parents know how important that is).
After your quad biking tour
After your quad biking tour you will be driven back to you pick up point. But why not ask to be dropped off at one of the beach bars at the main roundabout? Ocean Vagabond and Beach and Friends are two of our favourite places to eat in Essaouira overlooking the Atlantic Ocean. They are the perfect spot for a post-quad-biking beer and snack.
Alternatively, you may want to check out the Jimi Hendrix café in Diabat or walk down to Dar Sultan Palace (a once-grand palace that has been left to the elements is now at one with the sand dunes). Check out our Diabat travel guide for more information.
How to book Essaouira quad biking
Essaouira quad biking can be booked through you accommodation or at one of the tour companies in Essaouira's medina.
However, for the best price, book direct with Diana Quad. The easiest way to contact is via WhatsApp (the number is on the website as well as a link to chat on WhatsApp).
You can even book your quad-biking tour to time it for sunset. What a special way to experience an Essaouira sunset!
---
Explore Essaouira ebook
Updated for 2023, the Explore Essaouira ebook is the only travel guide you need for exploring Essaouira. It is jam packed with inspiration on what to do, where to eat, where to stay, and also includes a step-by-step self-guided walking tour (with photos).
This is a PDF download for use offline and on the go (and ad-free!). Save it to read on the plane to Morocco, download to your phone to follow the self-guided walking tour around the medina, or print it off at home before you leave on your adventures and highlight all the bits you want to remember for your visit.
If you have found this website useful for planning your Essaouira adventures, you can show your support by buying Jenny a coffee. Thanks so much!