Do you only have one day to spend in Essaouira? Here we provide a comprehensive one day Essaouira itinerary for you to follow so that you can get the most out of your visit.
Whilst you could easily spend a week in Essaouira, and many travellers have been known to while away a couple of months or more, many visitors only have a day to explore "Africa's Windy City". Indeed, many visit Essaouira as a day trip from Marrakech, which is only a 3 hour drive away.
One thing to note though if you are coming from Marrakech, is that Essaouira is a very different vibe to Marrakech; it's much more chilled and relaxed, the medina is moped-free, and stall sellers are far from pushy. Indeed, if you want to shop for Moroccan souvenirs, it's much easier to do this is Essaouira than Marrakech.
So how do you spend that precious one day in Essaouira? Well read on… But be warned, after a day in Essaouira you may probably decide that you want to stay just a little a bit longer.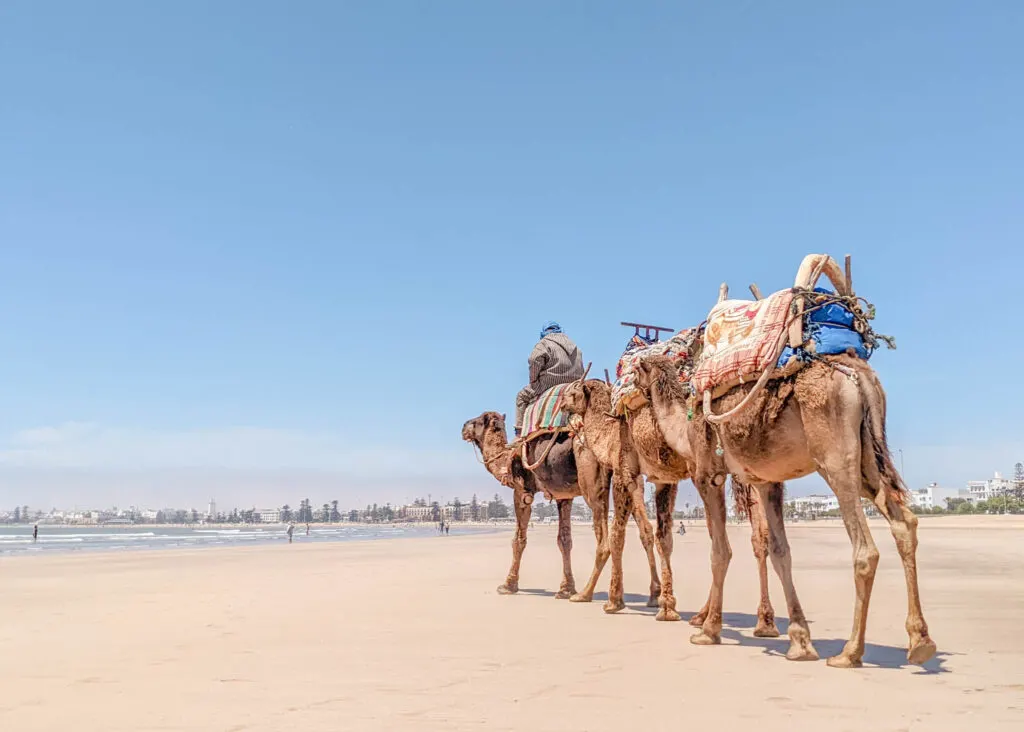 How to get to Essaouira from Marrakech
READ OUR GUIDE: How to get from Marrakech to Essaouira
Typically, tourists who only have one day to spend in Essaouira visit on a day trip from Marrakech. So how do you get from Essaouira to Marrakech?
Whilst it may feel easier to book an Essaouira day tour from Marrakech, it's actually very easy (and perhaps cheaper) to get there independently. Plus, it makes for a much more exciting adventure!
Essaouira is a three hour drive west of Marrakech, and there are really only three options for transport; bus, taxi, or private transfer. All three options will drop you by Essaouira Medina. There is no train line to Essaouira and a one-way car hire is not possible.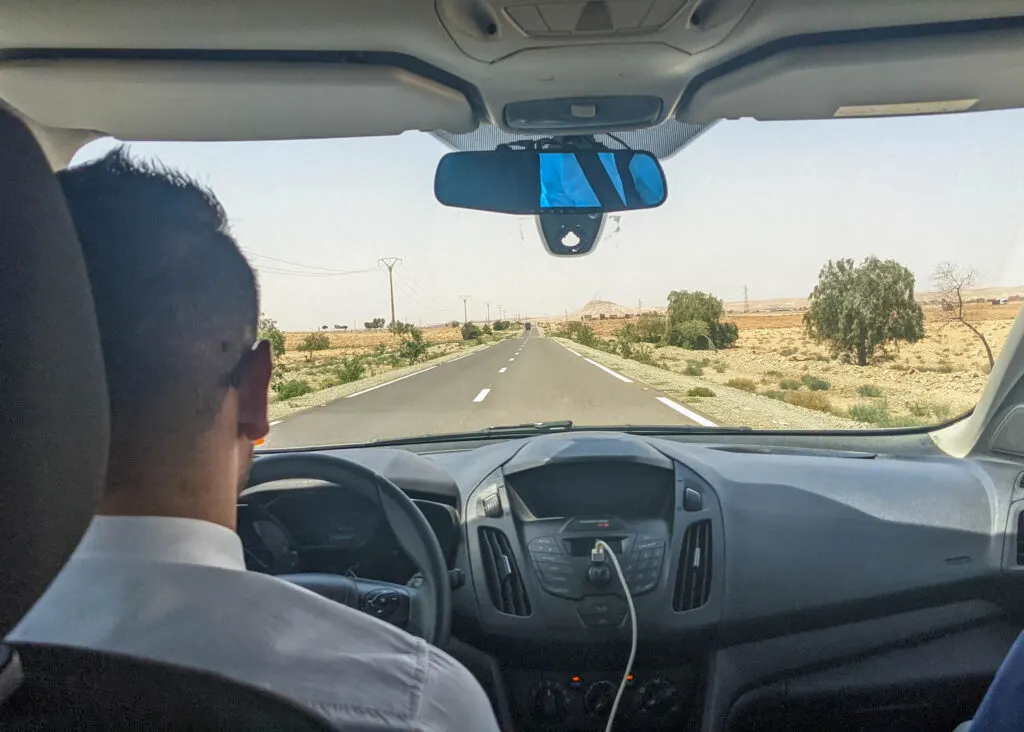 Take a private transfer
If there are 4-6 members in your party and you want to keep travel simple, a private transfer from Marrakech to Essaouira is your best option. It is also the most comfortable option. It's only a little bit more expensive to hire a private transfer, especially when you take in the cost of a taxi to get to the bus station in Marrakech, or the hassle factor of negotiating with a grand taxi driver. Expect to pay a minimum of €80 for a private transfer between Marrakech and Essaouira.

Take a Grand Taxi
There is a fixed fee of 600DH for a grand taxi from Marrakech to Essaouira. You will need to go to a Grand Taxi station in Marrakech (such as outside Marrakech Train Station) and you cannot pre book. Just turn up and ask. Despite there being a fixed fee, you will probably be quoted 1000DH initially (this is Marrakech after all!). Well done if you can get them down to 700DH.

Take the bus from Marrakech to Essaouira
Supratours is the main bus company that travels between Marrakech and Essaouira. The journey takes 3 hours by bus, with a 20 minute comfort break enroute. There are six buses per day from Marrakech to Essaouria leaving at 07:45, 09:00, 10:45, 14:45, 16:45 and 19:00. Click here to read our guide for getting the bus from Marrakech to Essaouira.
Do I need to book a tour guide in Essaouira?
You can if you want to, but it's not needed, especially if you are following our self-guided Essaouira walking tour.
Your focus for just one day in Essaouira will be around the medina, fishing port, and along Essaouira beach (with possible activities). It's very easy to find your way around, and walking is the easiest way. Although if you need to get a taxi from one end of the main beach to the other, you can for just 7DH (read our guide to getting Petit Taxis around Essaouira)
How to spend one day in Essaouira
So with just one day in Essaouira, what is the best way to spend it? There are so many things to do in Essaouira, so you need to be selective to get the most out of your visit. This is what we recommend…
Morning
Start your day at Bab Sbaa with our self-guided Essaouira walking tour. Bab Sbaa is the main gate to the medina, closest to the beach (click here for Google Map location).
Essaouira is a relatively compact town and both the traffic-free medina and long stretch of promenade that hugs the sandy beach beckon for a morning or afternoon stroll. Here we have put together a lovely self-guided walking tour for you to follow at your own pace. We take you to the main sites, but also off the beaten track along quieter alleyways.
Our Essaouira walking tour takes you all around the medina to the important points of interest (including the ramparts that feature in the HBO hit TV series Game of Thrones, Sidi Mohammed ben Abdallah Museum, and the Jewish Quarter), as well as off the beaten track, along alleyways away from other tourists.
There are lots of opportunities for shopping in Essaouira along the way, and if you need breakfast, you are spoilt for choice, but good options are Brunch&Co Essaouira, The Coast Essaouira, and Retro corner Essaouira. There's an extended option to walk to the northern beach from the Jewish Cemetery, but you will probably have to miss this, being short on time.
Allow a good few hours (including stops) for our walking tour. Don't worry about following a map, our walking guide includes a detailed route description and photos, so you don't get lost (although friendly locals will be able to help you along the way).
Lunch
Our walking tour leads you out to Essaouira fishing port. Now if you love seafood, this is the place to dine for lunch!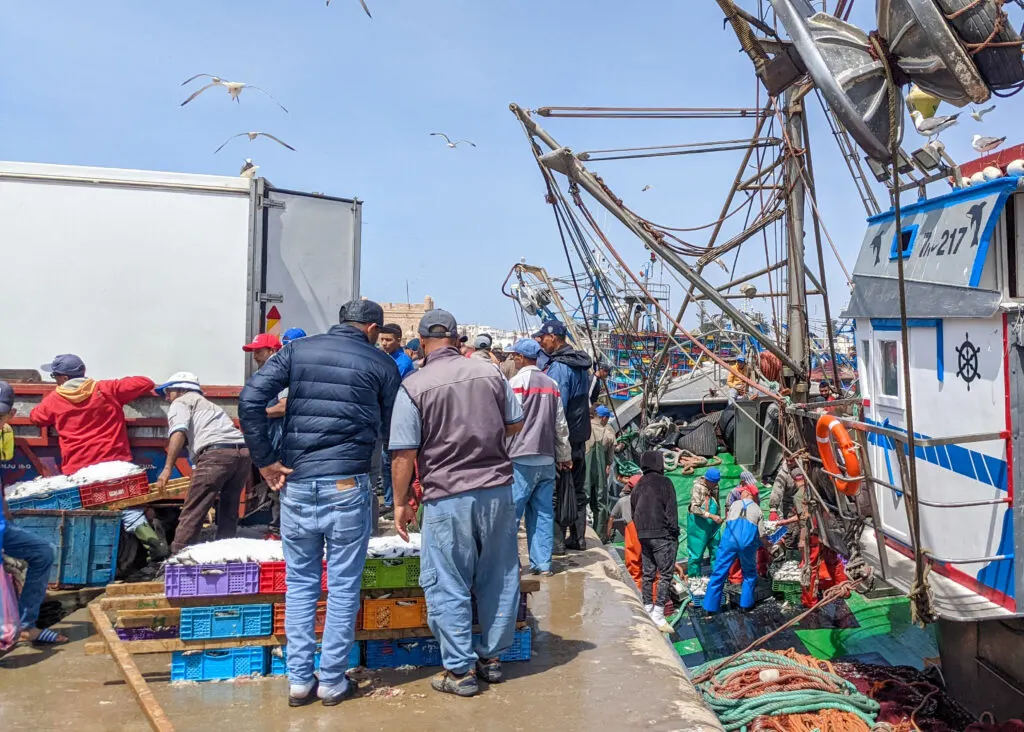 This is a working fishing port and you are welcome to walk around freely. There are open stalls where fishermen are selling their catch of the day. Pick out what you fancy and then you can go over to the open restaurant area (someone can point you in the right direction) where your fish will be grilled over a BBQ right there and then. There are plastic seats and tables for you to sit down.
If seafood isn't your thing, do not worry. Head back to the main square, Place Moulay Hassan, where there is a selection of restaurants spilling out onto the pavement. These all offer the standard Moroccan and Western menu. If you want something a little different, check out our recommendations for the best restaurants in Essaouira.
Afternoon
Time for some adventure! We recommend picking one activity to do in the afternoon (these need to be pre-booked). Your choices are:
If this all sounds rather too energetic. How about enjoying a traditional Moroccan hammam in Essaouira, followed by a long stroll along to the far end of the beach, to then enjoy a sundowner at Beach and Friends.
In fact, whether you have selected a more adventurous or sedate option, either way, we recommend you finish your one day in Essaouira at Beach and Friends to watch an Essaouira sunset with a beverage. There is also Ocean Vagabond just a few doors further along offering similar views (but there's also a small playground with trampoline out the back for young kids). Both serve both beer and wine, and are two of only a handful of restaurants selling alcohol in Essaouira.
Where to stay overnight in Essaouira
If you do want to stay overnight in Essaouira, for convenience, consider staying at one of our recommended top Essaouira hotels. Base yourself in or around the medina for ease, but you may want to escape to the countryside to switch off a totally relax after your one day of sightseeing in Essaouira.
Do you have extra time in Essaouira?
If you have more than one day in Essaouira? Then check out our comprehensive guide to all there is to do in Essaouira.
We also have a 2 day Essaouira itinerary, which includes options for extra days too: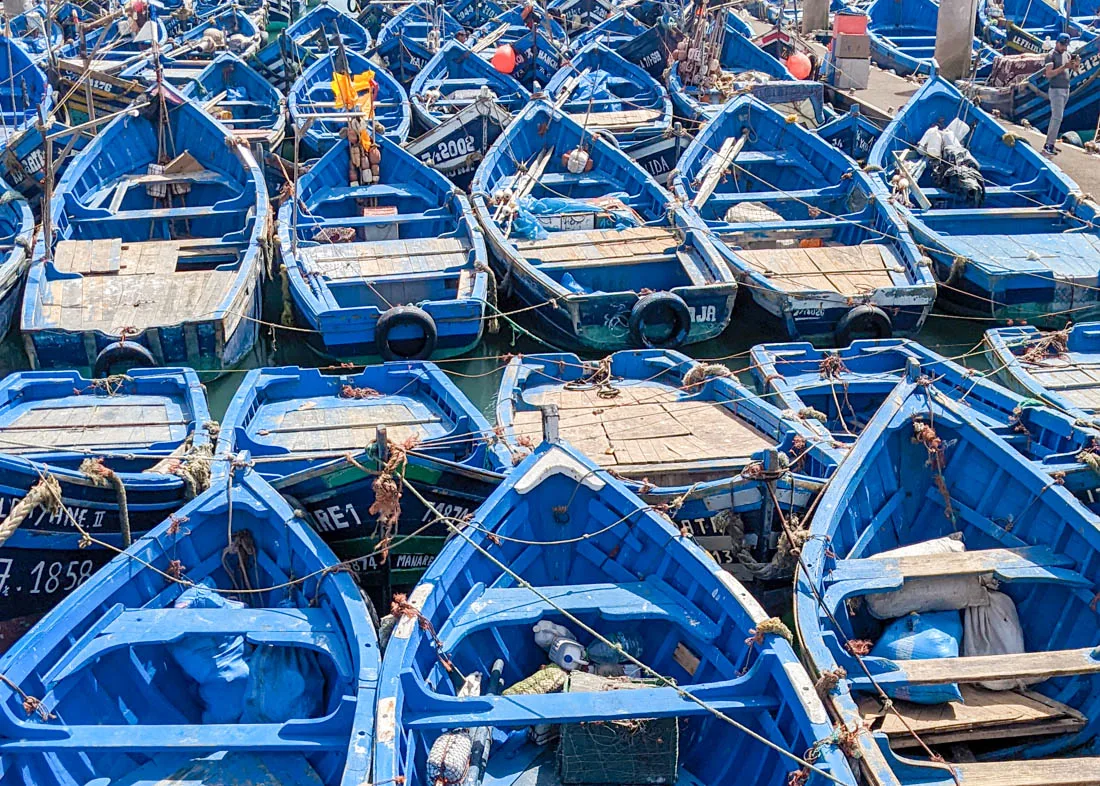 Two days are a typical length of time in Essaouira for those travelling around Morocco for their holiday. Here we provide a comprehensive itinerary for your two days in Essaouira, and provide inspiration for any extra days you may have up your sleeve.
---
Explore Essaouira ebook
Updated for 2023, the Explore Essaouira ebook is the only travel guide you need for exploring Essaouira. It is jam packed with inspiration on what to do, where to eat, where to stay, and also includes a step-by-step self-guided walking tour (with photos).
This is a PDF download for use offline and on the go (and ad-free!). Save it to read on the plane to Morocco, download to your phone to follow the self-guided walking tour around the medina, or print it off at home before you leave on your adventures and highlight all the bits you want to remember for your visit.
If you have found this website useful for planning your Essaouira adventures, you can show your support by buying Jenny a coffee. Thanks so much!