Sidi Mohammed ben Abdallah Museum is a small Essaouira museum in the heart of the Medina. It doesn't often make the list of top things to do in Essaouira. So is it worth visiting? Then read on.
Housed in an 1800s colonial house with an impressive stairway and ceiling, it displays old photography, utensils found from prehistoric ages, musical instruments, old photography of Essaouira, jewellery and some armoury. The musical instruments are the most interesting artefacts on display. There are two floors, with a hallway leading off the second floor, and a very small modern art gallery down another hallway.
All the written explanations are in French and Arabic, there is no English. So unless you speak French or Arabic, it's not really possible to give the items context as they are displayed in a bland glass box.
Sidi Mohammed ben Abdallah Museum pricing
There is separate pricing for locals and foreigners.
Foreigners are 60DH each, and children under 12 are 25DH each. However, my children (aged 6 and 8) were charged 5DH when we visited, which is the local price.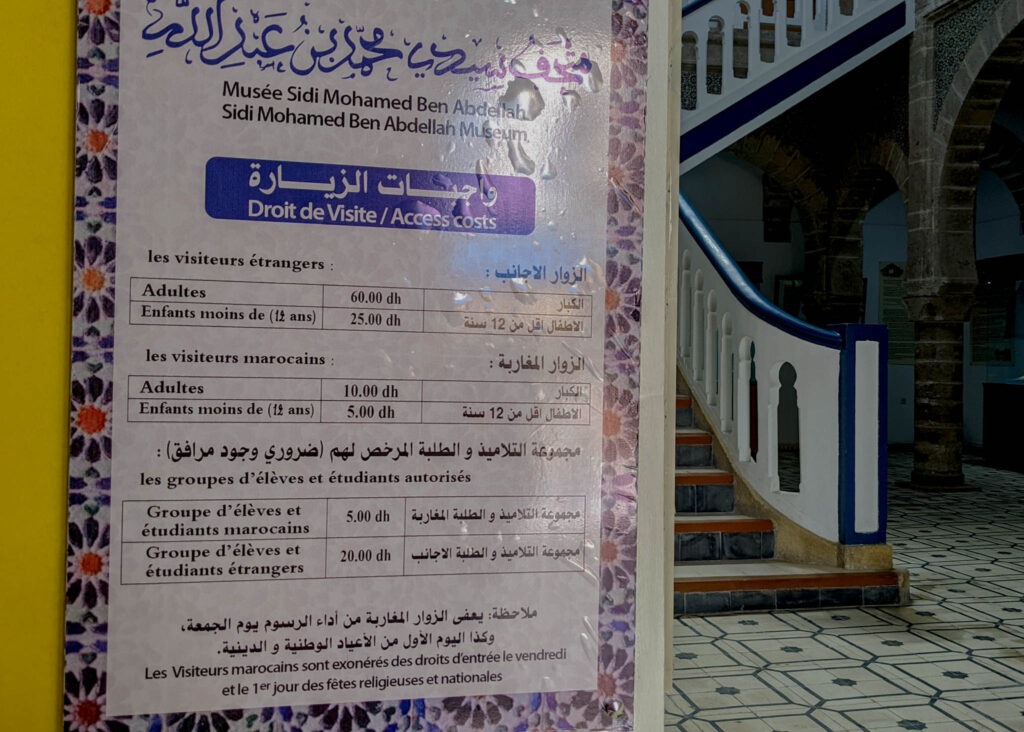 Where is Sidi Mohammed ben Abdallah Museum located?
This small Essaouira museum can be found along Rue Laalouj, which leads to the Ramparts. Click here for the Google Map point.
Are there any facilities?
There is a toilet at the museum, but no café.
Is it worth going to Sidi Mohammed ben Abdallah Museum?
If you read the Trip Advisor reviews, previous visitors are rather discouraging, especially considering the entry fee. Indeed, there isn't much to this Essaouira museum, and definitely not something that you need to cram into your schedule if you're short on time.
But if you do have the time, don't mind the fee, and are passing by, it's worth a browse for a different change of pace.
If you are visiting Essaouira with kids, it won't meet up to the thrills of surf lessons or quad biking. But I was pleasantly surprised with how interested my boys found it. They only speak basic French, and no Arabic, and enjoyed trying to work out what everything was. They too enjoyed the musical instruments, but also the small armoury.
How much time should you allow for Sidi Mohammed ben Abdallah Museum?
15 minutes. Perhaps 20 mins if you do a second lap.
---