Sometimes you just need pizza. Whilst we love a tagine and the superb seafood in Essaouira, Western diets are accustomed to variety, and if you want a change from the local food, you're brain may be thinking, "pizza".
So where to go for the best pizza in Essaouira?
Having spent months at a time in Essaouira with a husband and two boys who live by pizza, we've tried a lot of pizzas. I don't think it's any exaggeration that between us we've eaten over 100 pizzas at Essaouira restaurants.
Many of the Essaouira restaurants offer pizza on their menus. But let's be brutally honest here, the pizza isn't always good. In our family, we've come round to calling it 'tourist pizza'. This is pizza which has a premade base and thin toppings and can me cooked with minimal effort. It's fine if you're hungry, but for the price you pay it's often disappointing. If you're travelled Morocco a bit, you'll know exactly what we're on about.
But in Essaouira, there are handful of restaurants that serve proper stone-baked pizza with decent toppings. There are even a couple of Italian restaurants in Essaouira, which do not disappoint.
From our thorough research, here's a top four countdown to the best pizza in Essaouira. Almost all of the following feature in our best restaurants in Essaouira and interestingly, they all serve alcohol (click here to read our guide to alcohol in Essaouira).
4TH PLACE: Taros
Place Moulay Hassan, Essaouira 44000, Morocco
Click here for Google Maps location
Taros is THE place to to be in Essaouira for the cool and trendy, and where pumping tunes spun on the decks keep the party going until the early hours. Head up the narrow steps at the corner of Place Moulay Hassan where Rue Skala leads out to the square. There's usually a bouncer on the door, but families and older clientele are more than welcome.
The rooftop is split into different terraces surround the central DJ station, where live music is often performed at weekends. If you're planning to watch the sunset, arrive early to grab a good table.
The menu at Taros is a fusion of Moroccan and French, with a good selection of fish dishes, and they have a separate pizza menu.
Whilst the pizza base is handmade and of the thin and crispy variety, the toppings are just thin and lacking. They've made the effort to prepare a good base, but cut corners on the toppings, especially cheese.
In all honesty, Taros is a superb spot for a rooftop sundowner, but the general food quality doesn't match the price tag and kudos of this Essaouira institution. Come for the ambience and views, but don't expect too much of the food.
3RD PLACE: Ocean Vagabond
Boulevard Mohamed VI, Essaouira 44000
Click here for Google Maps location
At the far end of the beach where the surfers surf and the camels hang out is a row of beach bars. At the far end of this row is Ocean Vagabond, a trendy, laid-back restaurant that overlooks the beach with al fresco dining underneath shady trees. The Essaouira sunsets are pretty epic here.
Pizzas are a step up from pizzas at Taros, and good for a beach snack accompanied by a local beer. But they're not quite the best pizzas in Essaouira. Although if you're visiting Essaouira with kids, they will love the kids' pizza as it's often shaped into a bunny.
Ocean Vagabond also gets our vote as one of the best bars in Essaouira.
2ND PLACE: Silvestro
70 44000 Rue Laalouj, Essaouira
Click here for Google Maps location
Silvestro comes in a at a very close second to the best Italian restaurant in Essaouira. In all honesty, the pizzas here are pretty fantastic, but the restaurant at the number one spot just has the edge with quality, or perhaps we're won over with the Italian décor.
The pizzas at Silvestro are woodfired and cooked to order. However, the service can be a little on the slow side.
There's a terrace on the rooftop with limited views. Otherwise, eat in the main dining area with red table cloths and rose wallpaper.
1ST PLACE: Taverna Bolognese Da Maurizio
7 Rue Youssef Ibn Tachfine, Essaouira
Click here for Google Maps location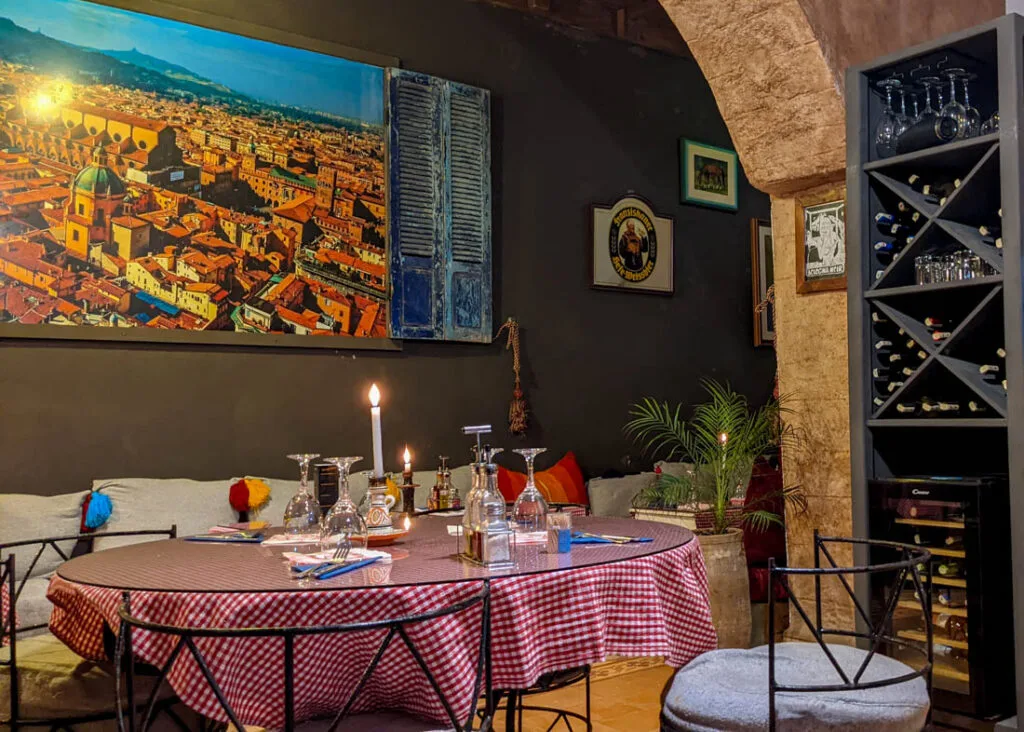 Just off the main tourist street of Av. Sidi Mohamed Ben Abdellah, is a true taste of Italy in the heart of Essaouira's medina. Here at Taverna Bolognese Da Maurizio you will find the best woodfired pizzas in all of Morocco (not just Essaouria), for the same price as those 'tourist pizzas' we first mentioned. Just look at that four cheeses pizza photographed above; doesn't it look delicious?
The restaurant is run by an Italian family, the pizzas bases are handmade with generous toppings and cooked in a stonebake oven across the alleyway, the service is spot on, and the décor is quintessentially Italian with red-checked table cloths, flickering candles, a wine cabinet, and a large picture of Florence on the wall.
However, the secret is out on this superb Italian restaurant, so make sure you pre-book you table, especially during weekends and school holidays.
Feature photo: TraveLynn Family and My Freerange Family catching up over the best pizza in Essaouira.
---
Explore Essaouira ebook
Updated for 2023, the Explore Essaouira ebook is the only travel guide you need for exploring Essaouira. It is jam packed with inspiration on what to do, where to eat, where to stay, and also includes a step-by-step self-guided walking tour (with photos).
This is a PDF download for use offline and on the go (and ad-free!). Save it to read on the plane to Morocco, download to your phone to follow the self-guided walking tour around the medina, or print it off at home before you leave on your adventures and highlight all the bits you want to remember for your visit.
If you have found this website useful for planning your Essaouira adventures, you can show your support by buying Jenny a coffee. Thanks so much!