Can you drink alcohol in Essaouira? Where can you buy alcohol in Essaouira? Or is it best to bring alcohol with you into Morocco? Here we answer these questions and more.
Being a Muslim country, alcohol isn't as readily available in Morocco as it is across much of Europe. Muslims don't tend to drink alcohol, and it's not at all a part of day to day life. Tea on the other hand, well that you can get everywhere; and often you will see groups of men sitting outside cafes drinking mint tea (often with a lot of sugar), instead of alcohol.
This doesn't mean that it's impossible to get alcohol in Morocco. Indeed, Essaouira has a relatively large expat community and is a popular tourist town, especially with European travellers, so the market is definitely there for alcohol in Essaouira!
In fact, Morocco brews some excellent beers: Casablanca, Stork, and Flag Speciale (Casablanca is considered the best, although be warned, it's rather strong!) And there is also Moroccan wine. Most Moroccan wines are produced in the north of the country, particularly around Meknes. Although you may be interested to hear that Essaouira even has it's own vineyard where you can book a wine tasting tour – Val d'Argan.
But please note, that whilst alcohol is available in Essaouira, this really isn't the place to come to party. Essaouira is a chilled out coastal town where your days will be spent wandering the breezy medina and port (perhaps on our self-guided Essaouira walking tour) or trying your hand at kite-surfing or quad-biking (check out our guide for the best things to do in Essaouira).
However, a sundowner from a rooftop or beach bar, always rounds the day off nicely, right? So you'll be pleased to hear that you can indeed find places that serve alcohol in Essaouira, you just need to know where to go, and we're going to help you with that. And there are even shops that sell alcohol in Essaouira!
Can you drink alcohol in Essaouira?
In short, yes you can drink alcohol in Essaouira.
Most of the hotels will serve alcohol and there are a handful of restaurants and bars in and around the medina that serve alcohol.
If you are staying at a riad, check with the manager first before purchasing alcohol and bringing it into the riad to drink in communal areas.
But if you do drink, please do so respectfully. Walking through the medina swigging a bottle of Flag is extremely disrespectful, as is acting drunk (singing loud songs, stumbling around). As we've already mentioned, Essaouira is not a party town.
It is especially important to avoid drinking alcohol in public and being drunk during Ramadan or Eid al-Adha. In fact, shops that sell alcohol in Essaouira will close during these religious festivals, and some of the restaurants that serve alcohol are also closed.
Also, if you invite new local Muslim friends out for lunch or dinner, don't try and encourage them to drink, or to 'try it'; this is very insulting to their religion.
Where can you buy alcohol in Essaouira?
You can buy alcohol in hotels, a handful of restaurants in and around the medina, and at a couple of liquor stores.
Beer and wine prices at hotels and restaurants are slightly cheaper than what you would pay in the UK, but not significantly so. But alcohol bought in liquor stores is likely to be more expensive than a UK supermarket.
Restaurants serving alcohol in Essaouira
There are a handful of restaurants around the medina that serve alcohol, including Taverna Bolognese Da Maurizio (which serves the best pizza in Essaouira), and Taros (which offers fantastic Essaouria sunset views from the rooftop and has late nights with a DJ). Another option is the rooftop of Salut! Maroc.
Outside of the medina, the best place to get a drink in Essaouira is down the opposite end of the beach where the kite-surfers and camels reside. It's a 2km walk along the arc of beach to get to a couple of oh-so-cool beach bars flaunting a bit of a Thai-island vibe: Beach and Friends and Ocean Vagabond. They're the perfect spot to visit after an Essaouira surfing lesson, and especially perfect for a sundowner.
Check out our guide to the best bars in Essaouira.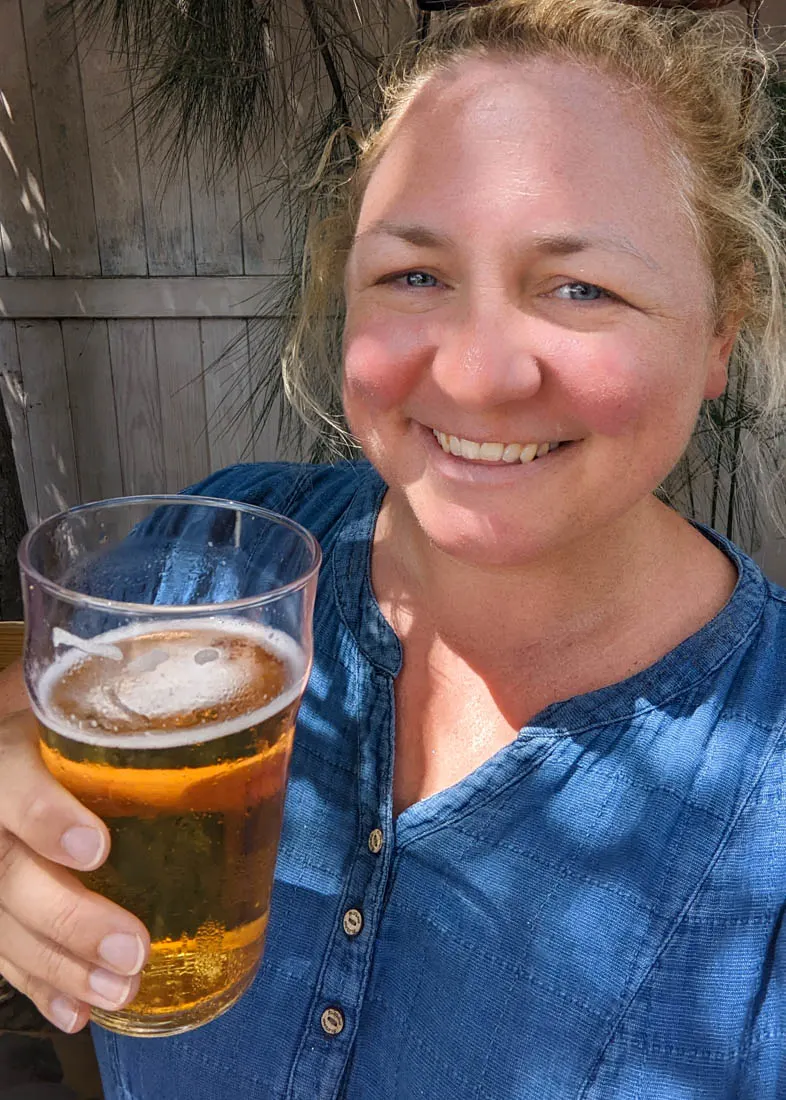 Shops selling alcohol in Essaouira
There are two main shops selling alcohol in Essaouira. Please note that these Essaouira alcohol shops are closed over Ramadan and Eid Al-Adha (in fact they tend to close a couple of days before).
They are also closed on a Friday.
Firstly there is the liquor store attached to Carrefour. This has a separate side entrance within Carrefour (to the far right of the store) and you pay at the counter inside the liquor store. The easiest way to get to Carrefour is by Petit Taxi (click here for our guide on how to use them); it's a flat 7DH fee per ride, 8DH in the evenings. The store is open 9am to 11pm (click here to check opening times), closed on a Friday.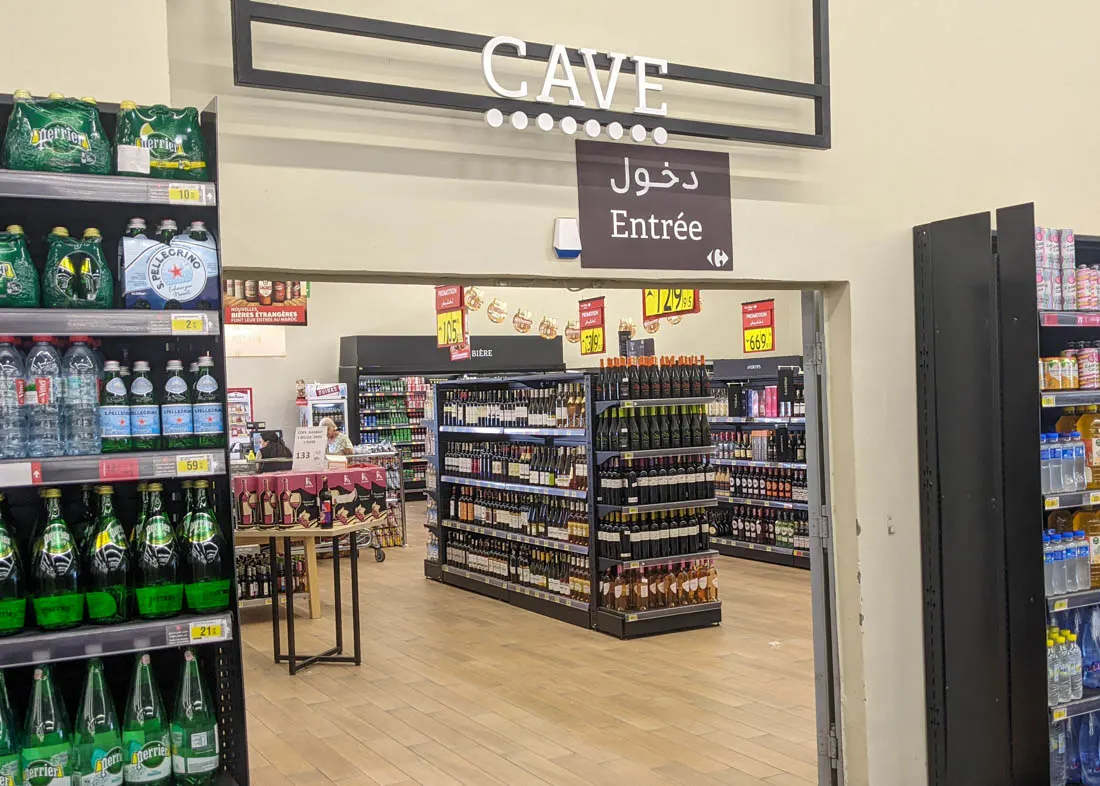 Secondly, there is a small, local, liquor store outside the medina, close to Bab Doukkala. As you come out of Bab Doukkala, walk across the road and along the road immediately ahead. The liquor store is about 80 metres along here on your right. Click here for Google maps location. This is store open 9:30am to 7:30pm, closed on a Friday.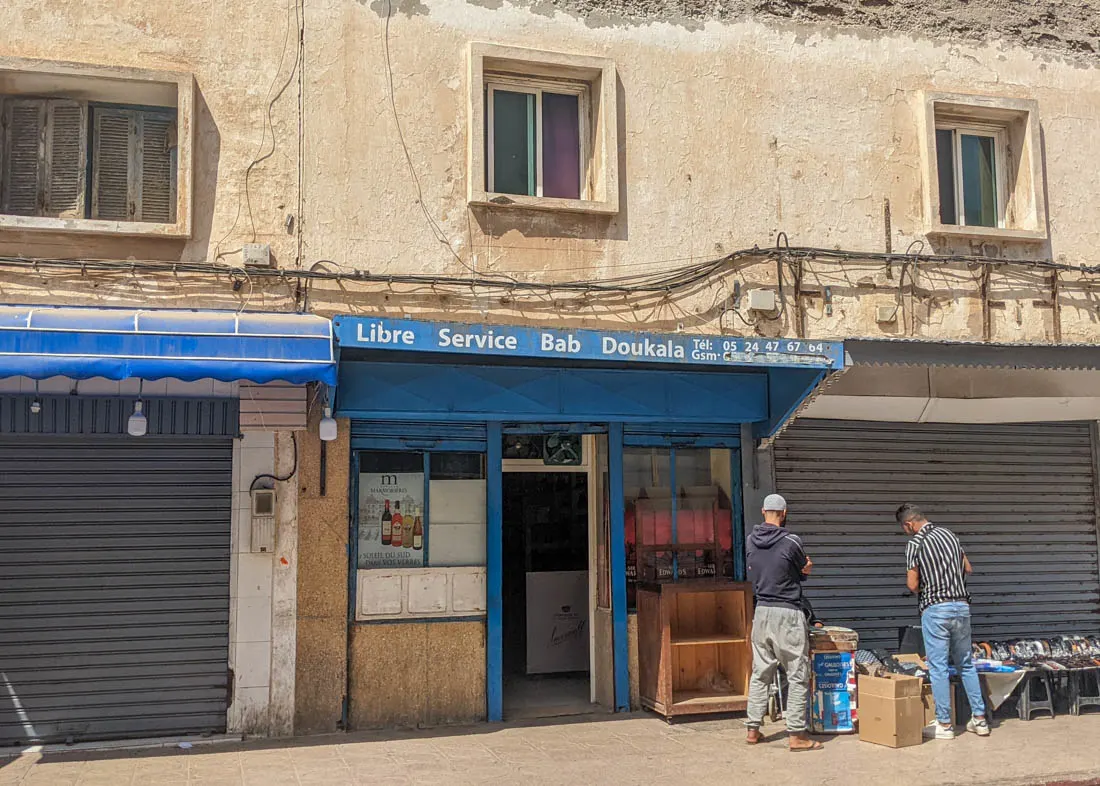 Nightlife in Essaouira
Not surprisingly, Essaouira isn't big on the clubbing scene. But if you are after a funky bar that's open late with a DJ and/or live music, Taros is the place to be. This is the best rooftop bar in Essaouira, and popular with both locals and expats. It gets very busy on a Friday and Saturday night.
Taros is open from noon until 11pm. But if it's a busy night and the place is pumping, they will keep it open longer. Check the Taros Facebook page for up-to-date information.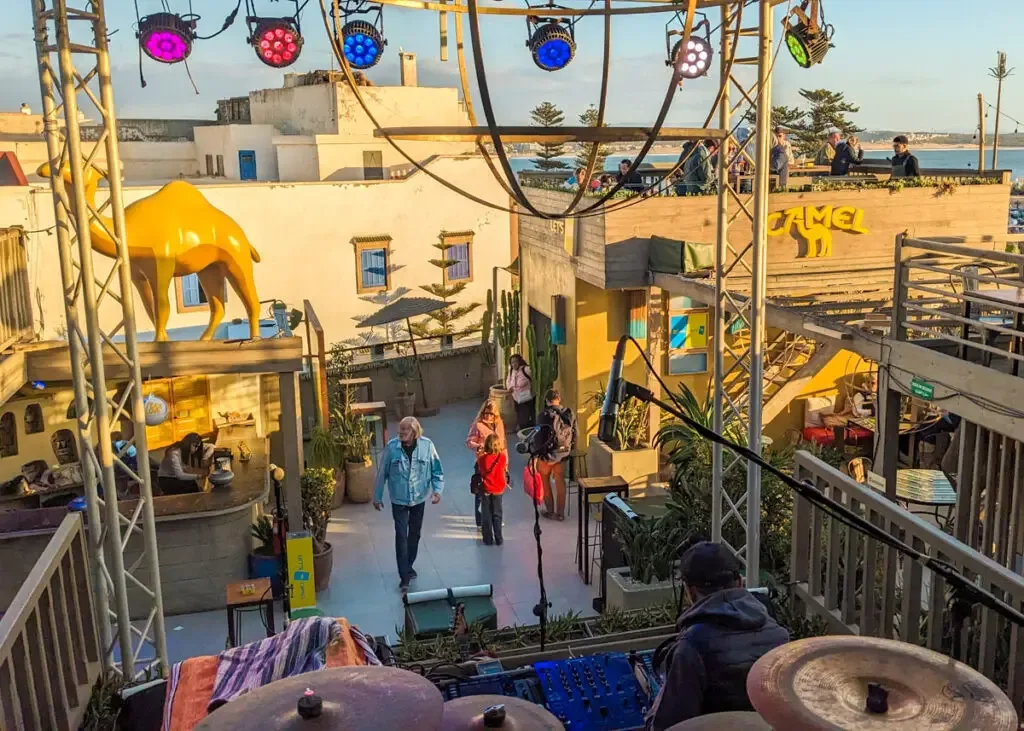 Visit a vineyard in Essaouira
READ OUR GUIDE: Essaouira wine tasting at Val d'Argan
People are often surprised to hear that there has been a vineyard in Essaouira since 1994. Just 25 minutes along the road from the centre of Essaouira to Marrakech is Domaine du Val d'Argan.
Backed by the desert and benefiting from the trade winds off the Atlantic, Domaine du Val d'Argan is the first and only Moroccan vineyard exclusively dedicated to grape varieties of the Rhône Valley. Over the past 20 years, the vineyard has grown from 5 to 50 hectares, with 13 different grape varieties from the Rhône Valley.
Visitors are welcome for wine tasting, or to enjoy Moroccan cooking accompanied by the wines harvested on site. There is also bed and breakfast accommodation available, with guest rooms spread around the gardens with a swimming pool.
Email in advance to reserve your wine-tasting session. The price is 200DH and includes tasting:
Le Val d'Argan Blanc ; Argania du Val d'Argan Blanc,
Le Val d'Argan Rosé "
Le Val d'Argan Rouge ; Argania du Val d'Argan Rouge"
Wine-tasting session times are:
11am to 11:30am
2:30pm to 3:00pm
3:00pm to 3:30pm
There is no shuttle service to the vineyard, so visitors need to make their own way over (a Grand Taxi or private driver).
Bringing alcohol into Morocco
If you are visiting Essaouira for a special occasion and have a particular bottle of bubbly that you've been saving, by all means bring it. Although remember, you will have to put it in hold on your flight, as liquids are limited for carry on. So wrap it up with lots of padding and in a water-tight bag in case of leakages.
However, personally this seems a bit of an overhead, as you will be able to find something in Essaouira. It may not quite be up to the same beverage standard, but trying a Moroccan wine may make the celebrations all that more memorable.
Drink Driving in Morocco
This is an absolute NO is Morocco. Just don't even bother.
There is a zero tolerance with drink driving and it is against the law to drink and drive in Morocco. There are permanent police check points on all roads leading into Essaouira. You will be fined if you are caught (police have breathalysers), and potentially put in jail.
If you are planning to drive, our advice is to avoid drinking any alcohol whatsoever.
---
Explore Essaouira ebook
Updated for 2023, the Explore Essaouira ebook is the only travel guide you need for exploring Essaouira. It is jam packed with inspiration on what to do, where to eat, where to stay, and also includes a step-by-step self-guided walking tour (with photos).
This is a PDF download for use offline and on the go (and ad-free!). Save it to read on the plane to Morocco, download to your phone to follow the self-guided walking tour around the medina, or print it off at home before you leave on your adventures and highlight all the bits you want to remember for your visit.
If you have found this website useful for planning your Essaouira adventures, you can show your support by buying Jenny a coffee. Thanks so much!