Whether it's a rooftop bar, beach bar, the perfect bar for a sundowner or to dance the night away, here are the best bars in Essaouira.
First off, we need to state that Essaouira is not a party destination. Morocco as a country isn't really the place to visit for an alcohol-fuelled stag or hen do, and it's a far cry from the party capitals across the Mediterranean in Europe. Morocco is a Muslim country after all.
However, Essaouira's laid back reputation does extend to its social drinking. There are a handful of bars that serve alcohol in Essaouira, should you fancy a beer, wine, or even a cocktail to wind down after a day of sightseeing, and most of these come with a sunset view (sundowner anyone?).
Indeed, there's actually a burgeoning nightlife scene in Essaouira driven by Taros in the main square (Place Moulay Hassan), where a live DJ spins pumping tunes across the medina rooftops into the early hours.
Being a Muslim country, locals don't drink alcohol, only tourists and expats. So expect to pay Western prices, even if you're drinking a Flag or Casablanca, which are two of the local beers.
If you want to purchase alcohol to enjoy at your self-catered accommodation, then check out our guide to alcohol in Essaouira, which includes details of the local shops that sell alcohol.
It should go without saying, but drunk and disorderly behaviour is very disrespectful in Morocco. Also, please don't encourage alcohol onto any locals or other Muslims you meet at the bars. If they are in the bars, they are there to be sociable and won't be drinking alcohol, and may take offense if you offer it to them more than once.
But onto our vote for the best bars in Essaouira. These include Essaouria rooftop bars, beach bars, bars to watch the sunset in Essaouira, and where to dance the night away. As every year passes, new places start serving alcohol, but for 2023, these our the top 5 bars in Essaouira.
And if you're looking to head to a restaurant after your tipple, check out these best restaurants in Essaouira.
Map of the best bars in Essaouira
1. Beach and Friends
Av. Mohammed V, Essaouira 44000, Morocco
Click here for Google Maps location
beach-and-friends.business.site
Sink down into the the huge comfy sofas and gaze pass the camels chilling on the beach to the Atlantic Ocean as you sip a cocktail. Beach and Friends is an oh-so-cool bar at the far end of the beach where the surfers surf and the camels hang out. The menu also serves tapas.
This is a good place to head to after your surf lesson or on your way back to the medina after a quad biking tour, and the perfect place for a sundowner; at this end of the beach the sun sets over the Atlantic Ocean.
If you don't fancy the walk along the beach to/from the medina, jump in a petits taxis for 7DH. This is a flat fee, so no haggling required. More information in our guide: The BEST way to get around Essaouira.
2. Ocean Vagabond
Boulevard Mohamed VI, Essaouira 44000
Click here for Google Maps location
oceanvagabond.com/en/
Just a few doors further along from Beach and Friends is Ocean Vagabond, who also serve alcohol. This place is just as cool, although with slightly more shade from trees, which you'll be grateful for if Essaouira in July or August. Their menu is geared more towards pizza and burgers.
Again, the perfect place to come after a surf or perhaps a stroll along the beach from the medina. Plus, the Essaouira sunset views are pretty epic here. Just make sure you nab one of the deckchairs at the front for the best sunset view (although does anyone else find drinking in a deckchair awkward?).
3. Taros
Place Moulay Hassan, Essaouira 44000, Morocco
Click here for Google Maps location
facebook.com/letarosessaouira
Taros is THE place to to be in Essaouira for the cool and trendy, and where pumping tunes spun on the decks keep the party going until the early hours. It's the closest thing there is to an Essaouira nightclub.
Head up the narrow steps at the corner of Place Moulay Hassan where Rue Skala leads out to the square. There's usually a bouncer on the door, but families and older clientele are more than welcome.
The rooftop is split into different terraces surround the central DJ station, where live music is often performed at weekends. If you're arriving to watch the sunset, arrive early to grab a good table.
The food is a fusion of Moroccan and French, with a good selection of fish dishes. However the food quality doesn't really match the inflated prices. But it's not really the food you come for, its the ambience, nightlife, and sunset views over the port and Atlantic Ocean.
Taros is where the party is at and the cocktails are worth the splurge for a sundowner.
4. Salut Maroc
32 Rue Ibn Rochd, Essaouira 44000, Morocco
Click here for Google Maps location
salutmaroc.com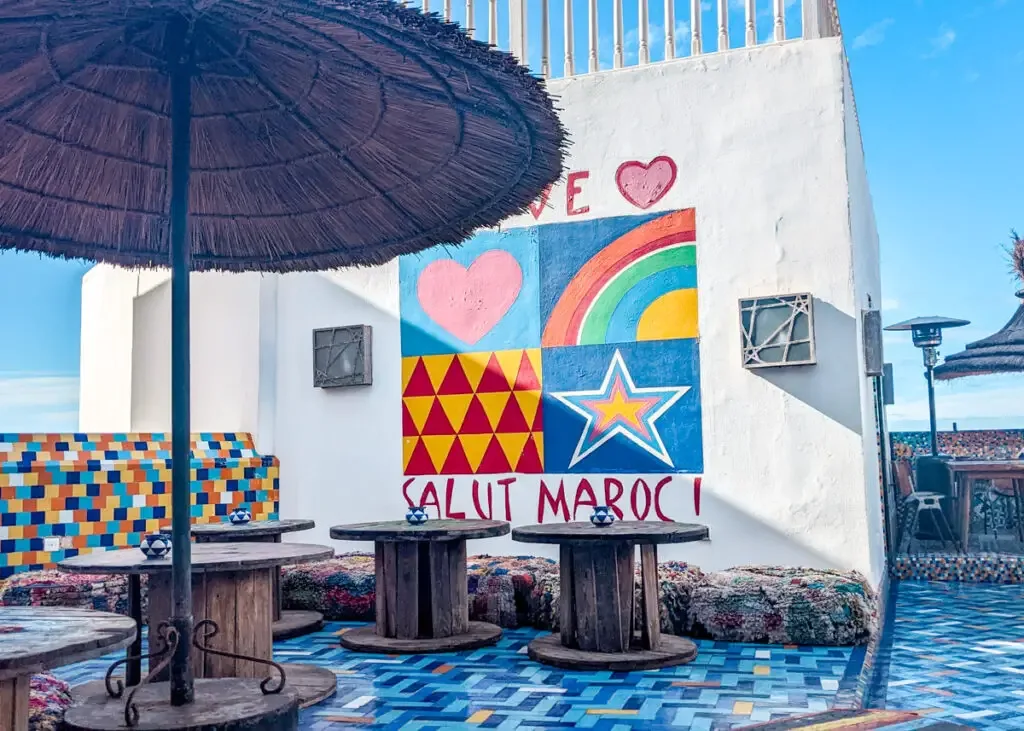 Salut Maroc! is a historic 18th century riad, which had been transformed into an art-based boutique hotel bursting with colour.
The rooftop bar and restaurant is open to non-guests for meals and alcoholic beverages, with fantastic views over the Atlantic Ocean. The menu offers locally caught fish, and meats barbecued on wood, big bowl salads and Moroccan specialities.
This is a place to hang out with friends late into the evening with beers and cocktails. Indeed, the cocktail menu here is extensive.
5. Hôtel des Iles
Av. Mohammed V, Essaouira 44000, Morocco
Click here for Google Maps location
hotel-des-iles.com
With its parquet flooring, wood-panelled walls, and leather seating, the Sky Lounge, which is part of Hôtel des Iles, has a colonial feel to it.
We recommend grabbing a beer and heading out onto the open terrace overlooking the beach. This is also the perfect spot to people watch as the petits taxis arrive and drop off at Bab Sbaa. Unfortunately this terrace is lacking shade and it's not open until 7:30pm, which is after sunset in Essaouira (they're missing a trick!)
White table cloths are set out for refined dining, but staff are more than happy for you to just visit for a drink.
6. Il Mare
Rue Yemen 43, Skala، 44103
Click here for Google Maps location
ilmareessaouira.com
Il Mare is better known as a fine-dining seafood restaurant. But with the epic sunset views over the ramparts and across the Atlantic Ocean from the rooftop, it's also an excellent spot for a sundowner.
If you just want a drink there's a separate seating nook behind the rooftop dining area for you to go. Just let the staff know that you are only stopping for a drink, and they'll point you in the right direction.
Although, if you're a seafood fan, it's perhaps worth stopping for dinner after your sundowner.
---
Explore Essaouira ebook
Updated for 2023, the Explore Essaouira ebook is the only travel guide you need for exploring Essaouira. It is jam packed with inspiration on what to do, where to eat, where to stay, and also includes a step-by-step self-guided walking tour (with photos).
This is a PDF download for use offline and on the go (and ad-free!). Save it to read on the plane to Morocco, download to your phone to follow the self-guided walking tour around the medina, or print it off at home before you leave on your adventures and highlight all the bits you want to remember for your visit.
If you have found this website useful for planning your Essaouira adventures, you can show your support by buying Jenny a coffee. Thanks so much!