Is August a good time to visit Essaouira? What's the weather like in Essaouira in August? It it too hot like the rest of Morocco? Is August just too busy in Essaouria? We answer all these questions here and more, so read on.
August in Essaouira is peak high season for both domestic and international tourism; Moroccans flee to the cool breeze on the coast as temperatures soar to the mid-40s inland, and Europeans are enjoying their summer holidays en masse. Essaouira promotes itself as a quiet and relaxed coastal town, which it is for most of the year, but during August this all changes.
The cooler coastal temperatures definitely provide much needed respite if you have been travelling inland Morocco (Marrakech, Fez, Chefchauoen), but be prepared for high winds. Indeed August and July are notoriously the windiest months in Essaouira. Don't expect too many days lying on the beach sunbathing, as the wind will be covering you in sand and finding its way in to every crevice; Essaouira is coined "The Windy City of Africa" for a reason! Although there are still the odd less-windier days, and when the wind drops you can expect the main beach to be much busier.
READ: When is the best time to visit Essaouira?
⇦ Essaouira in July | Essaouira in September ⇨
Essaouira weather in August
Day time temperatures in August hover around 28°C, and sunshine is pretty much guaranteed every day.
On windy days it can feel cooler, and on calm days it will feel much warmer, sometimes muggy. The wind often tends to build up throughout the day. In the evenings you will need a light jumper; yes, it can be pretty chilly on the beach at sunset.
There are often August days in Essaouira where the temperatures are over 30°C, and, if you go inland just a few kilometres, it's much much hotter than by the coast.
You can also expect a couple of days where the town and beach are covered in sea mist, with little wind. The island off the coast disappears and you can't see from one end of the beach to the other. It's rather eerie and an interesting contrast to the bright, sunny days.
In fact, I'm typing this at 9:30am on the 1st August whilst sat on a rooftop in Diabat (a village just outside Essaouira) wearing a jumper and it's cloudy. Today it is forecast to be 45°C in Marrakech! It really is quite a difference.
The sea beckons for a refreshing dip. This is the Atlantic Ocean, so don't expect it to be warm; the water is still on the chilly side. Plus, due to the wind, it can sometimes feel rather chilly emerging from the water.
Is it too windy in August?
And let's talk about the wind in August in Essaouira; it can be very strong and if you're on the beach, the sand will be whipped up and get in every crevice. But there are some calmer days in August with a light wind for sunbathing, and there's always the medina to seek shelter from (perhaps try our self-guided Essaouira walking tour).
The guaranteed winds in August also mean that it's a great month for kite-surfing, which is one of the top things to do in Essaouira.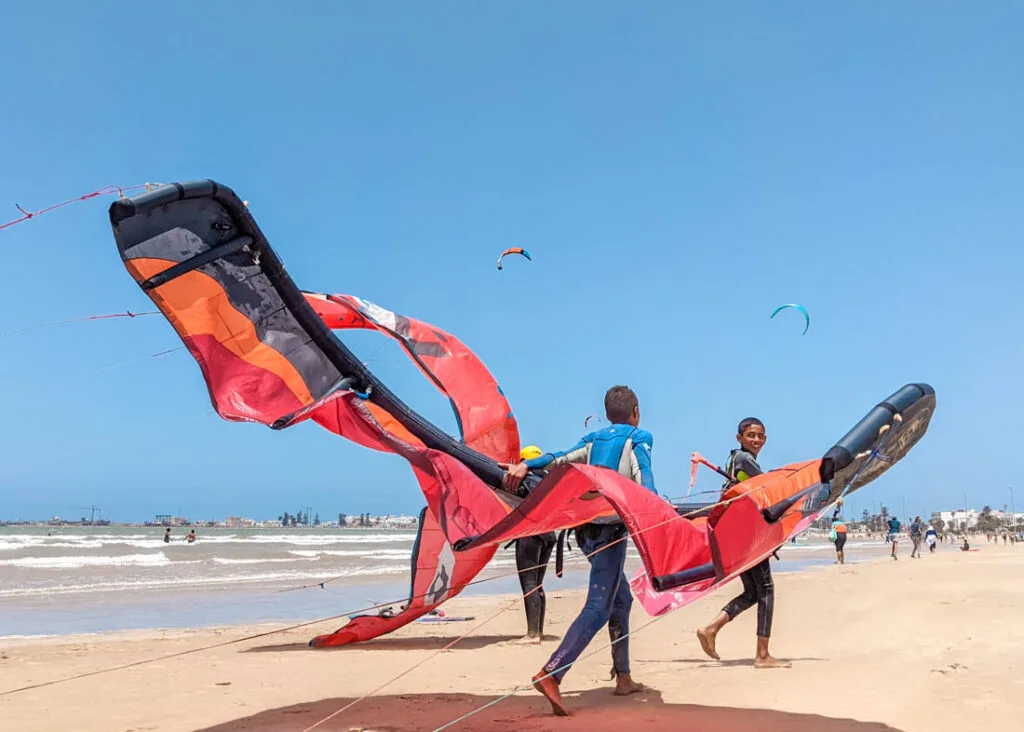 Is Essaouira busy in August?
Yes, very very, busy.
August is the peak season in Essaouira as this coincides with the Moroccan school summer holidays, as well as the European summer school holidays. Domestic tourism is booming as locals flock to Essaouira beach to cool down. Plus, this time of year is especially popular with French visiting their summer houses in Essaouira, and for this reason, it can be tricky to find a decently priced Airbnbs.
Expect accommodation prices to increase. Some Essaouira hotels even have a three night minimum stay. Book ahead your accommodation, especially if you are looking at a long term Airbnb rental.
For accommodation, you may want to consider basing yourself in the countryside to escape the crowds at this time of year and popping into Essaouira for a day trip. To cool off on hot days, we recommend finding accommodation with a pool (Hôtel Domaine de L'Arganeraie is a good option). Or you could stay in the local village of Diabat, just 4km south of Essaouira, which sees only a fraction of Essaouira's tourists yet is still within easy reach.
If you want to avoid the beach crowds, we suggest venturing to Safi Beach (the beach at the far northern end of Essaouira) or to Diabat Beach and further south.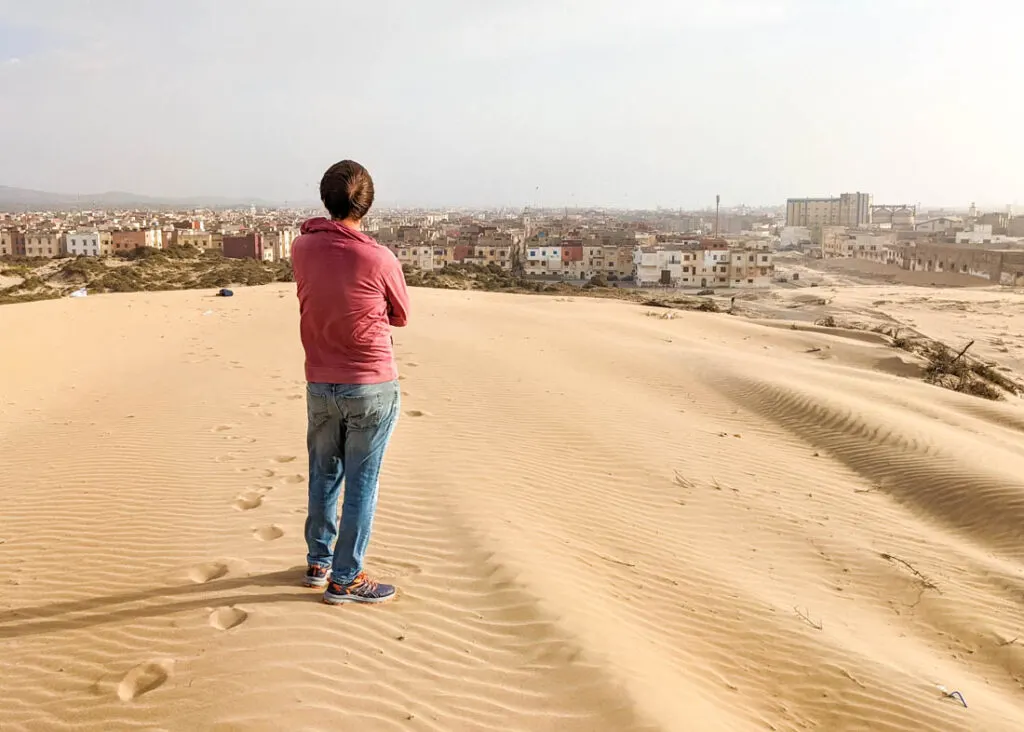 Essaouria restaurants are also exceptionally busy throughout August. Trying to get a table from 7pm onwards can be tricky. Either plan to eat early, or book a table.
Activities such as quad biking and surfing also need to be pre-booked.
Is August a good time to visit Essaouira?
In all honesty, no. August isn't the best time to get a good feel of how Essaouira truly is. At all other times of the year, Essaouira is a chilled and relaxed town, but throughout August it's just so very very busy. However, this is the case across most of Europe too. August is just a busy month for travel, and especially if you have school aged kids, it's not as easy to be picky on when you visit Essaouira.
Thankfully, it's still possible to escape the beach crowds by venturing to Safi Beach or to Diabat Beach and further south. Plus there are some beautiful boutique hotels and accommodation options nestled in the countryside around Essaouira if you really want escape the crowds. Just bear in mind that you will either need to hire a car to get around, or rely on taxis.
And certainly don't worry about it being too hot in Essaouira in August. The maritime climate with the Atlantic breeze (and gusts) guarantees a much more comfortable temperatures than Moroccan destinations inland. But if there is a very hot day with little wind, we suggest doing a pool day pass at either Les Jardins de Villa Maroc and Hôtel Domaine de L'Arganeraie.
---
Explore Essaouira ebook
Updated for 2023, the Explore Essaouira ebook is the only travel guide you need for exploring Essaouira. It is jam packed with inspiration on what to do, where to eat, where to stay, and also includes a step-by-step self-guided walking tour (with photos).
This is a PDF download for use offline and on the go (and ad-free!). Save it to read on the plane to Morocco, download to your phone to follow the self-guided walking tour around the medina, or print it off at home before you leave on your adventures and highlight all the bits you want to remember for your visit.
If you have found this website useful for planning your Essaouira adventures, you can show your support by buying Jenny a coffee. Thanks so much!