A lovely boutique hotel in the Essaouira countryside, 20 minutes drive from the medina, with a fantastic heated swimming pool. Read on for our Hôtel Domaine de L'Arganeraie review.
Hidden down a dusty street in the non-descript town of Ghazoua is a large oasis of lush tranquillity known as Hôtel Domaine de L'Arganeraie. Riads are dotted around the colourful gardens full of argan trees (the hotel name perhaps gives this away) and some resident tortoises, whilst the expansive, heated pool is a perfect spot to cool down on a hot day, as the call to prayer from the local mosque floats over the gardens to connect you to the outside world.
Disclaimer: This post contains affiliate links. Should you click to purchase, it is at no additional cost to you, but we receive a small commission.
Click here to check availability and rates for Hôtel Domaine de L'Arganeraie.
Due to the location, this boutique hotel isn't a good option if you're hoping to tick off all the things there are to do in Essaouira and the lack of nearby restaurants mean that you will only eat onsite. But if you want to disconnect and relax by the pool, Hôtel Domaine de L'Arganeraie is excellent value compared to other Essaouira hotels. You can also visit Hôtel Domaine de L'Arganeraie on a day pass to use the pool and enjoy lunch.
The accommodation
Rooms for couples, families, and groups, with a minimalist but authentic décor, are situated within the riads. There is no aircon, but even on a hot day, the riad feels relatively cool, and there's a fireplace to warm you in the cooler winter months. Whatever season you visit, you'll be able to find a nice quiet nook in the villa to tuck into good novel.
Towels (and pool towels), plus shower gels and shampoo are all provided. The beds are comfortable, but the pillows are rather thin.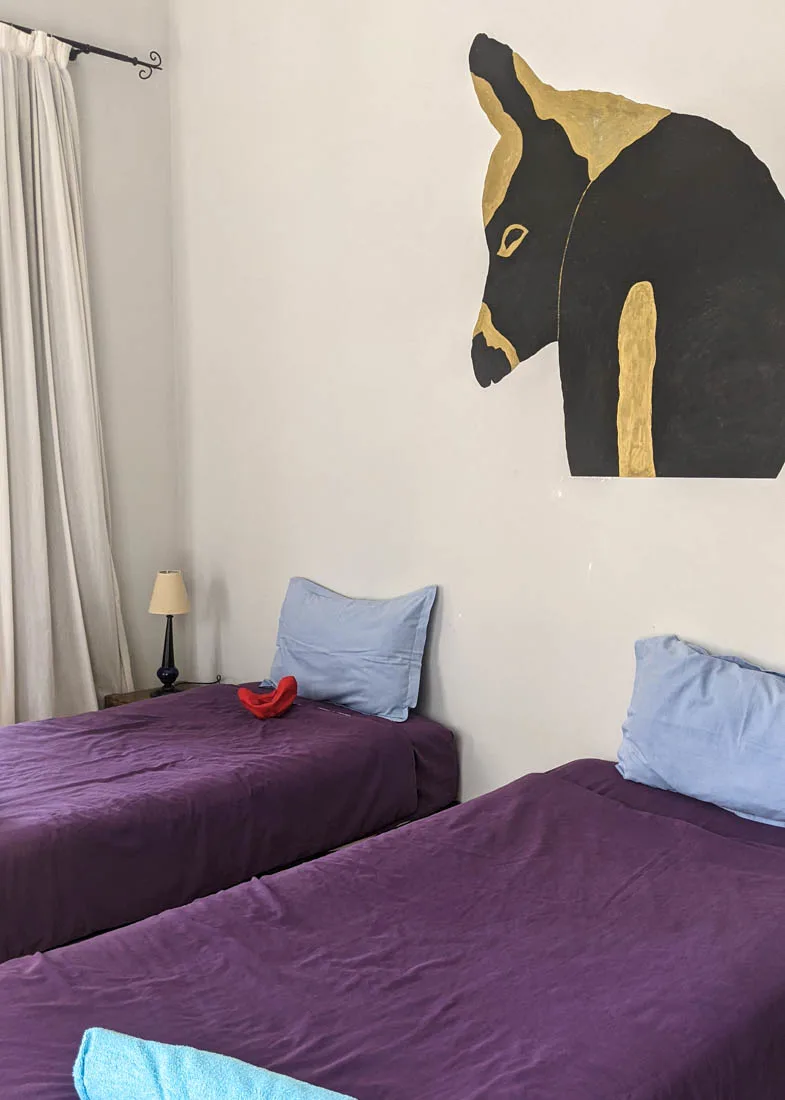 The restaurant
The restaurant overlooks the pool, with both outside and inside eating areas.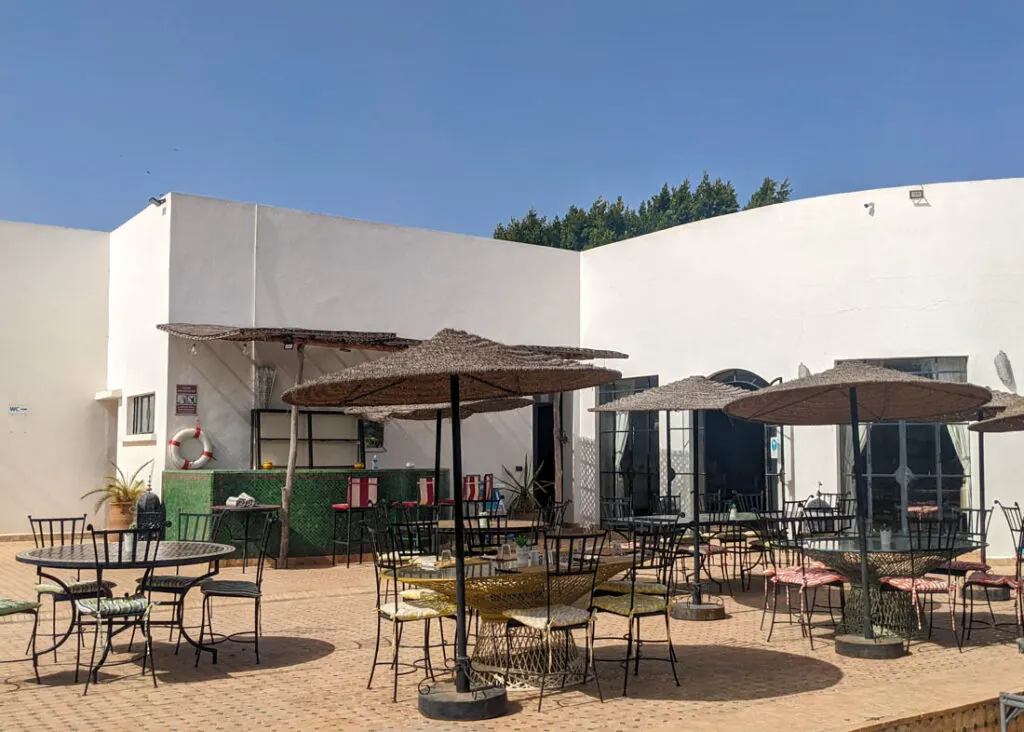 Breakfast is included for all guests and consists of breads, cereal, fruit, and eggs made to order.
The lunch menu offers the standard tagine and Western food, with a separate children's menu (under 12). Vegetarian food is limited, but staff can make a veggie pizza (although don't expect woodfired).
The dinner menu offers a more refined dining experience and needs to be pre-ordered.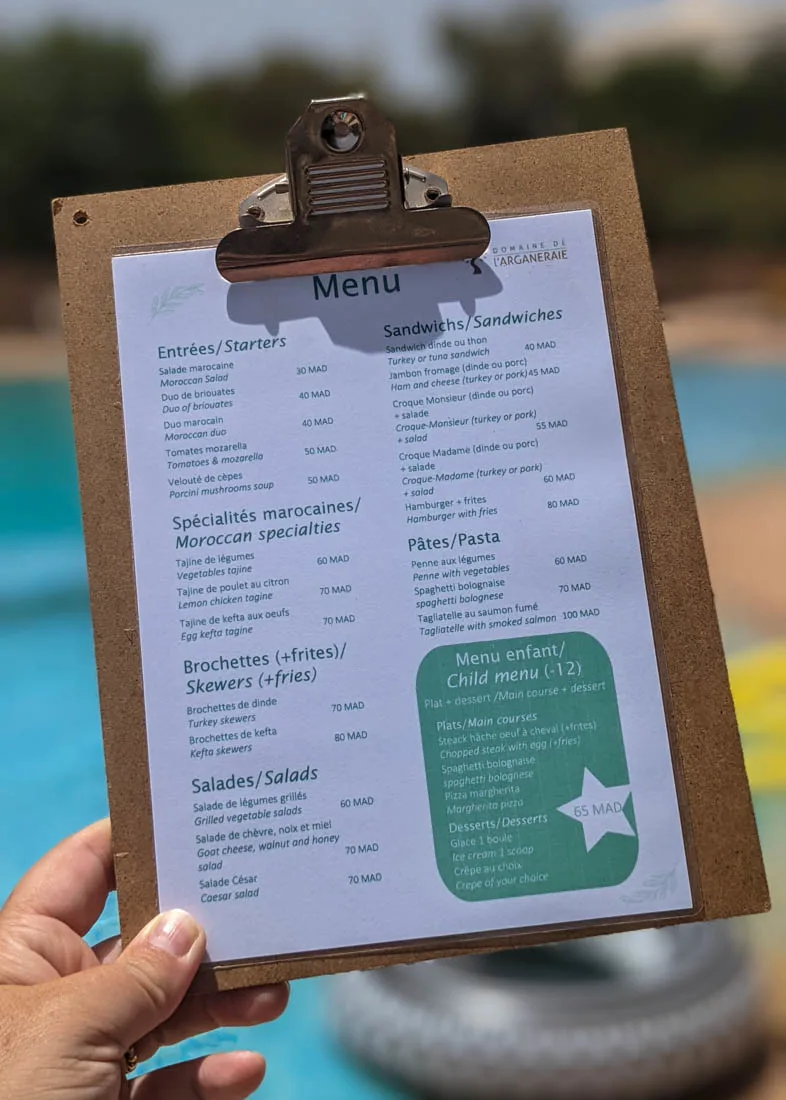 The pool
The heated swimming pool is the main reason visitors come to Hôtel Domaine de L'Arganeraie. It's a large pool with plentiful sunbeds and parasols dotted around. There's also a small toddler pool.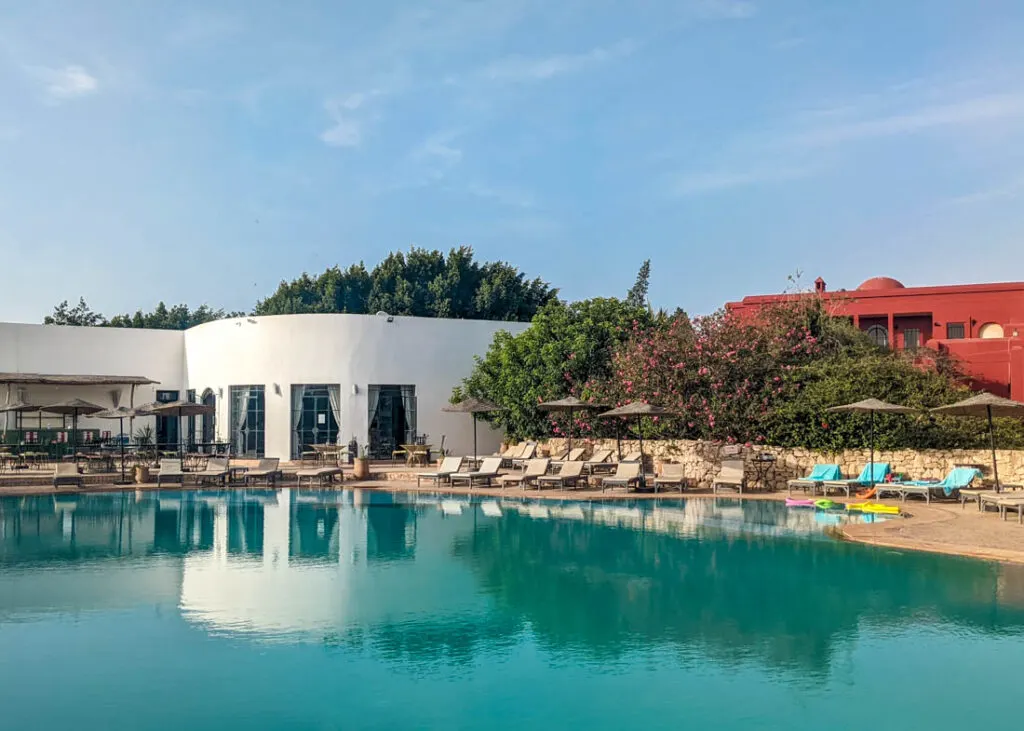 Do note that this pool is very popular with families visiting for the day. Something to bear in mind if you are a couple visiting during weekends or school holidays and looking for some peace and quiet. There was also an aqua-aerobics class held taking place during one of our visits for local expat ladies.
But after 6:30pm when the day guest have departed, you are more than likely to have the swimming pool to yourself. In the warmer months, the swimming pool will stay open until 10pm for hotel guests. It's also very peaceful around 8am for a morning swim.
A day pass to Hôtel Domaine de L'Arganeraie
The swimming pool is also available to day guests (11am to 6:30pm). A day pass to use the swimming, including lunch, is from 100DH per person (children from 60DH per person).
Email Hôtel Domaine de L'Arganeraie in advance of your visit to book in.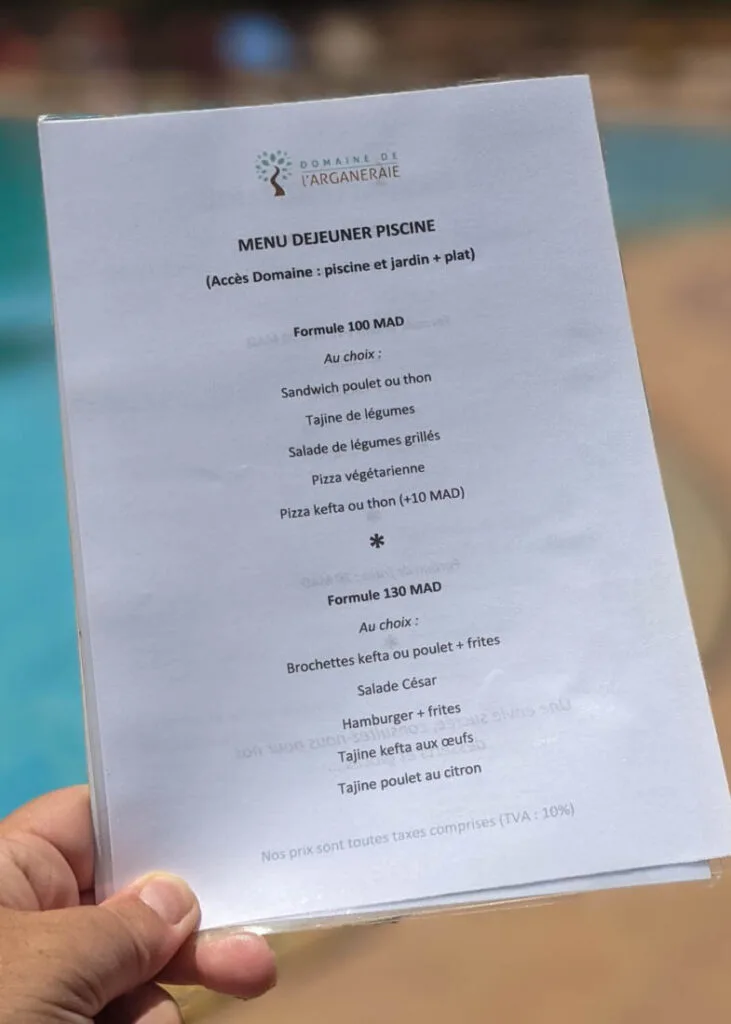 How to get to Hôtel Domaine de L'Arganeraie
Hôtel Domaine de L'Arganeraie can organise a transfer for you from anywhere in Essaouira for 100DH, which can be pricy if you are a solo traveller.
Petit taxis cannot come out this far from Essaouira, so as an alternative you would have to negotiate a Grand Taxi.
Final thoughts on Hôtel Domaine de L'Arganeraie
Hôtel Domaine de L'Arganeraie is one of the best value hotels in Essaouira with a decent pool. It's a great escape from the hustle and bustle of Essaouira, but you need to be ready to embrace switching off and relaxing. Although bear in mind that the pool is popular with day guests on warm weekends and school holidays.
Staff are really lovely and the food is good, and staying in such a beautiful riad is a wonderful treat.
How to book Hôtel Domaine de L'Arganeraie
Click here to check availability and rates for overnight stays.
If you wish to visit Hôtel Domaine de L'Arganeraie on a day pass, then email the hotel direct to book. Click here for the Hôtel Domaine de L'Arganeraie website.
---
Explore Essaouira ebook
Updated for 2023, the Explore Essaouira ebook is the only travel guide you need for exploring Essaouira. It is jam packed with inspiration on what to do, where to eat, where to stay, and also includes a step-by-step self-guided walking tour (with photos).
This is a PDF download for use offline and on the go (and ad-free!). Save it to read on the plane to Morocco, download to your phone to follow the self-guided walking tour around the medina, or print it off at home before you leave on your adventures and highlight all the bits you want to remember for your visit.
If you have found this website useful for planning your Essaouira adventures, you can show your support by buying Jenny a coffee. Thanks so much!