Being on the Atlantic coast, Essaouira doesn't experience the extreme temperatures of other Moroccan destinations inland, such as Marrakech, Fez, and especially the Sahara. With an average of 300 days of sunshine and with so many things to do in Essaouira, it's a great year-round destination. But taking into consideration other factors such as school holidays, wind, and religious festivals… when is the best time to visit Essaouira, Morocco? Well read on…
January is the coolest month with an average temperature of 19°C (perfect for some winter sun!), and in the summer months of July and August, the average temperature is 28°C. July and August are also the high season; Essaouira is extremely busy around this time with both international tourists on their summer holidays, and domestic tourists fleeing the suffering inland heat whilst the schools are on holidays, thus accommodation prices rise.
However, the wind can make all the difference to how warm (or cold) it may feel in Essaouira, especially on the exposed beach. Indeed, Essaouira has been coined the "Windy City of Africa"; that Atlantic breeze sure blows off the cobwebs. But this is also why Essaouira's beaches are popular with surfers (including kite surfers and wind surfers). Commonly, the wind drops considerably in September and even more so in October in Essaouira.
Essaouira does experience some cloudy and drizzly days. Indeed it even rains sometimes in Essaouira, although heavy rain is very rare. Drizzly days are more commonly between December and February, but even still, only a couple of rainy days per month are expected. Generally you can expect the sun to be shining for your visit to Essaouira, even if you're just visiting Essaouira for a day or two.
What's the weather like in Essaouira?
For anyone planning a visit to Essaouira, this is likely to be the number one question. Indeed, expected weather is going to help you decide on what to pack and what to wear in Essaouira.
So below we discuss the expected temperature, wind, and rain in Essaouira.
Average temperatures in Essaouira
The below graph displays the historical average temperatures for Essaouira.
Essaouira experiences a classic maritime climate, with mild temperatures year-round and a much smaller annual temperature range compared to central Morocco, due to the insulation of Atlantic Ocean.
As you can see, whilst temperatures soar to 40°C in the summer across central Morocco (such as in Marrakech and Fes), the summer temperatures in Essaouira are a very pleasant and relatively comfortable 28°C.
And on the other end of the scale, when evening temperatures can drop to single digits in central Morocco, the evening temperatures are very comfortable in Essaouira in winter.
However, the wind can make a huge difference to how warm (or cold) it may feel, and even in the summer months, you will need a light jumper in the evenings. Do check out our guide: what to wear in Essaouira. Layers are key all year round.
Wind in Essaouira
And let's talk about the wind in Essaouira. Indeed this picturesque town perched on the Atlantic coast in known as the "Windy City of Africa" for a reason!
The graph below displays the average and maximum wind speeds in Essaouira, and also the average gusts. Check out the average gusts for July!
July and August are typically the windiest months, which is great for kite-surfing in Essaouira, but perhaps not so great for sunbathers. In fact, it's the wind that keeps Essaouira off the list for those tourists that feel the need to work on their tan; you will be covered in sand, with the grains finding their way into every crevice, after five minutes of 'sunbathing'.
That's not to say that every day is windy; even July and August have days where the wind drops considerably and September / October / November are relatively calm months.
Does it rain in Essaouira?
Very infrequently, with only 2 days rain per month on average during the winter months.
The below graph displays the average rainfall for Essaouira.
But often a drizzly day is when the sea mist rolls in off the Atlantic Ocean, blanketing the beach and medina. Sometimes you can't see a few metres in front of you when standing on the shoreline, and your clothes and hair start to feel damp. It's quite an eerie and magical experience. But then the mist can clear as quickly as it came, revealing bright blue skies again.
School holidays in Essaouira
Schools holidays vary slightly between French schools and Moroccan (local) schools, but commonly they follow the same pattern as schools in Europe with a long summer break, plus a shorter winter break and spring break. There are also the half term (mid term) breaks.
But the school holiday you need to be most aware of for your visit to Essaouira, is the summer holidays, which runs through much of July and August. This is a time when domestic tourism is booming in Essaouira as Moroccans flee to the coast for the the cooler temperatures; the beach is packed, restaurants are full, and there's a very busy vibe everywhere.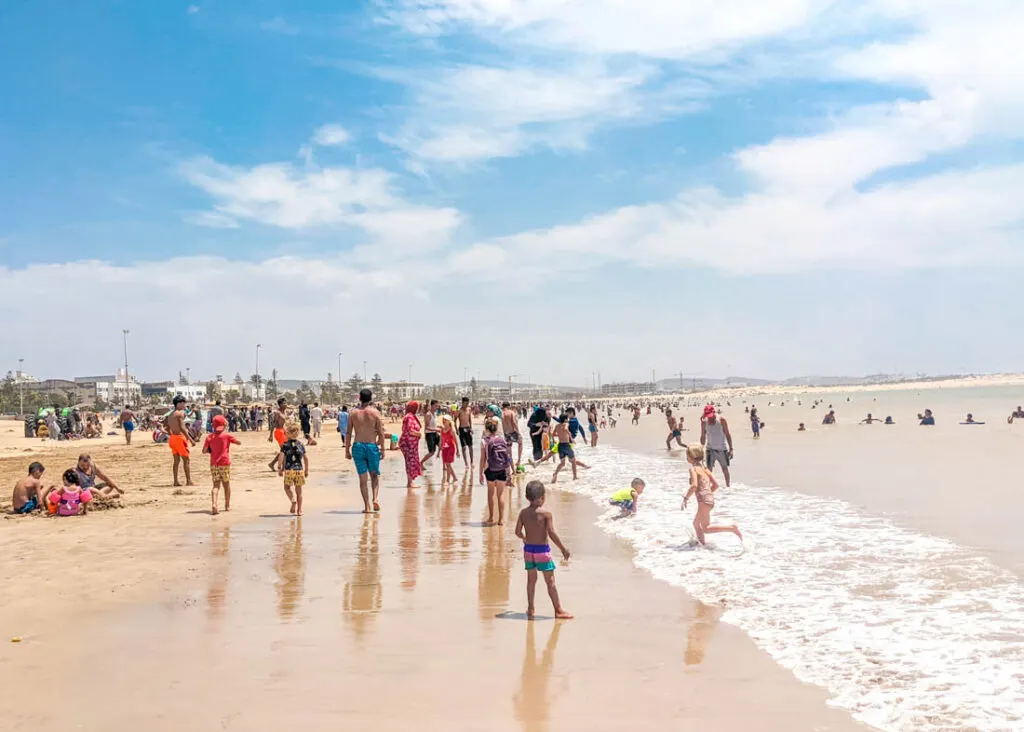 However, it's still possible to escape the summer holiday crowds. Either venture up to Safi Beach at the north of town; there's an end of the world feel there, where few visitors venture. Otherwise, base yourselves in Diabat, the sleepy village just south of Essaouira along the coast. Within Essaouira itself, the early mornings are still relatively quiet.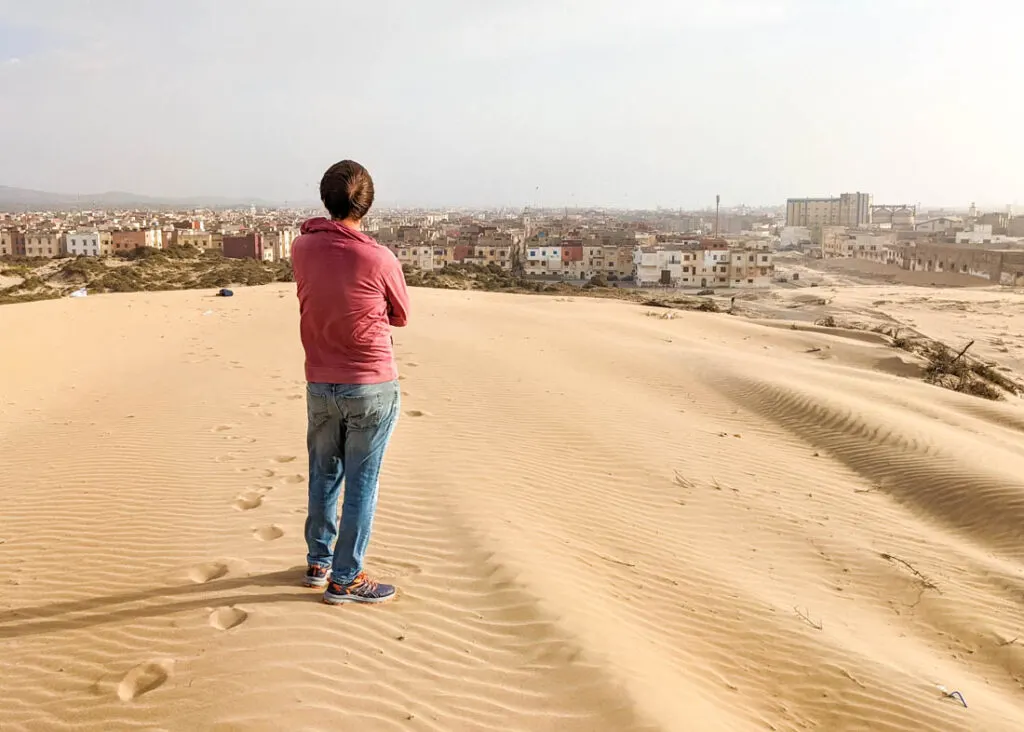 Religious festivals in Essaouira
During religious festivals, shops and business close (or have very limited opening hours), and this includes many of the restaurants. These are also times when it's very difficult to find alcohol in Essaouira; shops selling alcohol close, although it is still served in tourist hotels.
Ramadan in Essaouira
READ OUR GUIDE: Essaouira during Ramadan
The main religious festival to consider for your visit to Essaouira is Ramadan. This a time of great religious significance for Muslims, and involves fasting from dusk until dawn (this means no food or drink, including water).
For 2024, Ramadan in Morocco will begin in the evening of Monday 11th March and will continue for 30 days until Tuesday, 9th of April, although the exact dates are subject to change.
This actually coincides with Easter2024 (Easter Sunday is 31st March), which is a popular time for Europeans to travel.
If you enjoy exploring places with very few crowds, then Ramadan is a fantastic time to visit Essaouira as it's so quiet and peaceful. It's also an incredible experience to witness a truly sacred time of year in the Muslim calendar. It feels the polar opposite to the busy high season months of July and August.
Eid al-Adha in Essaouira
READ OUR GUIDE: Essaouira during Eid al-Adha
Another festival to consider is Eid al-Adha ('the feast of sacrifice'), when there is a tradition of sacrificing a sheep (or camel or goat) to share amongst family, friends, and those in need to commemorate Allah allowing Ibrahim to sacrifice a ram instead of his son.
Eid al-Adha is a much shorter festival than Ramadan and is officially a 2-day public holiday across Morocco. During these two days, banks, post offices, and public offices are closed, along with many shop and restaurants, and other businesses (including Carrefour). In fact, many businesses close for up to five days as people take an extended holiday.
Monthly guides to Essaouira
We are in the process of publishing separate guides to each month in Essaouira, so you can have a better idea of what to expect (weather, religious festivals, and how busy it is) for the month that you are visiting.
January in Essaouira (coming soon)
March in Essaouira (coming soon)
November in Essaouira (coming soon)
When is the best time to visit Essaouira?
Taking into consideration sunshine, warmth, sea temperature, wind, religious festivals, and crowds, we reckon that September / October is the best time to visit Essaouira.
This is when the summer crowds have dissipated, but the days are still long and warm, and most importantly, the wind has dropped considerably. However, if you are visiting Essaouira for surfing or kite-surfing, this perhaps isn't the best time as there is little wind for kites to sail and the surf is much gentler (although this is a good time for absolute beginner surfers).
If you're not too bothered about the wind (indeed, this is very much part of what makes Essaouira, Essaouira) then April to June is also a good time as the the main beach and medina is much quieter. Although do note Ramadan dates as they correspond with Easter holidays in Europe, and the majority of shop, restaurants, and businesses will be closed.
However, in all honesty, each month has it's advantages and disadvantages, and there is no bad month to visit Essaouira.
---
Explore Essaouira ebook
Updated for 2023, the Explore Essaouira ebook is the only travel guide you need for exploring Essaouira. It is jam packed with inspiration on what to do, where to eat, where to stay, and also includes a step-by-step self-guided walking tour (with photos).
This is a PDF download for use offline and on the go (and ad-free!). Save it to read on the plane to Morocco, download to your phone to follow the self-guided walking tour around the medina, or print it off at home before you leave on your adventures and highlight all the bits you want to remember for your visit.
If you have found this website useful for planning your Essaouira adventures, you can show your support by buying Jenny a coffee. Thanks so much!