Is June a good time to visit Essaouira? What's the weather like in Essaouira in June? Are temperatures rising like the centre of Morocco? Is it quiet as it's not quite school holidays? We answer all these questions here and more, so read on.
Whilst temperatures are soaring to uncomfortable temperatures elsewhere in Morocco, particularly in Marrakech and Fez, Essaouira in June maintains its beautifully mild climate due to the coastal location and breeze off the Atlantic Ocean, with average day temperatures around 23°C. The interchanging weather days often experienced in April and May are calming down, and the only question each day is: how windy is it? Essaouira is coined 'The Windy City of Africa' after all.
Weekends are rather busy on Essaouira beach with domestic day trippers, especially on days with very little wind. But during the week, Essaouira still feels rather quiet as European summer holidays haven't yet started, and weekday evenings on the beach are very quiet, bar a few local lads playing football at low tide.
Aside from strong winds off the Atlantic, which are typical almost year round in Essaouria, June weekdays are a great time to visit with fewer tourists, and warm, sunny days.
Visitors to Essaouira in June 2023 should also take note that Eid al-Adha, 'the feast of sacrifice', will be taking place at the end of the month. It is anticipated that the important festival will begin in the evening of Wednesday, 28th June and end in the evening of Friday 30th June. Although exact dates will be confirmed nearer the time. Businesses and shops close during this time, and animals (commonly sheep and goats) are sacrificed on rooftops.
READ: When is the best time to visit Essaouira?
⇦ Essaouira in May | Essaouira in July ⇨
Essaouira weather in June
Temperatures in July hover around 23°C, and sunshine is pretty much guaranteed every day. You will be very unlucky if it rains during your visit to Essaouira in June.
On windy days it can feel cooler, and on calm days it will feel much warmer, sometimes muggy. The wind often tends to build up throughout the day. In the evenings you will need a light jumper; yes, it can be pretty chilly on the beach at sunset.
Though there are often days over 30°C, and, if you go inland just a few kilometres, it's much much hotter than by the coast.
You can also expect a couple of days where the town and beach are covered in sea mist, with little wind. The island off the coast disappears and you can't see from one end of the beach to the other. It's rather eerie and an interesting contrast to the bright, sunny days.
The sea beckons for a refreshing dip. This is the Atlantic Ocean, so don't expect it to be warm; the water is very much on the chilly side. Plus, due to the wind, it can feel rather chilly emerging from the water.
Is it too windy in June?
And let's talk about the wind in June in Essaouira; it can be very strong and if you're on the beach, the sand will be whipped up and get in every crevasse. This wind is typical for most of the year in Essaouira.
But there are some calmer days in June with a light wind for sunbathing, and there's always the medina to seek shelter from (perhaps try our self-guided Essaouira walking tour).
The guaranteed winds in June also mean that it's a great month for kite-surfing, which is one of the top things to do in Essaouira.
Is Essaouira busy in June?
June in Essaouira is not quite the high season as it's not yet the school holidays in Morocco or Europe. This is the shoulder season, and so you get the benefit of long sunny days with very low risk of any rain, but without the tourist numbers of the high season.
However, weekend days can be exceptionally busy with domestic day trippers, especially on days when there is little to no wind. Towards the medina end of the beach is often much busier to the far end of the beach where the camels and kite-surfers reside. So if you are finding it rather busy, just take a stroll along the shoreline to the far end of the beach, and even further towards the sand dunes by Diabet should you so wish. You can always catch a, Essaouira Petit Taxi back to the medina for a flat fee of 7DH if you don't fancy the walk back.
Eid al-Adha in Essaouira
READ OUR GUIDE: What to expect in Essaouira during Eid al-Adha
On the couple of days running up to Eid al-Adha, around the medina of Essaouira will feel exceptionally busy with locals buying food and last minute items for the festival (think how busy Christmas Eve is in Christian countries). Public transport is also very busy for the few days leading up to the festival as people are travelling to see family.
Eid al-Adha is officially a 2-day public holiday across Morocco. During these two days, banks, post offices, and public offices are closed, along with many shop and restaurants, and other businesses (including Carrefour). In fact, many businesses close for up to five days as people take an extended holiday. Shops selling alcohol close at least two days before the festival, and reopen 2 to 3 days after Eid.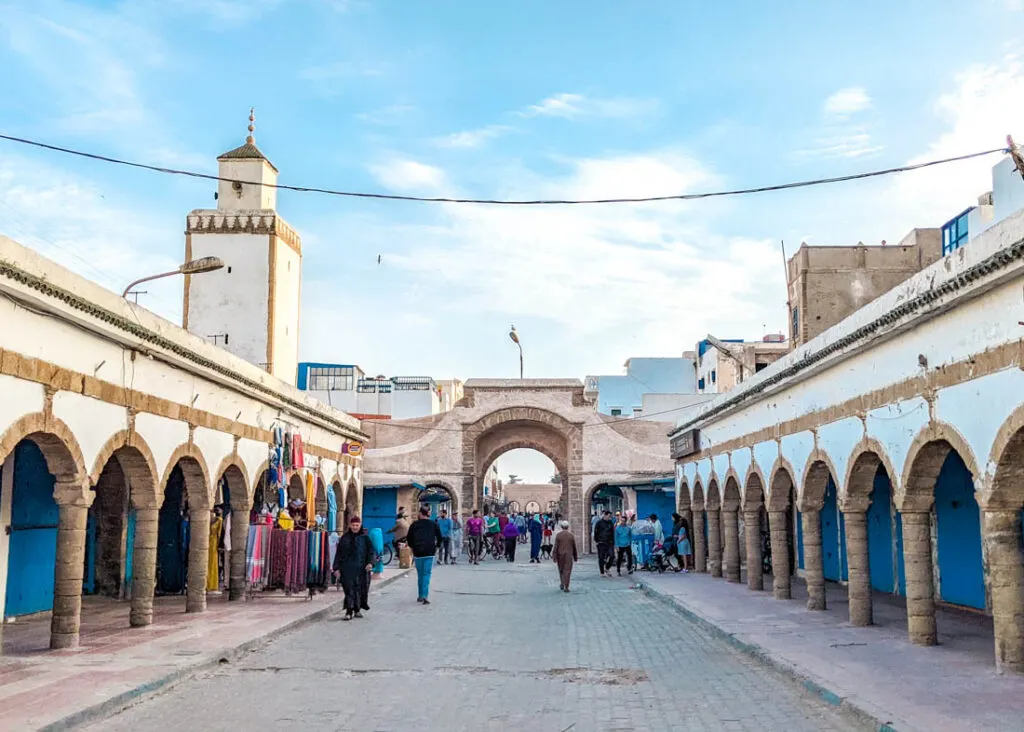 If you had planned to do any Essaouira activities such as kite-surfing or quad-biking, note that these business will be closed over Eid al-Adha.
Typically everything is closed on the first morning of Eid; Muslims are attending special prayers and sermons at the mosque, and sheep/goats are being sacrificed. So, especially if you are self-catering, make sure you have any food essentials in. The Essaouira hotels will be serving meals as per usual.
By the afternoon/evening of the first day, some cafes and smaller businesses (particularly those relying on tourism) start to reopen, and you will see a few street sellers. The beach will also start to get busy later in the day as families take a stroll.
An important part of Eid al-Adha is the sacrifice of an animal, usually a sheep. Staring in the morning of Eid al-Adha, you can expect to see sheep and and goats heads being bbq'd on the street and in doorways, with an acrid smoke filling the air. There are also discarded sheep skins and animal parts left on the streets to be collected. It's a rather primeval sight for modern day Morocco and a fascinating contrast to usual every day life in Essaouira. Admittedly this isn't for everyone, and some Western travellers may find the scenes disturbing.
Is June a good time to visit Essaouira?
Aside from strong winds off the Atlantic, which are typical almost year round in Essaouria, June weekdays are a great time to visit with fewer tourists, and warm, sunny days. Weekends can get rather busy with domestic day trippers, especially on days with little to no wind. Weekday evenings are especially lovely for a sunset stroll.
Accommodation prices haven't yet increased for the high season, and very few places will enforce a minimum number of nights stay. So if you are short on time and only have one day in Essaouira to explore, you shouldn't have a problem finding reasonable accommodation.
And don't worry about it being too hot, the temperature in Essaouira in June is often 10-15°C lower than Marrakech. But if there is a very hot day with little wind, we suggest enjoying a pool day at either Les Jardins de Villa Maroc and Hôtel Domaine de L'Arganeraie, which are both open to day guests.
---
Explore Essaouira ebook
Updated for 2023, the Explore Essaouira ebook is the only travel guide you need for exploring Essaouira. It is jam packed with inspiration on what to do, where to eat, where to stay, and also includes a step-by-step self-guided walking tour (with photos).
This is a PDF download for use offline and on the go (and ad-free!). Save it to read on the plane to Morocco, download to your phone to follow the self-guided walking tour around the medina, or print it off at home before you leave on your adventures and highlight all the bits you want to remember for your visit.
If you have found this website useful for planning your Essaouira adventures, you can show your support by buying Jenny a coffee. Thanks so much!