Is October a good time to visit Essaouira? What's the weather like in Essaouira in October? Is it warm enough to sunbathe and swim in the sea? We answer all these questions here and more, so read on.
Those infamous winds off the Atlantic have subsided, the daytime temperature hovers around 26°C, and the summer crowds are a distant memory. October in Essaouira with lovely temperatures, sunny temperatures, and a calm breeze is arguably the best month to visit, and perhaps the only month where you can guarantee a good sunbathing day on Essaouira beach.
Plus, accommodation prices have dropped from the summer months and, if you're planning to do some of the activities featured in our guide for things to do in Essaouira, such as quad-biking or kite-surfing, you really don't need to book too far in advance. Just a day or so beforehand is absolutely fine.
READ: When is the best time to visit Essaouira?
Essaouira weather in October
Day time temperatures in October hover around 25°C, and sunshine is pretty much guaranteed every day. On average, you can expect only one rainy day in Essaouira in October.
At this time of year in Essaouira, it's always handy to have a light jumper handy, especially early in the morning or evening, or when you're sat at an Essaouira restaurant in the shade.
But don't forget the swimming cossie as afternoons can be lovely and warm, and sunbeds are laid out on the beach, inviting you to relax with a good book.
Is the sea warm enough for swimming in October?
If you enjoy an invigorating swim, then yes. This is the Atlantic Ocean after all, and so it's never warm like the Mediterranean Sea; the water is very much on the chilly side with water temperature hovering around 21°C. But it's still definitely swimmable, and if you are visiting Essaouria with kids, they'll still have fun in the sea.
Has the wind gone completely in October in Essaouira?
October is notably one of the calmest months for wind in Essaouira, which sunbathers will be please to learn, but perhaps not kite-surfers. If you want to get active in the sea, this is perhaps the time to try surfing in Essaouira, rather than kite-surfing.
But this is still Essaouira, the town coined the "Windy City of Africa", so don't expect completely still days every day of the month. Average wind speeds still hover around 30km/h.
Is Essaouira busy in October?
Not at all. The tourists from the European and Moroccan summer holidays have long gone. Visitors to Essaouira in October are those who can travel outside of school holidays.
The mornings are especially quiet walking through the medina, and in the evenings for a sunset stroll you may have the beach to yourself, bar a few local lads playing football and low tide.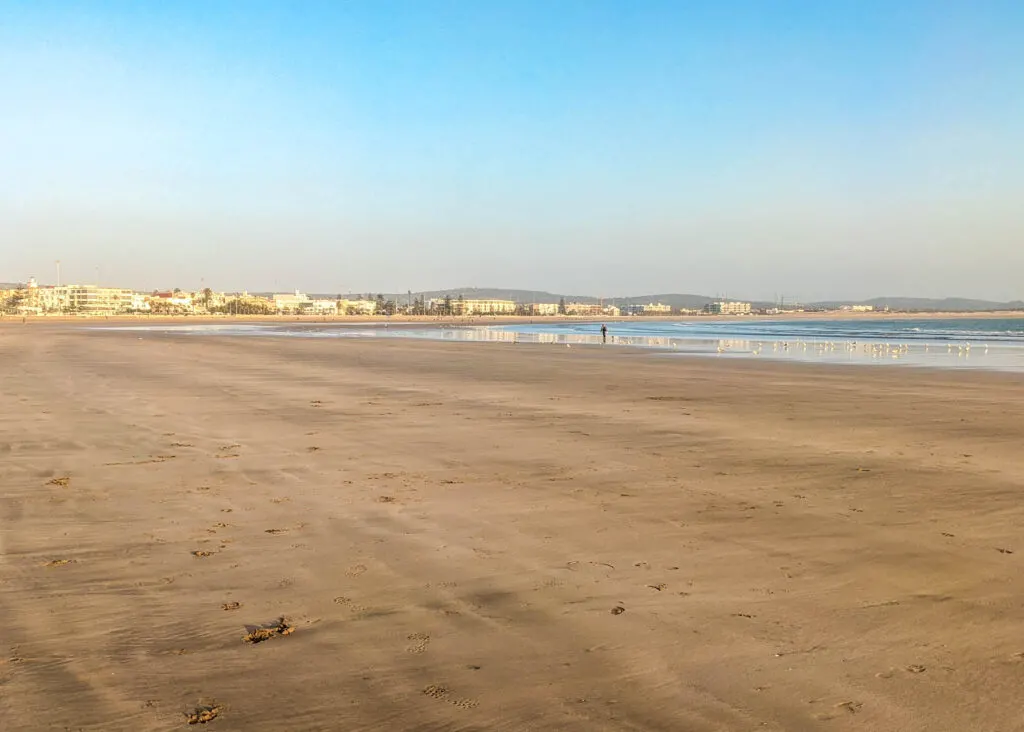 Is October a good time to visit Essaouira?
October is definitely one of our favourite times to visit Essaouira and makes for a great October half term break from the UK if you're looking for a sunshine holiday.
Taking into consideration sunshine, warmth, sea temperature, wind, religious festivals, and crowd levels throughout the year, October is perhaps the best month to visit Essaouira.
---
Explore Essaouira ebook
Updated for 2023, the Explore Essaouira ebook is the only travel guide you need for exploring Essaouira. It is jam packed with inspiration on what to do, where to eat, where to stay, and also includes a step-by-step self-guided walking tour (with photos).
This is a PDF download for use offline and on the go (and ad-free!). Save it to read on the plane to Morocco, download to your phone to follow the self-guided walking tour around the medina, or print it off at home before you leave on your adventures and highlight all the bits you want to remember for your visit.
If you have found this website useful for planning your Essaouira adventures, you can show your support by buying Jenny a coffee. Thanks so much!