Is December a good time to visit Essaouira? What's the weather like in Essaouira in December? How busy is it? Does it feel Christmassy? And is it warm enough to swim in the sea? We answer all these questions here and more, so read on.
Essaouira in December can be a mixed bag when it comes to weather. Mostly the days offer bright blue skies and calmer winds, but you can expect the odd drizzly grey day, and some days when the weather can't make up it's mind as to what it wants to do. Layers are your friend at this time of year.
But the unpredictable beach weather means that tourist numbers are at their lowest, making it a wonderful time to visit a quiet Essaouira. Plus, if you find Christmas a bit too full on in your home country, this is the place to come as there's barely a shiny strip of tinsel in sight.
Do note that the sun sets around 6:30pm in December, so the days can feel rather short. Although this is a good couple of hours after the UK at this time of year. Make the most of your evenings with an evening meal after sunset or perhaps a hammam in Essaouira.
READ: When is the best time to visit Essaouira?
Essaouira weather in December
Temperatures in Essaouira in December hover around a very pleasant 18°C, with highs of 20°C and dropping to 14°C in the evening. Whilst there are many gorgeous blue sky days in December, the weather is also very unpredictable this time of year. Rain is not unexpected, and there are often days when the weather interchanges from grey drizzle, to bright sunshine.
And as for that notorious wind from the Atlantic, which gives Essaouira it's title of "Windy City of Africa", it still blows strong some days. But it's not as consistently strong as it is in July or August in Essaouira.
Also, with the shorter winter days, mornings and evenings can be rather chilly, so a jacket is a must, and you may want to keep onto that jacket during the day.
Indeed, layers are key when visiting Essaouira in winter; jeans / trousers, t-shirt, jumper, jacket. Have a bag handy to carry your jacket and jumper as they'll probably come off around lunch time, but you'll want to hold onto them for later in the day. By all means pack the flip flops, but trainers are best at this time of year.
It may also be rather chilly in your accommodation overnight; with no double glazing and central heating, things can feel a bit nippy. Heaters and extra blankets are often provided.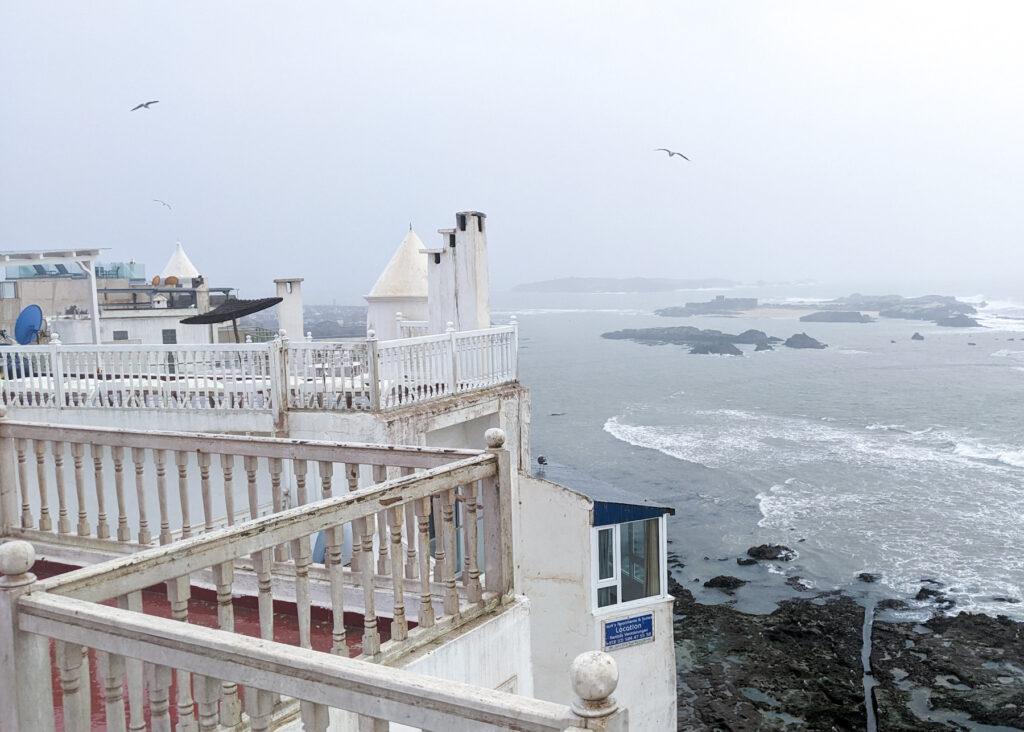 Is Essaouira busy in December
With the unpredictable beach weather, December is not a popular time to visit Essaouira and so everywhere is much quieter. The beach is especially quiet in December.
This is the time to get a good deal on your Essaouira hotel. However, come the school holidays, just after Christmas, expect to see accommodation prices rise again.
Christmas in Essaouira
Being a Muslim country, Moroccans don't celebrate Christmas. However, with Essaouira being a popular with French expats, you may be wondering if there are any signs of Christmas in Essaouira in December.
Well aside from a few festive lights on lamp posts along the corniche and token trees in some of the bigger hotels and the odd tourist bar, there are very few signs of Christmas in Essaouira. Especially walking around the medina, there are no Christmas trees, no tinsel, and no man in a red suit to be found.
Even the Catholic Church in Essaouira, St Anne's, seems to avoid any signs of Christmas. Mass is held here every Sunday and Thursday, in French, and there is also a Christmas mass too should you want to attend mass on Christmas Day in Essaouira.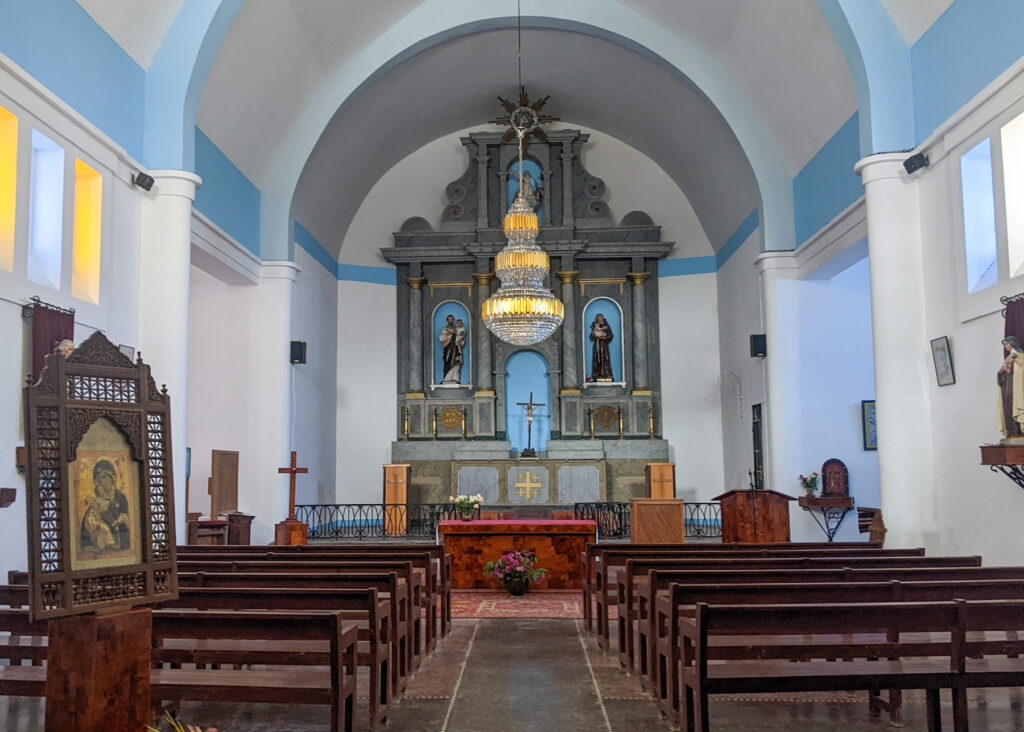 If you want to avoid the craze of Christmas at home, Essaouira is the place to come.
Is the sea warm enough for swimming?
In a honesty, the water is pretty chilly even in the summer months; this is the Atlantic Ocean after all. But winter isn't really the time for sunbathing beach days either, although there are some warm, blue sky days.
However, the ocean is actually only just starting to loose it's warmth stored from the summer months, and the average water temperature in Essaouira in December is 18°C, the same average temperature as the daytime air at this time of year.
So by all means, if you fancy a swim, then go for it! Just be careful of the waves as winter storms churn up the sea.
December is also a popular time for surfing in Essaouira and one of the few times you may spot surfers on the medina end of Essaouira beach if there are good waves. A winter wetsuit is advised if you do go surfing at this time of year.
Is December a good time to visit Essaouira?
If you want to escape the Christmas craze back at home and experience a quieter Essaouira, then most definitely. Before the Christmas holidays is also a good time to find accommodation discounts.
Just be prepared for the unpredictable weather and pack layers; a light jacket is a must. You may experience rain, or you may experience brilliant blue skies and warm sunshine. It's just a time of year when it's pot luck on the weather. But for those visiting from the UK, it will feel a lot less wintery in Essaouira than home.
---