Are you visiting Essaouira and want to experience a traditional hammam? Wondering what happens at a hammam and what the etiquette is? What do you need to take with you? Should you opt for a private or public hammam in Essaouira? Or are you just looking for a good spa in Essaouira for a massage? Read on, as here we answer all your questions and more.
Sat on the hot tiles in just a paper thong, which left nothing to the imagination, a lady in front of me was filling a bucket ready to throw a second load of water over me. What on earth had I signed up for here?
Experiencing a traditional hammam is a bucket list item for any visit to Morocco and one of the top things to do in Essaouira. It is a wonderfully rejuvenating experience and you will feel amazing afterwards. But be warned, all inhibitions need to go out of the window with a traditional Moroccan hammam, and especially if you opt for a local hammam (rather than a private).
Wondering what's involved in a traditional Moroccan hammam? Then read on for my personal experience of a hammam in Essaouira, both at private and local hammams. Over my years visiting Essaouira, and more recently living here for a few months, I've visited a fair few.
What is a hammam
Cleansing has always been an integral part of prayer preparation in Morocco, and many years ago when water was scarce, a hammam provided the perfect solution.
A hammam is a cleansing ritual similar to a Turkish or Roman bath. It is a tiled steam room where the visitor is cleaned and scrubbed by a masseuse (also known as a Kessala). There are separate hammams for women and men; they are never mixed, unless you have a private couples hammam.
The below photos show inside a private hammam in Essaouira. The photos are rather dark and not the best quality as the lighting is always very low in a hammam. Photography is not allowed in a public hammam.
A Moroccan hammam is more than a place to clean though. A hammam is a social gathering point, where people catch up and connections are made.
What happens during a private hammam
If you have booked a private hammam experience, it will just be you and the masseuse (female). Don't worry if this is your first time, they will deal with lots of first timers; just follow their lead.
A private hammam can be arranged for solo travellers, couples, and even families. However, we wouldn't recommend a hammam for young kids, as the heat of the hammam would be too much. It's also not recommended for pregnant women, or those with high blood pressure.
The whole process takes about 1 to 2 hours, depending on the package you have arranged or where you go.
The following steps are what you can expect with a private Moroccan hammam experience in Essaouira:
You will be handed paper underwear, flip-flops, and a towel robe, then left to get unchanged and to slip on the underwear. If you haven't been provided with paper underwear, and don't fancy going totally naked, then just ask for a pair (or bring a pair of bikini bottoms or underpants with you in case).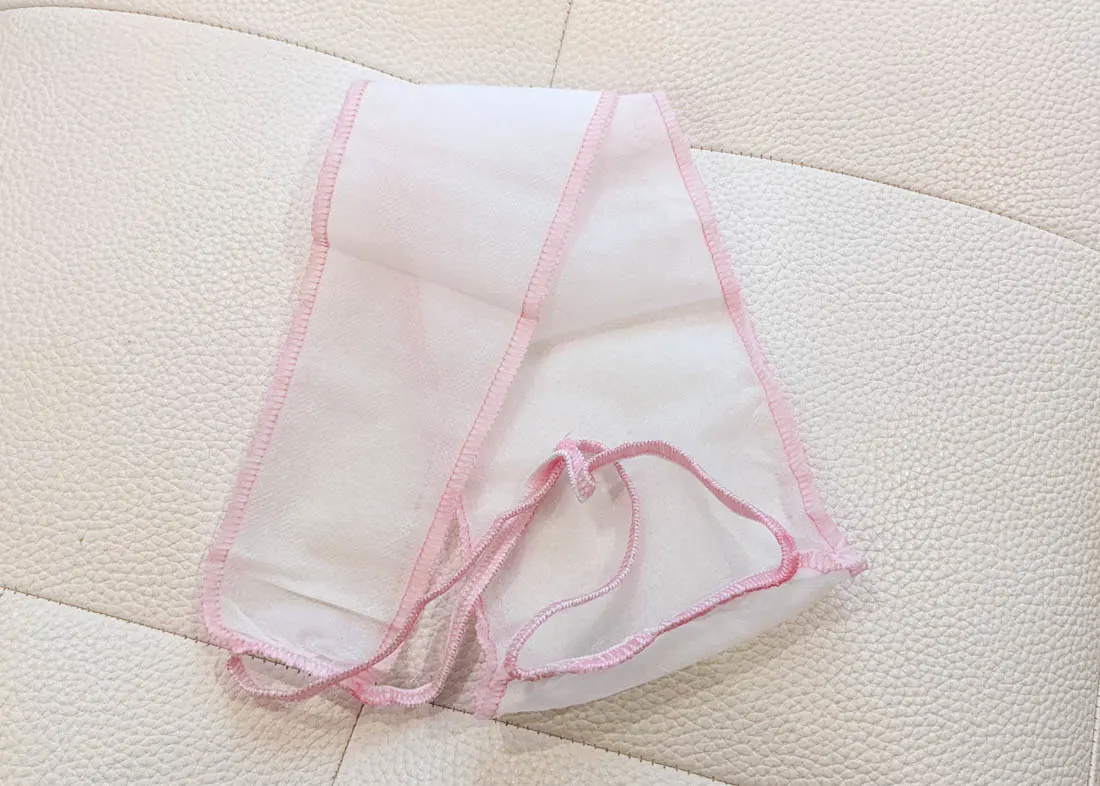 You will then be led into the hammam, which is a warm, tiled, steam room. Sit down whilst warm water is poured over you.

A scented black soap is lathered all over you (and I mean all over you).

The masseuse will then leave you in the hammam whilst it fills with steam and the temperature rises. This takes about about 20mins. There may not be any drinking water, so you may want to take some in with you.

The masseuse returns with a scrubbing mitt (kess) and goes to work on your skin, vigorously removing al the dead cells. They are often rather proud of how much skin is being removed and will make a point of showing you!

Once you are suitably de-scaled, more water is thrown over you. Sometimes a salt scrub is then applied.

You are then washed down all over with a natural soap (hair included). Then more buckets of water, and you are then ready for a massage!

With the massage, it's highly likely that the stomach and chest area will be massaged (yes, a boob massage). If this isn't for you, mention this to the masseuse before she starts work. A Berber massage is often given; this is just the same as a 'normal' relaxing massage, but with some light tapping included.
Where to go for a private hammam in Essaouira
There are a number of private hammams around Essaouira medina and the below are ones that we have personally tried and recommend. These also offer general spa treatments (such as a massage), so are good options if you're looking for an Essaouira spa.
You don't need to prebook too far ahead. You can walk in and book for later that day, or the next day.
Expect to pay around 400DH – 550DH for the full works (hammam, treatment scrub, massage). Cost is often dependent on how long the entire process is. Azur Spa Essaouira is the most expensive of the ones recommended below, and Centre d'esthetique Bio Argana Spa Essaouira is the best value.
1. Spa Cocooning
spacocooning.com
2 Rue Mohamed Ben Masoud, Essaouira
Situated by Bab Sbaa, this lovely spa offers a range of spa treatments, as well as a hammam.
2. Riad Mumtaz Mahal
riadmumtazmahal.com
Rue Youssef El Fassi, Essaouira
This beautiful riad, which is a tourist accommodation in Essaouira medina, offers a private 1 hour hammam and massage to non-residents.
3. Centre d'esthetique Bio Argana Spa Essaouira
bioarganaspa.com
Rue de Tanger, Essaouira 44000
This spa offers a 1.5 hour experience for a hammam followed by a Berber massage, and as you get longer, is slightly better value.
4. Azur Spa Essaouira
azur-spa-essaouira.com
ben Walid, 15 Rue Khalid Ibn Oualid, Essaouira 44000
This is one of the most upmarket hammam experiences in Essaouira medina, and therefore a bit more expensive than than the three others above.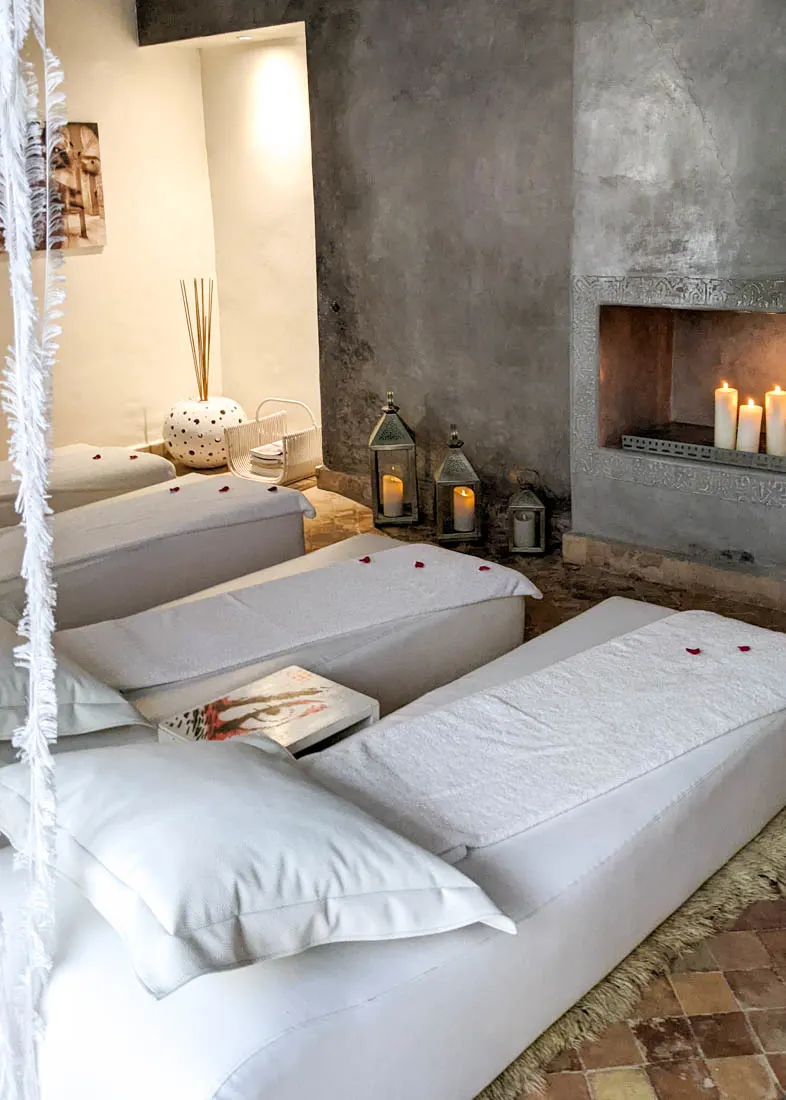 Public / local hammams
If you attend a public hammam, you really do have to leave your inhibitions behind as you will have the very naked experience in the hammam with other people (of the same gender). The locals are used to it and will be friendly and welcoming. If you're feeling brave, go for it! It's an experience you won't forget; very few travellers to Morocco get to witness this day to day experience of Moroccan life.
There are separate women's and men's hammams in Essaouira. Check before you go in, as it's often not obvious.
It's 15DH for just use of the hammam, and 100DH if you would like a scrub and massage. So much cheaper than a private hammam. It is also customary to tip the masseuse 10DH.
If you opt for the scrub and massage, take with you:
towel
flip-flops
underwear (and a change a underwear)
drinking water (this is for afterwards, and generally you can't take the water in with you into the hammam)
If you opt for just entry and to scrub / clean yourself, also take with you:
soap
scrubbing mitt
a plastic mat or chair to sit on
buckets to collect the water inside the hammam (although these can be provided)
If you opt for the full scrub and massage experience in the public hammam, expect the process to last over an hour. If you go with a friend, and there are two of you, one lady will work on both of you simultaneously, so allow for two hours.
The process for a public hammam if you opt for the scrub and massage:
Walk in and tell the lady what you would like and then pay. You don't need to prebook, just turn up.

You will be led to an area to get undressed. There won't be any lockers, so don't take valuables with you. Just leave your bag with the lady at the entrance. Strip down to your knickers / underpants / bikini bottoms (no bra), put on your flip flops, and take a towel.

Then you are led into the hammam and asked to stand as buckets of warm water are poured over you.

A scrub is then applied all over and you are left to relax in the steam.

A vigorous scrubbing mitt is then taken to your skin to clean, followed by more water.

Next, soap is massaged all over you. More water.

A relax, followed by a Jasmine soap.

More water. Although this time you may be asked to remove your knickers (everything gets washed here!) And you're done!

Walk back through to the changing area and get changed.
Final thoughts on experiencing a traditional Moroccan hammam in Essaouira
It took me a few visits to a private hammam in Essaouira before I built up the confidence to visit a public hammam in Essaouria, and I also had my good friend Sharon from My Free Range Family join me for moral support on that first visit.
It really is one of the best travel experiences I have ever had going to a hammam. That first experience is may be quite a shock with how exposed you are, and also how much action your breasts receive. But once you get over those inhibitions, it's wonderfully liberating, plus I've never felt so clean and smooth as I have done after a traditional hammam.
With a public hammam, sitting in a hot, tiled room with local women, all with everything on display… admittedly it isn't for everyone…. but if do it, you won't regret it. You will have experienced a day to day side of Moroccan life that the majority of travellers never experience.
---
Explore Essaouira ebook
Updated for 2023, the Explore Essaouira ebook is the only travel guide you need for exploring Essaouira. It is jam packed with inspiration on what to do, where to eat, where to stay, and also includes a step-by-step self-guided walking tour (with photos).
This is a PDF download for use offline and on the go (and ad-free!). Save it to read on the plane to Morocco, download to your phone to follow the self-guided walking tour around the medina, or print it off at home before you leave on your adventures and highlight all the bits you want to remember for your visit.
If you have found this website useful for planning your Essaouira adventures, you can show your support by buying Jenny a coffee. Thanks so much!