So you've heard about a relaxing, port town on Morocco's Atlantic coast, where an easy-to-navigate, ancient medina sits between long stretches of sandy beach, there are epic ocean sunsets, and you can try your hand at kite-surfing or horse-riding along the shoreline. We're, of course, speaking about Essaouira, Morocco.
But now you're wondering, how to get to Essaouira? Can you fly directly there, or do you have to go via Marrakech? Or perhaps you've already arrived in Morocco and need to work out the best overland options.
Read on for the best ways to get to Essaouira by both air and overland.
Where do you fly into for Essaouira?
READ: Essaouira airport guide
Essaouira has its own airport called, Essaouira Airport (known formally as Essaouira Airport Mogador). This is 15km from the medina and serves both domestic and international flights. This is a very small airport and a much more relaxed entry point to Morocco compared to Marrakech or Casablanca.
There are direct flights from a handful of European cities.
These include:
Paris Orly to Essaouira (4 flights per week with Transavia France)
London Stansted to Essaouira (2 flights per week with Ryanair)
Brussels South Charleroi to Essaouira (2 flights per week with Ryanair)
Marseille Provence to Essaouira (2 flights per week with Ryanair)
New flights are being added all the time. Flights from Madrid and Gran Canaria have started in 2023.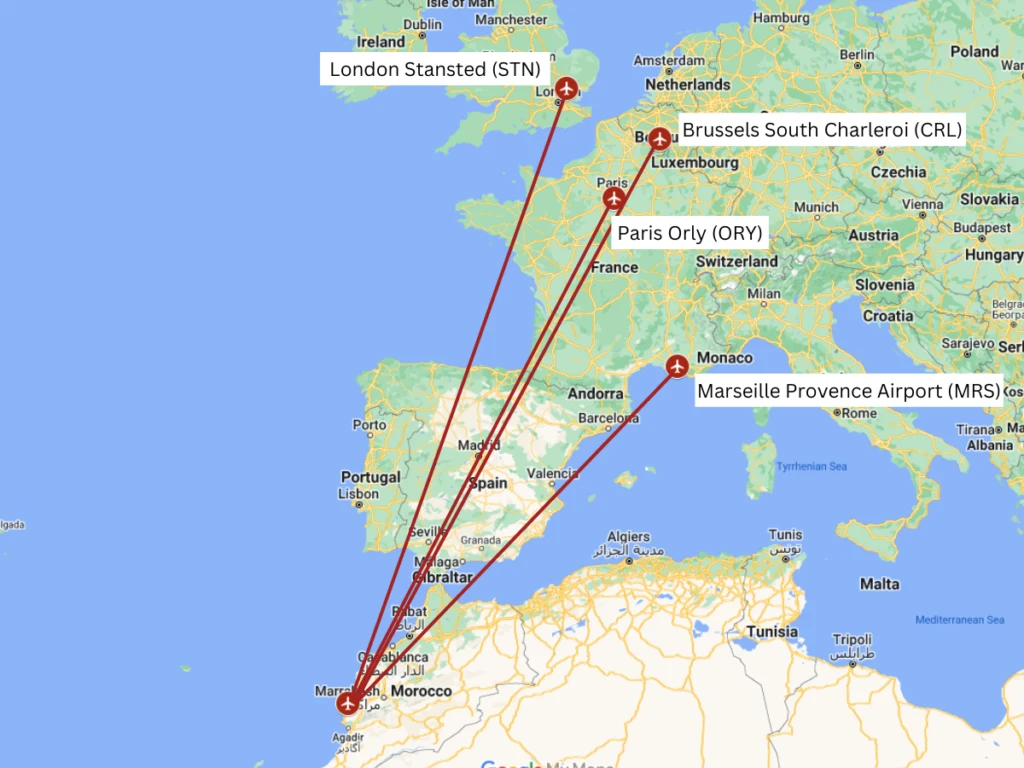 To then get from Essaouira Airport to the city, the easiest way is by taxi. Taxis will be waiting to the far left as you exit the terminal. Look out for the group of light blue cars.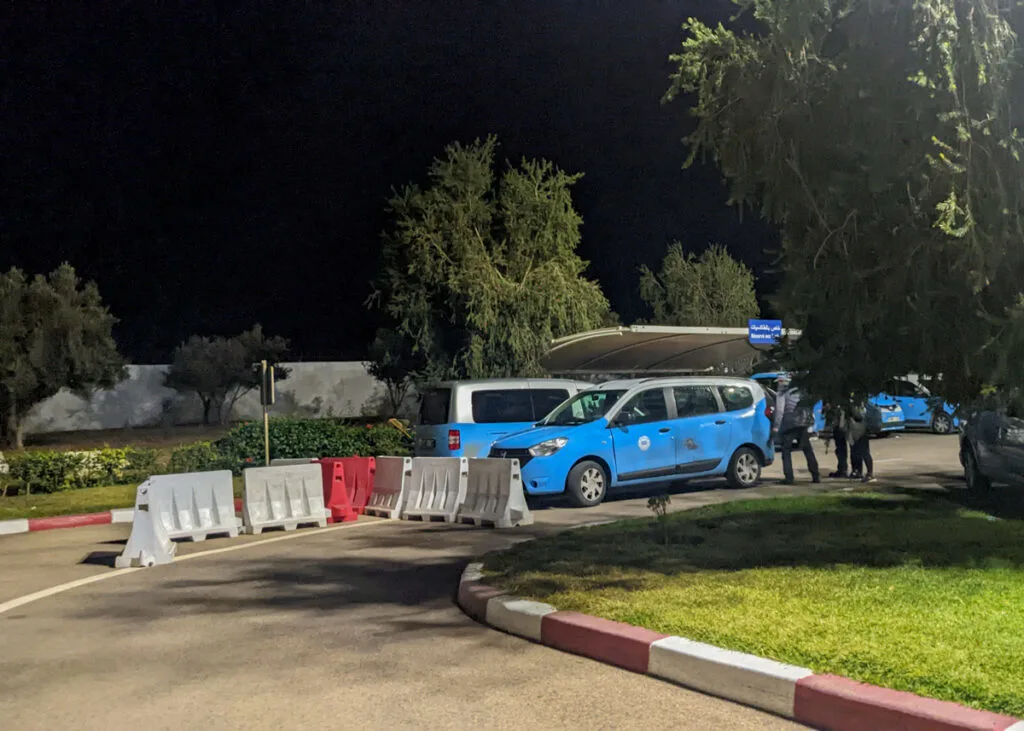 It is a flat fee of 150DH (€15), even if you arrive after dark. Please note that you need cash (Moroccan Dirhams) to pay your driver, cards are not accepted. So make sure you get cash from the ATM before you leave the terminal (there's an ATM to the right of the main door where you exit). If, on the off chance, the ATM at the terminal doesn't work, your driver will be able to stop at one on the way to your destination.
Marrakech to Essaouira
READ OUR FULL GUIDE: How to get from Marrakech to Essaouira
Flights to Essaouira from European cities are limited, and for some people, it's actually easier to fly into Marrakech; maybe there are no direct flights from close to your hometown or perhaps the flight dates don't work for you. Alternatively, you may be planning a tour around Morocco and visiting various locations, so Essaouira isn't your entry point.
Marrakech is a main tourist hub in Morocco and an easy entry point for many visitors to the country. Essaouira is a 2.5-3 hour drive west of Marrakech.
To get from Marrakech to Essaouira there are really only three options for transport; bus, taxi, or private transfer. There is no train line to Essaouira and a one-way car hire is not possible.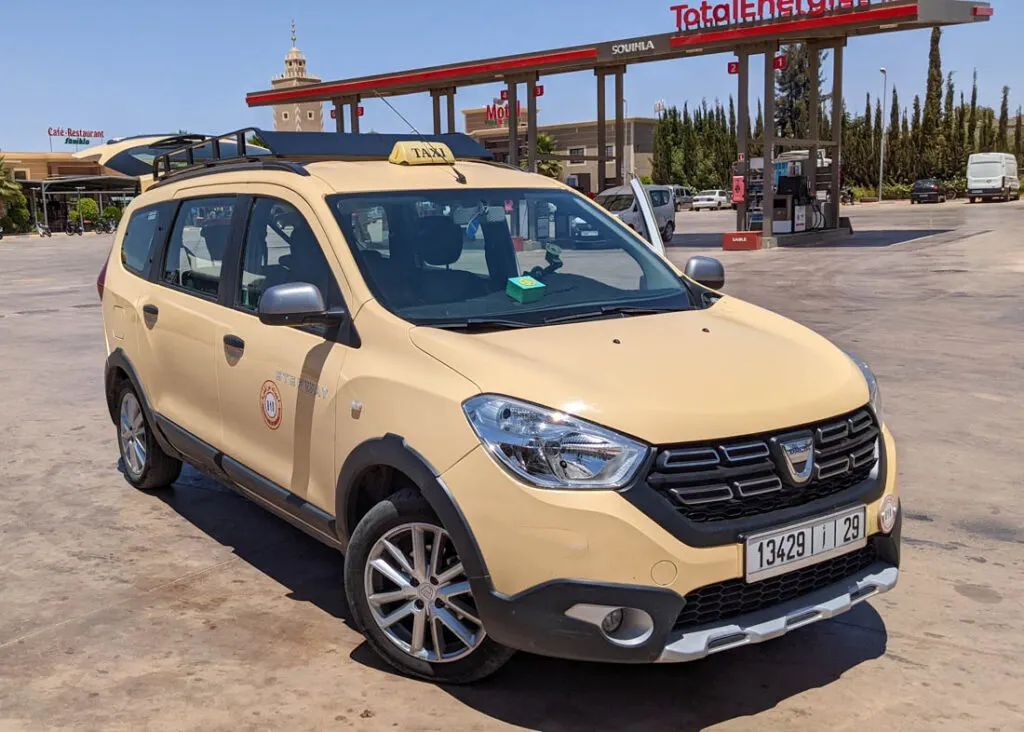 Take a private transfer
If there are 4-6 members in your party and you want to keep travel simple, a private transfer between Marrakech and Essaouira is your best option. It is also the most comfortable option. It's only a little bit more expensive to hire a private transfer, especially when you take in the cost of a taxi to get to the bus station in Marrakech, or the hassle factor of negotiating with a grand taxi driver. Expect to pay a minimum of €80 for a private transfer between Marrakech and Essaouira.

Take a Grand Taxi
There is a fixed fee of 600DH for a grand taxi from Marrakech to Essaouira. You will need to go to a Grand Taxi station in Marrakech (such as outside Marrakech Train Station) and you cannot pre book. Just turn up and ask. Despite there being a fixed fee, you will probably be quoted 1000DH initially (this is Marrakech after all!). Well done if you can get them down to 700DH.

Take the bus from Marrakech to Essaouira
Supratours is the main bus company that travels between Marrakech and Essaouira. The journey takes 3 hours by bus, with a 20 minute comfort break enroute. There are six buses per day from Marrakech to Essaouria leaving at 07:45, 09:00, 10:45, 14:45, 16:45 and 19:00. Click here to read our guide for getting the bus from Marrakech to Essaouira.
Agadir to Essaouira
Alternatively you can get to Essaouira overland from Agadir. It's a 3 hour drive along the coast, and worthwhile making it into a little road trip to stop at Taghazout and/or Insouane enroute, especially if you enjoy surfing. Check out our 5-day Agadir to Essaouira itinerary.
Hiring a private driver from Agadir may prove costly as drivers drive a hard bargain in this tourist town.
However, there are regular buses from Agadir to Essaouira daily with both Supratours and CTM. The bus journey takes close to 3.5 hours. Click here for bus timetables.
Click here for our comparison guide between visiting Essaouira or Agadir. These two Morocco towns, despite both being situated on the Atlantic coast just a few hours drive between them, are in fact very different from one another.
Casablanca to Essaouira
READ OUR GUIDE: Getting the bus from Essaouira to Casablanca
If you are coming from north of Essaouira, making you way down the Atlantic coast, you will be more interested in how to get from Casablanca to Essaouira.
This is a 4.5 hour drive, which you may want to split up in Safi to check out the pottery workshops, historical medina, and the beach. Safi is just over half way from Casablanca to Essaouira.
If you don't have your own wheels or want to avoid costly private drivers, CTM run a regular bus between Casablanca and Essaouira. The journey takes 6.5 hours by bus, stopping at stops at Oualidia, Safi, and El Jadida enroute. At the time of writing, a CTM bus ticket from Essaouira to Casablanca is 152MAD. There are four buses per day from Essaouira to Casablanca leaving at 10:00, 11:45, 15:15, and 17:15.
Check the CTM website for up-to-date bus times and pricing.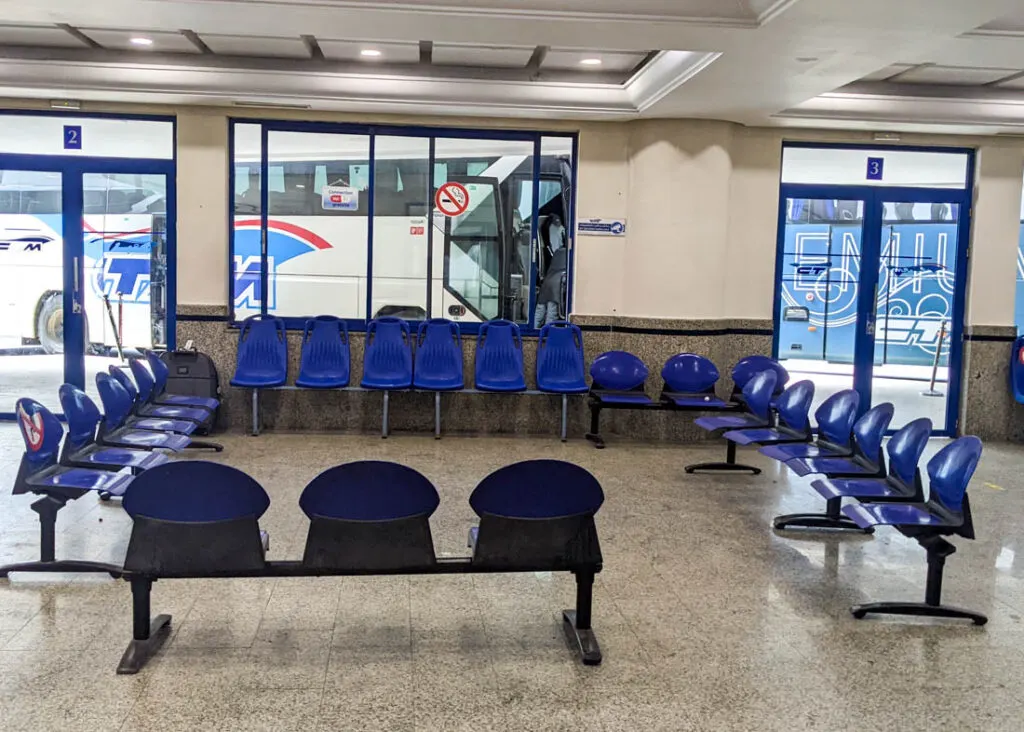 ---
Explore Essaouira ebook
Updated for 2023, the Explore Essaouira ebook is the only travel guide you need for exploring Essaouira. It is jam packed with inspiration on what to do, where to eat, where to stay, and also includes a step-by-step self-guided walking tour (with photos).
This is a PDF download for use offline and on the go (and ad-free!). Save it to read on the plane to Morocco, download to your phone to follow the self-guided walking tour around the medina, or print it off at home before you leave on your adventures and highlight all the bits you want to remember for your visit.
If you have found this website useful for planning your Essaouira adventures, you can show your support by buying Jenny a coffee. Thanks so much!