Trying to decide between Essaouira and Agadir for your Moroccan beach holiday? Read on as we compare the two (Agadir vs Essaouira) and find out which is the better destination for you.
If you're planning a Moroccan beach holiday, the two obvious destination choices are Agadir or Essaouira. There are direct flights from European airports to both of these destinations, which are only a three hour drive from each other. But they are also two very different destinations offering two very different types of holidays. So which is the better place to visit? Essaouira or Agadir?
Being a travel blog entirely focused on Essaouria, we may seem a tad biased. However we have visited both Agadir and Essaouria, so can provide you with a personal opinion on both Moroccan beach destinations. Although it should be mentioned that we have spent only a week in Agadir and that was enough for us, whereas we have spent months living and had numerous visits to Essaouira, as it's just more our kind of place.
But everyone is different, and it really does depend on what you are looking to get out of your Moroccan beach holiday. Is it a hassle-free package holiday by the pool and beach? Or are you wanting to dive into Moroccan culture and get active? If you are firmly a yes to only one of these questions, then deciding whether Agadir or Essaouira is best for you is an easy decision to make.
After reading this and you still can't decide whether Agadir or Essaouira is best for you, then how about doing a road trip between the two? The drive between Agadir and Essaouira offers a stunning coastline with fishing villages to explore and some of the best surf breaks on the African continent. Check our our Agadir to Essaouira 5-day road trip itinerary.
Where is Agadir and Essaouira?
Both Agadir and Essaouira are located on the west coast of Morocco, by the Atlantic Ocean. Essaouira sits north of Agadir. By road, along the N1, there is 170km between the two towns, 3 hours driving time (or follow our 5-day Agadir to Essaouira itinerary.
It is also a three hour drive from Agadir to Marrakech, and Essaouira to Marrakech.
About Agadir and Essaouira
Essaouira
Essaouira is a charming port town perched on the Atlantic coast and popular with kite-surfers due to the strong ocean winds. There's a chilled out, hippy vibe to this town, where everything is walkable and the traffic-free medina beckons you for aimless wanders punctuated with mint tea breaks.
Essaouira is one of Morocco's most beautiful towns and will appeal to those travellers who want to experience the local culture and cuisine. There are also many activities in Essaouira to enjoy, including learning to surf, kite-surfing, and quad-biking.
However, be warned, this is not the destination for sun bathers due to the strong Atlantic Winds. Essaouira has be coined "The Windy City of Africa" for a reason!
Agadir
Agadir is not the best representation of Morocco, and you would be forgiven for thinking you were on the Spanish Costas. An earthquake in 1960 destroyed most of the city, which has since been rebuilt into a large grid pattern with concrete being the preferred material.
Cheap flights lure sun worshippers to white-block hotels to grab a sunbed around a packed pool. Music blares from distorted stereos late into the night, and McDonalds and Pizza Hut decorate the corniche.
Agadir is geared toward package holidays and lacks Moroccan charm. But sometimes, warm weather, a pool, and a beach is all you want from a holiday. If you just want to relax and have access to western comforts, Agadir is for you.
The beach
Both Agadir and Essaouira boast a long stretch of sandy coastline, with a corniche (promenade) for long walks. Both beaches are especially busy in the summer holiday months of July and August, and are also kept clean by the authorities.
Essaouira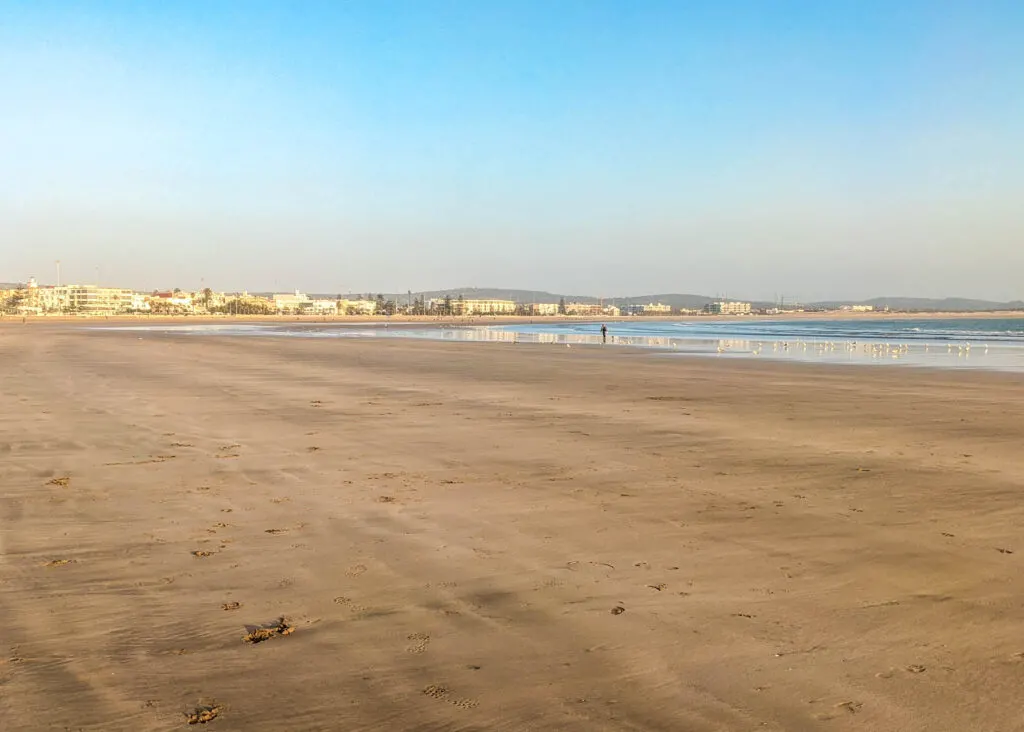 Essaouira beach is renowned for the wind. Indeed, Essaouira is coined the 'Windy City of Africa' for a reason, and this is why Essaouira is popular with kite surfers.
However, this wind means that Essaouira beach is not great for sunbathing. Whilst there are the odd calm days and sunbeds available to hire most days close to the medina end of the beach, sand will find it's way into every nook and cranny, and it's far from a relaxing affair.
Essaouira beach is more for sunset strolls and getting active in the water. South of the main beach towards Diabat also offers horse-riding, quad-biking, and camel riding. And the beach to the north of town, known to the locals as Safi Beach, has a wild and abandoned feel where few tourists venture and buildings have been submerged by shifting sands.
The beach touts in Essaouira are far more relaxed than Agadir (and tend to sell 'happy cookies').
Agadir
The golden crescent of Agadir beach is sheltered from the Atlantic winds that can batter Essaouira's coastline, and this is why it's much more popular with sunbathers. Indeed it's a top winter sun destination for Brits with TUI offering package holidays (Agadir is generally slightly warmer than Essaouira). But there is still nice breeze to cool down in the searing summer heat, when it's particularly busy with domestic tourists.
You can also get active in the ocean in Agadir. There are a number of surf schools offering lessons. If you are visiting Agadir with kids, be warned that there is an undertow in the water.
Behind the beach, the long corniche is lined with big hotels, restaurants and shops.
However be warned, the touts on Agadir beach selling anything from strawberries to sunglasses are very pushy and can get rather annoying.
Eating out
Essaouira
Essaouira medina offers a fantastic array of restaurants for the size of the medina. Indeed on our Essaouira walking tour, it may feel like every few metres there's another restaurant to try.
Being a port town, Essaouira is obviously a haven for seafood lovers; you can even buy fish directly from the fishermen at the port and have it cooked on an open BBQ. But there's more on offer than just sea food; do check out our guide to the best restaurants in Essaouira, which also includes Moroccan restaurants, tapas restaurants, an Asian restaurant, as well as vegetarian restaurants in Essaouira.
But you won't find any fast food chains in Essaouira. The restaurants are all locally owned and if you're visiting Essaouira with kids, be prepared for a bit of a wait and have a pack of UNO handy.
Agadir
If you don't consider yourself an adventurous eater and need Western comfort food on hand, then Agadir is for you. There are no less than four McDonalds, a KFC, and Pizza Hut, as well as lots of other fast food options.
However, as Agadir is geared more to package holidays, many visitors don't need to leave their resort.
But if you do want to venture beyond the hotel and steer away from the fast food restaurants, there are still some lovely local restaurants along the corniche to try (that generally serve Moroccan as well as Western dishes if you have a mixed group of preferences). We can personally recommend Citadel Restaurant. You will also find tapas, Italian, French, and seafood restaurants. There really is something for everyone.
Accommodation
Essaouira
Whether you're looking for a camping spot, characterful Airbnb in the heart of the medina, high end hotel, or a beach resort with swimming pool, there will be something in Essaouira to suit your budget and needs. The range of accommodation for such a small town is really quite impressive, but can be rather overwhelming to decide where to stay in Essaouira.
But what Essaouira accommodation has over Agadir accommodation are the riads. Riads are a traditional Moroccan house. They are built around a central courtyard and ooze Moroccan charm with intricate arches and beautiful colours and tiling. These are dotted all over the medina, and range from high end luxury, to budget options.
Agadir
As we have already mentioned, Agadir is geared more towards package holidays. Large white concrete resorts framed around pools lure in the sun worshippers. The rebuilding of the city after the 1960 earthquake lent more to convenience rather than restoring architectural history. So you won't find any riads to stay at in Agadir.
But with the majority of Agadir hotels you can expect spacious rooms, power showers, and a large swimming pool.
Head to the surfer town of Taghazout, which is just a 30 minute drive north of Agadir, for more characterful accommodation options.
Things to do
Essaouira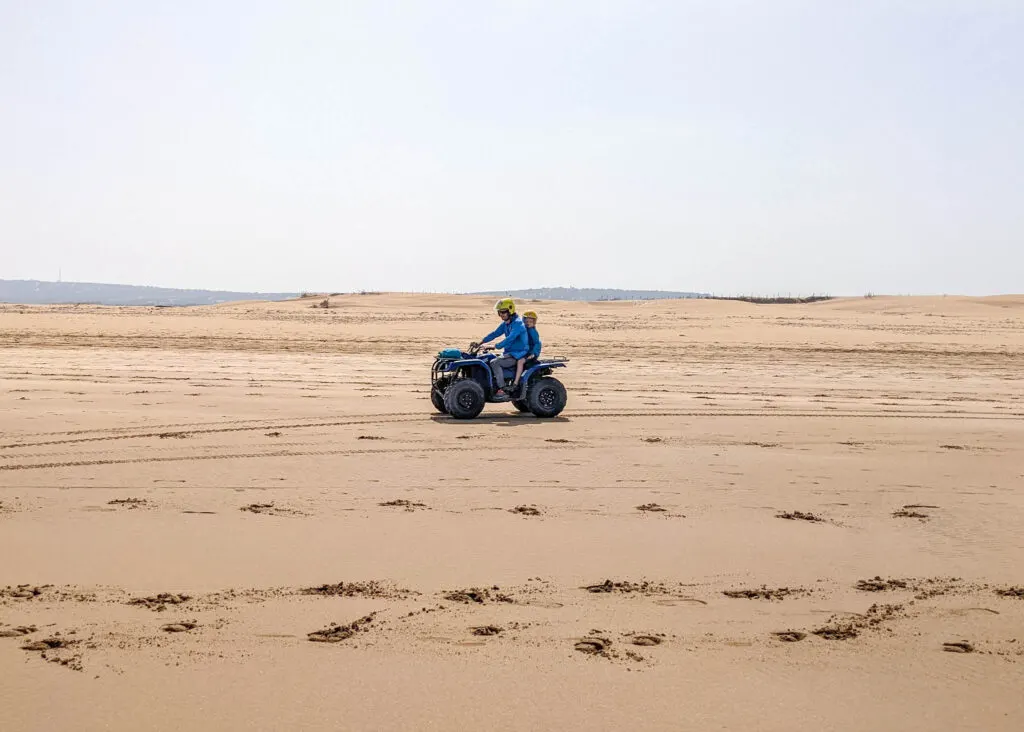 Despite being known for its chilled vibes, there are so many things to do in Essaouria. Head to the mean beach for surfing, kite-surfing, wind surfing, plus there is also quad biking and camel rides towards Diabat! Although if you're after a more sedate activity, maybe wander the medina for the best shopping in Essaouira or try a traditional Moroccan hammam; though be warned, all inhibitions need to go out the window with a hammam!
Check out our 1 day and 2 day guide to Essaouira if you're short on time.
Agadir
Whilst we've probably given you the impression from this post so far that Agadir lacks any Moroccan charm, that's not entirely true. Shop with the locals and experience true Morocco at Souq El Had, and although aimed at tourists, the reconstructed medina is also worth a visit to see how Agadir used to look like pre-earthquake (paid entry).
Stunning Paradise Valley (where you can swim in a gorge) is only a 1 hour drive away, and the nearby Crocopark is and absolute must do if you are visiting Agadir with kids and any reptile fans.
Getting around
Essaouira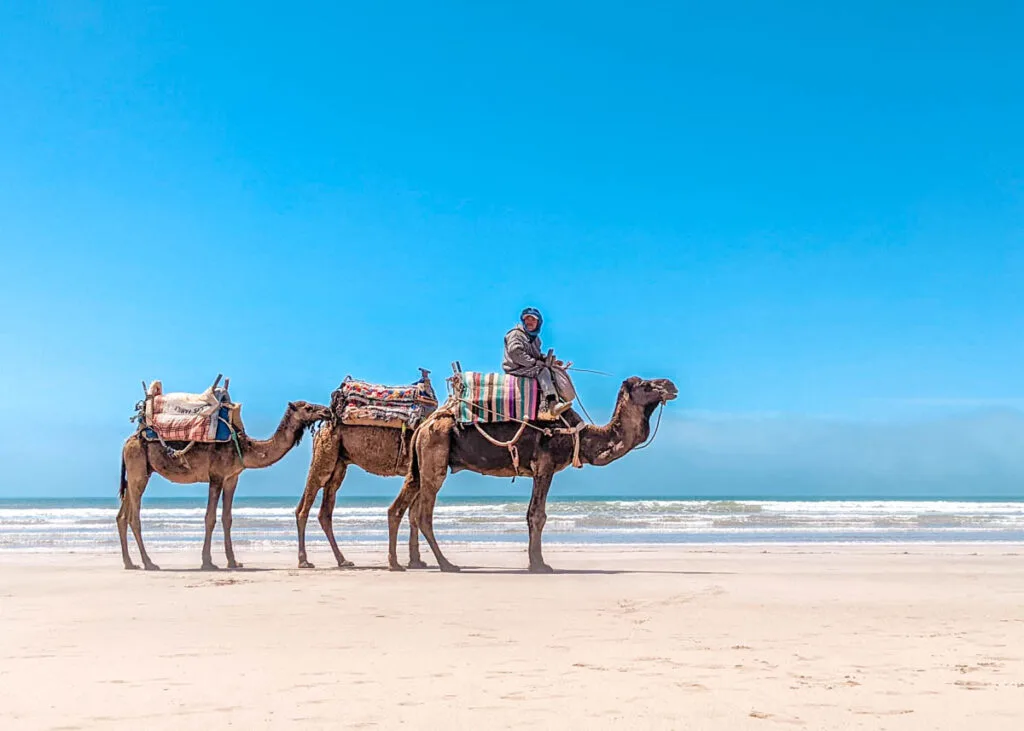 Being a small town, it is easy enough to get around Essaouira by foot; the medina is small enough to walk from one end to the other, and the 2km promenade walk along the beach is really lovely.
However, if legs are feeling tired or perhaps you need to head to the Carrefour supermarket, it's easy enough getting around Essaouira (outside the Medina) via taxi. It's a flat fee of 7DH (8DH at night) all over Essaouira in the blue petits taxis. This flat fee means that no haggling is required (very refreshing for Morocco!)
It's easy enough to flag a taxi down, and there's generally a queue of them just outside the Medina, opposite the beach, by Hello Essaouira Office of Tourism (click here for Google Maps location).
Agadir
Aside from a stroll along the corniche, Agadir isn't really set up for walking. To get to the tourist sites (such as the reconstructed medina, and Crocoparc) it's easiest to drive. But if you don't have your own wheels, taxis are a good option.
Unfortunately, taxis are very unlikely to use the metre with tourists and haggling is required. Taxis hang around outside of the hotels, waiting for tourists to exit. Ignore these, as they will be quoting you extremely inflated fares. Instead, walk away from your hotel and flag one down. The driver won't use the metre, but it should be a better price.
Getting there and away
Essaouira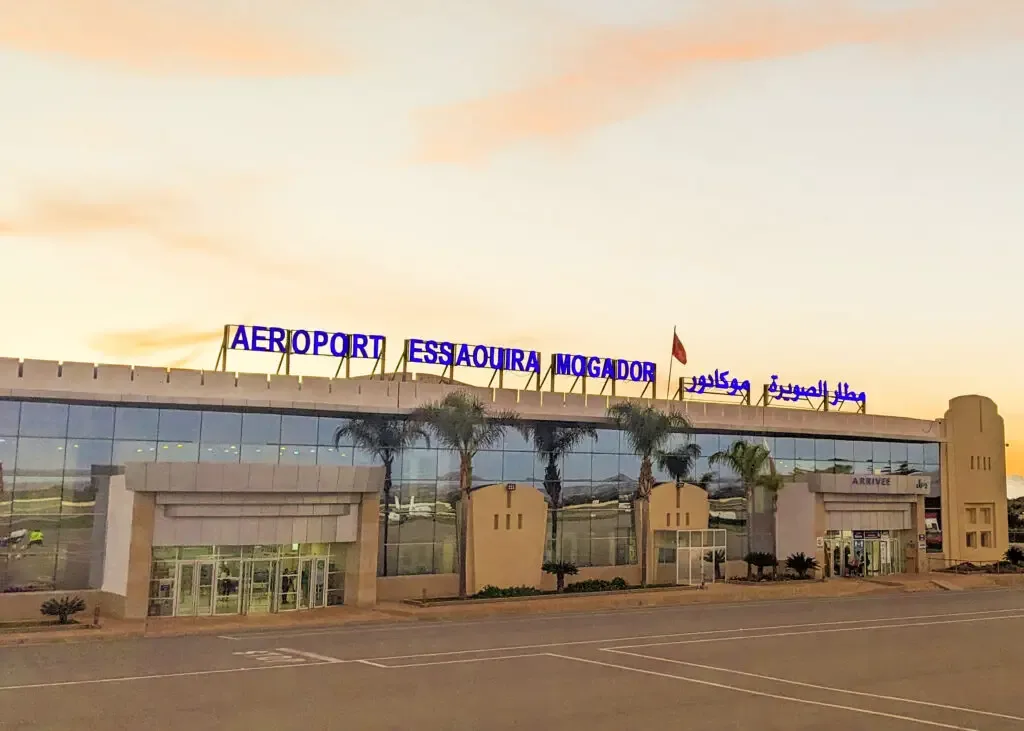 Most tourists to Essaouira visit as part of a bigger Moroccan road trip or combine it with a visit to Marrakech (read our guide for getting from Marrakech to Essaouria). Although there are direct flights to Essaouira Airport from a handful of European airports, including Paris Orly, London Stansted, Brussels South Charleroi, and Marseille Provence (all bar Paris are serviced by Ryanair, Transavia France services the route from Paris). We certainly think that Essaouira is worthy of a stay for at least a week or two, and in fact Essaouira is the most popular destination for digital nomads in Morocco.
Agadir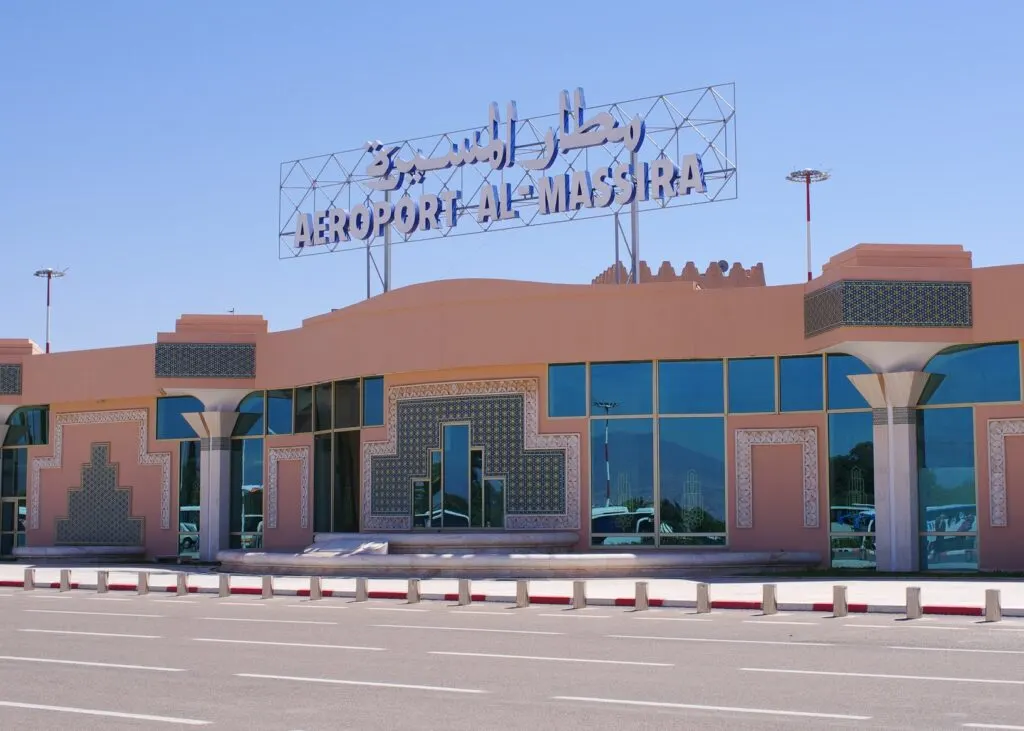 Agadir offers many more direct flight options across Europe including Iceland, Poland, Spain, Germany, Italy, as well as UK and France. There are over 100 flights per week landing to Agadir airport. This therefore means that Agadir is much easier to get to from overseas that Essaouira.
So which is better? Essaouira or Agadir?
Well that really depends on what you want from your Moroccan beach holiday.
If you just want to chill by a pool in the sun, and perhaps pop to the beach for a sundowner, then Agadir is for you. The city lacks the typical Moroccan charm you experience elsewhere in the country, but you can still find this at the sprawling Souq Al-Had, and the architecture at the beautifully restored Agadir Medina (paid entry) is stunning.
But if you want to dive into Moroccan culture, wander ancient medinas, and enjoy adventure sports, then Essaouira is for you. In fact, Essaouira is the place that gets our vote.
Although seeing that they are only 3 hours apart, if you have time, you may like to experience both. Perhaps make a road trip of it! Check out our 5-day Agadir to Essaouira road trip itinerary.
---
Explore Essaouira ebook
Updated for 2023, the Explore Essaouira ebook is the only travel guide you need for exploring Essaouira. It is jam packed with inspiration on what to do, where to eat, where to stay, and also includes a step-by-step self-guided walking tour (with photos).
This is a PDF download for use offline and on the go (and ad-free!). Save it to read on the plane to Morocco, download to your phone to follow the self-guided walking tour around the medina, or print it off at home before you leave on your adventures and highlight all the bits you want to remember for your visit.
If you have found this website useful for planning your Essaouira adventures, you can show your support by buying Jenny a coffee. Thanks so much!