From a short taxi ride out of town to a three hour drive, here we cover the best day trips from Essaouira.
There are so many things to do in Essaouira, but if you're staying a week or more, or perhaps using Essaouira as a longer-term base for your Morocco travels (indeed Essaouira is a popular destination in Morocco for digital nomads), you may be looking for some ideas for day trips from Essaouira. Although we wouldn't blame you if you just wanted to chill around the medina sipping mint tea and taking long sunset walks along the beach; Essaouira's chilled out vibes are very easy to slip into!
But if you do want to explore more of the beautiful Moroccan countryside and coastlines around Essaouira, or perhaps venture further afield to explore a Moroccan city, then here we've rounded up for you the best Essaouira day trips.
Self-driving is the easiest way to travel for a day trip from Essaouira. But if you don't have your own wheels, we have provided other transport options for each destination suggested. Please note that any prices quoted here were correct at the time of writing and are subject to change.
If you have more time, you may want to follow our 5-day Agadir to Essaouira road trip itinerary which takes in many of the suggested Essaouira daytrip suggestions below, including Diabat, Sidi Kaouki and Taghazout.
The below map shows the locations of the best day trips from Essaouira.
1. Diabat
READ OUR GUIDE: Diabat
Distance from Essaouira: 4km (10min drive)
Four kilometres south of Essaouira's medina is the dusty, sleepy village of Diabat. This is the easiest day trip from Essaouira being only a ten minute drive or beach stroll away.
Back in the early 1970s, Diabat (and Essaouira) was firmly on the hippie trail, solidified by a visit from the legendary musician, Jimi Hendrix, in 1969. He may have only visited for a couple of days (in fact, apparently he wanted to buy Diabat), but this was a good enough reason to open a Jimi Hendrix café and hotel in the village, which are still open today.
Diabat sees only a small fraction of the tourists compared to Essaouira, and the hippie communes are long gone. But if you are visiting Essaouira during the high season months of July and August and want to escape the crowds, Diabat is the place to come. Visitors only tend to come here for a quad biking or horse riding tour, or they may be staying at the Sofitel Essaouira Mogador Golf & Spa (which is actually in Diabat rather than Essaouria) and tend to stick to the confines of luxury.
But one of the top things to do in Diabat is to visit the ruins of Dar Sultan Palace, nestled amongst the sand dunes between village and the beach. It has been rumoured that Dar Sultan Palace inspired Jimmie Hendrix to write Castles Made of Sand.
Getting to Diabat
It's a very pleasant walk along the shoreline from Essaouira to Diabat (when the river between the two places isn't flowing). From Diabat beach there's a wide stone track that leads up to the village (1.5km).
Otherwise, you can flag down a petit taxi from Essaouira to take you to Diabat (read our guide to taking petits taxis in Essaouira). Taxis won't take you along the track to Diabat beach though. Between Essaouira and Diabat, the fare is fixed at 30DH.
2. Sidi Kaouki
READ OUR GUIDE: Sidi Kaouki
Distance from Essaouira: 23km (25min drive)
Sidi Kaouki is a surfing beach, 30 minutes drive south of Essaouira. It's a beautiful spot, but the secret is out on this sandy stretch and you will find a handful of basic restaurants, and locals offering camel and horse rides along the beach.
A large abandoned building stands at the northern end of the sandy beach. This is actually the shrine and pilgrimage site of Sidi Kaouki, a 19th-century marabout (a Muslim religious leader and teacher), and who this Berber village is named after. To the north of this shrine are rock pools to explore, and to the south is the long sandy swathe of beach.
The main reason tourists visit Sidi Kaouki is for the surfing. Indeed the surf here is much stronger than Essaouira beach. There's a surf shop next to the restaurants, adjacent to the car park, if you want to hire a surfboard or boogie board, or perhaps have lessons. Or if you just wan to relax, hire sun loungers and a parasol on the beach, 50DH for a pair (although laying your towel out on the sand is free).
Getting to Sidi Kaouki
The easiest way to get to Sidi Kaouki from Essaouira is to take a Grand Taxi. You will need to get to the Grand Taxi station, which is next to the main bus station in Essaouira. Click here for the Google Map point. There is a flat fee of 15DH per person, or 90DH for the whole taxi (i.e. 6 people), to Sidi Kaouki. To get back to Sidi Kaouki, arrange a collection time with your driver.
Alternatively, you can take a public bus from just outside Bab Doukkala. Head to the blue 'Lima Bus, Essaouira' sign on the right as you exit Bab Doukkala and take the Lima bus, Line 2 (7DH per person).
3. Had Draa market
READ OUR GUIDE: Had Draa market
Distance from Essaouira: 30km (25min drive)
Had Draa is a dusty, non-descript village in the countryside around Essaouira. But on Sunday mornings it comes alive with the largest markets in the region. It's a fascinating insight into local culture and enables you to discover authentic rural life in Morocco.
Animals and produce have been traded for centuries at Had Draa Souk, and is the place to come if you need to pick up a camel, goat, or donkey (do check your Ryanair baggage allowance though). There's also an on-site halal abattoir and stalls selling grilled-meat kebabs.
Aside from livestock, there's everything from baskets, to fresh fruit and vegetables, carpets, clothes, kitchenware, and much more.
Market sellers arrive from sunrise to set up and much of the cattle selling takes place in the early hours. However, the market is still bustling from 9am to 12pm, so don't worry about missing breakfast to get there.
Getting to Had Draa market
Local buses leave from outside Bab Doukkala to Had Draa (ask around on a Sunday morning), or take a Grand Taxi from the Grand Taxi station. Either way it's 10DH per person.
4. Ida Ougourd market
READ OUR GUIDE: Ida Ougourd market
Distance from Essaouira: 20km (25min drive)
If your visit to Essaouira does not coincide with the Sunday market at Had Draa, the next best option in the region is Ida Ougourd, held every Wednesday. Set on a hillside, the market is separated into distinct areas: a large open fruit and veg market spills out in front of the mosque, a Halal abattoir will be found down a little alleyway, and animals are traded in a walled square. There's even a donkey park (as opposed to a car park).
The market starts from 5am, but is still going around 9am. Between 10am and 11am it's starting to wind down, and by noon it's finished.
Getting to Ida Ougourd market
Local buses leave from outside Bab Doukkala to Ida Ougourd (around 7am on Wednesday mornings), or take a Grand Taxi from the Grand Taxi station. Either way it's 7DH per person.
5. Val d'Argan
READ OUR GUIDE: Val d'Argan winery
Distance from Essaouira: 25km (25min drive)
People are often surprised to hear that there has been a vineyard in Essaouira since 1994. Just 25 minutes along the road from the centre of Essaouira to Marrakech is Domaine du Val d'Argan.
Baked by the desert and benefiting from the trade winds off the Atlantic, Domaine du Val d'Argan is the first and only Moroccan vineyard exclusively dedicated to grape varieties of the Rhône Valley. Over the past 20 years, the vineyard has grown from 5 to 50 hectares, with 13 different grape varieties from the Rhône Valley.
Visitors are welcome for wine tasting, or to enjoy Moroccan cooking accompanied by the wines harvested on site. There is also bed and breakfast accommodation available, with guest rooms spread around the gardens with a swimming pool.
Email in advance to reserve your wine-tasting session. The price is 200DH and includes tasting:
Le Val d'Argan Blanc (white wine)
Argania du Val d'Argan Blanc (white wine)
Le Val d'Argan Rosé (rosé wine)
Le Val d'Argan Rouge (red wine)
Argania du Val d'Argan Rouge (red wine)
Wine-tasting session times are:
11am to 11:30am
2:30pm to 3:00pm
3:00pm to 3:30pm
Getting to Val d'Argan
There is no shuttle service to the Val d'Argan, so visitors need to make their own way over (a Grand Taxi or private driver). Expect to pay 300DH for the return journey.
6. Les Jardin by Villa Maroc
READ OUR GUIDE: Day pass at Les Jardins de Villa Maroc
Distance from Essaouira: 24km (20min drive)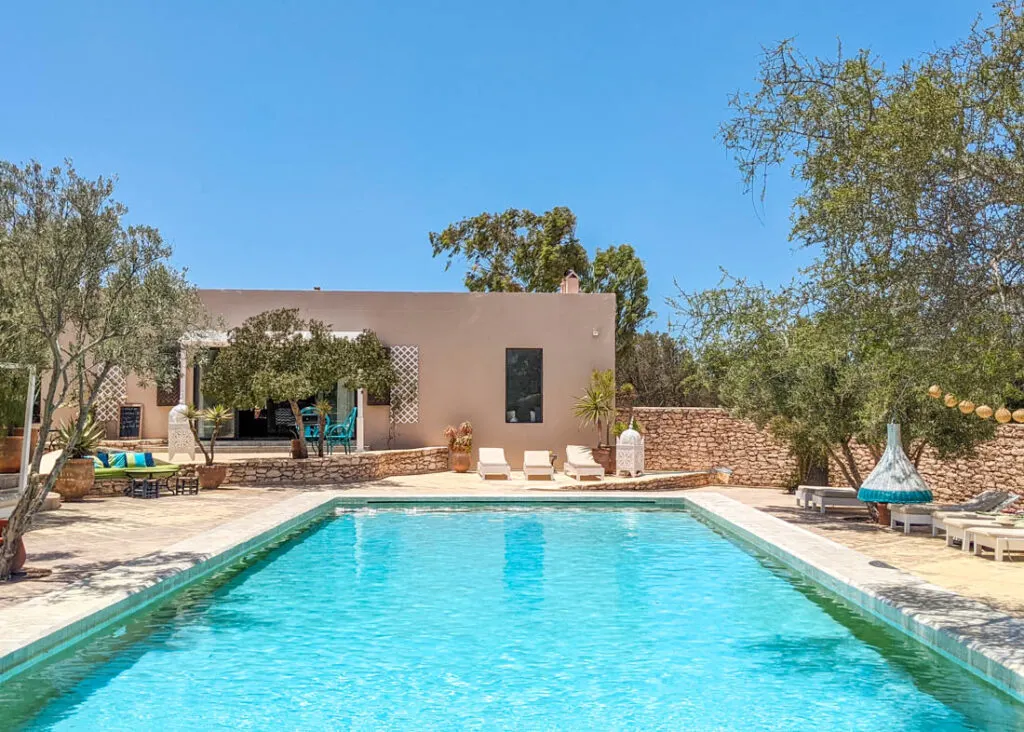 If your Airbnb, riad, or hotel in Essaouira doesn't have a swimming pool, how about treating yourself to a day pass at a swimming pool?
Les Jardins de Villa Maroc is stylish, small resort, nestled in the Swiri countryside, just off the road to Marrakech, and offers a day pass (11am to 5pm, 250DH per person) for visitors to use the heated swimming pool and dine at the restaurant. This is the sister hotel to Villa Maroc, Morocco's oldest riad-hotel situated in the heart of the medina.
A transfer from Essaouira's medina is included in your day pass fee. The BBQ buffet lunch spread is fantastic.
Getting to Les Jardins de Villa Maroc
A transfer from Villa Maroc in the medina is included in your day pass. This is arranged on booking.
7. Hôtel Domaine de L'Arganeraie
READ OUR REVIEW: Hôtel Domaine de L'Arganeraie
Distance from Essaouira: 11km (20min drive)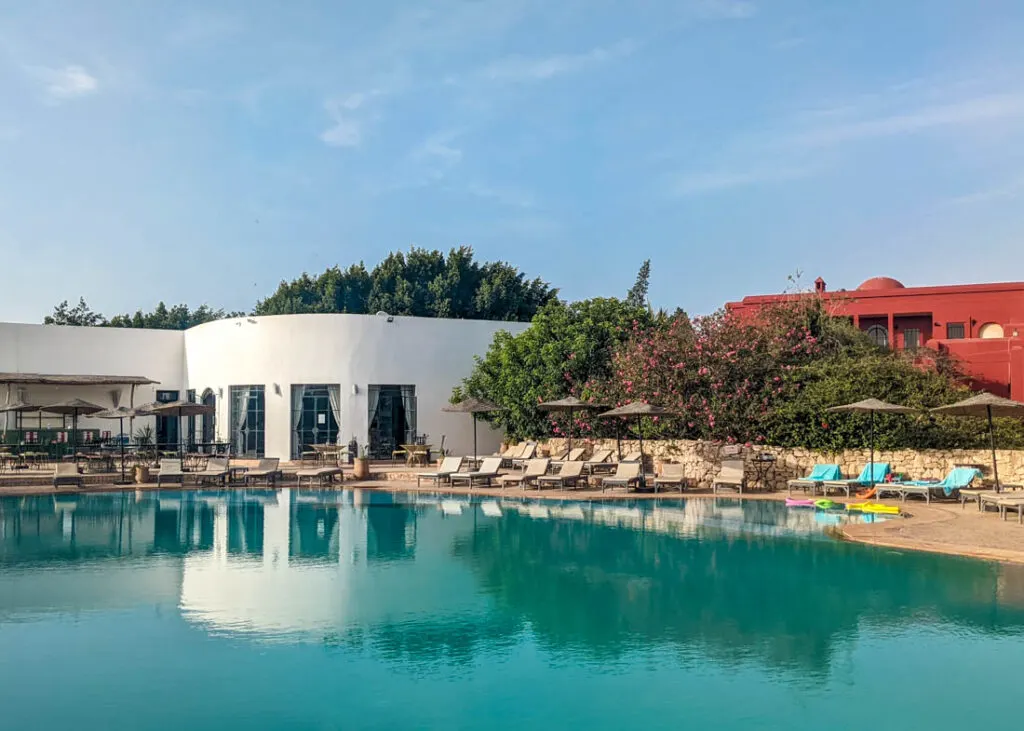 As an alternative option to Les Jardins de Villa Maroc, Hôtel Domaine de L'Arganeraie is an equally beautiful setting and also offers a day pass for non-guests to use their heated pool.
Hidden off a dusty road through the village of Ghazoua, Hôtel Domaine de L'Arganeraie is just a 20 minute drive from Essaouira.
The heated pool is larger, and as the day pass (11am to 6:30pm) to use the pool is slightly cheaper (from 100DH per person), it's popular with families. The lunch menu is a good selection including pizzas, burgers, tagines, and vegetarian options.
Getting to Hôtel Domaine de L'Arganeraie
On booking, a transfer can be arranged for your from Essaouira (100DH, priced by car rather than person).
8. Safi
READ OUR GUIDE: Things to do in Safi
Distance from Essaouira: 124km (2 hour drive)
Rarely on the tourist radar, the coastal town of Safi just a two hour drive north of Essaouira, is famed for its pottery. Indeed, a visit to the Pottery Quarter is one of the top things to do in Safi, Morocco. Although with it's Portuguese history and coastal location, we believe there is more to this sleepy town and is worthy as a full day trip from Essaouira.
Being an industrial town, Safi is admittedly not as picturesque as Essaouira, and perhaps why it's off the beaten tourist trail in Morocco. But its Portuguese history provide pockets of interest, including Cathédrale Portugaise, Qasr A Bahr, and the Kechla. Plus a wander around the medina feels far less touristy that Essaouira, and for surfers, Safi provides another excellent surf spot along Morocco's Atlantic coastline.
En route to Safi from Essaouira, its worth stopping at Oualidia, a sleeping fishing village (renowned for shellfish) spread across a crescent-shaped lagoon with soft sand and gentle waters.
Getting to Safi
If you don't have your own wheels, a Grand Taxi is the next best option.
CTM also operates a regular bus service between Essaouira and Safi. At the time of writing, the first CTM bus leaves Essaouira at 10am (arriving 12pm) and the last bus leaves Safi at 5:15pm (arriving 7:15pm). The bus station in Safi is south of the town centre, so you will need to get a petit taxi when you arrive (expect to pay 10DH). Once you're in the town centre, everything is is walkable.
9. Taghazout
Distance from Essaouira: 152km (2.5 hour drive)
Taghazout is characterful surf town just north of Agadir. With its hippy / back-packer vibe, and restaurants hugging the coastline, it's a wonderful place to spend the day. You can also hire boogieboards for the kids to play in the surf. Hours of fun!
The wind isn't as strong in Taghazout compared to Essaouira, but the beach is very small and compact. It's one of those Moroccan towns where there isn't really a lot to do, but there's just a really lovely vibe, and for this reason alone makes it a worthwhile day trip from Essaouira.
Getting to Taghazout
Hiring a car or a driver is really the only way to get to Taghazout from Essaouira.
10. Paradise Valley
Distance from Essaouira: 186km (3.5 hour drive)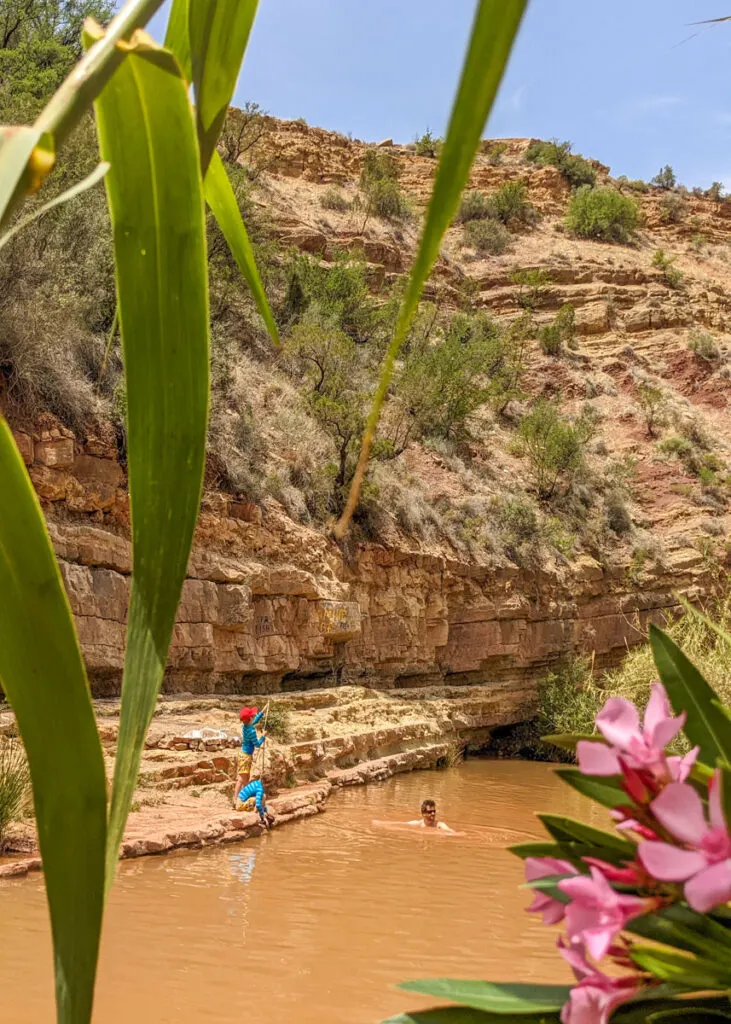 Paradise Valley is a stunning hidden gorge with ponds to paddle and swim in. Further downstream are cafes along, and even in, the river serving the usual orange juices, tagines, and western food.
As you driver through Taghazout to get to Paradise Valley, it's worthwhile combining the two for a day trip from Essaouira.
Head to this Google Map point for parking, it's then a 15 minute walk down to the gorge. Plan to arrive either early in the day or evening if travelling during school holidays as it does get rather busy.
Getting to Paradise Valley
Hiring a car or a driver is really the only way to get to Paradise Valley from Essaouira. Although if you are staying in Agadir, many of the hotels offer a day tour to Paradise Valley.
11. Agadir
Distance from Essaouira: 175km (3 hour drive)
Many visitors to Morocco choose between Agadir or Essaouria for a beach holiday as they are the two obvious choices. However, these two Moroccan beach towns offer a very different vibe. Agadir is geared more towards package holiday tourist wanting a sun and pool holiday, whereas Essaouira offers a deeper cultural connection to tourists with its traffic tree medina and working fishing port.
In all honesty, Agadir is not the best representation of Morocco, and you would be forgiven for thinking you were on the Spanish Costas. An earthquake in 1960 destroyed most of the city, which has since been rebuilt into a large grid pattern with concrete being the preferred material.
So why come to Agadir? Well firstly, the long stretch of sandy beach is more sheltered that Essaouira, and Agadir enjoys a slightly warmer climate. If your visit to Essaouira has combined with very gusty winds and you would like to enjoy some calmer days sunbathing on the beach, it may be worth venturing down to Agadir.
Secondly, if you love shopping for a bargain, Agadir has one of the largest and liveliest souks in all of Morocco, Souk El Had. Set in a grid pattern and all undercover, it's relatively easy to navigate and cool in the summer months. This timeless souk sells absolutely everything; electronics, food, clothes, hardware, toys, the list is seemingly endless. Just be prepared to haggle hard.
Thirdly, Agadir is home to Crocoparc, a superb reptile park and a must if visiting Agadir with kids. The entire park is exceptionally laid out and it is teeming with Nile crocodiles swimming and sunning themselves around a large lagoon. You will also find iguanas, tortoises, snakes, and a very cool cactus garden.
Getting to Agadir
If you don't have your own wheels, you could arrange for a Grand Taxi to drive you (expect to pay 600DH each way).
The cheapest option is to take the CTM bus. However, at the time of writing, the earliest bus leaving Essaouira to Agadir is 14:30, which arrives at 17:30; not ideal times if you're planning a day trip from Essaouira and not planning on staying overnight.
However, if you have more time, why not make it into a longer road trip and follow our 5-day Agadir to Essaouira road trip itinerary, which also stops off at Sidi Kaouki, Imsoune, and Taghazout enroute.
12. Marrakech
Distance from Essaouira: 185km (3 hour drive)
Many people visit Essaouira as a day trip from Marrakech. It therefore makes sense that you can do a day trip the other way around, from Essaouira to Marrakech! Admittedly, it will be a long day as it's a three hour drive each way. But if you are basing yourself in Essaouira for a week or so, a day trip to Marrakech is very doable.
Essaouira is far more chilled and relaxed than Marrakech, so if your only experience of Morocco thus far is of Essaouira, be prepared for an assault on the senses, especially in the heart of the medina; motorbikes whizz at speed down the narrow alleyways, shops spill out on to the streets, donkeys dragging carts squeeze through the bustling thoroughfare, and this is all before you've reached the exotic fanfare of Jemaa el-Fnaa (the main square) with it's snake charmers, street food, musicians, and teeth sellers (yes, teeth sellers). If you're visiting Marrakech with kids, do take care with little ones when walking around.
Spend your morning wandering the medina, shopping and browsing, with lunch on a rooftop restaurant overlooking Jemaa el-Fnaa. Then in the afternoon, to escape the hustle and bustle of the media, dive into Jardin Majorelle, Le Jardin Secret, or Bahai Palace for some peace.
If you are visiting Essaouira with kids, a worthwhile day trip from Essaouira is the brilliant Oasiria waterpark in Marrakech. Here are a number of slides, a big wave pool, a very long lazy river, a climbing wall that runs alongside a pool, and a whole section devoted to small kids, complete with a pirate ship and more slides.
Getting to Marrakech
To travel from Essaouira to Marrakech you can either hire a private transfer (your accommodation host will be able to help you with this), Grand Taxi (expect to pay 600DH each way), or travel by bus (which is the cheapest option, especially for single or couple travellers).
The first Supratours bus to Marrakech from Essaouria leaves at 7am and arrives into Marrakech at 10am. The last bus back leaves Marrakech at 7pm and arrived to Essaouira at 10pm. It's a long, but very doable day trip from Essaouira. Although there are early return buses if you prefer.
However, f you are visiting Essaouira with kids, you may find that a private transfer is easier and more cost effective for a family.
Click here for further information on getting from Marrakech to Essaouira.
---
Explore Essaouira ebook
Updated for 2023, the Explore Essaouira ebook is the only travel guide you need for exploring Essaouira. It is jam packed with inspiration on what to do, where to eat, where to stay, and also includes a step-by-step self-guided walking tour (with photos).
This is a PDF download for use offline and on the go (and ad-free!). Save it to read on the plane to Morocco, download to your phone to follow the self-guided walking tour around the medina, or print it off at home before you leave on your adventures and highlight all the bits you want to remember for your visit.
If you have found this website useful for planning your Essaouira adventures, you can show your support by buying Jenny a coffee. Thanks so much!