Agadir and Essaouira are two very different coastal towns in Morocco. Whilst Agadir is geared heavily towards the package holiday market, laid-back Essaouira is a bohemian hotspot that oozes history and charm. If you are choosing between the two to base yourself for a holiday, then check out our Agadir versus Essaouira guide.
However, if you have your own wheels, why not combine to two towns in the one trip? It's just a three hour drive between Agadir and Essaouira, along a stunning coastline with fishing villages to explore and some of the best surf breaks on the African continent.
Whilst it's possible to do this road trip in one day, here we detail a 5-day itinerary from Agadir to Essaouira for those who prefer a slower and deeper travel. It will be of particular interest to surfers and beach lovers. The route generally follows the N1 (a national highway), which is well surfaced and offers easy driving.
If you have not driven in Morocco before, check out these tips for driving in Morocco. These tips for hiring a car in Morocco are also very handy.
Disclaimer: This post contains affiliate links. Should you click to purchase, it is at no additional cost to you, but we receive a small commission.
Agadir to Essaouira road trip map
Agadir to Essaouira road trip itinerary
This road trip itinerary can, of course, be driven in reverse, from Essaouria to Agadir. But with Agadir being a main arrival point into Morocco for many international tourists, the majority of visitors will be travelling Agadir to Essaouira.
However, those travelling Morocco via campervan or motorhome, will most likely travel down the coast from the north (Essaouira to Agadir) as they will have travelled over to Morocco via ferry from Spain.
Day 1: Agadir
AGADIR MEDINA – SOUK EL HAD
Total drive time: 30 minutes
Accommodation recommendation: Hotel Sofitel Agadir Thalassa Sea & Spa
Geared to the package tourism market and somewhat lacking Moroccan character due to the 1960 earthquake, Agadir isn't to everyone's taste. But if you're after an easy holiday with a pool in the sunshine, then Agadir is for you. Indeed, after a long, international flight, a day by the pool may be exactly what you need. However, if you are looking for more things to do, then we suggest visiting Agadir medina and Souk El Had.
The old medina of Agadir was destroyed in the 1960s earthquake and so the medina today is a reconstructed medina for tourists with an entry fee (MAD20 for adults, MAD10 for children). Whilst it is devoid of locals going about their everyday life (as you witness in the medinas of Essaouira, Marrakech, Fes etc.), the architecture is beautiful and it's a pleasant change to wander a quiet medina, taking your time. There are a few tourist shops inside the medina, and it's small enough so that you won't get lost. Allow about 45 minutes to wander around.
Souk El Had is where to go to shop with the locals and experience true Morocco within concrete Agadir. The souk is massive and sells absolutely everything; from fruit and veg, to clothing, to lotions and potions, rugs, electronics, toys, furniture… the list goes on. If you forgot to pack an essential travel item, here is the place to find it.
And whilst you are in Agadir, do take time to venture down to the beach to dip your toes in the ocean. It's a good place to head to for a meal later in the day (there are an array of restaurants including local, Italian and even McDonalds).
Day 2: Drive Agadir to Taghazout
CROCOPARC – AGADIR CABLE CAR – PARADISE VALLEY – TAGHAZOUT
Total drive time: 2 hours 10 mins
Accommodation recommendation: L'Auberge Taghazout
Today is a full day with lots to cover. You'll be pleased for that pool time yesterday. Although as the CROCOPARC and cable car are within Agadir, you may want to move one of these activities to do on the first day.
Your first stop today is CROCOPARC, an animal park mostly devoted to crocodiles, which is just on the outskirts of Agadir and a must if visiting Morocco with kids, although it's a fantastic experience for all ages. Aim to arrive for when the park opens at 10am and allow two hours for your visit.
The entire park is exceptionally laid out and it is teeming with Nile crocodiles swimming and sunning themselves around a large lagoon. You will also find iguanas, tortoises, snakes, and a very cool cactus garden.
It's worth grabbing some lunch here before your jump in the car to start heading north.
Just before you start driving north along the coast, ride the Agadir cable car up to the Kasbah (5 minutes each way). This is on the hillside, north of Agadir, overlooking the city. The walls of the Kasbah here are a rare survivor of the 1960 earthquake and offer superb views across the city of Agadir. You will probably have noticed the hillside from the beach in Agadir as there is an inscription that stands out, which translated means, "Believe in God and respect the King". The cable car only launched in 2023 and there are plans for a waterpark, restaurants, and play areas to be built here in the coming years, which would make it a full day out. But for now, ride the cable car up to enjoy the views and then head back to your car to then visit Paradise Valley.
The main road to Paradise Valley is mostly paved all the way and it's a one hour drive from Agadir. This is a stunning hidden gorge with ponds to paddle and swim in, and further downstream are cafes along and even in the river serving the usual orange juices, tagines, and western food.
To get to the Paradise Valley swimming area, follow the footpath that leads across from the parking area (click here for the Google Map location for parking). It's a 500 metre walk with a steep decent to the cafes. Walk past the cafes to get to the swimming pools. There are guides to show you the way if needs be.
Once you're back to your car, drive on to Taghazout, where you will stay for two nights.
Day 3: Day in Taghazout
FULL DAY IN TAGHAZOUT
Total drive time: 0 hours and 0 minutes (no driving today)
Accommodation recommendation: L'Auberge Taghazout
With its hippy / back-packer vibe, and restaurants hugging the coastline, Taghazout is a wonderful place to while away a day. Hire surf boards or boogie boards to enjoy the waves, or just chill on the small beach between the fishing boats reading a book.
There are a plethora of restaurants to choose from along the coastline.
Day 4: Drive to Imsouane
TAGHAZOUT – IMSOUANE
Total drive time: 1 hour and 19 minutes
Accommodation recommendation: The O Experience – Tayourt Lodge
You've probably realised by now, that surfers will be in their element on this Agadir to Essaouira road trip. Imsoune is yet another small fishing town on Morocco's Atlantic coast that is popular with surfers in the know. There are two main breaks here: The Bay and Cathedral Point.
The Bay is perfect for beginner surfers as the waves are much calmer, there are no rocks, and the waves travel a relatively long distance.
Cathedral Point is where you'll find the pro-surfers. Here the waves are much bigger and fiercer, and you really need to know what you're doing here.
Like Taghazout, Imsouane is a very relaxed town, although much smaller. However, there are still restaurants along the main street and a variety of accommodations. But really, the main thing to do here is surf, and there are a handful of surfschools in Imsouane where you can book a lesson and/or hire surf gear.
Day 5: Drive to Essaouira
IMSOUANE – SIDI KAOUKI – DIABAT – ESSAOUIRA
Total drive time: 2 hours and 5 minutes
Click here for Essaouira accommodation recommendations
There are a couple more beaches we recommend exploring before you reach Essaouira: Sidi Kaouki and Diabat.
Sidi Kaouki is yet another sleepy surf town (there's definitely a theme to this Agadir to Essaouria road trip). If you've had enough of surfing by this stage, it's still worthwhile timing your visit for lunch to sit at one of the local restaurants overlooking the beach before taking a stroll (or camel ride) along the shoreline. Otherwise there are surf school and hire places just behind the restaurants if you want to ride the waves. Check out our full guide of things to do in Sidi Kaouki.
Just before you reach your final destination of Essaouira, it's worthwhile parking the car up in Diabat and walking down to Dar Sultan Palace. This is an abandoned, 19th century palace that has been left to the elements and now partially submerged in the shifting sands. It has been rumoured that Dar Sultan Palace inspired Jimmie Hendrix to write Castles Made of Sand. This is a great story, except the song was released two years before his visit to Morocco. Diabat is also a good place to try quad biking and horse riding. Check out our full guide of things to do in Diabat.
After Diabat, it's just a 10 minute drive to Essaouira, your final destination on this road trip. Check out our guide to the best hotels in Essaouira if you're looking for a place to stay.
Your time in Essaouira
Whilst you could easily spend a week in Essaouira, if you only have a day or two up your sleeve, check out our 1 day and 2 day itineraries for Essaouria.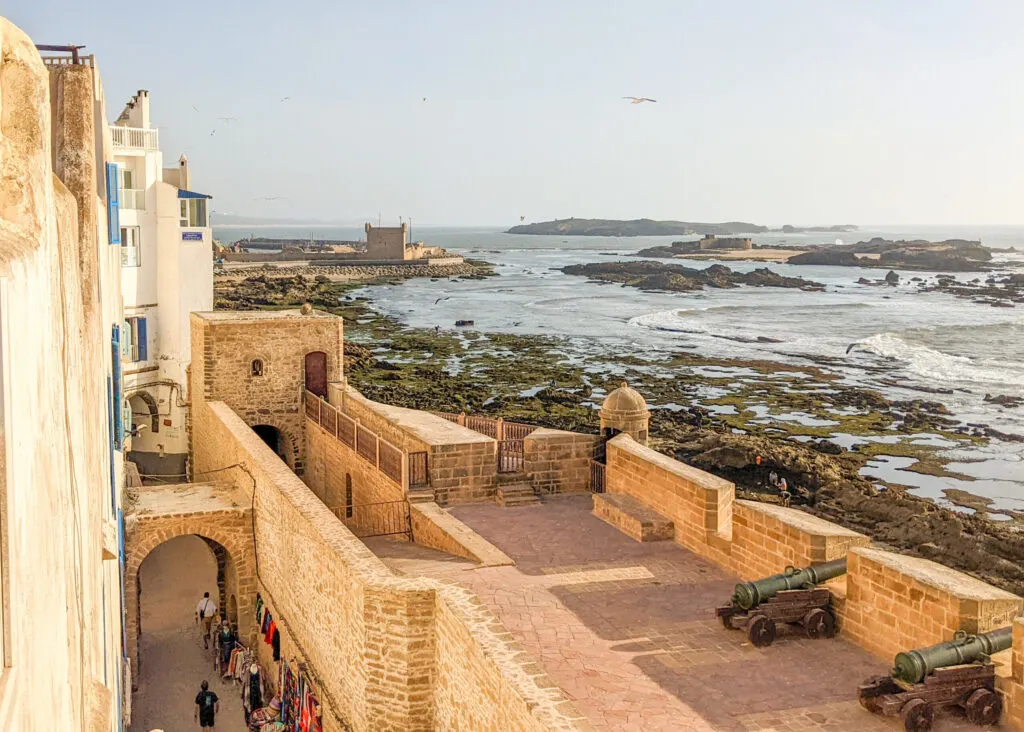 Do you only have one day to spend in Essaouira? Here we provide a comprehensive one day Essaouira itinerary for you to follow so that you can get the most out of your visit.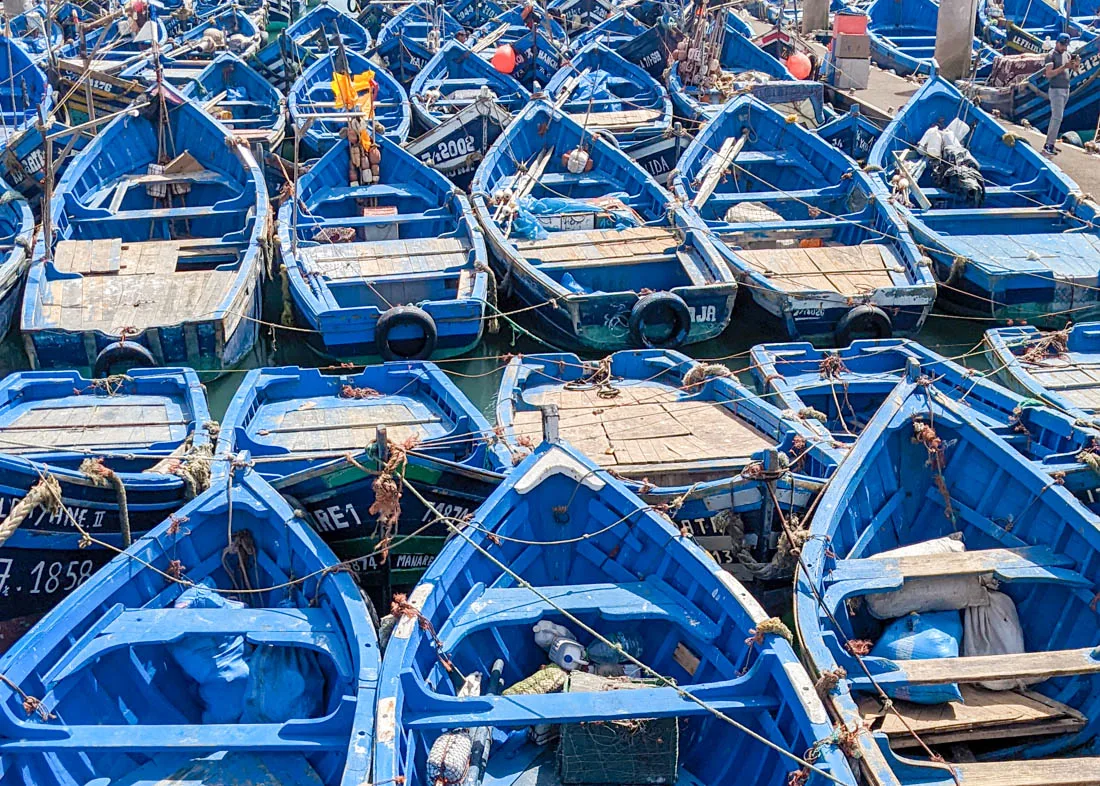 Two days are a typical length of time in Essaouira for those travelling around Morocco for their holiday. Here we provide a comprehensive itinerary for your two days in Essaouira, and provide inspiration for any extra days you may have up your sleeve.
And for more ideas on how to spend your time in Essaouira, head to our full guide: Things to do in Essaouira. From a traditional hammam to kite-surfing, there is an array of activities on offer in Essaouira. Though really, it's the relaxed vibe, friendly locals and range of restaurants in Essaouira that make it a good base for a longer stay. Indeed, Essaouira is one of the most popular locations for digital nomad in Morocco.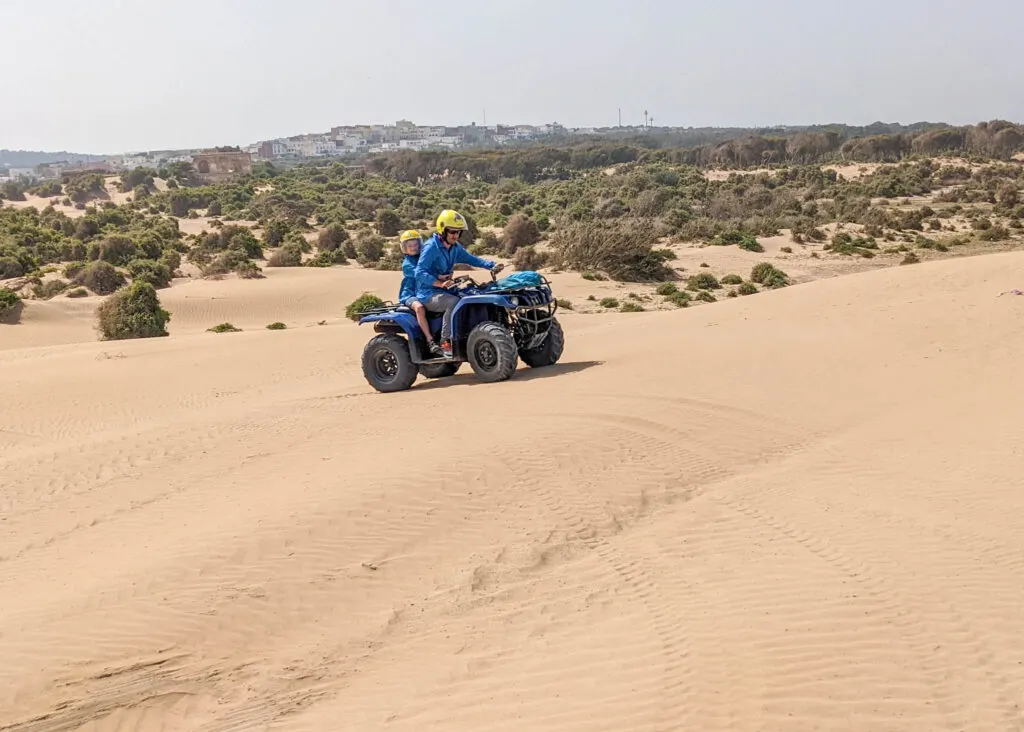 Top 23 things to do in Essaouira
Wondering what to do in Essaouira? Whether you're seeking adventure, or need to relax and unwind, here we provide a detailed guide to all the things to do in Essaouira, so that you can get the most out of your visit. From surfing to souks, we've got you covered.
Heading further up the coast to Safi
If you have more time and you want to continue exploring further up Morocco's Atlantic coast, then we recommend your next stop to be Safi, which is just a two hour drive north of Essaouira, and famed for its pottery.
Indeed, a visit to the Pottery Quarter is one of the top things to do in Safi, Morocco. Although with it's Portuguese history and coastal location, we believe there is more to this sleepy town and is worthy as a full day trip from Essaouira.
---
Explore Essaouira ebook
Updated for 2023, the Explore Essaouira ebook is the only travel guide you need for exploring Essaouira. It is jam packed with inspiration on what to do, where to eat, where to stay, and also includes a step-by-step self-guided walking tour (with photos).
This is a PDF download for use offline and on the go (and ad-free!). Save it to read on the plane to Morocco, download to your phone to follow the self-guided walking tour around the medina, or print it off at home before you leave on your adventures and highlight all the bits you want to remember for your visit.
If you have found this website useful for planning your Essaouira adventures, you can show your support by buying Jenny a coffee. Thanks so much!