Rarely on the tourist radar, the coastal town of Safi just a two hour drive north of Essaouira, is famed for its pottery. Indeed, a visit to the Pottery Quarter is one of the top things to do in Safi, Morocco. Although with it's Portuguese history and coastal location, we believe there is more to this sleepy town and is worthy as a full day trip from Essaouira.
Disclaimer: This post contains affiliate links. Should you click to purchase, it is at no additional cost to you, but we receive a small commission.
Being an industrial town, Safi is admittedly not as picturesque as Essaouira, and perhaps why it's off the beaten tourist trail in Morocco. But its fusion of Portuguese, French, Jewish and Arabic history provide pockets of interest, and a wander around the gritty medina feels far less touristy that Essaouira, There's also a lovely open beach to the north of the city with a surf school.
Below is a map showing the locations to help you plan your day in Safi. Read on for the top things to do in Safi.
1. Pottery Quarter (Colline des Potiers)
Click here for location
Time stands still at the Pottery Quarter on the edge of Safi's medina, opposite Bab Chaaba. Here you will find the oldest pottery kilns in Morocco where local craftspeople create ceramics by hand using the exact same methods their ancestors have used over centuries. Although the kilns themselves are no longer used. Instead, more reliable gas powered kilns are used. Workshops spill out along the lanes working up the hill and tourists are welcome to walk around and admire the craftmanship from preparing the clay, moulding the clay, to painting and glazing.
Be warned that it is highly unlikely that you will be able to walk around at peace as guides will approach you to show you around. Their knowledge is actually quite valuable, so worth going along.
If you are invited into a pottery shop to watch a potter work, you will be expected to give a small tip or buy an item from the shop.
A visit to the Pottery Quarter really is an absolute must if visiting Safi, and a wonderful insight to local history.
2. The medina
Click here for location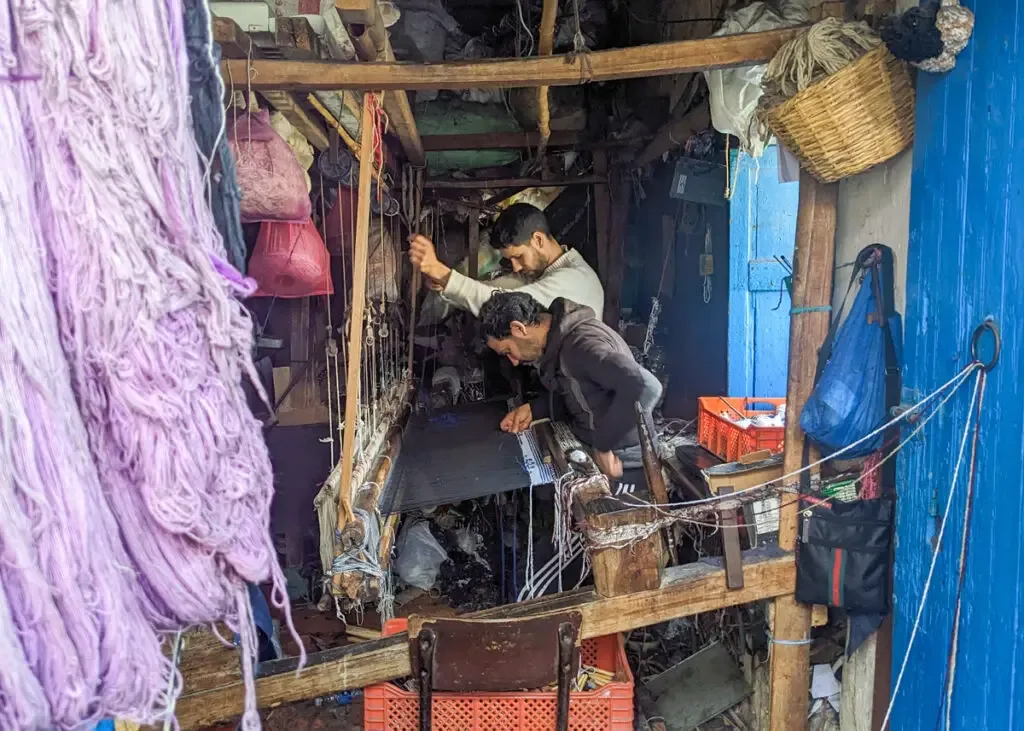 There are three main entrances to Safi medina. These are Bab Jdid, Bab Agrour and Bab Chabaa. The latter is the one most visitors use as there's a parking area just outside.
The medina is much grittier that Essaouira's and displays a really interesting fusion of Portuguese, Moroccan, French and Jewish communities living in harmony. For instance, opposite the entrance to the Grand Mosque in the heart of Safi's medina is Cathédrale Portugaise (currently closed for renovations), then walk around the corner to see Jewish doorframes and old synagogues.
It's a relatively small medina to navigate, but the winding alleyways can be disorientating. A guide is worthwhile to show you around, and will also take you to a textile workshop and to visit the colourful street art.
3. National Ceramics Museum
Click here for location
Open every day (except Tuesdays) from 10am to 6pm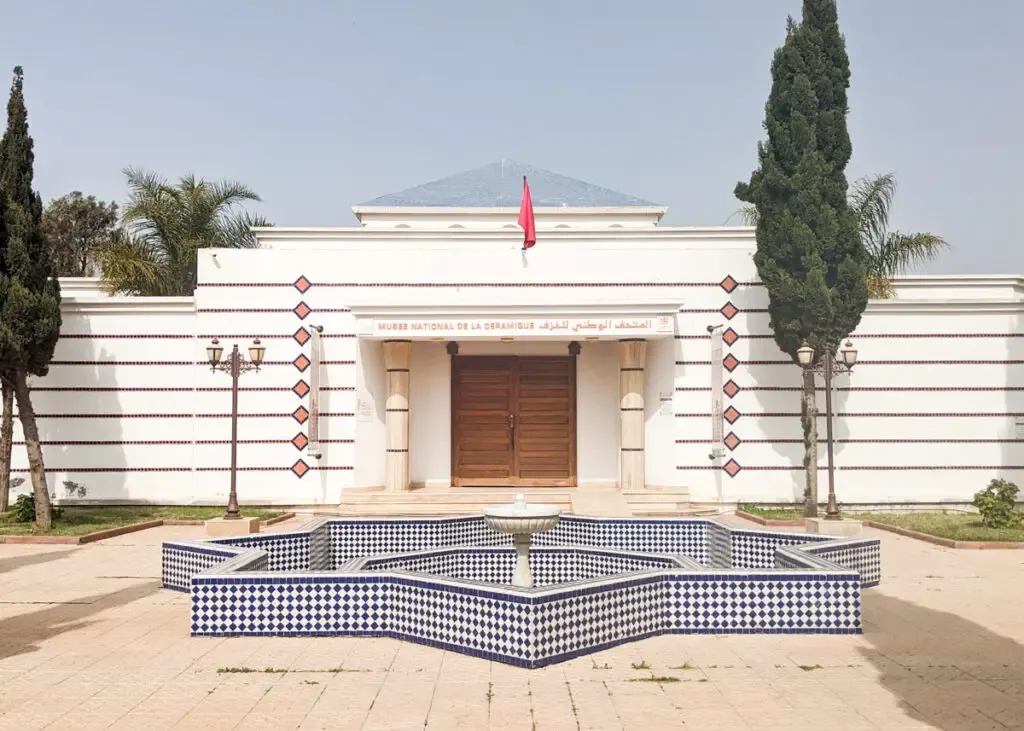 In a manicured, traffic-free space to the southeast of the medina is a library, theatre, music conservatory, a mausoleum, and National Museum of Ceramics (featured in the above photo).
The National Ceramics Museum is open to visitors every day (except Tuesdays) 10am to 6pm, and houses an array of ceramics, many considered the finest examples of Safi pottery in Morocco. It's a great way to get a better understanding of Safi's pottery history. However, descriptions are only in French and Arabic, not English.
Head to the roof for stunning views of Safi medina's intricate alleyways and across to the Atlantic Ocean.
4. Kechla
Click here for location
The Kechla is a Portuguese fortress in Safi. It is not open to the public, however there are usually guides hanging around to lead you around the back and to climb to the top for fantastic views over the Safi. The same guide may then want to take you around the medina of Safi. It's definitely worth following them, as they will take you to places you are unlikely to find by yourself.
Please tip your guide after your tour.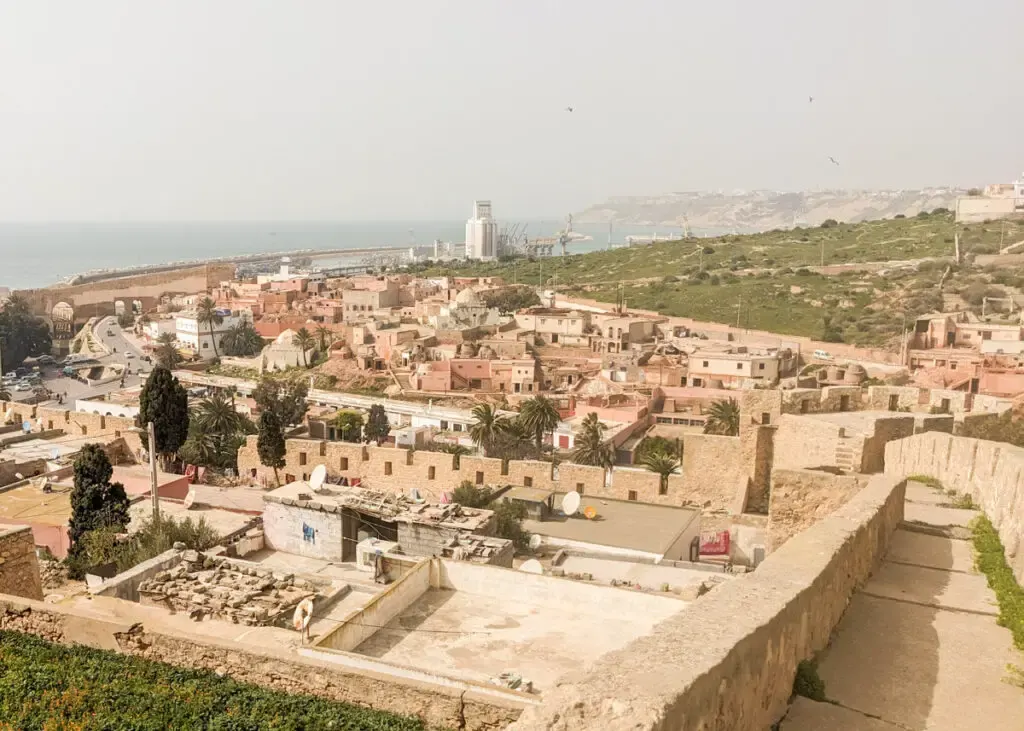 5. Dine at Le Rooftop
Click here for location
Head to Le Rooftop for bunch or dinner with superb ocean views. Low slung handmade chairs with Moroccan cushions are laid out around low tables, and burgers and pasta are on the menu if you need a change from tagine. Although we very much recommend the brunch spread.
Live bands sometimes play here creating a wonderful atmosphere. It's the perfect spot to finish (or start!) your day in Safi.
6. Safi Beach
Click here for location
Safi Beach sits to the north of the city, near the port. It's a half hour walk to get here from Bab Chaaba, and not the prettiest walk, so you may want to jump in a petit taxi to get here.
When you do arrive, a large, golden, sandy beach welcomes you. The views to the north offer a craggy coastline, whereas to the south it's the industrial port.
There are cafes here and a surf school (Safi Surf Camp) offering lessons and board hire. There are lots of different packages from one-off beginner lessons to week-long surf camps with accommodation and meals. Surfable waves aren't always guaranteed here, so contact in advance to check.
Getting to Safi from Essaouira
If you don't have your own wheels, a Grand Taxi is the next best option if you don't want to stick to a rigid timetable (expect to pay DH1000 return between Safi and Essaouira).
However the cheapest way is by bus. CTM operates a regular bus service between Essaouira and Safi. The first CTM bus leaves Essaouira at 10am (arriving 12pm) and the last bus leaves Safi at 5:15pm (arriving 7:15pm). This is the same bus that goes on to Casablanca, so check our guide to the Essaouira to Casablanca bus to find out more about what to expect from the journey. You can purchase your ticket from the CTM bus station in Essaouira the day before (click here for location).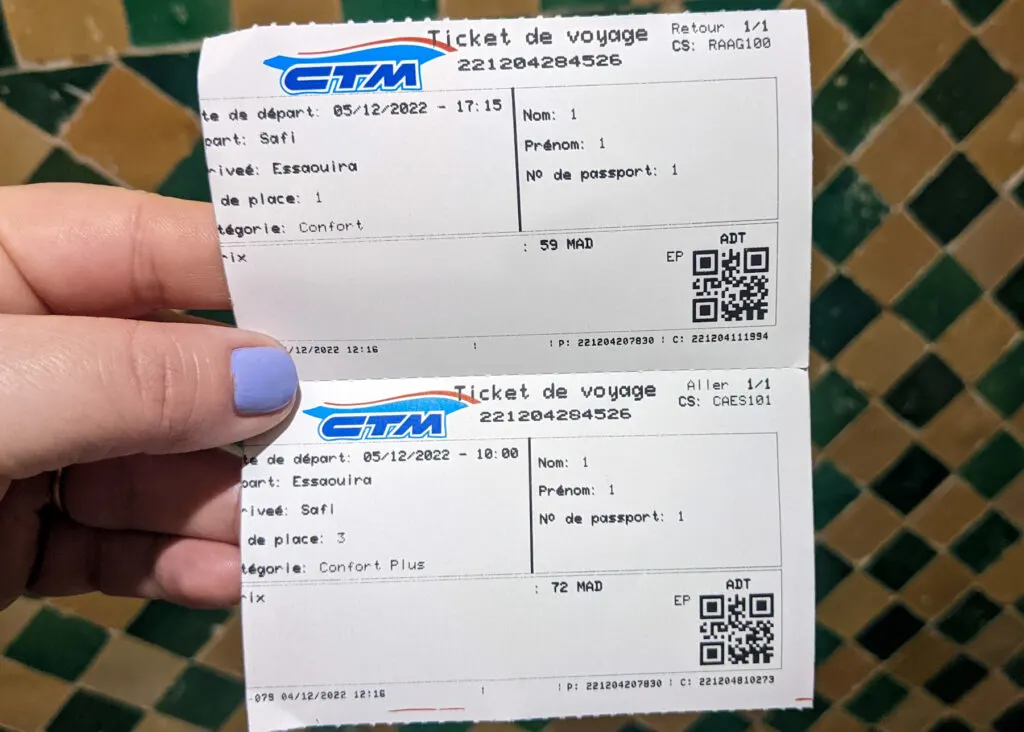 The bus station in Safi is south of the town centre, so you will need to get a petit taxi when you arrive (10DH). Once you're in the town centre, everything is is walkable.
Getting to Safi from Marrakech or Casblanca
Safi is on the Moroccan rail network, meaning that you can get to Safi reasonably easy from Casablanca and Marrakech (change at Benguerir). Visit the ONCF website for times and to book. Note that the train station in Casablanca is listed as 'Casa Voyager' (or 'Casa Travelers' if you have Google Translate on to English).
Where to stay in Safi
Being off the tourist radar, accommodation options are limited in Safi. But if you did want to stay overnight, we recommend Ryad du Pêcheur Safi. This colourful riad offers a warm welcome, just to the north of the medina within short walking distance of the top sights listed in this Safi guide.
If you would prefer to be in the medina, we recommend Riad Le Cheval Blanc. This traditional riad oozes Moroccan charm. Otherwise, if you are looking for a Safi hotel with contemporary styling and fast WIFI we recommend Valley Boutique Hotel.
---
Explore Essaouira ebook
Updated for 2023, the Explore Essaouira ebook is the only travel guide you need for exploring Essaouira. It is jam packed with inspiration on what to do, where to eat, where to stay, and also includes a step-by-step self-guided walking tour (with photos).
This is a PDF download for use offline and on the go (and ad-free!). Save it to read on the plane to Morocco, download to your phone to follow the self-guided walking tour around the medina, or print it off at home before you leave on your adventures and highlight all the bits you want to remember for your visit.
If you have found this website useful for planning your Essaouira adventures, you can show your support by buying Jenny a coffee. Thanks so much!