Rarely on the tourist radar, the coastal town of Safi just a two hour drive north of Essaouira, is famed for its pottery. Indeed, a visit to the Pottery Quarter is one of the top things to do in Safi, Morocco. Although with it's Portuguese history and coastal location, we believe there is more to this sleepy town and is worthy as a full day trip from Essaouira.
Disclaimer: This post contains affiliate links. Should you click to purchase, it is at no additional cost to you, but we receive a small commission.
Being an industrial town, Safi is admittedly not as picturesque as Essaouira, and perhaps why it's off the beaten tourist trail in Morocco. But its Portuguese history provide pockets of interest, including Cathédrale Portugaise, Qasr A Bahr, and the Kechla. Plus a wander around the medina feels far less touristy that Essaouira, and for surfers, Safi provides another excellent surf spot along Morocco's Atlantic coastline.
Below is a map showing the locations to help you plan your day in Safi. Read on for the top things to do in Safi.
1. Pottery Quarter (Colline des Potiers)
Click here for location
Time stands still at the Pottery Quarter on the edge of Safi's medina. Here you will find the oldest pottery kilns in Morocco where local craftspeople create ceramics by hand using the exact same methods their ancestors have used over centuries. Workshops spill onto the alleyways and tourists are welcome to walk around and admire the craftmanship.
Be warned that it is highlight unlikely that you will be able to walk around at peace as guides will approach you to show you around.
If you are invited into a pottery shop to watch a potter work, you will be expected to give a small tip or buy an item from the shop.
A visit to the Pottery Quarter really is an absolute must if visiting Safi, and a wonderful insight to local history.
2. Cathédrale Portugaise
Click here for location
In a strong Muslim country, it's always fascinating to see evidence of other religions, especially when the religious buildings sit close together. Opposite the entrance to the Grand Mosque in the heart of Safi's medina, and built in 1519, Cathédrale Portugaise is a sign of the town's bygone era.
Considered to be the first Gothic building in North Africa, it's unfortunate that construction was never completed. Once the Portuguese departed, most of the cathedral was demolished and houses were built where the main hall once stood. All that remains are sections of the choir and a side chapel.
It therefore doesn't take long to walk around, and seeing that there is a DH50 entry fee, many tourists choose to give it a miss. But if you're a history buff, it's well worth a visit.
3. National Ceramics Museum
Click here for location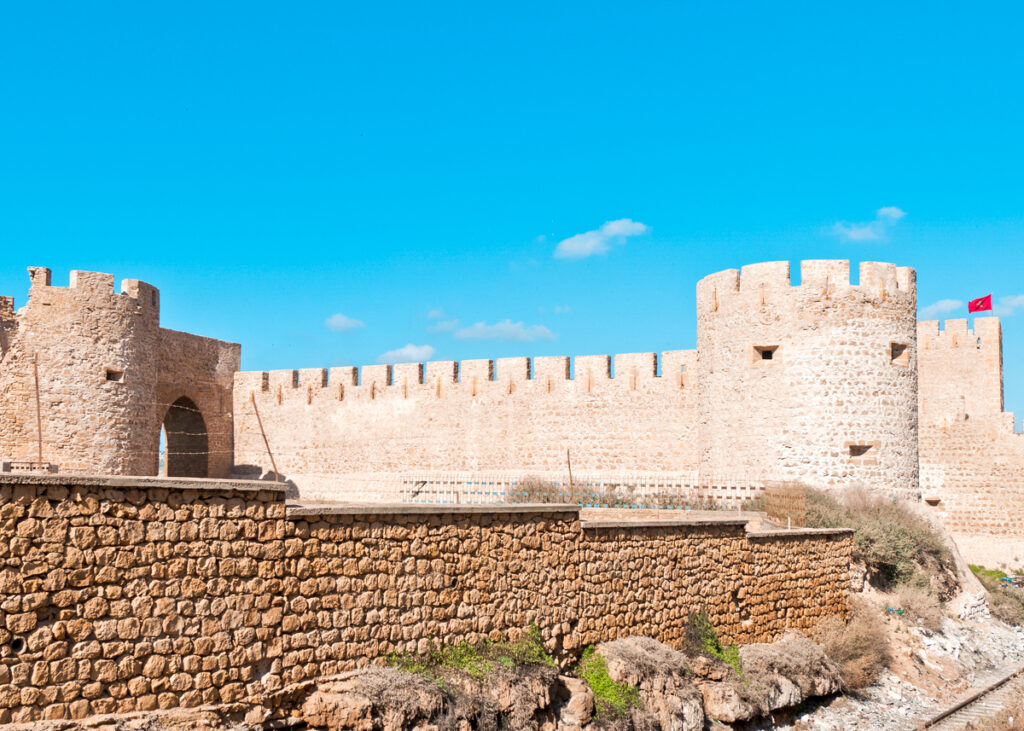 Housed in a Portuguese fortress built in the 16th century, the National Ceramics Museum houses an array of ceramics, many considered the finest examples of Safi pottery in Morocco. It's a great way to get a better understanding of Safi's pottery history. However, descriptions are only in French and Arabic, not English.
Head to the roof for stunning views of Safi medina's intricate alleyways and across the Atlantic Ocean.
4. Surf the waves at Safi Beach
Click here for location
The Atlantic waves rolling into Safi Beach offer epic surfing. Head to the very professional, Safi Surf Camp, based right next to the Plage de Safi (Safi Beach), for lessons and surf board hire. They lots of different packages from one-off beginner lessons to week-long surf camps with accommodation and meals.
Safi beach is an ideal surf spot for beginners and intermediates and the surfing here is much quieter compared to Essaouira surfing if you are visiting Morocco in the high season.
Safi Surf Camp is open all year round, and there's also a café onsite.
5. Lalla Fatna Beach
Click here for location
Just a 20 minute drive north of Safi is a beautiful stretch of beach, with good waves for surfing and soft golden sand. This is a popular beach with locals in the summer months and can get busy, especially at weekends. But outside of this, Lalla Fatna Beach feels wonderfully remote. Parking is available and there's a restaurant. But aside from this facilities are limited.
6. Dine at Le Rooftop
Click here for location
Head to Le Rooftop for lunch or dinner with superb ocean view. Moroccan cushions and rugs are laid out around low tables, and burgers and pasta are on the menu if you need a change from tagine.
Live bands often play here creating a wonderful atmosphere. It's the perfect spot to finish your day exploring Safi.
Getting to Safi from Essaouira
If you don't have your own wheels, a Grand Taxi is the next best option (expect to pay DH600 for the entire car each way).
CTM also operates a regular bus service between Essaouira and Safi. At the time of writing, the first CTM bus leaves Essaouira at 10am (arriving 12pm) and the last bus leaves Safi at 5:15pm (arriving 7:15pm). The bus station in Safi is south of the town centre, so you will need to get a petit taxi when you arrive (expect to pay 10DH). Once you're in the town centre, everything is is walkable (aside from Lalla Fatna Beach to the north of town).
Getting to Safi from Marrakech or Casblanca
Safi is on the Moroccan rail network, meaning that you can get to Safi reasonably easy from Casablanca and Marrakech (change at Benguerir). Visit the ONCF website for times and to book. Note that the train station in Casablanca is listed as 'Casa Voyager' (or 'Casa Travelers' if you have Google Translate on to English).
Where to stay in Safi
If you did want to stay overnight in Safi, we recommend Ryad du Pêcheur Safi. This colourful riad offers a warm welcome, just to the north of the medina within short walking distance of the top sights listed in this Safi guide.
If you would prefer to be in the medina, we recommend Riad Le Cheval Blanc. This traditional riad oozes Moroccan charm. Otherwise, if you are looking for a Safi hotel with contemporary styling and fast WIFI we recommend Valley Boutique Hotel.
---