Besides driving, the easiest way to get from Essaouira to Casablanca is by bus. There is no train between Essaouira and Casablanca.
Here we detail everything you need to know about the bus from Essaouira to Casablanca. We will cover details about the bus from Casablanca to Essaouira in a different post.
Disclaimer: This post contains affiliate links. Should you click to purchase, it is at no additional cost to you, but we receive a small commission.
How long is the bus journey from Essaouira to Casablanca?
CTM is the main bus company that travels between Essaouira and Casablanca. The journey takes 6.5 hours by bus, stopping at stops at Oualidia, Safi, and El Jadida enroute.
At the time of writing, a CTM bus ticket from Essaouira to Casablanca is 152MAD.
There are four buses per day from Essaouira to Casablanca leaving at 10:00, 11:45, 15:15, and 17:15.
Check the CTM website for up-to-date bus times and pricing.
How to buy a bus ticket
You can purchase a bus ticket directly from the CTM bus station at Essaouira. However for convenience, you may prefer to purchase tickets online.
The CTM website is in French or Arabic, Google can automatically translate the page to make it easier, but it can alter some of the place names which sometimes affects booking. Select start and end city, and number of passengers. You'll need to enter name, date of birth and identity document details. Then choose to select your seats. Seats tend to fill up from the front, so if you book seats further back, you will have more space to yourself.
After selecting your seat(s), you'll be taken to the payment page which works like any other payment portal, we had no problems using our UK credit card. Tickets are sent as pdf to email but it is also good idea to setup online account so you can access booking later.
Where is the CTM bus station in Essaouira?
The bus from Essaouira to Casablanca leaves and starts from the CTM bus station. Click here for the Google Map location.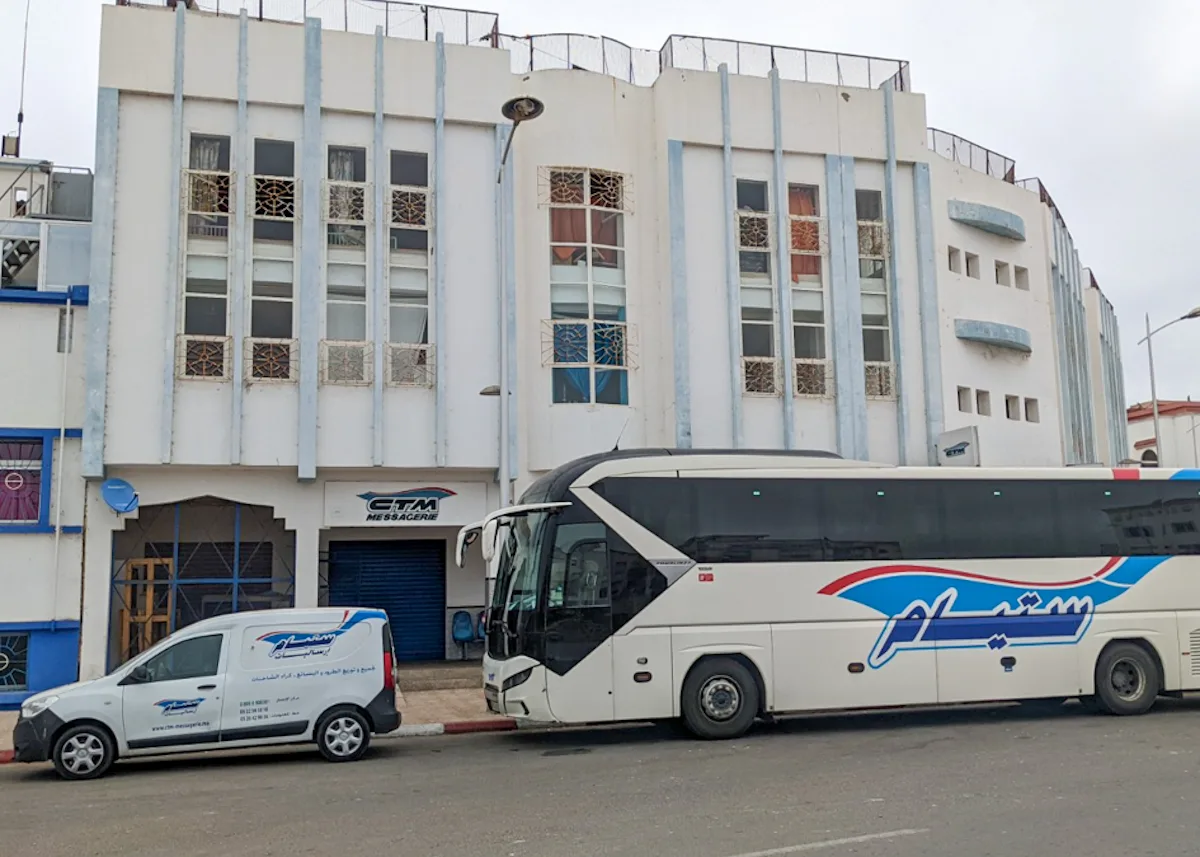 How to get to CTM bus station
If you are staying in the Medina or one of the Essaouira beach hotels, the easiest way to get to the CTM bus station with your luggage is by petits taxi for a flat fee of 8DH (9DH at night). Just ask the driver to take you to the CTM bus station and he will know exactly where to go. The petits taxis can only take three people at a time. So if you are a larger group, you will need to split up across petits taxis.
What you will find at CTM bus station
At the well organised CTM bus station there is a small check in area and plastic seating. There is also a toilet (bring your own toilet paper).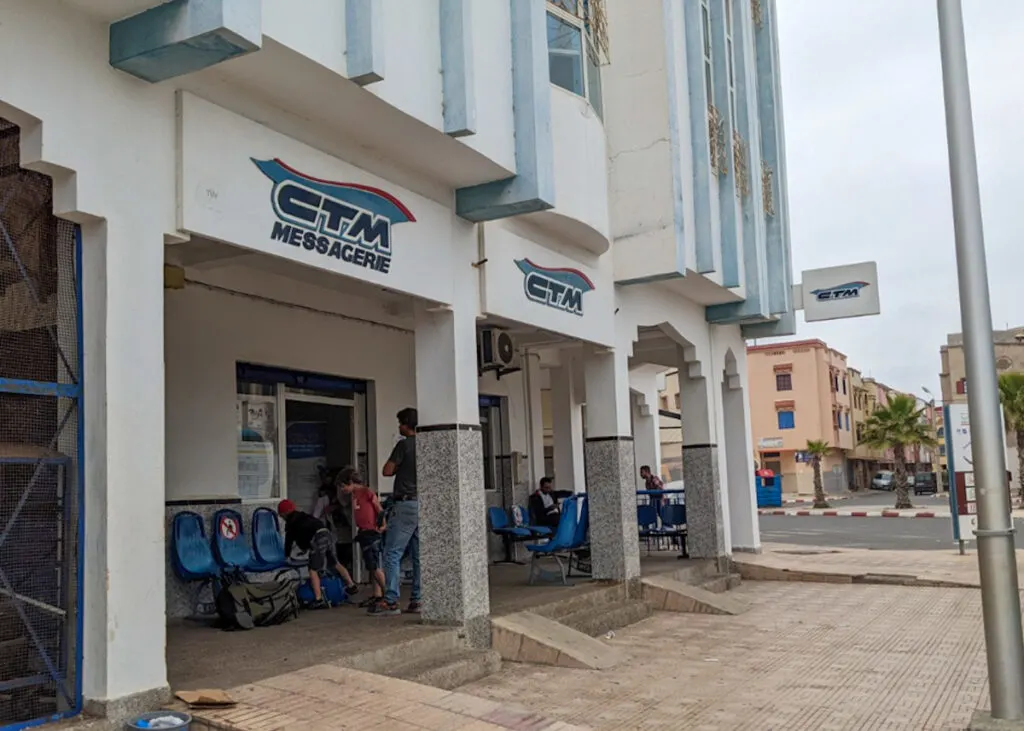 Around the bus station there are a few cafes, but no shop. So bring any snacks with you if you need them for the journey, as there are no cafe or restaurant stops enroute.
Before boarding the bus
Show your tickets at the check in desk. If you have booked online you do not need to print your tickets out. Just show the PDF on your phone.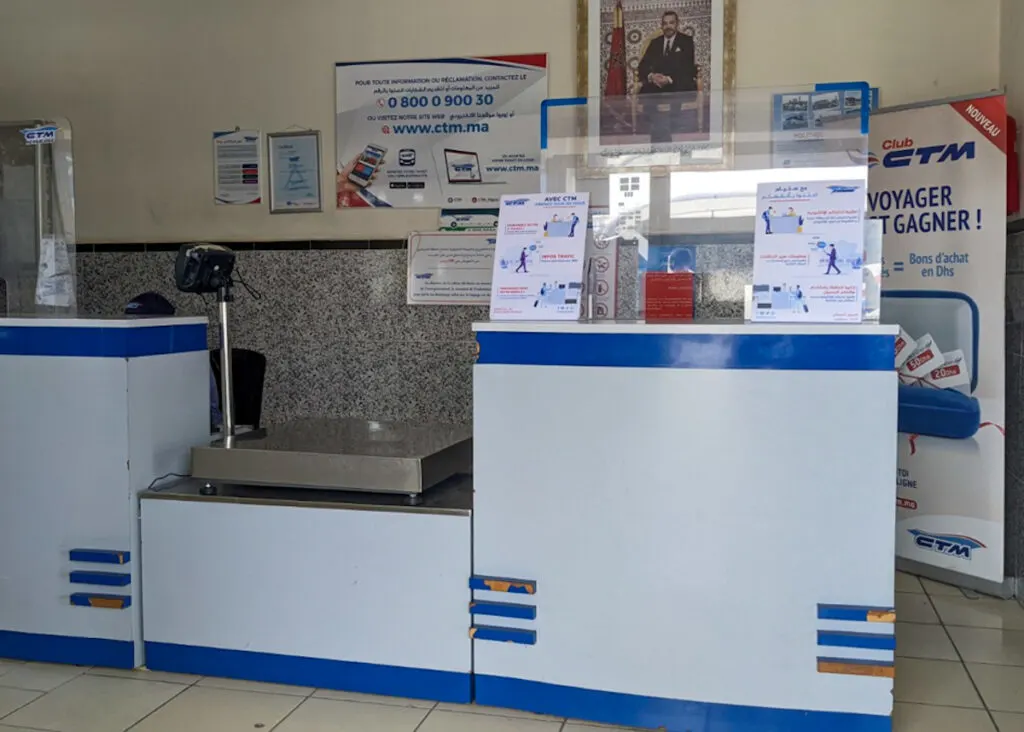 If you have large bags that you wish to store in the luggage compartment of the bus, you will need to check these in at the desk. There is an extra fee for this service starting from 5DH for a small bag. You will be given a tag for your bag(s) (like at airports) and a ticket. Your bags will then be put to the side and then moved to the bus for you before it's time to go.
There is overhead luggage space for small bags onboard the bus. We recommend keeping valuables (passports, money, laptops, kindles, etc.) with you on the bus.
What to expect onboard
Seats are 2 by 2 and the bus is clean and air conditioned. There isn't much leg room, so if you are 6ft tall, you may be a little uncomfortable. The two seats right at the very front behind the driver have the most leg room. There are lap belts, which may be comforting to know if you are travelling from Essaouira with young children.
There is no toilet on board, but the bus will stop for ten minutes after two hours in Safi, and after 4 hours in El Jadida.
There is free WIFI available (you will need to sign in), but it cuts out a fair bit and is unreliable. If you need WIFI whilst on the bus to Casablance, you're better off using your own WIFI device loaded with a local sim. USB chargers are available in the footwell in front of you for charging devices.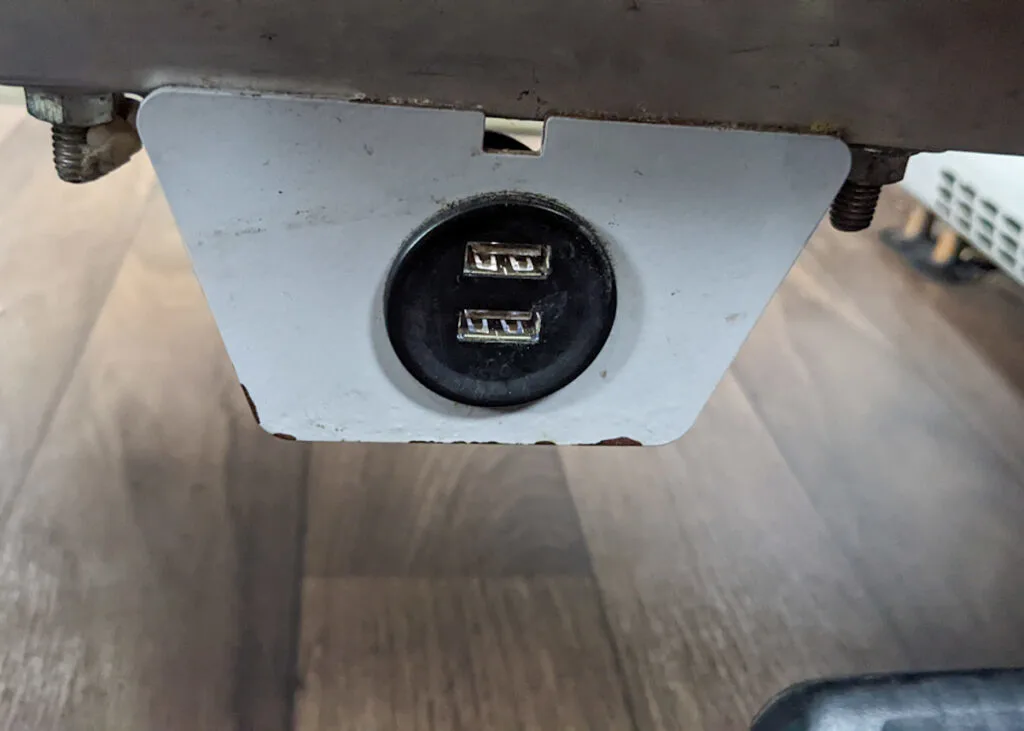 What is the bus journey like?
As Essaouira is a relatively small town, you exit pretty quickly and are soon driving through the countryside. About one hour in, the road gets slightly windy. So if you suffer from motion sickness, this is the time to put down your book or phone.
You will arrive to Safi bus station about 2 hours into the journey. Here you can disembark for 10 minutes should you need a comfort break.
From Safi to Casablanca it is a relatively straight and even toll road.
Aside from Safi, El Jadida, and coming into Casablanca, you will mostly drive through open countryside and farmland (see photo below).
Is there a stop for lunch?
Unlike the Marrakech to Essaouira bus, there is no stop for lunch on the bus from Essaouira to Casablanca, so bring snacks with you.
There is a ten minute stop at Safi and El Jadida enroute if you want to hop off and find some snacks (although you won't find much choice). But you won't have time for a sit down meal.
On arrival to Casablanca
The high rise buildings signal the outskirts of Casablanca. If you've been spending time travelling the south of Morocco and especially Essaouira, you will soon notice how much money is in Casablanca; the large billboards, multilane highways, impressive sky scrapers.
It's still half an hour to the main bus stop from the outskirts of Casablanca, and there will be one stop stop off before you get there. Make sure you don't get off at this quick stop. If you're unsure, ask the driver. Although it is obvious when you get to Casablanca's main bus station.
Casablanca bus station is on a much bigger scale to sleepy Essaouira. Once you disembark, make sure you have your luggage ticket handy to collect your luggage (if you checked it in at Essaouira).
There are toilets, a café, and a small convenience store at Casablanca bus station, as well as seating areas. It's very well ordered.
Right outside the exit/entrance are taxis waiting to take you to your destination.
---
Explore Essaouira ebook
Updated for 2023, the Explore Essaouira ebook is the only travel guide you need for exploring Essaouira. It is jam packed with inspiration on what to do, where to eat, where to stay, and also includes a step-by-step self-guided walking tour (with photos).
This is a PDF download for use offline and on the go (and ad-free!). Save it to read on the plane to Morocco, download to your phone to follow the self-guided walking tour around the medina, or print it off at home before you leave on your adventures and highlight all the bits you want to remember for your visit.
If you have found this website useful for planning your Essaouira adventures, you can show your support by buying Jenny a coffee. Thanks so much!