Read on for details of wild camping in Essaouira and Essaouira campsites. A huge thank you to Sarah Steiner from Away With The Steiners for reviews and photos taken during her time adventuring Morocco in a motorhome with her family.
The short relatively short ferry journey between Spain and Morocco really opens up the possibility of camping in Morocco with a motorhome or campervan. The breezy, chilled-out town Essaouira, perched on the Atlantic coast is a lovely place to pitch up for a week or more and there are so many things to do in Essaouira, that many travellers end up staying longer than a few days.
But if you a visiting Essaouira in your camper or motorhome, you are probably wondering where the best place is to pitch for the night. Read on for details for wild camping in Essaouira and the Essaouira campsites.
Wild camping in Essaouira
Is wild camping allowed in Essaouira?
In short. Not really.
Wild camping is permitted in Morocco, but only if you are well away from towns and tourist hotspots. If you do wild camp, please leave no trace, avoid making fires (and if you do light a fire, please do not leave any embers) and keep noise to a minimum.
Many van owners have reported that they've been moved on by the police when pitching up around the town of Essaouira. You may get away with it for the odd night in the low season, but don't expect to get away with it for any longer.
Just a four kilometres further south is the small village of Diabat. You may have more luck wild camping outside of this village. Follow the dirt track that leads down from Diabat village to Diabat beach (it's opposite the mosque at the roundabout as you enter Diabat).
Official campsites in Essaouira
There aren't any campsites right outside Essaouira. However, there are the following campsites all within 20km from Essaouira.
Please do contact the campsite before arriving to check that they are open.
1. Dar El Bernicha
10km (9mins drive) from Essaouira
Click here for more information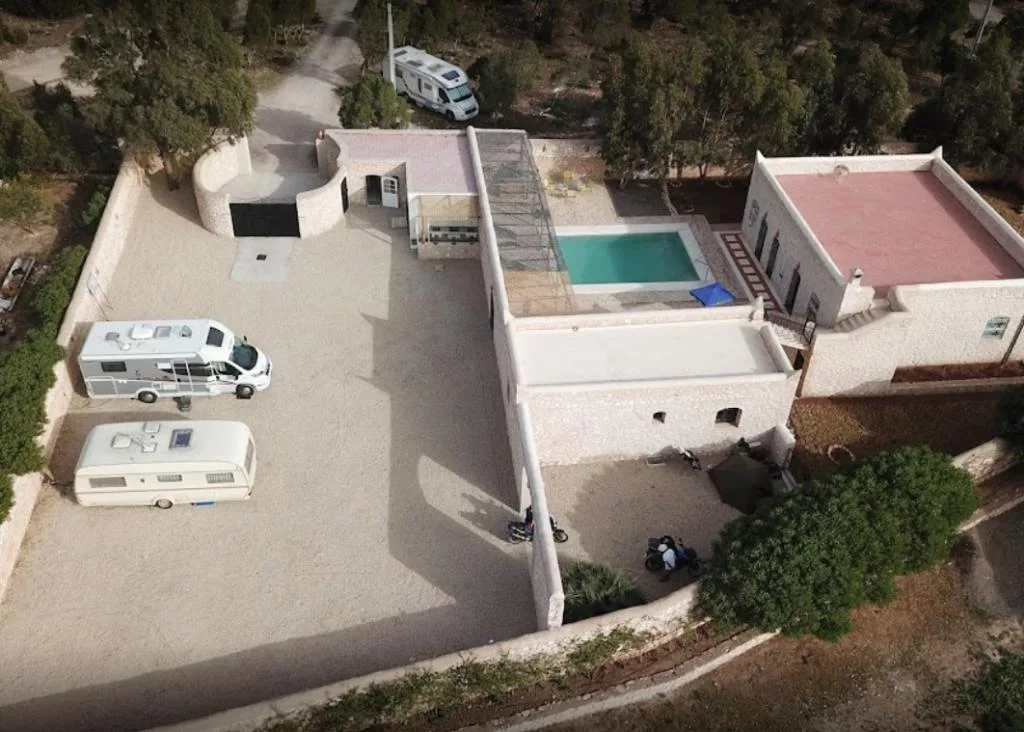 Listed on both the Park4Night and Campercontact apps, there is a small parking areas for campers and motorhomes at Dar El Bernicha.
Here there is a small walled courtyard on a flat surface with toilets and waster water discharge. This isn't much more than a car park with a loo, but it's the closest spot you can officially pitch up to Essaouira.
The French owner speaks French, German, and English, and can arrange a taxi into the centre of Essaouira for you.
2. Camping Esprit Nature
20km (25 minute drive) from Essaouira
Click here for more information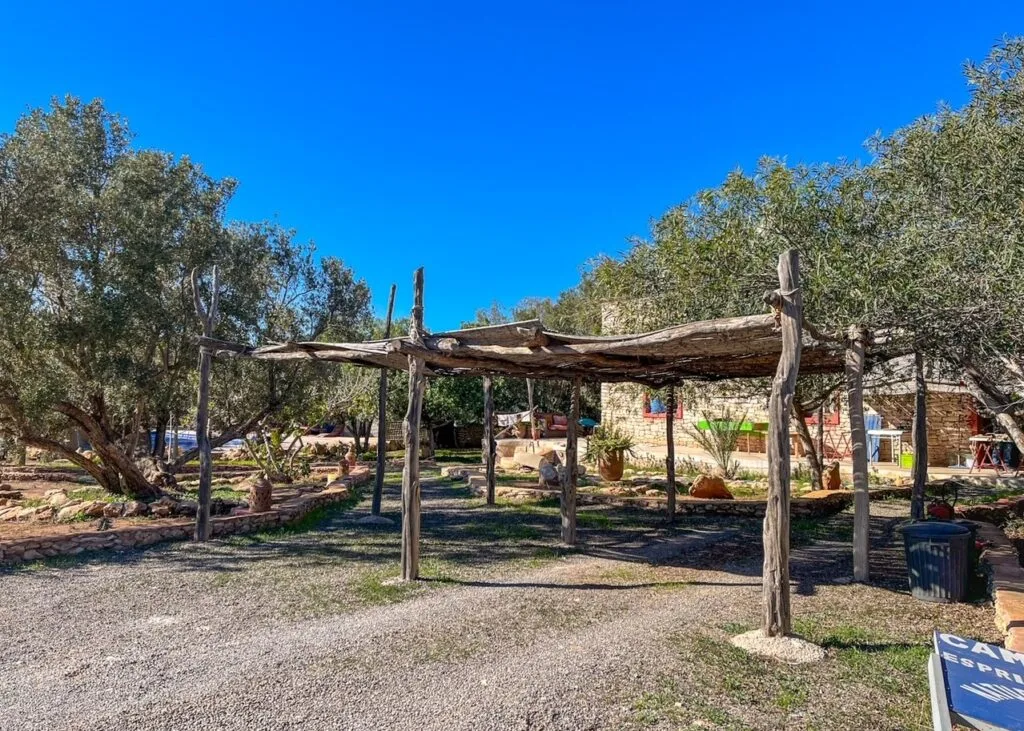 A beautiful forest campsite with a swimming pool, sheltered from the Atlantic trade winds. This is a great spot for kids as there are play areas and often sporting or craft activities laid on.
Pitches are all marked out and there are grassy pitches for tent campers. The washblock is clean with hot showers.
However, it is one of the most expensive campsites in Morocco and unfortunately a few readers have commented that the owners are rather rude and unaccommodating to kids.
3. Les Oliviers in Ounagha
24km (25 minute drive) from Essaouira
Click here for more information
This beautiful campsite just a stones throw away from Domaine du Val d'Argan (where you can pop in for Essaouira wine-tasting) gets a big thumbs up.
The team of local staff are very friendly and welcoming and there are lovely, clean bathrooms. There's a swimming pool to cool down in the warmer months, spacious kids playground, and tagine and dinner orders are available onsite. Accessible facilities for motorhomes and camping vehicles.
Expect to pay 100DH per night for one vehicle andtwo adults. A shared Grand Taxi into Essaouira costs 10DH per person.
Being away from the coast, this campsite experiences a climate similar to Marrakech more than Essaouira. So if it's an odd grey and drizzly day in December in Essaouira, it's likely that the sun will be shining in blue skies in Ounagha. Although during the summer months, temperatures can sore to an unbearable 50°C.
Had Draa is also just 6km down the road. This is where the Had Draa market, one of the largest markets in Morocco, takes place every Sunday. It's a fascinating insight into local Moroccan culture.
4. Camping & Hôtel Le Calme
17km (18 minute drive) from Essaouira
Click here for more information
Camping & Hôtel Le Calme features both camping and hotel accommodation with a restaurant, outdoor swimming pool, garden, BBQ facilities, and a bar.
---
Explore Essaouira ebook
Updated for 2023, the Explore Essaouira ebook is the only travel guide you need for exploring Essaouira. It is jam packed with inspiration on what to do, where to eat, where to stay, and also includes a step-by-step self-guided walking tour (with photos).
This is a PDF download for use offline and on the go (and ad-free!). Save it to read on the plane to Morocco, download to your phone to follow the self-guided walking tour around the medina, or print it off at home before you leave on your adventures and highlight all the bits you want to remember for your visit.
If you have found this website useful for planning your Essaouira adventures, you can show your support by buying Jenny a coffee. Thanks so much!