For those seeking a sprinkling of luxury and convenience for their visit, here we feature the best hotels in Essaouira. Especially if it's your first visit and you're wondering where to stay in Essaouira, a hotel or resort provides a calm and relaxing oasis away from the hustle and bustle, combined with the option of meals cooked for you onsite. This is a holiday after all! And for many travellers, self-catering may be the last thing you want to do.
Do check out our guide to things to do in Essaouira if you plan on exploring this charming Moroccan port town.
Disclaimer: This post contains affiliate links. Should you click to purchase, it is at no additional cost to you, but we receive a small commission.
But with so much choice in Essaouira, where to start?
We've done the research for you and found these top hotels in Essaouira. Whether you're looking for a luxury 5-star Essaouira hotel, an Essaouira beach hotel, or want to stay in the heart of the bustling medina, we've got you covered.
If you are visiting Essaouira in July or August, make sure you book accommodation in advance, especially if you are looking to stay a week or more, as this is the high season (with both domestic and international tourism).
Tips for selecting your Essaouira hotel
Accommodation close to the ramparts and Taros should be avoided if you want a peaceful night's sleep. Music from the bars and restaurants along here can go on until 1am. We learned this mistake staying at Dar Loulema; a charming riad situated immediately next door to Taros. However, earplugs do the trick.
Within the media, it is likely you will be woken by the call to prayer at sunrise. Rooms next to a mosque will be the loudest. Whilst this is a charming experience of Moroccan life, it may not be appreciated by those who enjoy a lie-in on holiday. Again, earplugs are an idea. Otherwise, use it as an alarm clock to get up and explore the medina at it's quietest.
Many of the riads and hotels within the medina have narrow stairs to climb and often the better rooms are towards the top floor as these offer the better views. Lifts / elevators are a rarity, although Palais Des Remparts is one Essaouira hotel with a lift. For those with mobility issues, the stairs is something to consider.
If your accommodation doesn't offer breakfast, there are many restaurants within the media serving breakfast. So don't limit your accommodation search to those that serve breakfast.
All Essaouira hotels and riad accommodations require a government tourist tax to be paid. This needs to be paid directly to your accommodation in cash, often requested on departure and goes to the local community. So don't be surprised if your accommodation ask for this extra payment.
---
Explore Essaouira ebook
Updated for 2023, the Explore Essaouira ebook is the only travel guide you need for exploring Essaouira. It is jam packed with inspiration on what to do, where to eat, where to stay, and also includes a step-by-step self-guided walking tour (with photos).
This is a PDF download for use offline and on the go (and ad-free!). Save it to read on the plane to Morocco, download to your phone to follow the self-guided walking tour around the medina, or print it off at home before you leave on your adventures and highlight all the bits you want to remember for your visit.
---
The below map displays where our recommended Essaouira hotels are located:
1. Sofitel Essaouira Mogador Golf & Spa
★★★★★
Best for luxury and getting away from it all
Click here to check prices and availability
Located on the Gary Player Golf Course, close to the village of Diabat (about a ten minute drive to the south of Essaouira which is popular for quad biking), Sofitel Essaouira Mogador Golf & Spa offers stylish villas and suites, and features two swimming pools plus a wellness centre. In the heart of 600 hectares of unspoiled wilderness, this is a contemporary complex with subtle oriental touches; the perfect place to get away from it all.
The 5-star villas, rooms and suites are decorated in natural, soft colours and a butler service is provided. They are equipped with a minibar, satellite TV and free Wi-Fi access. All rooms feature a terrace with a view of the golf course or the sea.
There are five restaurants, including a buffet restaurant and four restaurants serving à la carte dishes. Plus four bars where guests can relax after a day by the pool.
Whilst the Sofitel Essaouira is a little way out of Essaouira, it's easy enough to get a petits taxi to and from the Medina / Essaouira beach. It's a flat fee of 50DH from Diabat to Essaouira. Check out our guide: getting around Essaouira. The hotel also offers a morning shuttle service to the medina.
Here's what one of our readers had to say about the Sofitel after reading this blog and booking a stay there:
The amazing view from our room over the golf course, a lush, green landscape of grass and trees surrounding the hotel and down to the beach, is the enduring memory of this luxury hotel. It is situated in the village of Diabat, about a 15-minute drive from the Medina at Essaouira, in the free shuttlebus provided by the hotel.

We arrived early for check-in, a short 20-minute taxi ride away from the airport but were given a brief tour of the hotel and complimentary drinks whilst our room was prepared.

The room was sumptuous, everything you would expect from a 5-star hotel, with a huge room and balcony. There were also free tea and coffee making facilities. Later, room service called with complimentary cakes and bottled water. Bottled water and chocolates were delivered every afternoon.

The highlight for me was the large swimming pool, surrounded by trees, loungers and day beds. There was also a beautiful natural swimming pool with crystal clear, un-chlorinated water.

We ate lunch at the Atlantic restaurant in the hotel, which served a wide range of Moroccan, Spanish and other European dishes. The food was good quality and reasonable value. Breakfast and evening meals are also provided at additional cost.

The pool and bar facilities are also available to non-guests at a charge of D300, about 30 euros, a day. There is also a nightclub at the hotel open all year round from midnight till 4 am.

The staff are friendly, and nothing is too much trouble. We enjoyed our 3 nights stay enormously.

Pamela from Kent, UK
2. Heure Bleue Palais
★★★★★
Best for location and views of Essaouira's Medina
Click here to check prices and availability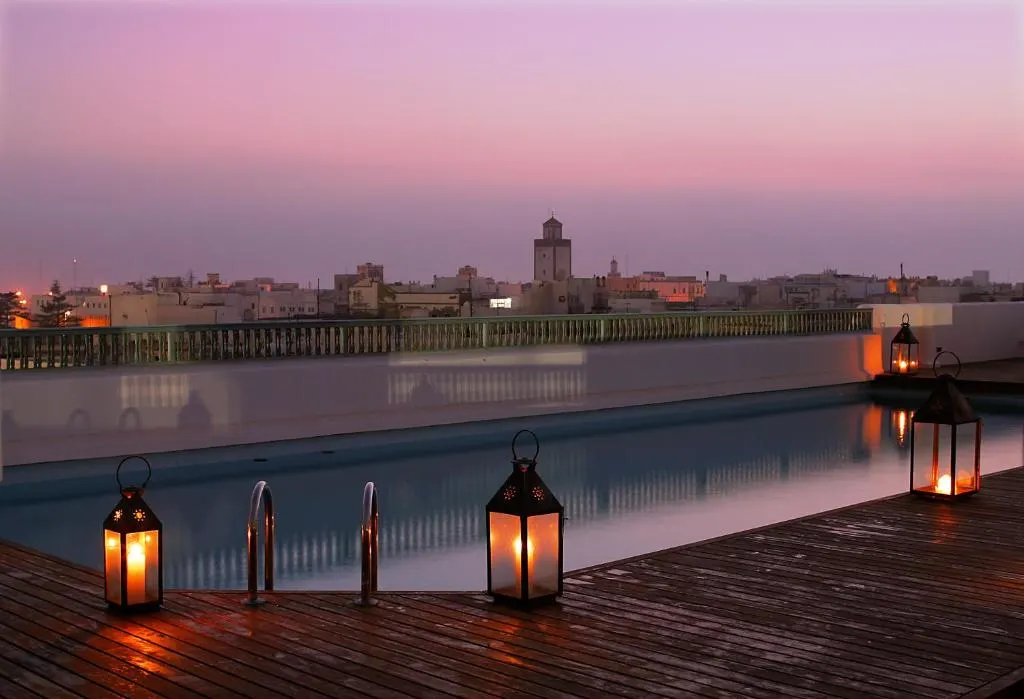 Steeped in history, this 19th-century former riad features a terrace with a heated outdoor pool with panoramic views of the medina and the sea. Being so close to the medina and also just a 300 metres walk to Essaouira beach, the location of Heure Bleue Palais is spot on if you're planning on exploring Essaouira.
Elegantly decorated, the rooms and suites are very spacious. They come with flat-screen TVs and marble bathrooms, and some also feature Italian showers or balconies.
Guests can choose from several dining options. The outdoor restaurant, Courtyard Patio, serves both international and Moroccan cuisine, and the Moroccan Restaurant serves gourmet cuisine. Light lunches can also be enjoyed on the panoramic terrace.
The hotel's cosy bar, The English Lounge, features a piano and a fireplace. There is also a cinema room, a hammam and a massage room.
3. Hotel Le Médina Essaouira Thalassa
★★★★★
Best for beach location
Click here to check prices and availability
Located on the seafront, Hotel Le Médina is in a perfect location; just across the road from the beach and five minutes walk to Essaouira Port. This luxury hotel is designed around a large outdoor swimming pool, offers spa facilities, and has three restaurants and two bars.
The air-conditioned rooms with balconies have a modern decor and are each equipped with a TV, minibar and free WiFi. Rooms have ensuite bathroom facilities with a bathtub and shower.
International and Moroccan cuisine is available in the hotel's restaurants. For afternoon tea, French and Moroccan pastries are offered in La Scala tearoom and in the evening Mogador's Club offers cocktails in a stylish environment.
4. Salut Maroc!
★★★★☆
Best for quirky boutique hotel
Click here to check prices and availability
Salut Maroc! is a historic 18th century riad, which had been transformed into an art-based boutique hotel. Located on the edge of the medina, it affords 180 degree views over the Atlantic, superb service from the 24-hour reception, and all guests are served with a Moroccan breakfast each morning.
Salut Maroc!'s 11 bedrooms are individually designed, featuring colourful Moroccan Art, with ensuite bathrooms and copper bath tubs. It's very much the trendy place to stay in Essaouira.
The Terrace Restaurant offers locally caught fish, and meats barbecued on wood, big bowl salads and Moroccan specialities. Alcohol is also served on the rooftop; try out one of their cocktails for a sundowner!
5. Villa Quieta
★★★★☆
Best for opulence and outstanding service
Click here to check prices and availability
Villa Quieta is a beautifully opulent hotel, located on the beachfront in Essaouira. The traditional artwork and décor will make you feel like you're staying in a secret museum, and Imane and Mourad who run this Essaouira hotel will do everything then can to make your stay special.
There are fifteen large rooms including two spacious and elegant suites, all beautifully furnished with cedar wood, as well as a magnificent swimming pool, free WIFI access.
It's a 2km lovely stroll along the corniche to Essaouira's Medina, and you're close by to many of the beach activities in Essaouira.
The reviews on Tripadvisor are especially glowing for this Essaouira hotel.
6. Villa Maroc
★★★★★
Best for a tranquil spot in the medina
Click here to check prices and availability
Composed of four traditional riads overlooking the Atlantic Ocean and ramparts, Villa Maroc is an Essaouira hotel of eloquence, charm, and exquisite service that is also sustainably sensitive to the local environment. It's also the oldest hotel-riad in Morocco!
Eating at Villa Maroc is an experience unto itself. A classic Moroccan breakfast can be enjoyed from the rooftop terrace, but the true treat is the traditional dinner made to order and served under candle light. The menu is changed daily and you can order special request meals including Couscous Royal, Lobster dinner, Mechoui or Pigeon Pastilla.
Allow time to luxuriate in the on site Oriental Spa offering natural Argan treatments.
Be quick to book a room though, as this luxury Essaouira hotel has been featured in an array of high end glossy magazines, and we totally understand why.
There is also the sister hotel, Les Jardins de Villa Maroc, which guests can visit if in need of a swimming pool. This is small, boutique resort, nestled in the Swiri countryside 10km from Essaouira, offering a day pass to visitors to use the heated swimming pool and dine at the restaurant. There's a free shuttle from Villa Maroc. Click here for our full guide to a day pass at Les Jardins de Villa Maroc.
7. Palais Des Remparts
★★★☆☆
Best for a great value medina riad with incredible breakfast views
Click here to check prices and availability
Palais Des Remparts review
Palais Des Remparts is an authentic 18th century riad nestled in Essaouira medina, close to the ramparts. Here, the moody Atlantic ocean provides the soundtrack to your stay, and rooms are airy and spacious.
But the reason why we love this riad so much, and why it features in our best hotels in Essaouira, is not just the location and history, it's for the fantastic rooftop breakfast, which boasts stunning 360 degree views, across the Atlantic Ocean to the west, and the rooftops and countryside beyond to the east. It's a great spot to watch both a sunrise and sunset in Essaouira.
This is one of the better value accommodations listed here, and in a great location for exploring the medina.
8. Atlas Essaouira & Spa
★★★★☆
Best for beach access
Click here to check prices and availability
Atlas Essaouira & Spa may lack character, but a great option if you're looking for an Essaouira beach hotel with a swimming pool, as there is not only a private beach, but two swimming pools, plus a spa with a hammam.
Each guest room is equipped with satellite TV and a minibar. Some rooms feature sea views and a living room with a flat-screen TV.
Traditional Moroccan cuisine is served in the restaurant. Guests can enjoy a drink in the hotel bar and breakfast is prepared every morning.
Essaouira countryside hotels
If you want to totally switch off and disconnect, and not too bothered about ticking off the things to do in Essaouira, perhaps consider staying at one of the boutique resorts in the countryside.
9. Hôtel Domaine de L'Arganeraie
★★★★☆
Best value countryside hotel with pool
Click here to check prices and availability
Hôtel Domaine de L'Arganeraie review
Hôtel Domaine de L'Arganeraie is one of the best value Essaouira hotels with a pool. Riads are dotted around the colourful gardens full of argan trees (the hotel name perhaps gives this away) and some resident tortoises, whilst the expansive, heated pool is a perfect spot to cool down on a hot day, as the call to prayer from the local mosque floats over the gardens to connect you to the outside world.
The pool is also open to day guests.
Rooms for couples, families, and groups, with a minimalist but authentic décor, are situated within the riads. There is no aircon, but even on a hot day, the riad feels relatively cool, and there's a fireplace to warm you in the cooler winter months. Whatever season you visit, you'll be able to find a nice quiet nook in the villa to tuck into good novel.
10. Les Jardins de Villa Maroc
★★★★★
Best for luxury countryside hotel with pool
Click here to check prices and availability
Click here to read our day pass review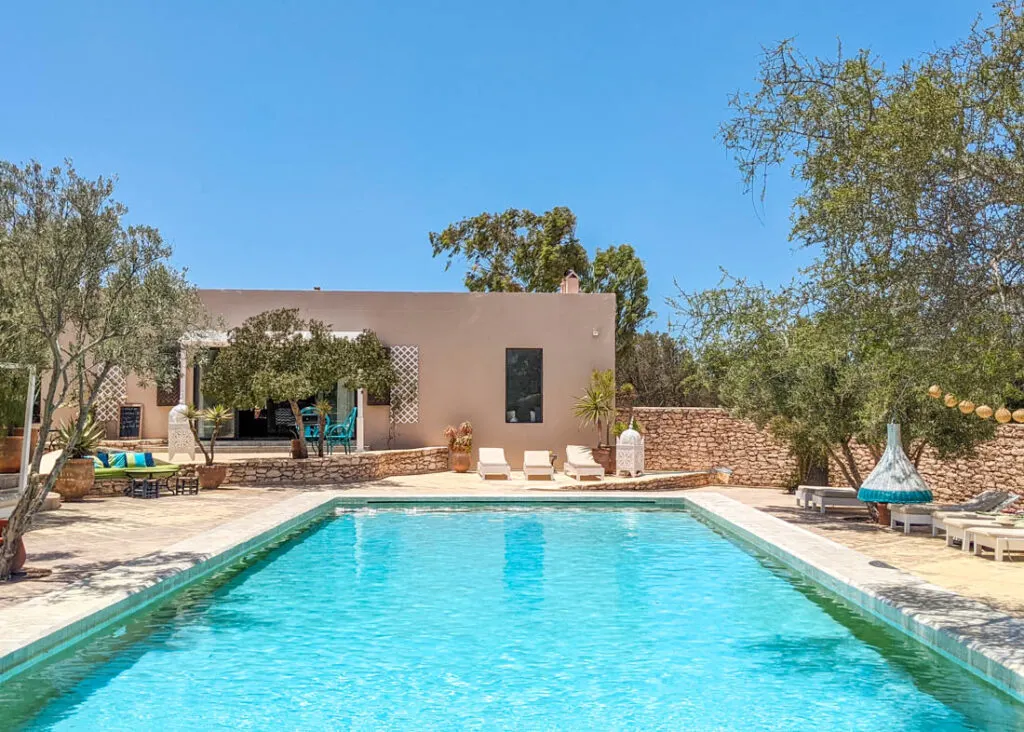 This stylish, small resort, nestled in the Swiri countryside 10km from Essaouira, is the sister hotel to Villa Maroc, Morocco's oldest riad-hotel situated in the heart of the medina.
Driving off the main road along a dirt track lined with Argan trees, there are no obvious signs or a gate on entry to announce your arrival to Les Jardins de Villa Maroc. It's very understated, and you would only know that it's there if someone told you. It's only when you step out of the car and follow the rocky path around to the pool area, that you realise what a beautiful oasis it is. This is a place to truly disconnect and unwind away from the hustle and bustle of Essaouira medina.
The site offers a three-bedroom guest house, eleven stylish ecodomes, a restaurant, and heated swimming pool. Being a luxury accommodation, the price tag to stay here is on the hefty side. However, Les Jardins de Villa Maroc have a day pass system where anyone can visit for the day to use the swimming pool and dine at the restaurant.
---
You may also like to read:
Things to do in Essaouira
Best places to eat in Essaouira
Essential travel information for visiting Essaouira