After the bustling chaos of Marrakech, the traffic-free medina and Atlantic breeze sweeping over the sandy beach of Essaouira is a breath of fresh air. Literally. But what is the best way of getting from Marrakech to Essaouira? Read on…
Essaouira is a three hour drive west of Marrakech, and there are really only three options for transport; bus, taxi, or private transfer. There is no train line to Essaouira and a one-way car hire is not possible.
Check out our guide for things to do in Essaouira if you are planning a visit.
What is the road like from Marrakech to Essaouira?
Once you are out of the centre of Marrakech, it's very easy driving. The road is paved, relatively quiet, and there are some sections that are dual carriage way.
Just been mindful of police checkpoints and speed limits. Make sure you come to a full stop at police check points and wait to be waved through. Read this guide for tips on driving in Morocco if you are self-driving on a longer Morocco road trip.
Are there any points of interest between Marrakech and Essaouira?
The route between Marrakech and Essaouira is mainly desert, passing through a few towns along the way. As you enter the Province of Essaouira, you will notice the scenery becoming much greener with the maritime climate, and it may remind you of Spain.
The main point of interest between Marrakech and Essaouira are the goats in the trees, just 30 minutes before you reach Essaouira. These goats are after the tasty bean-like fruit in the Argan trees, and this is one of the things to do in Essaouira.
Please note that farmers have caught on to how tourists like to get photos, so you will be expected to give some small change to the farmer if you take a photo.
Where to stop for a snack and toilet break between Marrakech and Essaouira?
Most private transfers and the bus will stop at Restaurant Atlas in Sid Mikhtar for a comfort break. The staff here are extremely quick and efficient and know the drill. You will be seated with your order taken in a matter of minutes, and food will be delivered shortly after. On the menu is the standard Moroccan and Western food. There is also a bakery onsite and clean toilets. Both outdoor and indoor seating is available.
Getting Marrakech to Essaouria by bus
READ OUR GUIDE: Getting the bus from Marrakech to Essaouira
Supratours is the main bus company that travels between Marrakech and Essaouira. The journey takes 3 hours by bus, with a 20 minute comfort break enroute.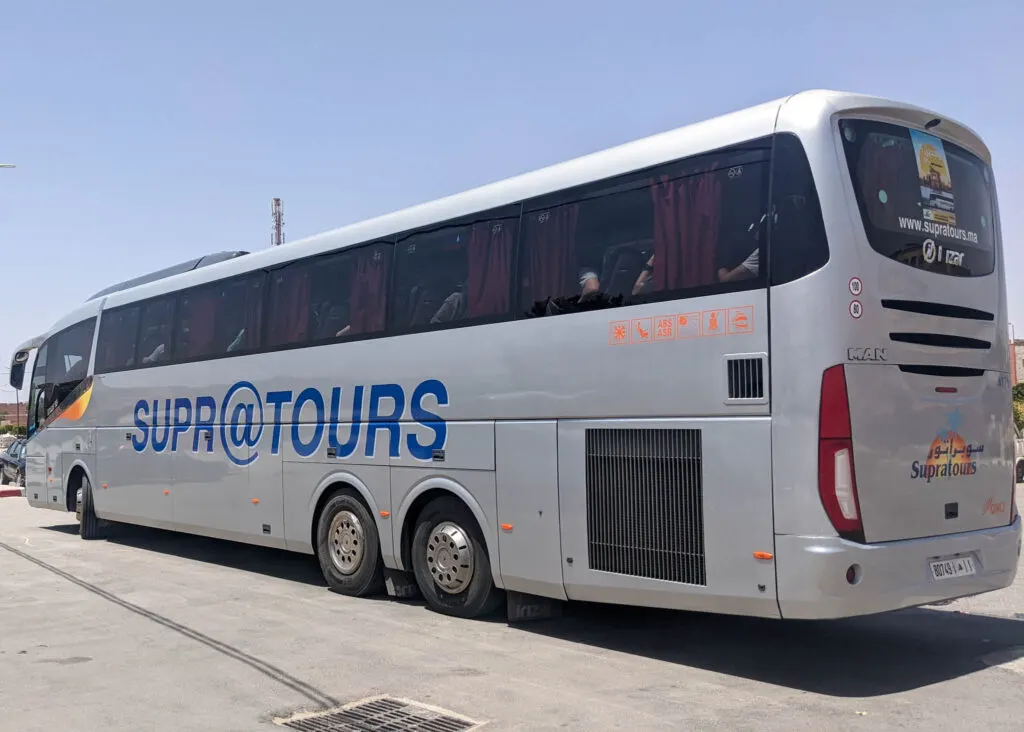 At the time of writing, a Supratours bus ticket from Marrakech to Essaouria is 80MAD per person, with no reduction for children or students.
There are six buses per day from Marrakech to Essaouria leaving at 07:45, 09:00, 10:45, 14:45, 16:45 and 19:00.
Check the ONCF website for up-to-date bus times and pricing. This is a much better site than the Supratours website.
CTM also run a bus from Marrakech to Essaouira, except this only runs once per day at 8:30am, and the drop off at the CTM bus station in Essaouira, isn't as convenient as the Supratours bus station in Essaouira, which is close to the medina. The CTM bus is roughly the same price per person as the Supratours bus, but do check as they sometimes have a sale on.
The Supartours bus will drop you here in Essaouira, right next to the Medina, and is the most convenient stop of the two bus companies.
The CTM bus will drop you here in Essaouira, 1.5km from the Medina, but closer to the Essaouira beach hotels.
Getting a Grand Taxi from Marrakech to Essaouira
There is a fixed fee of 600DH for a grand taxi from Marrakech to Essaouira. You will need to go to a Grand Taxi station in Marrakech (such as outside Marrakech Train Station) and you cannot pre book. Just turn up and ask.
Despite there being a fixed fee, you will probably be quoted 1000DH initially (this is Marrakech after all!). Well done if you can get them down to 700DH.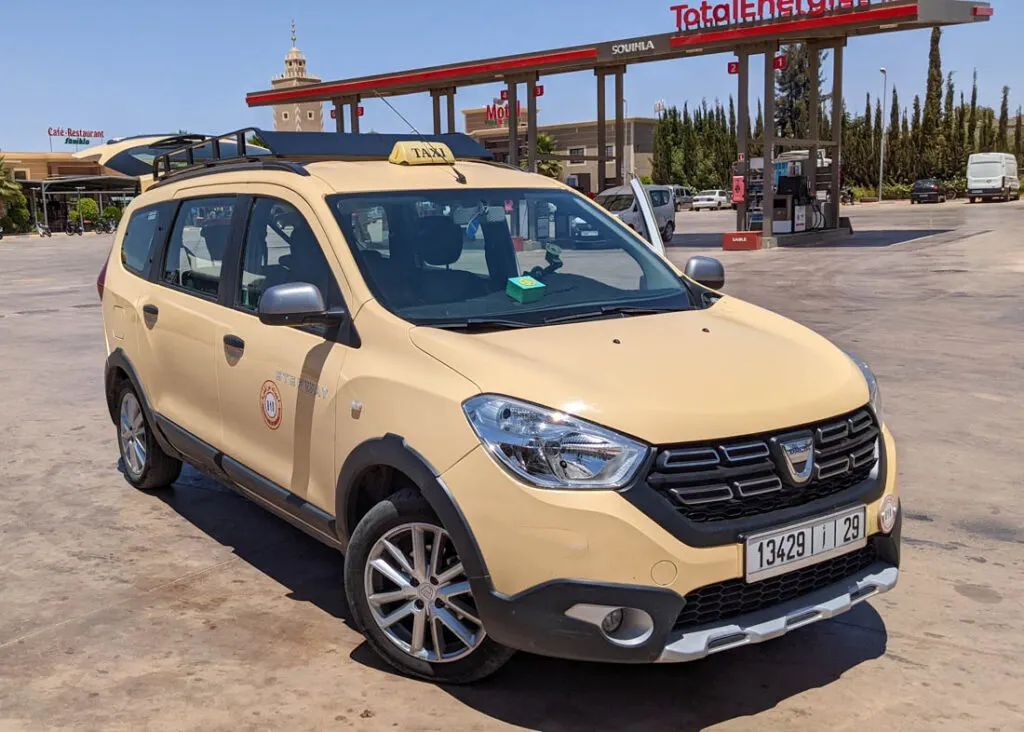 Before leaving Marrakech, your taxi driver will need to stop by the police station to register as they will be driving into a different state. So don't be alarmed if they take a bit of a detour.
If you are a group of 4, and especially if you're travelling to Essaouira with kids, taking a grand taxi from Marrakech to Essaouira is a much easier option than the bus. You will be able to stop whenever you want, and even get your own choice of music!
Taking a private transfer from Marrakech to Essaouira
If there are 4-6 members in your party and you want to keep travel simple, a private transfer from Marrakech to Essaouira is your best option. It's only a little bit more expensive to hire a private transfer, especially when you take in the cost of a taxi to get to the bus station in Marrakech, or the hassle factor of negotiating with a grand taxi driver.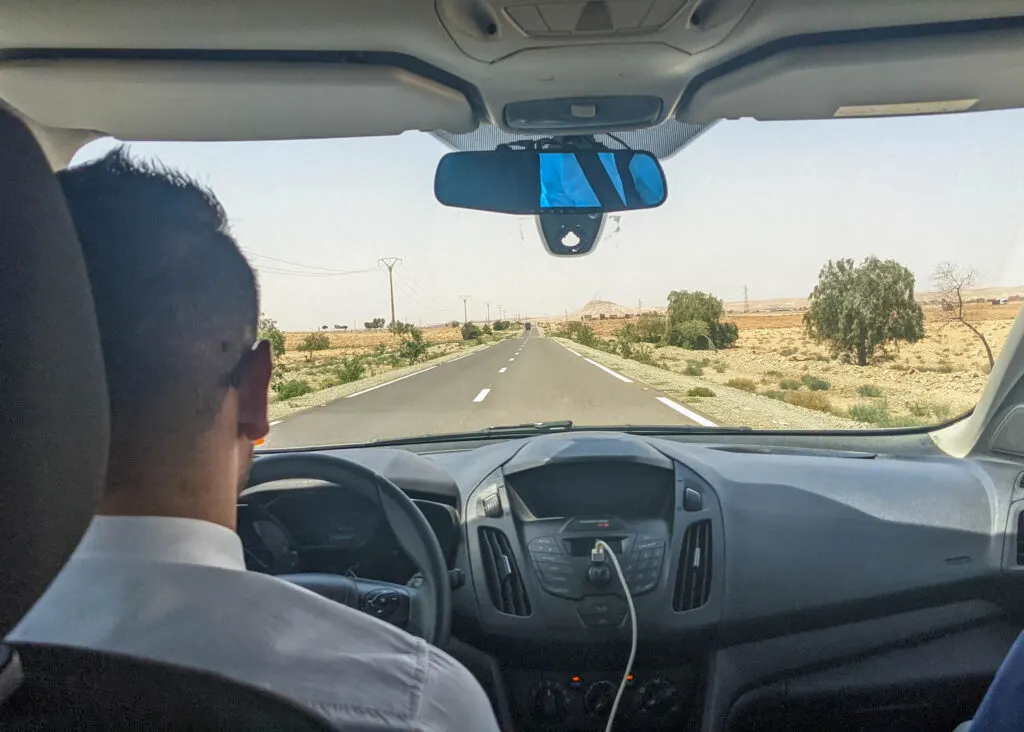 A private transfer is also the most comfortable and efficient way of getting between Marrakech and Essaouira, which is perhaps better for families and older travellers. You can be collected straight from your accommodation in Marrakech or Marrakech airport, and taken directly to your accommodation in Essaouira. Though if you are staying in the medinas, some walking may be required; Essaouira's Medina is traffic free. This allows for ultimate flexibility with your timings and you can stop where you want along the way.
Expect to pay a minimum of €80 for a private transfer from Marrakech to Essaouira.
---
Explore Essaouira ebook
Updated for 2023, the Explore Essaouira ebook is the only travel guide you need for exploring Essaouira. It is jam packed with inspiration on what to do, where to eat, where to stay, and also includes a step-by-step self-guided walking tour (with photos).
This is a PDF download for use offline and on the go (and ad-free!). Save it to read on the plane to Morocco, download to your phone to follow the self-guided walking tour around the medina, or print it off at home before you leave on your adventures and highlight all the bits you want to remember for your visit.
If you have found this website useful for planning your Essaouira adventures, you can show your support by buying Jenny a coffee. Thanks so much!