Essaouira is a relatively small town and very compact. With the Medina being traffic-free, many visitors to Essaouira find that getting around by foot works perfectly. Indeed, if you are just strolling around the laneways of the medina, along the Ramparts, or the fishing port, walking is indeed the best way to get around Essaouira. Check out our self-guided Essaouira walking tour.
Disclaimer: This post contains affiliate links. Should you click to purchase, it is at no additional cost to you, but we receive a small commission.
Similarly, it's a lovely walk along the wide corniche or along the shoreline of Essaouira beach to the far end. Here you will find the surf schools, camels, and a handful of beach bars, which are some of the best places to eat in Essaouira.
However, if you need to get to Carrefour (yes, there's a French supermarket in Essaouira if you want to stock up on some Western items), or don't want to walk along the beach to the Medina after your surf lesson (which is one of the top things to do in Essaouira), then the Petits Taxis are best option for getting around Essaouira. They are also very handy if you're staying at one of the Essaouira hotels outside of the Medina, such as Sofitel Essaouira Mogador Golf & Spa or Villa Quieta Essaouira, or if you are visiting Essaouira with kids.
What do the Petits Taxis look like in Essaouira?
The Petits Taxis in Essaouira are blue with a white roof. They will also have a yellow taxi sign on the roof above the front windscreen.
Do the Petits Taxis in Essaouira use a meter?
No, they don't. In fact don't even ask when you get in, as that'll be a giveaway that you're a tourist. Just get in the taxi and tell them where you want to go.
It's a flat fee of 8DH within Essaouira town. The fee is higher at night time to 8DH. Try and use coins to pay, although the drivers often have change for 10DH or 20DH.
The taxi far between Diabat and Essaouira is 30DH (4km, 8 minute drive). Even though Diabat is just a couple of kilometres from the main roundabout in Essaouira (by Beach and Friends), which would be 8DH, the hike in fare is because of the drastically lower footfall in Diabat. Click here to check out our travel guided to Diabat.
It's extremely unlikely that the taxi driver will try and haggle a larger taxi fare from you. In fact, this has only ever happened to us once in all the time we have spent in Essaouira (it's very different in Marrakech!) On the very rare chance this does happen, get out of the taxi and try another one.
How to I get a Petits Taxi?
Just flag one down and they will pull over if there are no customers if they are not full. Sometime there may be another passenger in the taxi (don't expect to split the fare with this passenger).
Alternatively you can walk to a Petits Taxi rank. There are petit taxi ranks:
outside Bab Sbaa
outside Bab Doukkala (to the left as you walk out of the gate, next to the entrance to the Jewish Cemetery)
along Av. Mouley Youssef (to the right outside Bab Doukkala and along the medina wall)
outside the main exit point at Place Moulay Hassan (walking away from the medina).
outside Bab Marrakech, across the car park.
The exact locations are shown on the map below.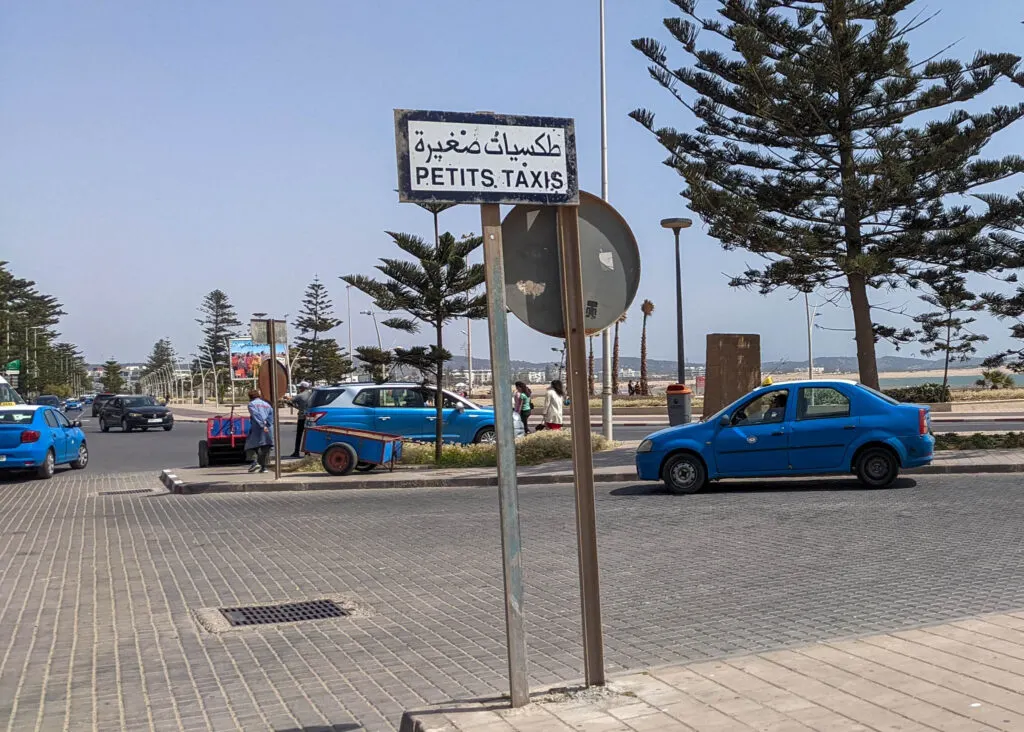 If you are trying to get one back to the Medina from Carrefour, don't walk out to the main road. Just wait outside the main entrance and one will appear (often as another taxi is dropping someone else off).
Things to note with the Petits Taxis in Essaouira
There are rarely working seat belts in the petits taxis. Parents with young kids may feel uncomfortable about this.
And there is a very strict rule that only 3 passengers can fit in a taxi at one time (2 small children still count as 2 people). This can be rather inconvenient for larger groups or families of 4+. But seeing that it's just a flat fee of 8DH to travel around Essaouira, the best option is to split up. Although I'm not to sure what happens if your group is one parent and three children, as splitting up really isn't an option.
Can I take a petit taxi to Essaouira Airport?
The fare to/from Essaouira to Essaouira Airport is 150DH (17km, 20 minute drive). However, petit taxis are not allowed to go to the airport. Instead you need to arrange a transfer through your accommodation or take a Grand Taxi (go to the Grand Taxi station north of the medina, click here for location). Read our Essaouira Airport guide for more information.
Final thoughts on Petits Taxis for getting around Essaouira
The Petits Taxis in Essaouira are a cheap, easy, and comfortable way to get around Essaouira. The flat fee makes it really easy, and it's highly unlikely that a taxi driver will try and negotiate a larger fee from you.
The only problem with them comes when you are a group of 4 or more people, as it's a maximum of 3 passengers allowed in the petits taxis.
---
Explore Essaouira ebook
Updated for 2023, the Explore Essaouira ebook is the only travel guide you need for exploring Essaouira. It is jam packed with inspiration on what to do, where to eat, where to stay, and also includes a step-by-step self-guided walking tour (with photos).
This is a PDF download for use offline and on the go (and ad-free!). Save it to read on the plane to Morocco, download to your phone to follow the self-guided walking tour around the medina, or print it off at home before you leave on your adventures and highlight all the bits you want to remember for your visit.
If you have found this website useful for planning your Essaouira adventures, you can show your support by buying Jenny a coffee. Thanks so much!