Read on to find out why kite-surfing in Essaouira is one of the best things to do in this Moroccan coastal town, and what to expect.
Considering Essaouira has been coined, the 'Windy City of Africa", it's no surprise that this Moroccan town, perched on the Atlantic coast and boasting a long sandy beach, is one of the best places in the world for kite-surfing. Indeed, the wind in Essaouira is remarkably strong, especially in the months of July and August; with sand whipping up in all directions, this isn't a beach to top up the tan.
As the main beach of Essaouira is an 2km arc, the prevailing north-east winds are in a safer direction for learning (cross-onshore) at the far end of the beach, away from the medina. This is where all the kite-surfing schools teach, and also where the camels tend to reside (watch out for camel poop in the shoreline).
More capable kite-surfers tend to go from Diabat, a small village just 2km further down the coast. There are no kite-surfing schools set up here, but the Essaouria kite-surfing schools can arrange lessons here.
Kite-surfing isn't for the faint hearted. It's involves a fair bit of skill and a reasonable fitness level. Don't expect to get the hang of it after just one lesson. But for those who take on the challenge, it is incredible: that feeling of the kite gliding you over the tops of waves, being at one with both the power of wave and wind, is one of the most invigorating feelings.
Essaouira kite-surfing schools
There are a number of kite-surfing schools in Essaouira. All the equipment, including wetsuits and helmets, is provided. All schools speak Arabic, French, English and Spanish.
Moga Surf is based right across the main area for kite-surfing, and offer excellent tuition under the professional kite-surfer and F-One competitor, Ismail Adarzane. There is also BleuKite, Explora, and Kitesurfmaroc. These schools also provide general surfing and SUP lessons.
Do I need to be very fit for kite-surfing?
As we've already mentioned, kite-surfing isn't something you can pick up in a day. There is a fair bit of technique involved and you need a reasonable amount of fitness.
Although it should be mentioned that this water-sport is more about correct technique than strength. When you are kite-surfing, you wear a harness around your waist that distributes the power of the kite over your entire body. Experienced kite-surfers can easily cruise for hours on end with only moderate exertion. It's only when kite-surfers start doing jumps and freestyle tricks when they need the strength.
As a beginner, you will be learning how to control the kite from the sand, and that can initially give your arms quite a workout.
More importantly, you need to be a confident swimmer for when you take the kite out into the water.
What's the minimum age for kite-surfing?
This isn't really a sport for young kids to try as they will be swept away! But if you are visiting Essaouira with teens and they want to get active, kitesurfing is definitely an Essaouira activity for them to try. Primary aged kids will probably want to try beginner surfing lessons in Essaouira.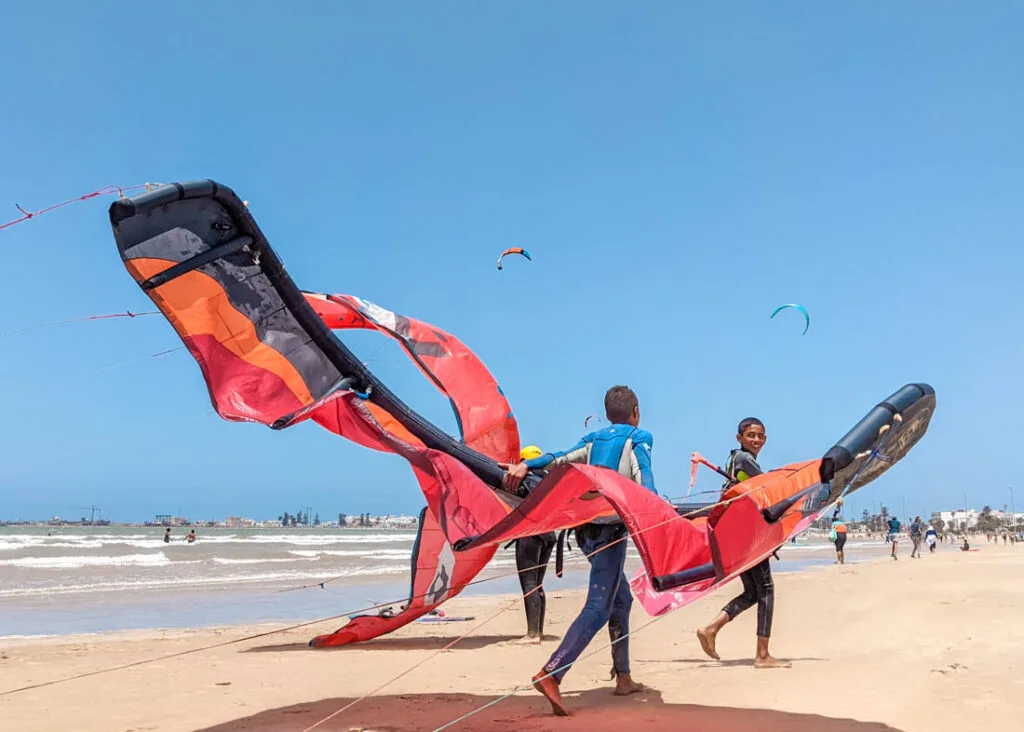 When is the kite-surfing season in Essaouira?
Essaouira kitesurfing season generally starts in late March and runs all the way until September. However with almost-year round winds, you can kite-surf most months in Essaouira.
July is perhaps the most popular month when the average wind speed is 35kmph, with gusts of 55+kmph. But there are also the odd calmer days, especially in September in Essaouira when the winds tend to drop. So if you are planning to visit Essaouira to kite-surf, try and stay at least a few days to allow for the changes weather.
READ: When is the best time to visit Essaouira?
The graph below displays the average and maximum wind speeds in Essaouira, and also the average gusts. Check out the average gusts for July!
However, you also need to take into consideration Ramadan as some of the kite-surfing schools close or have reduced opening hours during this time. Read our guide to visiting Essaouira during Ramadan.
Also, many of the kite-surfing school close completely over January as it's a very quiet time and allows all staff a good, well-earned break.
It's worthwhile messaging ahead to check opening times if you are travelling to Essaouira over the winter months or Ramadan.
Do I need to wear a wetsuit?
Due to its classic maritime climate, Essaouira experiences mild temperatures year-round and a much smaller annual temperature range compared to central Morocco.
The below graph displays the historical average temperatures for Essaouira.
However, this is the Atlantic Ocean and the water is rather chilly (ranging from 16°C in March to 22°C in September), so a full wetsuit is advised year-round. You also need to take into consideration the strong winds which make it feel much cooler. All the kite-surfing schools provide wetsuits. They can sometimes be a little worn, but they do the job.
Essaouira sea temperatures peak in the range 20 to 22°C (68 to 72°F) on around the 2nd of September and are at their lowest on about the 1st of March, in the range 16 to 17°C (61 to 63°F). Essaouira sea temperatures are highest in early September. Surfers should use a 2mm long sleeve shorty or a 3/2mm spring wetsuit if the wind is up. The lowest seasonal sea temperatures at Essaouira at the beginning of March lend themselves to a 4/3mm wetsuit or a 3/2mm suit and 3mm neoprene boots.

https://www.surf-forecast.com/breaks/Essaouira/seatemp
After your Essaouira kite-surfing lesson
Just behind the main kite-surfing area on Essaouira's main beach, are a handful of beach bars, including Beach and Friends and Ocean Vagabond, two of only a handful of places that serve alcohol in Essaouira.
Both offer a very cool beach vibe, which may remind you of Thailand or Goa. Ocean Vagabond has more table seating, is shadier, and there's a small play area for kids out the back. Beach and Friends serves better food (including tapas, and the chips are amazing), has large, comfy beach loungers to sink into, but offers little shade. Both are on the pricier end of the scale when it comes to eating out in Essaouira.
What to do when there's no wind?
On the rare calmer days in Essaouira when there is no wind, there are a plethora of other Essaouira activities to enjoy. Perhaps enjoy quad-biking or horse-riding along Diabat beach, explore the medina, ramparts, and fishing port on our self-guided Essaouira walking tour.
Or if you can't stay out of the water, grab the surf board and surf the waves; the Essaouira surf schools also offer general surfing lessons, and beginner surfing is much easier on the no wind days.
---
Explore Essaouira ebook
Updated for 2023, the Explore Essaouira ebook is the only travel guide you need for exploring Essaouira. It is jam packed with inspiration on what to do, where to eat, where to stay, and also includes a step-by-step self-guided walking tour (with photos).
This is a PDF download for use offline and on the go (and ad-free!). Save it to read on the plane to Morocco, download to your phone to follow the self-guided walking tour around the medina, or print it off at home before you leave on your adventures and highlight all the bits you want to remember for your visit.
If you have found this website useful for planning your Essaouira adventures, you can show your support by buying Jenny a coffee. Thanks so much!