A visit to a rural market is a fantastic way to gain insight into authentic Moroccan life and one of the best day trips from Essaouira. Local traders descend on an otherwise sleepy, dusty village with their piles of fruit and veg, woven baskets, cattle, spices, kitchen wares and much much more to create a bustling epicentre of community. This is where locals (generally men) not only visit for their weekly shop, but to socialise and do business over a mint tea and a BBQ.
If your visit to Essaouira does not coincide with the Sunday market at Had Draa, one of the largest in Morocco, the next best option in the region is Ida Ougourd, held every Wednesday. Indeed a visit to a rural market is one of the top things to do in Essaouira.
Set on a hillside, the market is separated into distinct areas: a large open fruit and veg market spills out in front of the mosque, a Halal abattoir will be found down a little alleyway, and animals are traded in a walled square. There's even a donkey park (as opposed to a car park).
Ida Ougourd is a colourful feast for the senses. Take your time to wander around and take it all in. Stop to chat to the stall sellers, and perhaps purchase a few items. It will be a memorable experience.
What time should you go to Ida Ougourd market?
Market sellers arrive from 5am to set up and much of the cattle selling takes place in the early hours. However, the market is still bustling at 8am, so don't worry about missing breakfast to get there. Although by 10am, things are starting to wind down, and by noon the market is finished.
What to wear at Ida Ougourd market
Please dress modestly to walk around the markets (cover shoulders and wear long trousers / skirts). Women to do not need to cover their heads.
As the ground is uneven and dirty in places, closed-toe shoes are advised, especially for the meat section.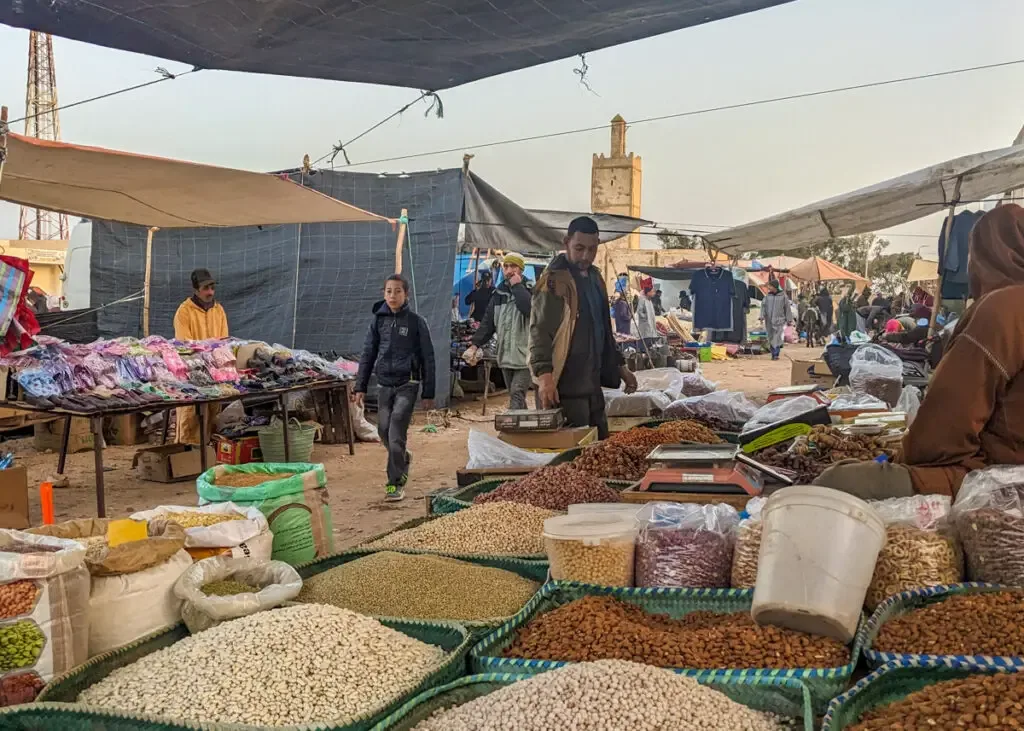 Cash only
If shopping, don't expect to pay by card. This is a cash only zone and you will be expected to haggle. Keep your cool when negotiating a fair price; be firm but polite.
Does it feel safe
Men dominate the markets here, whether they are selling or buying. I have walked around the markets as a solo female traveller and also with my kids (we all have blonde hair). People will say hello as I look different, and I have been asked if I'm married when I've been on my own, but never felt threatened or uncomfortable.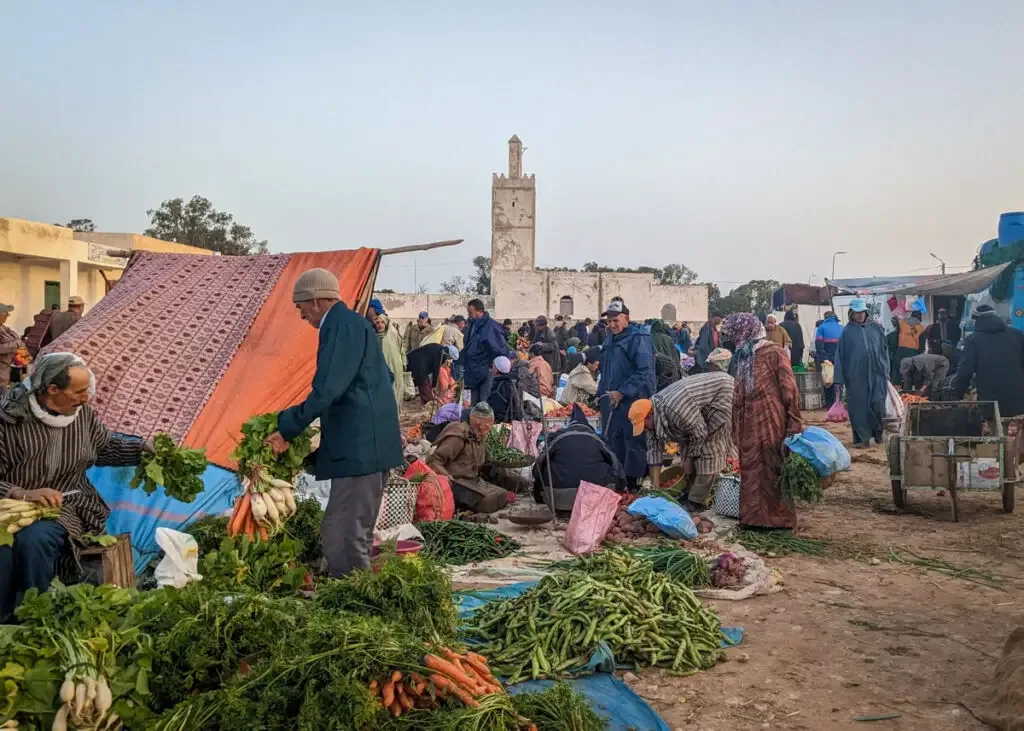 Taking photos
Ida Ougourd market is a photographer's dream. But always ask before taking photos. If someone says 'no', don't push it, and move on. Some may ask for money (that's up to you) and others may just want a chat.
A word on the meat section
The meat section at Ida Ougourd market, which is actually a halal abattoir, is very raw and bloody. Goat and cow legs with hooves alongside bloody carcasses hang along the footpaths and require careful manoeuvring around when strolling along. Expect to see goats heads, cow heads, and camel heads on display too. This area is best avoided if you know this will make you queasy.
How to get to Ida Ougourd market
It's a 25 minute journey from Essaouira to Ida Ougourd market.
The easiest way to get to Ida Ougourd market is to arrange a driver through your accommodation. Otherwise, if you would like to use public transport, there is either the bus or Grand Taxi.
If you are a group of 4 of more, a private car is the most efficient option. Expect to pay 200DH return.
To take the bus from Essaouira to Ida Ougourd, take the Lima No1 bus from outside Bab Doukkala. The fare is 7DH per person and the journey takes 45 minutes (twice as long as direct by car). The bus to Ida Ougourd leaves roughly around 7am (don't expect it to arrive/leave on time).
The most convenient public transport option to get to Ida Ougourd market from Essaouira is to take a Grand Taxi. This is the exact same fare as the bus (7DH per person). Grand Taxis leave from the Grand Taxi station, north of the medina (click here for location). To save walking to the Grand Taxi station, you can get a petit taxi there (7DH). When you get to the Grand Taxi station, say that you would like to go to Ida Ougourd and you will be led to a taxi. On market day, you will only be waiting 5 mins until the Grand Taxi is full and ready to go. Or you can pay for the other seats and have the Grand Taxi to yourself.
To head back to Essaouira after exploring Ida Ougourd market, there are Grand Taxis and minibuses waiting.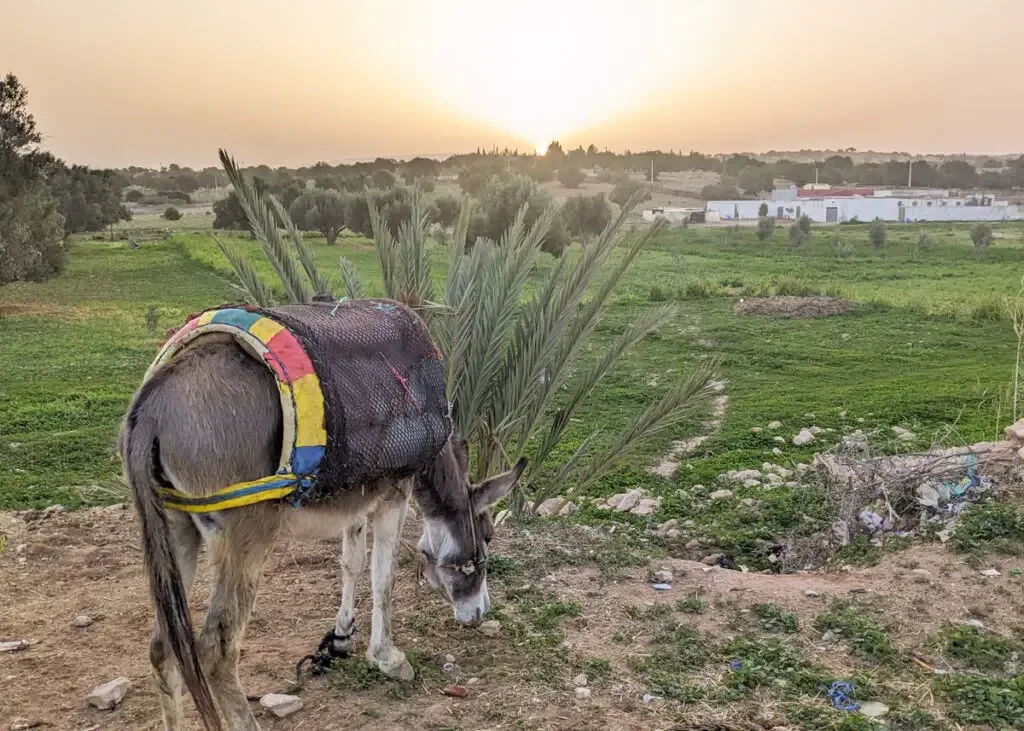 ---
Explore Essaouira ebook
Updated for 2023, the Explore Essaouira ebook is the only travel guide you need for exploring Essaouira. It is jam packed with inspiration on what to do, where to eat, where to stay, and also includes a step-by-step self-guided walking tour (with photos).
This is a PDF download for use offline and on the go (and ad-free!). Save it to read on the plane to Morocco, download to your phone to follow the self-guided walking tour around the medina, or print it off at home before you leave on your adventures and highlight all the bits you want to remember for your visit.
If you have found this website useful for planning your Essaouira adventures, you can show your support by buying Jenny a coffee. Thanks so much!