Is April a good time to visit Essaouira? What's the weather like in Essaouira in April? It it warm enough for the beach? Is everything closed because it is Ramadan? We answer all these questions here and more, so read on.
For European and American travellers, April is a popular time to consider a visit to Essaouira as it coincides with the Easter public holiday days. We all want to maximise our travel time around public holiday days, right? Plus, April is also considered a time when it's much cooler for a Morocco road trip or tour, compared to the summer months, especially if you are planning a trip to the Sahara, or to the central cities of Marrakech and Fez.
However, it should be noted that the beginning of April 2024 coincides with Ramadan (Ramadan ends on the 9th April). And if you're planning to travel over Easter 2024 (Easter Sunday is the 31st March in 2024) then your trip will definitely coincide with Ramadan.
So your questions for visiting Essaouira in April may not be so much about the weather, but more about Ramadan and how it exactly affects your travels. Do read our guide to visiting Essaouira during Ramadan. However, we do partly cover Ramadan in this post, as well as what the weather is like in Essaouira in April, how busy (or quiet) the town is, whether the sea is warm enough for swimming.
READ: When is the best time to visit Essaouira?
Essaouira weather in April
Temperatures in Essaouira in April hover around a very pleasant 20°C, dropping to 15°C in the evening, although the wind can make it feel much cooler, especially on the exposed beach.
There is very little rain in April (average of 3 days), so you are guaranteed sunshine almost every day. The question more to the point is whether it's windy or not; Essaouira is coined "The Windy City of Africa" for a reason! One of the best things to do in Essaouira is kite-surfing, so those windy days will be good for a lesson. If the wind drops, grab the surfboards instead.
And then there are those strange days when the drop in wind brings in a thick sea mist that cloaks the town; the island off the coast disappears, and you can't see from one end of the beach to the other. In fact sat on the beach on a day when the sea mist rolls in, it's so thick that you can't see a few metres in front of you and your clothes, skin, and hair feel damp from sitting in a cloud, although it still feels warm. It really is quite eerie and magical!
But really there are only a handful days like this in Essaouira in April. Most days the glorious sun will be shining.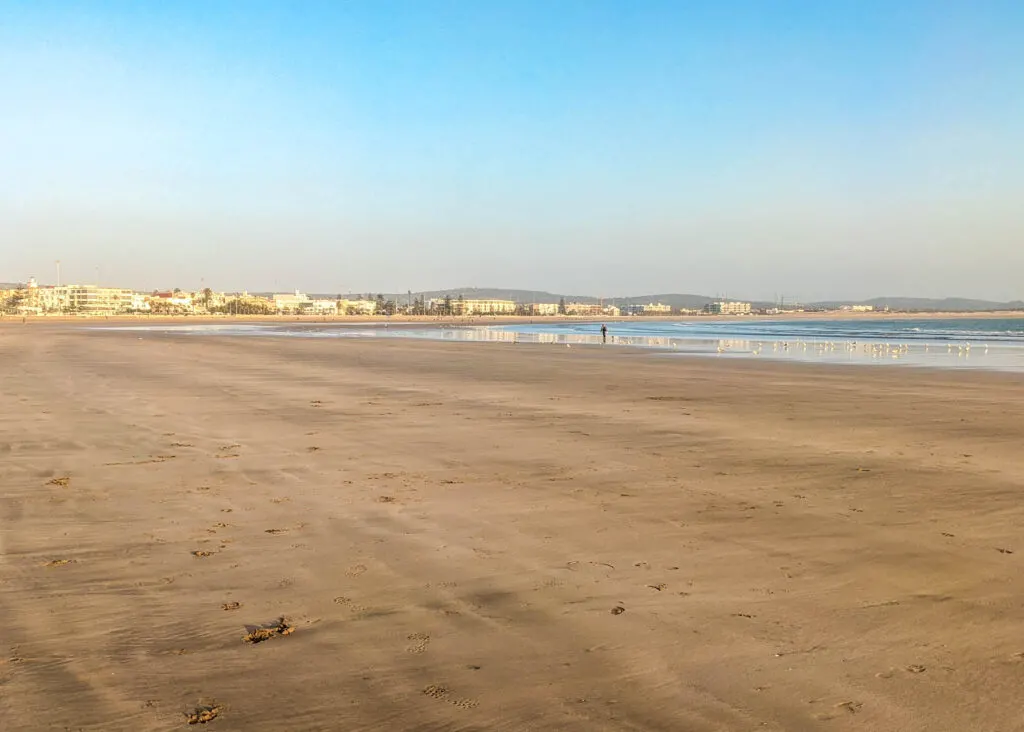 At this time of year in Essaouira, it's always handy to have a light jumper handy, especially early in the morning or evening, or when you're sat at an Essaouira restaurant in the shade.
But don't forget the swim suit as afternoons can be lovely and warm, and sunbeds are laid out on the beach, inviting you to relax with a good book (you may need to angle yoru sunbed with your back to the wind though).
Is Essaouira busy in April?
Not at all, especially during Ramadan. In fact Essaouira is extremely quiet.
The Holy Month of Ramadan is a time of great religious significance for Muslims, and involves fasting from dusk until dawn (this means no food or drink, including water). The majority of businesses close during this time, and for non-Muslim visitors to Essaouira, Ramadan perhaps doesn't seem like an ideal time to visit and enjoy all the things to do in Essaouira.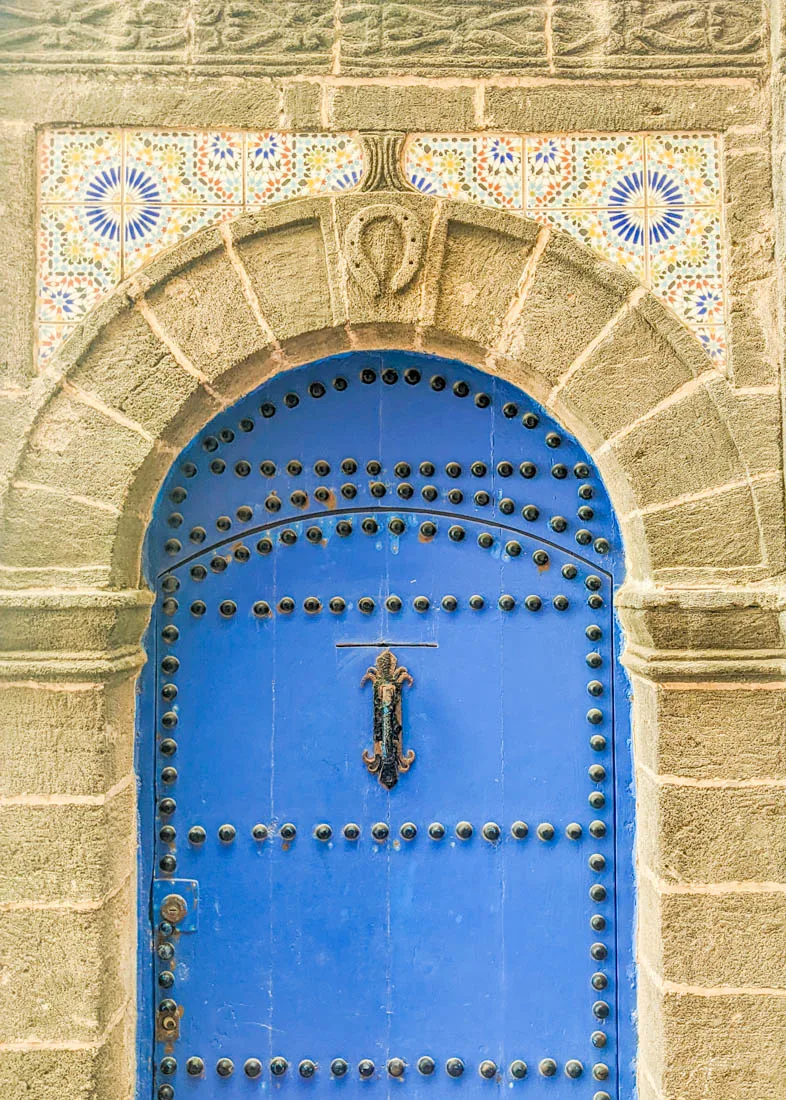 However, Essaouira is is open to tourists and visitors during Ramadan. Almost all accommodations will be open, including the Essaouira hotels, who will be operating usual services (although you may struggle to find staff around prayer time).
Though please do note that businesses will be closed, or have significantly reduced opening hours. Blue shutters line the medina alleyways where usually rug and ceramic goods spill onto the street, street food stalls are almost non-existent, and many local corner shops where you would normally buy bread, milk, and eggs, will be closed. Also, the majority of restaurants in Essaouira will be closed during Ramadan.
But Essaouira is a town that relies heavily on tourism, and after a couple of tough years with the pandemic, it's not surprising that some restaurants and shops are open during Ramadan, especially around Moulay Hassan Square and close to the Ramparts. Hotel restaurants are also open.
You will still be able to find places to buy food. Muslims still eat during Ramadan! The food markets will be open to stock up on fruit, veg, and bread, and there's also the large Carrefour on the main road into Essaouira selling Western items. Self-catering is a good option if you are visiting Essaouira during Ramadan.
Once the end of Ramadan arrives, which is celebrated as Eid al-Fitr, the 'Feast of Fast-Breaking', everything starts to return to normal business hours, restaurants reopen, and there's a party atmosphere as friends and family come together to feast during the day. So if you arrive to Essaouira from 9th April, things will start to get busier, but domestic and international tourism is generally quiet at this time.
Is the sea warm enough for swimming?
If you enjoy an invigorating swim, then yes. This is the Atlantic Ocean after all, and so it's never warm like the Mediterranean Sea. But it's still definitely swimmable, and if you are visiting Essaouria with kids, they'll still have fun in the sea.
Is April a good time to visit Essauoira?
Considering that April coincides with Ramadan, it is a great time to visit a quiet and peaceful Essaouira, and also to witness a truly sacred time of year in the Muslim calendar. It feels the polar opposite to the busy high season months of July and August. There are very few tourists around. The streets will feel quiet and the main Essaouira beach empty during the day. The fishing port is particularly quiet.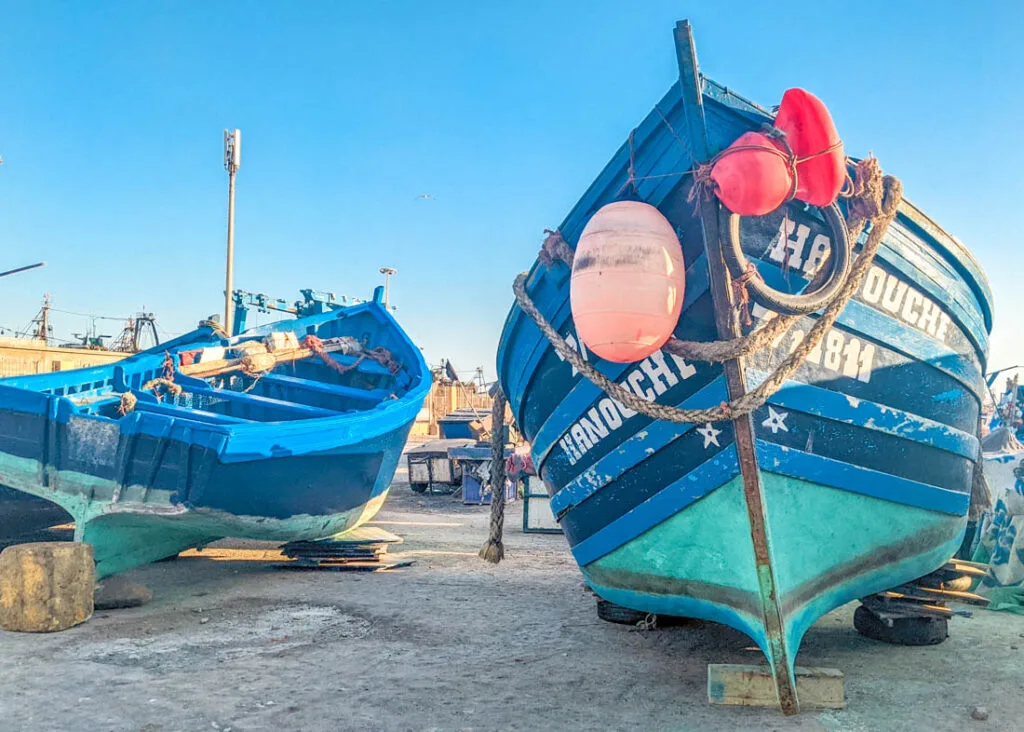 A very nice benefit of visiting Essaouira during Ramadan is that there are no building works taking place around the Medina. At other times, there is always building work going on, especially close to the Jewish quarter. But over Ramadan, this all stops. So you are guaranteed that there won't be any hammering or drilling happening to disturb your peace.
Visiting Essaouria (or anywhere in Morocco) during Ramadan requires a fair bit of preparation with stocking up on food when shops are open. Self-catering accommodation is a good idea so that you're not tied to eating in the same places every day, due to lack of choice.
However, if you arrive to Essaouira after 9th April, the town will begin to reawaken as restaurants and businesses reopen. This is still the low season for domestic and international tourists though, so you will still experience a quieter side of Essaouria.
---
Explore Essaouira ebook
Updated for 2023, the Explore Essaouira ebook is the only travel guide you need for exploring Essaouira. It is jam packed with inspiration on what to do, where to eat, where to stay, and also includes a step-by-step self-guided walking tour (with photos).
This is a PDF download for use offline and on the go (and ad-free!). Save it to read on the plane to Morocco, download to your phone to follow the self-guided walking tour around the medina, or print it off at home before you leave on your adventures and highlight all the bits you want to remember for your visit.
If you have found this website useful for planning your Essaouira adventures, you can show your support by buying Jenny a coffee. Thanks so much!