Is February a good time to visit Essaouira? What's the weather like in Essaouira in February and how warm is it? We answer all these questions here and more, so read on.
By the time February comes around, many Northern Europeans are craving some sunshine. It can be a long winter otherwise. With cheap Ryanair and easyjet flights direct to Morocco, this north African country is an obvious answer for a winter-sun fix and is a good idea for a February half term break.
However, being on the coast, the weather in February for Essaouira can still be rather unpredictable. Admittedly there are mostly dry, sunny days, but don't be too surprised by the odd overcast day or even a drizzly day. The wind also factors into the temperature and although the wind strength is unlikely to be up to July and August levels, expect there to be an odd windy day; Essaouira is called the 'Windy City of Africa' for a reason!
But when that wind drops and the skies are clear, temperatures can easily be between 20°C-22°C during the day in February. Not quite warm enough for sunbathing, but warm enough to enjoy walking around in shorts and t-shirts. That's pretty perfect.
Just make sure you have a jacket for the evenings as it will feel chilly. If you're staying in a riad, which are generally set up for outdoor living and rarely have double glazing, evenings can also feel chilly in your accommodation. If you do opt for a more traditional accommodation, ensure that there are lots of blankets and a fireplace or heaters to keep you warm.
READ: When is the best time to visit Essaouira?
Essaouira weather in February
Daytime temperatures in Essaouira in February hit an average high around 19°C and drop to 12°C at night. Although with houses that aren't insulated for the cold and don't have double glazing or central heating the evenings can feel rather chilly. You will need to pack the woolly jumpers.
There are generally around 5 rainy days in Essaouira in February. Although the sun makes a regular appearance with over 200 hours of sunshine during the entire month and February is one of the least windy months on average in Essaouira, so calm, sunny days are the majority.
But the weather can be rather interchangeable from day to day at this time of the year. So wearing layers is key. One day will be calm with brilliant blue skies, the next day overcast and windy, the next day sunny and windy… you get the idea. Just be prepared. Although we can guarantee it will be much warmer and brighter than London in February.
Early mornings and evenings can feel very chilly and you'll want a jumper and light jacket, but by lunch time you're peeling off the layers and the sunglasses are out. Make sure you have a backpack handy whilst out exploring to hold all your clothing layers.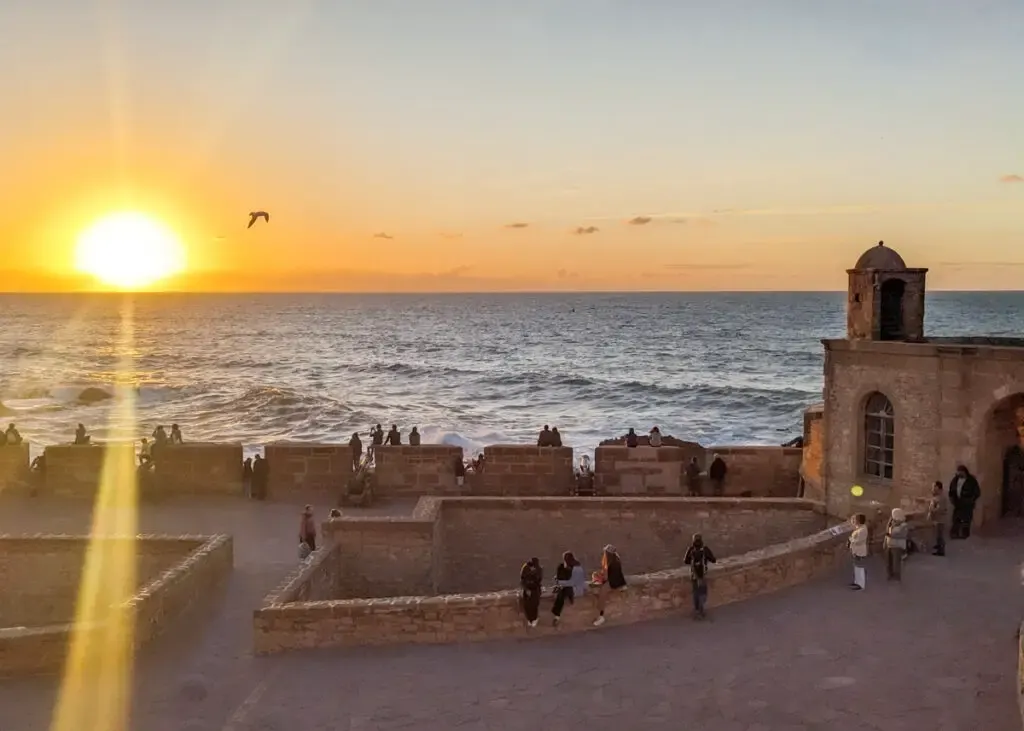 Is Essaouira quiet in February?
It's surprisingly busier than you would perhaps think it to be with international tourists, but no where near the tourist levels of the summer months. It's also a popular time to visit Essaouria with kids as some European schools have a half term break in February.
If it's a sunny weekend with little wind, the beach will be busy with domestic tourists. If you're hoping for a quiet main beach, best to time your visit for midweek, or perhaps venture up to Safi Beach at the far north of town. Click here to read our guide to Essaouira beaches.
Also, on a Friday and Saturday evening, it's worthwhile booking a table a some of the more popular Essaouria restaurants.
Is the water warm enough for swimming?
This is the Atlantic Ocean. So even in the height of the hot summer months the sea feels cold. The only difference is that in the summer months, the sea is a refreshing dip to cool off. Whereas in the winter months, you don't really feel the need to cool off.
However, February is also when the ocean in Essaouira reaches its lowest temperatures. The heat stored from the summer months has long gone, with an average water temperature of 15°C.
But as February is on average one of the least windy months, it is a great time for surfing in Essaouira! So grab a wetsuit and hit the waves! The surf schools are all open at this time of year.
Is February a good time to visit Essaouria?
If you're looking for a winter-sun getaway to lounge by the pool sunbathing with a book, Essaouira in February isn't for you. It just isn't quite warm enough.
But if you just need some warm sunny days to get active in Essaouira with either long walks or surfing, then February is a great time to visit. It's not too busy and you'll have the beach to yourself before 10am. Just bring a jacket for the chilly mornings and evenings, and make sure your accommodation has heating if you're booking a traditional riad.
---
Explore Essaouira ebook
Updated for 2023, the Explore Essaouira ebook is the only travel guide you need for exploring Essaouira. It is jam packed with inspiration on what to do, where to eat, where to stay, and also includes a step-by-step self-guided walking tour (with photos).
This is a PDF download for use offline and on the go (and ad-free!). Save it to read on the plane to Morocco, download to your phone to follow the self-guided walking tour around the medina, or print it off at home before you leave on your adventures and highlight all the bits you want to remember for your visit.
If you have found this website useful for planning your Essaouira adventures, you can show your support by buying Jenny a coffee. Thanks so much!