Goats heads on BBQs, discarded fleeces on the streets, blue doors of shops closed, and a very, very quiet medina… If you are visiting Essaouria during Eid al-Adha, 'the feast of sacrifice', the medina and town will feel very different.
It's a very special time to visit Essaouira, but it's not for everyone. Here we explain what Eid al-Ahda actually is, and what happens in Essaouira during Eid al-Ahda. If you are planning to visit Essaouria in June 2023, which is when Eid al-Adha is expected to take place, then read on so you know what to expect and can be prepared.
You may also be interested to read: Visiting Essaouira during Ramadan.
It is anticipated that Eid al-Adha 2023 in Morocco will begin in the evening of Wednesday, 28th June and end in the evening of Friday 30th June. Although exact dates will be confirmed nearer the time.
What is Eid al-Adha?
Eid al-Ahda is one of the most important holidays in Islam where Muslims attend special prayers, donate to charities, and visit friends and family. It marks the end of Hajj, a religious pilgrimage undertaken by millions of Muslims each year, and the start of the Islamic month of Dhu Al Hijjah, the twelfth and the last in the Islamic calendar.
During Eid al-Ahda, there's a tradition of sacrificing a sheep (or camel or goat) to share amongst family, friends, and those in need to commemorate Allah allowing Ibrahim to sacrifice a ram instead of his son.
This link explains the history of the festival.
This link is a good video by the BBC to explain what the festival involves to children.
Is everything closed in Essaouria over Eid al-Adha?
During the day, before the first evening of Eid al-Adha, Essaouira is very busy with locals buying food and last minute items for the festival (think how busy Christmas Eve is in Christian countries). Public transport is also very busy for the few days leading up to the festival as people are travelling to see family.
Eid al-Adha is officially a 2-day public holiday across Morocco. During these two days, banks, post offices, and public offices are closed, along with many shop and restaurants, and other businesses (including Carrefour). In fact, many businesses close for up to five days as people take an extended holiday.
Shops selling alcohol close at least two days before the festival, and reopen 2-3 days after Eid.
If you had planned to do any Essaouira activities such as kite-surfing or quad-biking, note that these businesses are very likely to be closed over Eid al-Adha.
Typically everything is closed on the first morning of Eid; Muslims are attending special prayers and sermons at the mosque, and sheep/goats are being sacrificed. So, especially if you are self-catering, make sure you have any food essentials in. The Essaouira hotels will be serving meals as per usual.
By the afternoon/evening of the first day, some cafes and smaller businesses (particularly those relying on tourism) start to reopen, and you will see a few street sellers. The beach will also start to get busy later in the day as families take a stroll.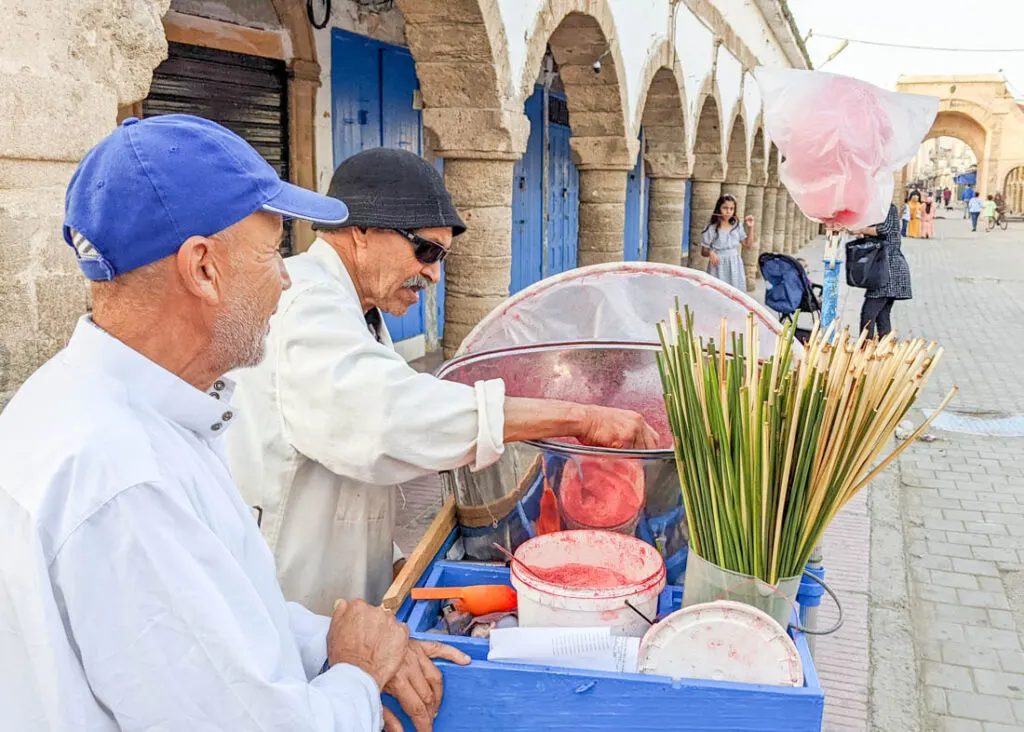 What to expect around Essaouira at Eid al-Adha
Aside from shop doors being closed, you will notice some unusual sights around the medina.
An important part of Eid al-Adha is the sacrifice of an animal, usually a sheep. Ritually, this animal is divided into three parts; one third is for the family, another third is for relatives, and the last third is given to the poor and needy.
Staring in the morning of Eid al-Adha, you can expect to see sheep and and goats heads being bbq'd on the street and in doorways, with an acrid smoke filling the air. There are also discarded sheep skins and animal parts left on the streets to be collected.
Is Eid al-Adha a good time to visit Essaouira?
The evidence of animal sacrifice around Essaouira over Eid al-Adha is rather primeval for modern day Morocco and a fascinating contrast to usual every day life. A visit to Essaouira over Eid al-Adha is certainly a memorable experience, that so few travellers actually get to experience. I personally feel very grateful to have experienced it.
Admittedly the animal sacrificing isn't for everyone, and some Western travellers may find the scenes disturbing, so this may not be the best time to visit Essaouira for you. If you fall into this category, rather than passing comment, it's best to avoid the medina and surrounding town. Either stay at your accommodation and enjoy a riad experience, or take a long walk along the beach.
---
Explore Essaouira ebook
Updated for 2023, the Explore Essaouira ebook is the only travel guide you need for exploring Essaouira. It is jam packed with inspiration on what to do, where to eat, where to stay, and also includes a step-by-step self-guided walking tour (with photos).
This is a PDF download for use offline and on the go (and ad-free!). Save it to read on the plane to Morocco, download to your phone to follow the self-guided walking tour around the medina, or print it off at home before you leave on your adventures and highlight all the bits you want to remember for your visit.
If you have found this website useful for planning your Essaouira adventures, you can show your support by buying Jenny a coffee. Thanks so much!