Your ultimate guide to experiencing a perfect Essaouira sunset your way.
As it's perched on Morocco's western coast, Essaouria offers epic ocean sunsets. Indeed, for any visit to Essaouria, we urge you to make time to watch the sun sink into the Atlantic Ocean; with the sky ablaze with orange hues, soaring seagulls casting silhouettes, and the call to prayer drifting over the rooftops, it really is a magical experience. Get your camera ready!
But what are the sunset times in Essaouira, and where are the best locations to watch the sunset in Essaouira? As always, we've got you covered, so read on.
Disclaimer: This post contains affiliate links. Should you click to purchase, it is at no additional cost to you, but we receive a small commission.
Essaouria sunset time today
Click here for sunset times for the months ahead.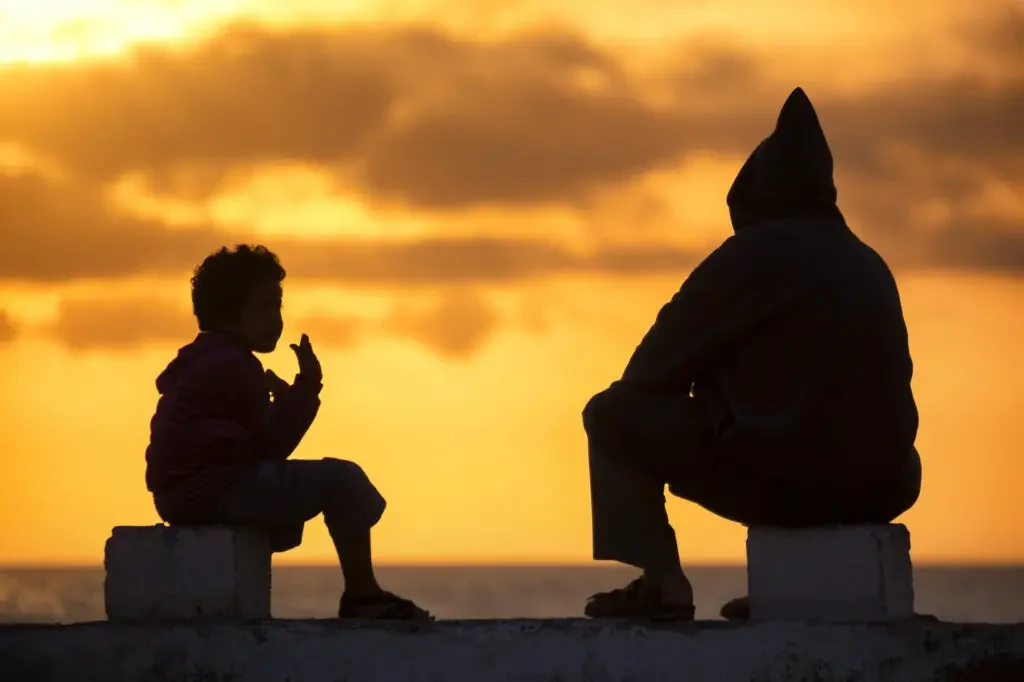 Where can I watch the sunset in Essaouira?
There are a few decisions to make with deciding where to watch an Essaouira sunset. Do you want a big open ocean view? Or do you want the silhouette of rooftops in the foreground? Are you happy to share the experience with other tourists around, or do you want the experience to yourself? And lastly, do you want a beer with that sunset view?
The rule of thumb for watching the sunset in Essaouira is to either get to the beach, get to a rooftop, or get to the ramparts.
Sunset from Essaouira beach
A sunset stroll along Essaouira beach, whether following the shoreline or corniche, is a wonderful way to finish a day in Essaouira.
As the main beach is curved, the sunset view on one end of the beach is very different to the other end. On the medina end of the beach, the sun sets behind the port. Whereas on the other end of the beach, by Beach and Friends, the sun sets over the Atlantic.
Beach and Friends and Ocean Vagabond are fantastic spots for a sundowner. Indeed they are only two bars from just a handful that serve alcohol in Essaouira.
Local lads often come down to the beach during the couple of hours before sunset to play beach football. If you fancy joining them for a game, just ask! You'd be more than welcome.
Sunset from the Ramparts
The Ramparts are perhaps the most popular place to watch an Essaouira sunset, and one of the top things to do in Essaouira. On calm, clear days, especially over weekends and school holidays, be sure to arrive at least 30 minutes before sunset to bag a canon or section of wall to perch on.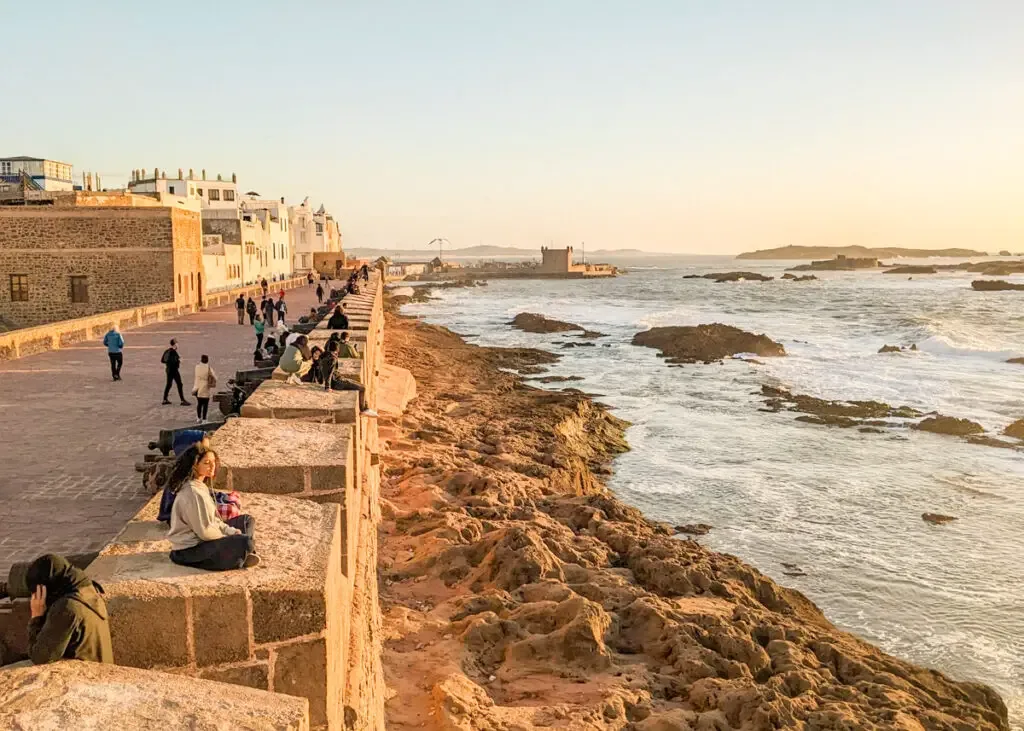 These fortified walls were constructed around the medina in the 18th century to protect the port from attack and are remarkably well preserved. Take in the windswept views of the Atlantic Coast, with the wooden fishing boats, rocky outcrop, and an offshore bird sanctuary. It really is a beautiful spot, especially at sunset.
The entrance to Essaouira's Ramparts can be tricky to find and not where you expect them to be. Head to the top of Rue Skala (which is lined with artisan shops) and through a stone arch. Click here for the Google Map point. From here, walk up the slope to the top of the ramparts. At the top of the slope take a left towards the line of canon.
These ramparts are an 'Essaouira must see', and feature heavily in HBO's hit TV show, Game of Thrones as the set of Astapor. Firstly when Daenerys Targaryen arrives to Astapor, and then again as 'The Walk of Punishment' two episodes later. Read our guide to Game of Thrones in Essaouira.
Sunset from your accommodation rooftop
When choosing accommodation, for me personally, I always look for somewhere with good rooftop views.
If you plan to stay in a hotel in Essaouria, then these hotel-style riads in medina all offer superb sunset view points:
However, if you're looking for an Essaouira sunset view to yourself, then your best option is an Airbnb in the medina. Unfortunately there's not a search filter on Airbnb for rooftops (there really should be for Morocco!), so check photos and reviews to see if there's a good rooftop view.
If you're visiting Essaouira in August (the peak of the high season) and want to be based away from the crowds, then consider Diabat. The rooftop sunset views are equally impressive here, or you may want to experience the luxury of Sofitel Essaouira Mogador Golf & Spa, which is based in Diabat (not Essaouira).
Sunset dining
For a sunset dining experience, head to one of the rooftop bars/restaurants in Essaouira. Taros (featured in the below photo) and Il Mare are two excellent options. Book a table in advance or arrive in good time for sunset to guarantee a table.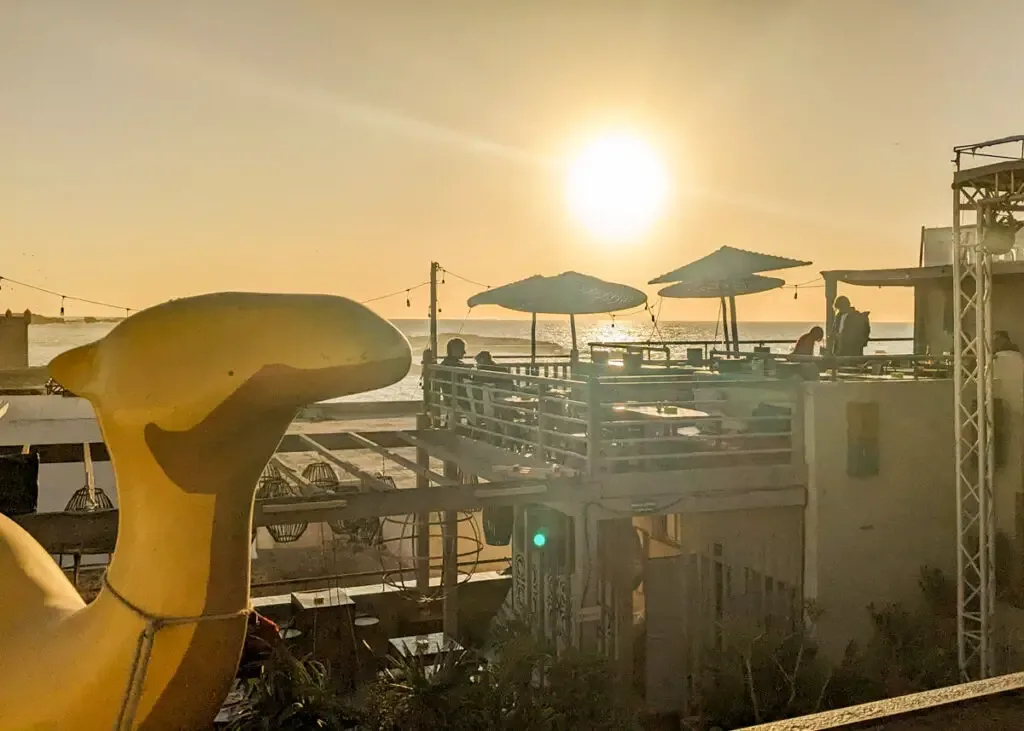 Beach and Friends and Ocean Vagabond at the far end of the beach, both mentioned previously, also serve food with sunset views. And here, you also get to enjoy your beer watching the camels and possibly the kitesurfers too.
Check out our guide to the best bars in Essaouira.
Sunset from the waves
If you're a surfer or kitesurfer, then experiencing an Essaouira sunset from the waves is a pretty memorable experience.
Essaouira surf schools will have closed for the day, so you you'll need your own equipment (or arrange overnight hire) and only go out on your own if you have the experience. There are no lifeguards on duty at this time.
Check out our guide to kite-surfing in Essaouira.
Riding into the sunset
You can even arrange a horse-riding or quad-biking tour for sunset in Essaouira. Both types of tours start in Diabat, just 4kms south of Essaouria, and take you to the beaches south, over and around the dunes. Do note that a quad-bike will take you much further, although horse rising along the beach at sunset is quite a bucket-list experience.
Click here to read about our experience of a 2hour quad-biking tour in Essaouira. This is a must if visiting Essaouira with teenagers.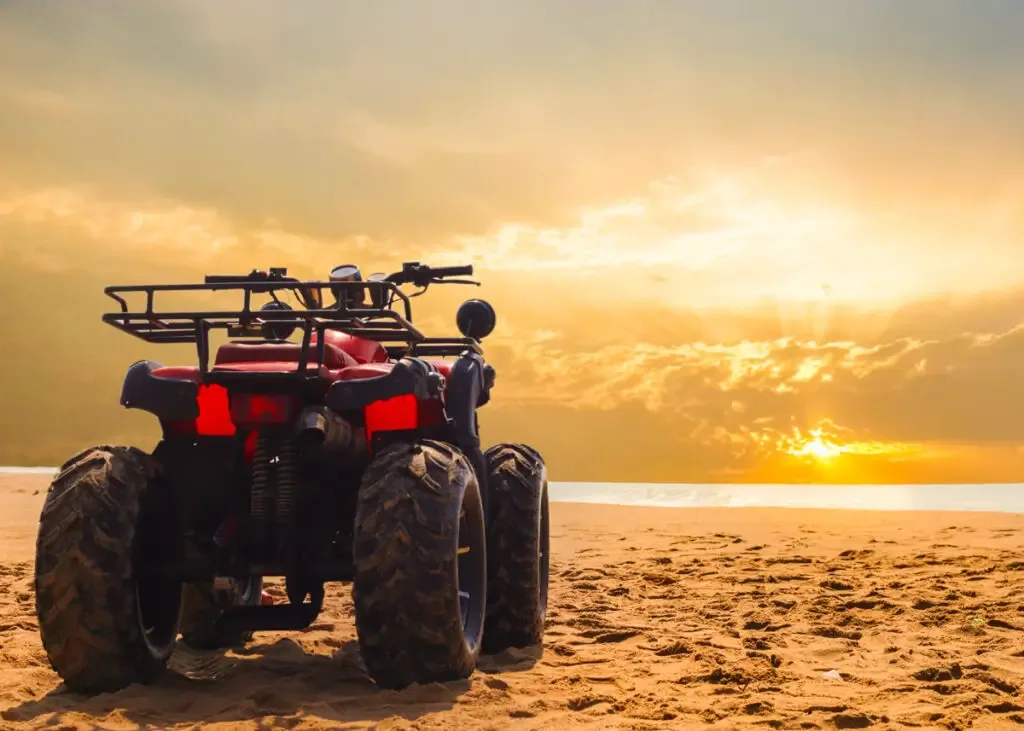 Or how about watching the sunset from a camel? Doesn't get more Moroccan than that!
You can arrange camel rides at the far end of the beach in front of Beach and Friends. You will also be approached by 'tour guides' along the promenade to the camels. However, if you want to arrange a camel more formally, this can be done through Diana Dromadaries.
This is a great option if you're visiting Essaouira with younger kids.
What about sunrise in Essaouira?
Well sunrise is also a beautiful experience in Essaouira, although it obviously takes a bit more effort what with getting out of bed, especially in the summer months!
As the sun rises in the east in the direction of Marrakech, you don't get those epic ocean sunsets. But it's a beautifully quiet and serene experience as very few people are up at this time in Essaouira.
If you're in the medina, head to a rooftop for the best Essaouira sunrise viewpoint. This will have to be at your accommodation as restaurants and bars are closed at this time.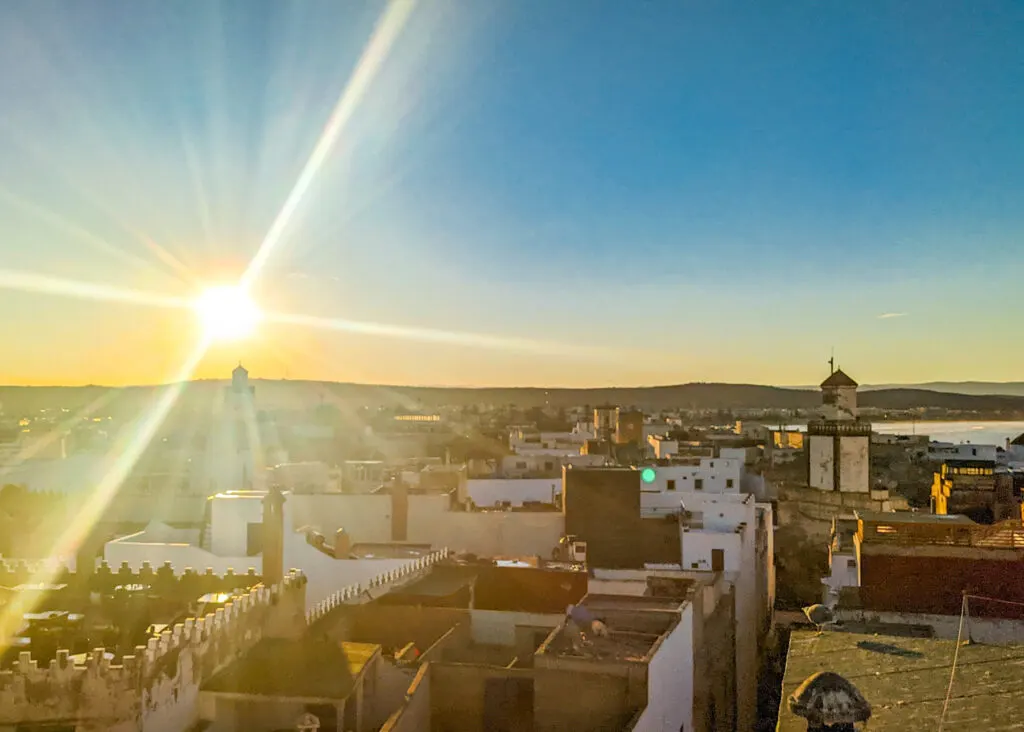 Otherwise, if you're able to get up early and head north to Safi Beach (the beach at the far northern tip of town), climb up the sand dunes and watch the sun rise over Essaouira. Stunning.
Although do check the weather forecast that it will be a clear morning. You don't want to make the effort to get up early, only to find that the clouds have rolled in.
---
Explore Essaouira ebook
Updated for 2023, the Explore Essaouira ebook is the only travel guide you need for exploring Essaouira. It is jam packed with inspiration on what to do, where to eat, where to stay, and also includes a step-by-step self-guided walking tour (with photos).
This is a PDF download for use offline and on the go (and ad-free!). Save it to read on the plane to Morocco, download to your phone to follow the self-guided walking tour around the medina, or print it off at home before you leave on your adventures and highlight all the bits you want to remember for your visit.
If you have found this website useful for planning your Essaouira adventures, you can show your support by buying Jenny a coffee. Thanks so much!