Spacious, airy rooms and incredible roof top views from the medina. Read on for our Palais Des Remparts review.
Palais Des Remparts is an authentic 18th century riad nestled in Essaouira medina, close to the ramparts. Here, the moody Atlantic ocean provides the soundtrack to your stay, and rooms are airy and spacious. But the reason why we love this riad so much, and why it features in our best hotels in Essaouira, is not just the location and history, it's for the fantastic rooftop breakfast, which boasts stunning 360 degree views, across the Atlantic Ocean to the west, and the rooftops and countryside beyond to the east.
Disclaimer: This post contains affiliate links. Should you click to purchase, it is at no additional cost to you, but we receive a small commission.
A note about staying in a riad
Like any riad in Morocco (a traditional townhouse with central courtyard), sound carries. Voices of guests coming and going carry up through the central open courtyard, and you hear every time a door opens or closes. Most guests adhere to being quiet and it's all part of experiencing a stay at a traditional riad, one of the top things to do in Essaouira.
Plus, being in the medina and with single glazed windows (typical of a riad), the call to prayer will be heard from your room and may wake you in the early morning (sunrise). Just something to bear in mind.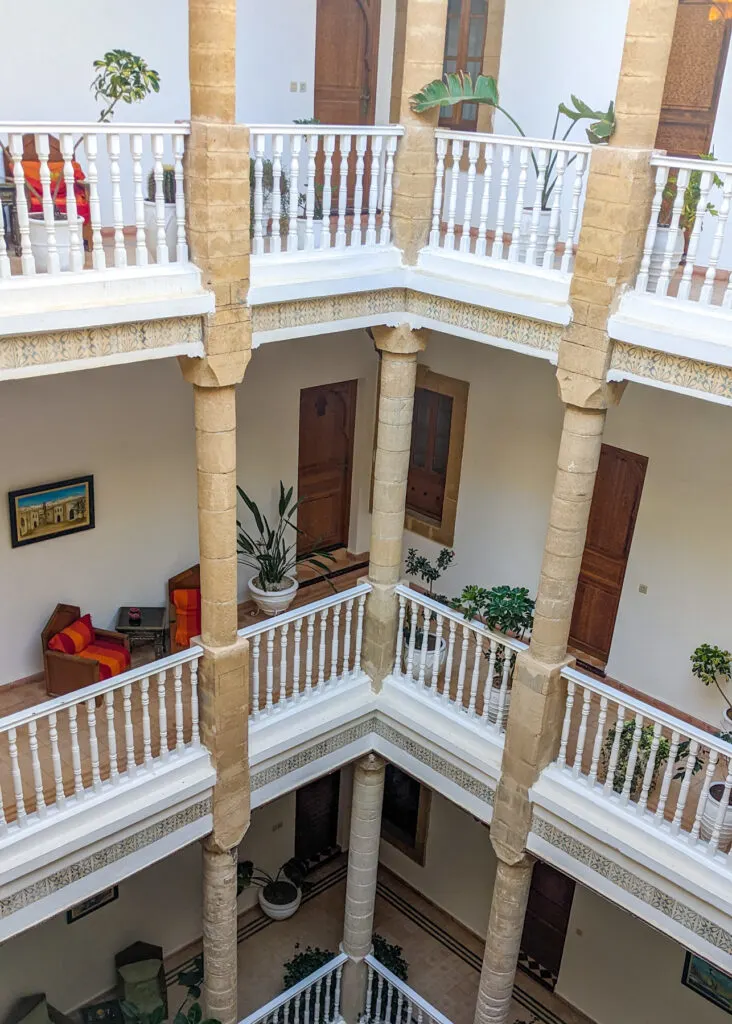 Arriving to Palais Des Remparts
I arrived to Palais Des Remparts late on a drizzly December evening. It seemed odd dodging puddles in the usually dry and dusty medina, but Essaouira in December can be a bit all over the place weather wise.
Having visited Essaouira many times before, I knew where the riad was situated; down a quiet alleyway, just a step back from the alleyway which runs along the ramparts. But if you're a first time visitor, it's marked clearly on Google Maps (make sure you download an offline map of Essaouira before your arrival). Click here for location.
Thankfully someone was still up and waiting for my arrival and handed me the key to my room. But as it was past 10pm, most of the lights were out in the riad and it was probably a bit late for the usual mint tea welcome that is custom at Moroccan accommodations.
My room
I was given the key to room 305, on the third floor (there's a lift). I was travelling to Essaouira alone for this trip, but I still made sure I booked a room with space and a big double bed.
My room felt spacious with white-washed walls providing a fresh feel, and crafted woodwork and wooden beams adding character. The curtains seemed a little tired, but I appreciated the black out blinds. There was a TV in the room, I couldn't get it to work, but wasn't too bothered about it so didn't ask to get it fixed. Plus the heater was very welcome as it was December, and the nights get rather chilly in Essaouira at this time of year.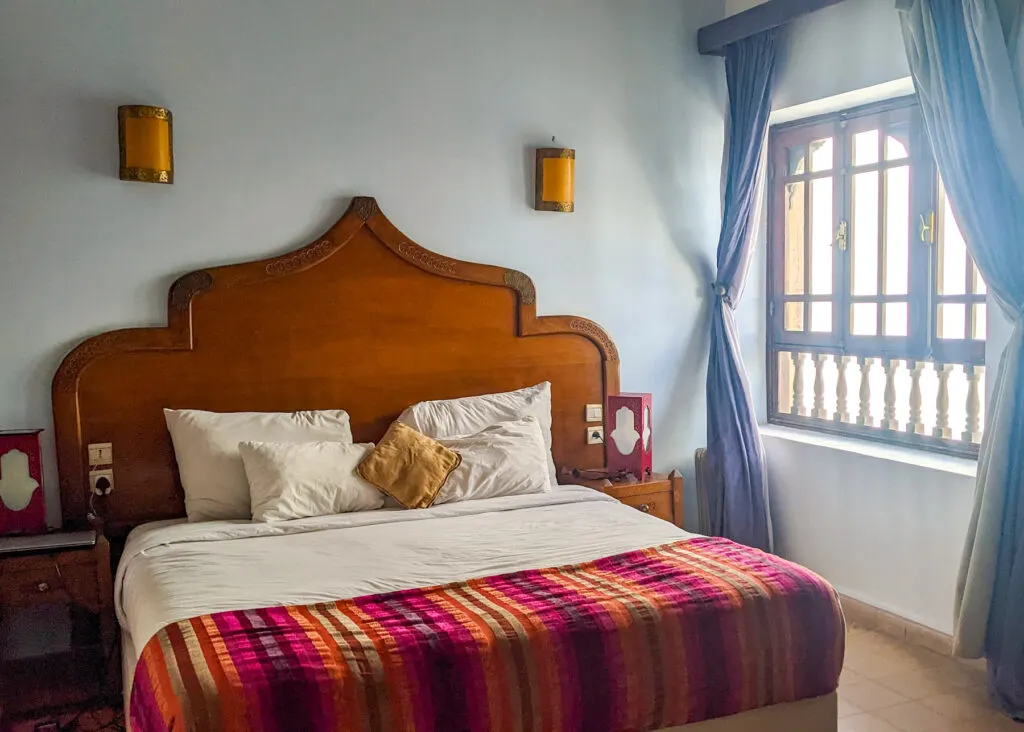 The bathroom too was spacious, decorated with classic Moroccan green and beige tiles, and a huge bath inviting me for a soak (with an overhead shower). It felt a little on the tired side, but I'm going to put that down to 'character'. And in all honesty, being able to lay out flat in a deep hot bath erases any 'character'.
Windows sat either side of the room. One side looking into the central courtyard and the other looking out to the ocean. However, I only had a very partial ocean view as adjacent Salut Maroc blocked most of it and I could see into their restaurant area (it's worth popping over there for a meal, and is one of the few restaurants that sell alcohol in Essaouira medina). Being a quiet time of year, I wasn't bothered at all from noise drifting over from customers at Salut Maroc. But I do wonder if I'd be saying the same it I stayed here in the summer months.
Falling asleep to the sound of crashing waves is the perfect natural white noise, and I slept wonderfully. Although the call to prayer at sunrise did stir me each morning, but I managed to drift back to sleep.
Breakfast
The breakfast is by far the best part of a stay at Palais Des Remparts. Served from 8am each day, breakfast is served on the rooftop with one of the best views in the medina. If sat outside, you can see across the fishing port and along the beach towards Diabat one way, and across the ramparts the other. If sat inside, your view is across the rooftops of Essaouira's medina and a good spot to watch the sunrise.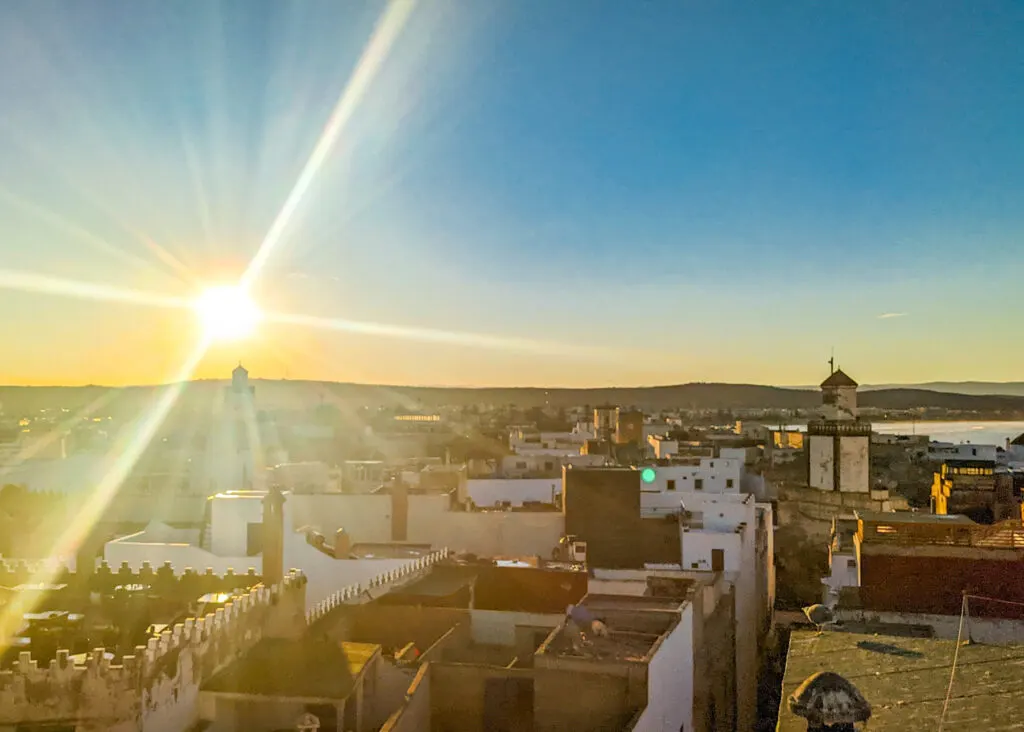 If you walk up to the next terrace, there are 360 degree views with sun loungers for the warmer weather. This terrace is especially beautiful for both sunrise and sunset in Essaouira.
Breakfast is the standard Moroccan breakfast of eggs, tea/coffee (ask for Lipton Tea with milk on the side if you want an English tea), orange juice, selection of breads with jam and honey, and a yogurt. If there are only a few guests, this will be served to your table, but if the riad is busier then a buffet is served.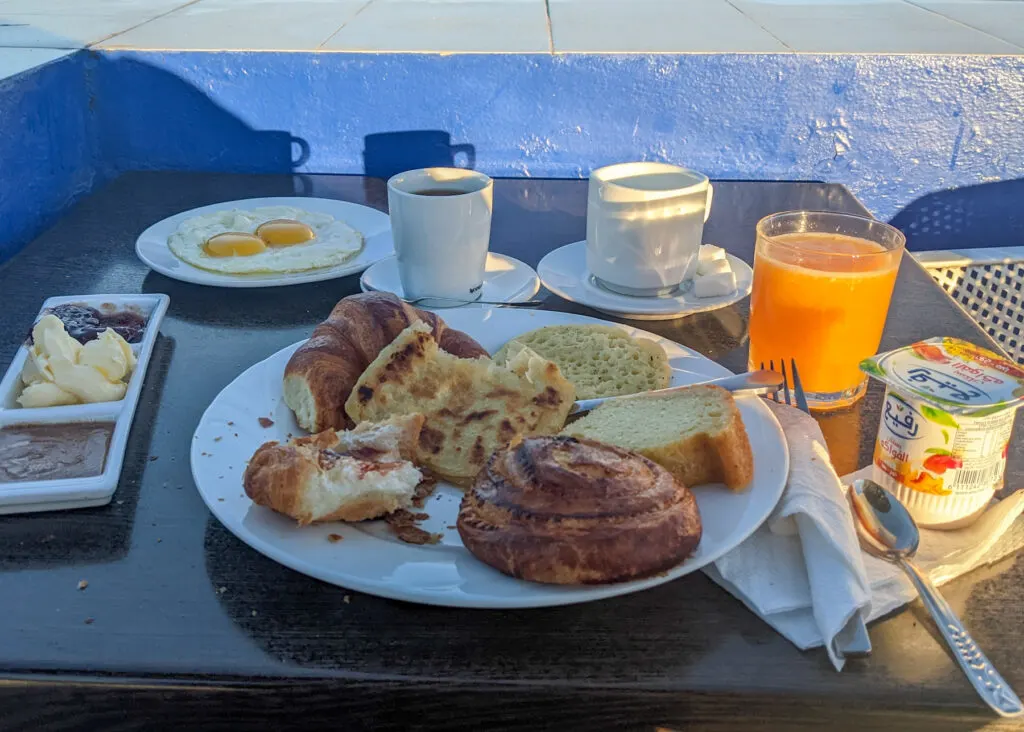 Wifi
The wifi is very good and with a separate router on each floor, it means that you will have good access whichever floor your room is on.
Spa
There is a spa onsite offering hammam and spa treatments, including Berber massage; all reasonably priced. If this is your first experience of a Moroccan spa, then read our guide to a hammam in Essaouira as inhibitions need to go out of the window for this experience.
Booking your stay at Palais Des Remparts
A three night stay in December 2022 (low season) cost me £150 with a discount on booking.com.
Click here to check prices and availability.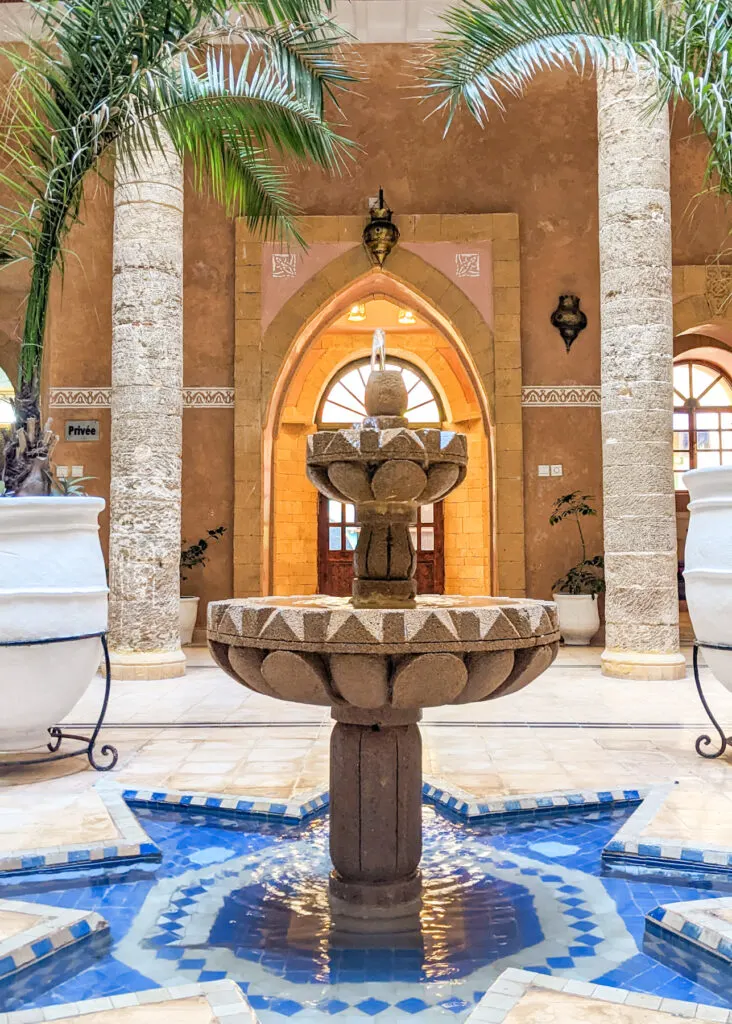 Final thoughts on Palais Des Remparts
The location and breakfast views are what make a stay at Palais Des Remparts so special, and with spacious, airy rooms to return to after a day of sightseeing (perhaps on our self-guided Essaouira walking tour) this historical riad oozing with character is a great place to base yourself in the medina.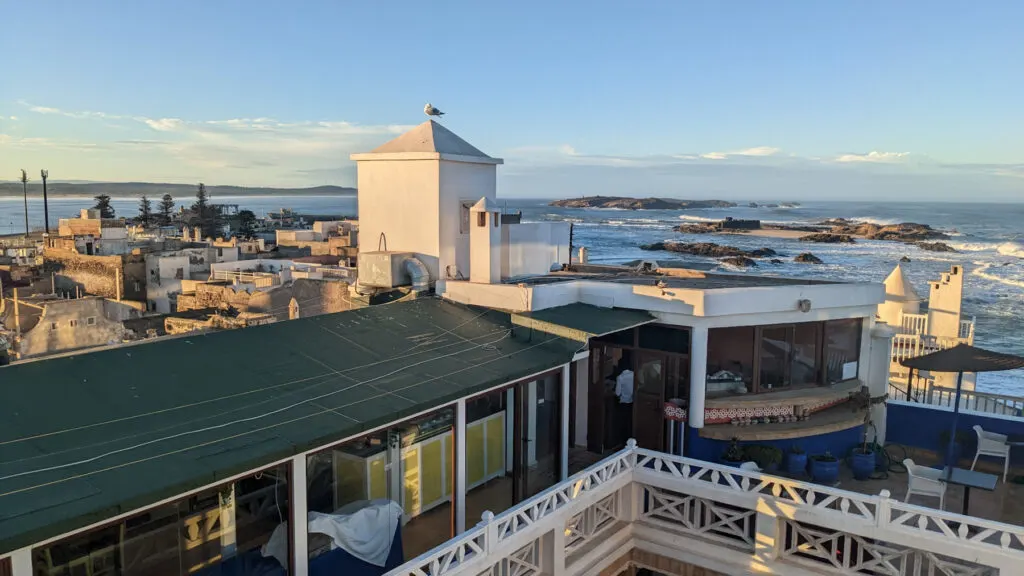 ---
Explore Essaouira ebook
Updated for 2023, the Explore Essaouira ebook is the only travel guide you need for exploring Essaouira. It is jam packed with inspiration on what to do, where to eat, where to stay, and also includes a step-by-step self-guided walking tour (with photos).
This is a PDF download for use offline and on the go (and ad-free!). Save it to read on the plane to Morocco, download to your phone to follow the self-guided walking tour around the medina, or print it off at home before you leave on your adventures and highlight all the bits you want to remember for your visit.
If you have found this website useful for planning your Essaouira adventures, you can show your support by buying Jenny a coffee. Thanks so much!