Sat around Latifa's family-home kitchen grating a fourth tomato for our vegetarian couscous, I came to realise that this experience was not just about an Essaouira cooking class, this was four women enjoying each other's company and learning about our separate families and way of life.
I'm not a cook and have never really enjoyed cooking. In our time-constrained life in the UK, spending hours lovingly making a meal for my boys to gobble up in a matter of seconds just doesn't rank high on my wish list. Although I do love food and I'm always happy for people to cook for me.
But with my mum opposite me sifting couscous with Latfia, the local lady teaching us how to cook a Moroccan feast, and her sister, Rachida, tending to the purposely-charcoaled aubergines behind, I realised how much I was enjoying it. There were no time constraints, it was a wonderfully relaxed environment, and I was genuinely touched how much Latifa opened up to us about her life as a business woman, mother, and wife in Morocco.
If you are looking for an Essaouira activity which provides you with an authentic insight into local life, an Essaouira cooking class is perhaps the best thing you can do.
Shop for ingredients
Latifa met my mum and I outside Bab Marrakech shortly after 9am. It should have been earlier, but we were caught out by our Dar Loulema riad accommodation serving breakfast at 8:30am and no earlier. Latifa was very accommodating to our lateness.
We ambled along Rue Mohammed El Qorry, towards the markets in the heart of Essaouira medina, discussing the possible dishes we could learn to cook with Latifa that day. Mum and I opted for vegetarian dishes, and in all honesty, we were happy to go with Latifa's recommendations; she is the expert after all!
We decided on an aubergine salad for starters, followed by a vegetarian couscous for the main dish. Dessert would be an apple cake. Yum.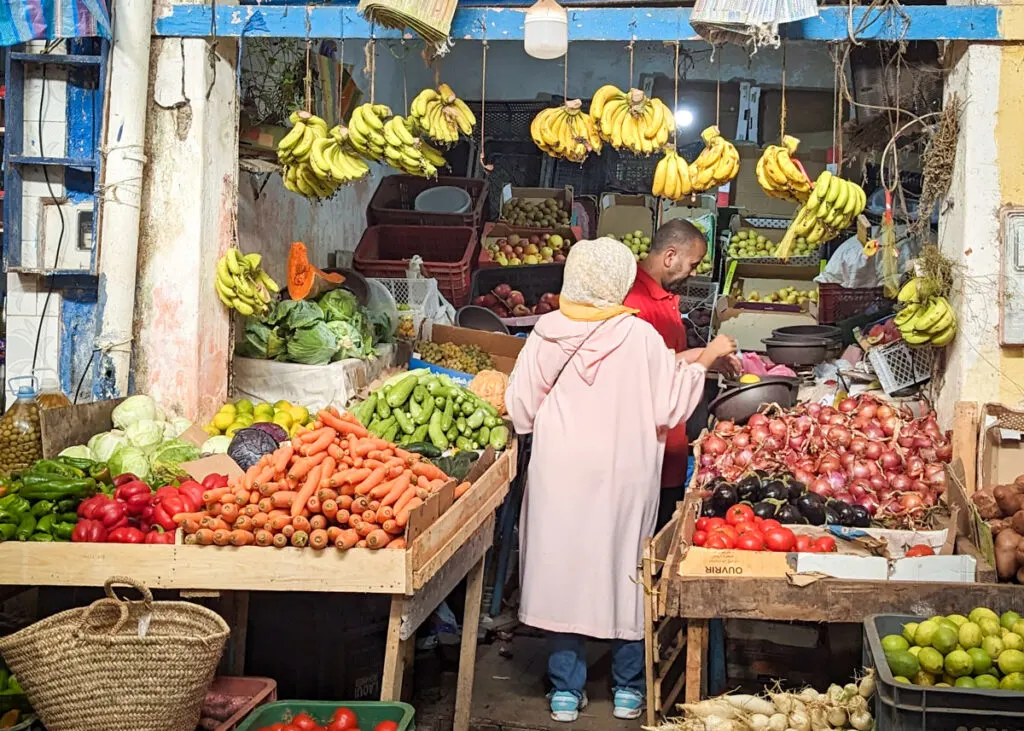 At home, we're a family that orders our grocery shopping online and gets it delivered to our front door once per week. Extremely convenient for our over-scheduled lives.
However, in preparation for our Essaouira cooking class we were visiting various stalls along and around Avenue Mohamed Zerktouni for separate ingredients; spices from the spice stall, eggs from the chicken stall, veg from the grocery stall, couscous from the dried foods stall, bread from the medina bread oven, and mint tea leaves from a wooden cart only selling mint tea leaves.
At each stall, Latifa would chat away to the stall owner as old friends. What a wonderful community that our modern-day lives are devoid of due to convenience.
Armed with full shopping bags we made our way out of Bab Doukkala and caught at petit taxi to Latifa's family home, a few minutes drive from the medina.
Arriving to the kitchen
We climbed the two flights of stairs up to the kitchen and dining area of Latifa's home. Her parents moved to Essaouira from the countryside when their children were of schooling age for a better education and built this family home. It's really beautiful decorated in classic Moroccan tiles and furnishings.
There are other cooking classes in Essaouira that take place at a restaurant or hotel. But actually having a cooking class in someone's home makes it all the more special and authentic.
Before we started preparing the food, we met Latifa's sister, Rachida, who greeted us with biscuits and fresh mint tea, perfectly setting the relaxed ambience of the next few hours.
And it was indeed hours of food preparation ahead.
Get cooking
My main takeaway from this Essaouira cooking experience is the amount of time and care that goes into Moroccan cooking, and certainly the way Latifa does it. This is far from a rushed affair with meticulous preparation of numerous ingredients. It honestly makes a Christmas dinner look easy.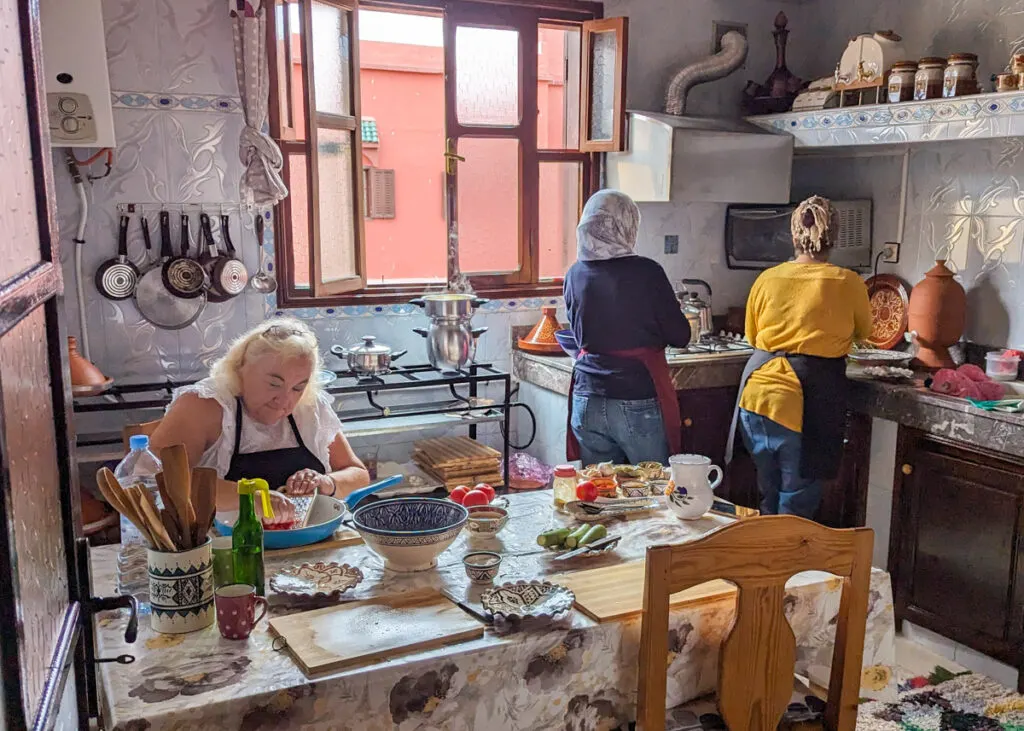 And after grating tomatoes, which I never even knew was a thing, I have a new appreciation of canned tomatoes and tubed puree. I'm sure the cooking purists amongst you will be shaking your heads thinking, 'it's not the same'. Well I actually beg to differ.
But the grating of carrots, tomatoes, garlic, fine chopping of olives, onions and lemon, steaming of couscous four times over with manual sifting and cooling in between, finely measured spices and a trillion other steps that I have since forgotten, all took place to a backdrop of no time constraints, allowing conversation to flow and providing a focus of creativity. Items could be left to cook whilst we prepped ingredients, with no timers buzzing or burnt smells warning. Although I'm sure this was mostly down to Latifa's expertise; she's been running these Essaouira cooking classes for quiet some time now.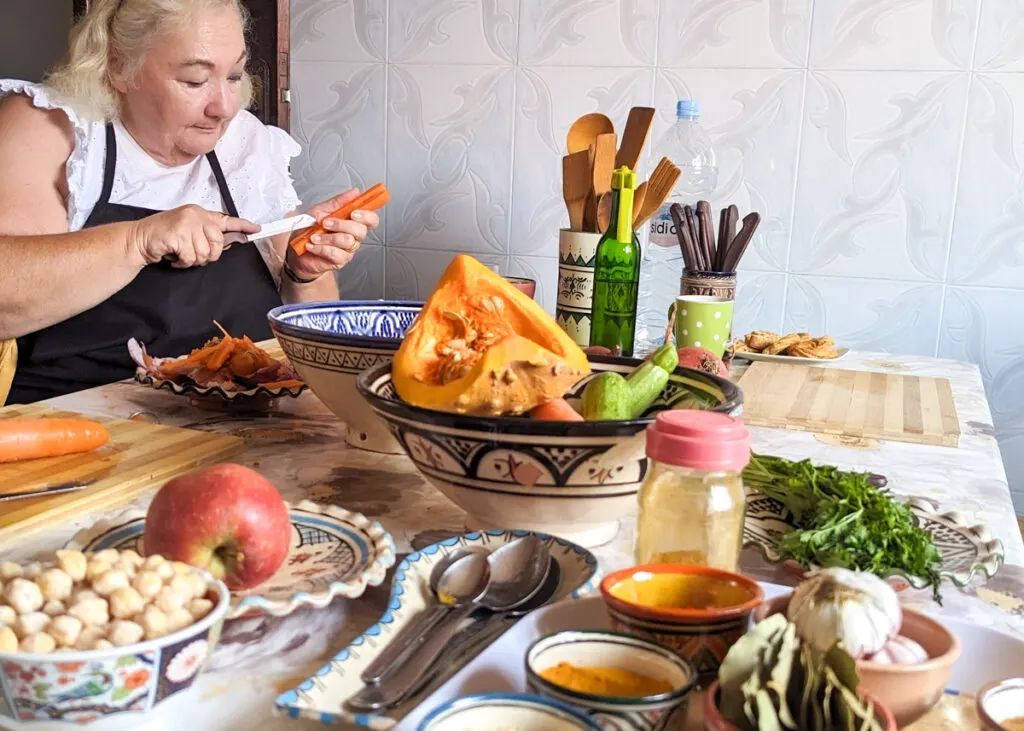 Latifa was also very patient with my rather obvious lack of culinary skills. I gave her quite the confused expression when she asked us to remove the centre of a carrot, but she patiently re-showed me, leaving me to it. Mum also learned how the way she'd sliced onions and apples for decades was perhaps not us to Latifa's standards; it was really quite amusing.
But even though this was a cooking class, the experience went beyond food preparation. I was just enjoying the process and ambience, and it was lovely for my mum and I to spend relaxed time together away from husbands and kids.
I doubt I'd ever be able to recreate what we made that day in Latifa's kitchen, but if you are so inclined to try again at home, Latifa will message you the ingredients and recipe.
Eat your creation
Well who knew I was such a good cook? The food tasted superb, if I do say so myself.
Subtle flavours, beautifully blended, and by this time it was past 2pm and we were hungry.
Latifa joined us for the meal, and we continued conversations about growing a business around family life, something all working mums can relate to, and then her sister showed us some of her beautiful broidery creations. These are two very talented sisters who have been brought up in such a loving home.
In all honesty, there was too much for us to eat. But Latifa gave us boxes of the apple pie to take back to our accommodation and assured us that the remainders would not go waste.
We got in a petit taxi back to the medina and bid farewell to Latifa, who had shared with us far more than her cooking skills.
I doubt I'll ever have the patience or time to recreate the meals at home again. But it washonestly one of the best experiences I've had in my many years travelling to Essaouira.
How to book your Essaouira cooking class
Head to Latifa's website to book your class. She's very prompt on email, so if you don't hear back from her within a day or two, there may be something wrong with her website (which is what I experienced). So feel free to email us, Explore Essaouira, and we will point you in the right direction.
Latifa can arrange class for couples and groups of all ages, and all days of the week.
---
Explore Essaouira ebook
Updated for 2023, the Explore Essaouira ebook is the only travel guide you need for exploring Essaouira. It is jam packed with inspiration on what to do, where to eat, where to stay, and also includes a step-by-step self-guided walking tour (with photos).
This is a PDF download for use offline and on the go (and ad-free!). Save it to read on the plane to Morocco, download to your phone to follow the self-guided walking tour around the medina, or print it off at home before you leave on your adventures and highlight all the bits you want to remember for your visit.
If you have found this website useful for planning your Essaouira adventures, you can show your support by buying Jenny a coffee. Thanks so much!