This was my parents' first visit to Essaouira and I wanted to book them into a classic medina riad in a central location to limit their walking. Staying in a riad introduces a visitor to the charm of this coastal Moroccan town, and I found a good rate on booking.com for Dar Loulema's quirky rooftop studio with a nautical décor and sunset views, sleeping four. The photos and location looked perfect.
I booked the three of us in for four nights. However, by midnight on the second night I was back on booking.com researching other accommodation options for our final two nights. Keep reading this Dou Loulema review to find out why.
Disclaimer: This post contains affiliate links. Should you click to purchase, it is at no additional cost to you, but we receive a small commission.
Where is Dar Loulema located?
A few days before our visit, I rechecked the location of Dar Loulema on Google Maps. This didn't look right. The riad was next to Taros, Essaouira's medina nightclub? Surely I wouldn't have booked somewhere in that location. I'm a regular visitor to Essaouria, hence running this blog.
I then checked the location on booking.com, which placed Dar Loulema on a street behind, almost next door to hotel where I had previously stayed. This is where I had remembered the location to be.
So I contacted the Dar Loulema to confirm the location, who promptly got back to me with directions. The booking.com location was incorrect and Google maps was correct. This is the exact location of Dar Loulema.
I had booked my parents into a riad adjacent to lively Taros! It was too late to change things and we decided to go with the flow.
Arriving to Dar Loulema
It can be rather tricky to find Dar Loulema as you have to walk down a couple of dark, covered alleyways, which new visitors to Essaouira may find unsettling. But it's very safe here, and once you've found your way, it's straightforward.
From Place Moulay Hassan, take the alleyway along the rampart walls (Rue Sqala), just next to Banque Populaire. 25 meters along this alleyway is a Bureau de change. Take a right down the covered alleyway before the Bureau de change, and then the first right along a dead-end alleyway. At the end is a blue door with a copper sign above reading 'Dar Loulema'.
Guests are not provided with front door keys, so there's always a member of staff listening out for the door knock or buzzer.
We were provided with a warm welcome and showed to our studio room on the top floor.
There is no lift at Dar Loulema and there are three flights of stairs to get to the top of the riad if you are staying in the studio.
Rooms at Dar Loulema
The main rooms at Dar Loulema are all individually styled featuring Moroccan décor. They each offer a seating area and an ensuite bathroom with a shower and mosaic tiles.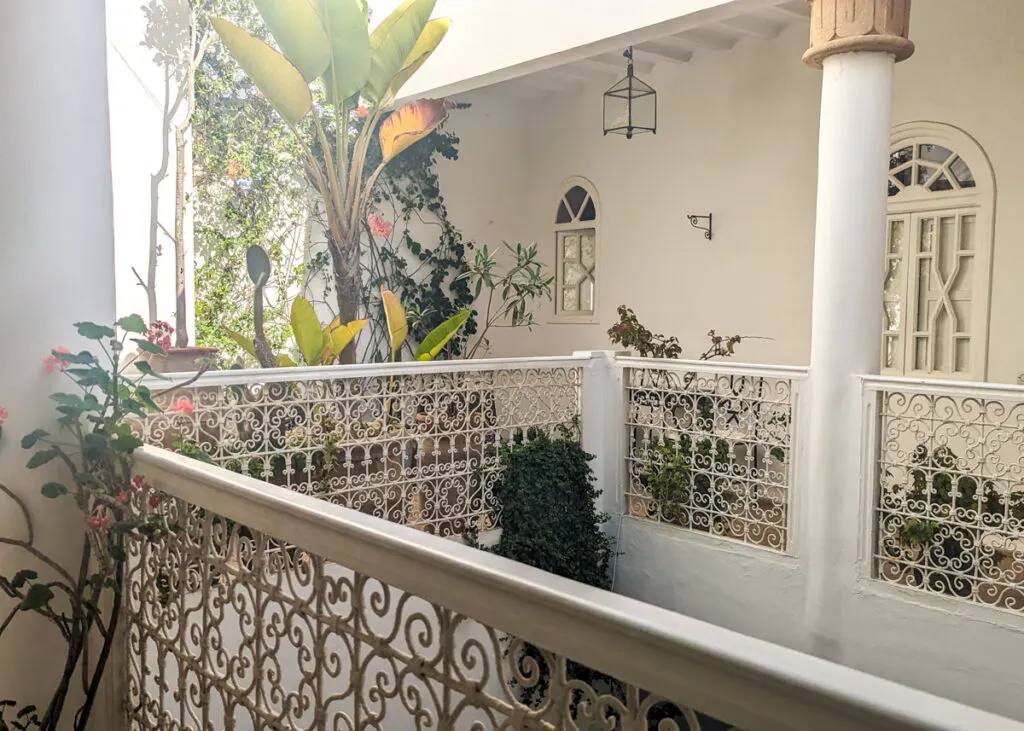 However, we had booked into the studio, which is spread over two floors and a terrace with stunning views over the Atlantic Ocean.
The lower floor consists of a double bedroom, seating area, separate toilet, and a bathroom with separate shower, double sink, and bathtub. Upstairs is a larger seating area where a sofa can be converted into a bed, with large windowed-doors leading out to the terrace. On the terrace are two sun loungers and a small seating area with four chairs.
The studio continues a nautical theme throughout with portholes used for mirrors, wood panelling , and unusual lamps.
A kettle and tea cups are provided, but there's no fridge and you will need to bring your own coffee and tea bags (these can be bought from Carrefour, a French supermarket on the edge of the city).
It felt spacious for the three of us, and would have been perfect if it weren't for the noise levels.
Earplugs at the ready
The music at neighbouring Taros on our first night subsided around 11:30pm. Mum and I breathed a sigh of relief and simultaneously raised our eyes to heaven as my Dad let out a vibrating snore.
I snuggled back into bed, and as if on cue, the pumping music restarted and got louder and louder. There were short lulls teasing you that it was over, only to return with gumption and a crowd answering the DJ back to spur him on. I felt old.
I think the music finally finished around 1am, only to then be woken by the call to prayer at 6am for sunrise from the mosque behind the riad.
Perhaps this was just a once off? Unfortunately, the next night was worse, accompanied by tap-dancing seagulls on the roof (we later found out that the tap shoes were actually a tin can). The music went on until 2am. I decided that the next day we'd move out and stay somewhere else.
In the light of day, I thought it best to try and find some ear plugs rather than move on. I asked the riad manager where best to buy some, and he knowingly opened a large drawer next to his desk and said to take as many as we needed.
Obviously this wasn't the first time guests had asked him for ear plugs.
That third night, Mum and I wore the ear plugs (Dad didn't seem to need them) and they worked a treat. Finally a good night's sleep.
Dining at Dar Loulema
A lovely breakfast is served on the top floor from 8:30 each morning. If you need to eat earlier than this, let the staff know the day before.
We were served a lovely spread of Moroccan and French breads, tea and coffee, and a fruit salad.
It's a beautiful setting and the perfect way to start the day.
Whilst Dar Loulema can serve other meals and drinks throughout the day, there are so many wonderful Essaouira restaurants on your doorstep, that you probably won't feel the need.
Despite what the in-room brochure states, you cannot purchase alcohol at Dar Loulema. However, staff are happy for your to purchase alcohol outside of the riad and bring it back to your room. Check out our guide for where to buy alcohol in Essaouira. Please note that there is no fridge in the rooms.
The rooftop
The terrace from our studio at Dar Loulema offered stunning sunset views across the ocean. However, for 360° views, head to the rooftop. This is also a special place to watch the sunrise.
There are sun loungers and seats up on the rooftop should you want to relax and take in the views while reading a book.
Things to do
Being in the heart of the medina, Dar Loulema is a great location for exploring the ramparts, the fishing port, Sqala du Port, as well as following our self-guided Essaouira walking tour.
For more ideas on what to do in Essaouira, head over to our guide: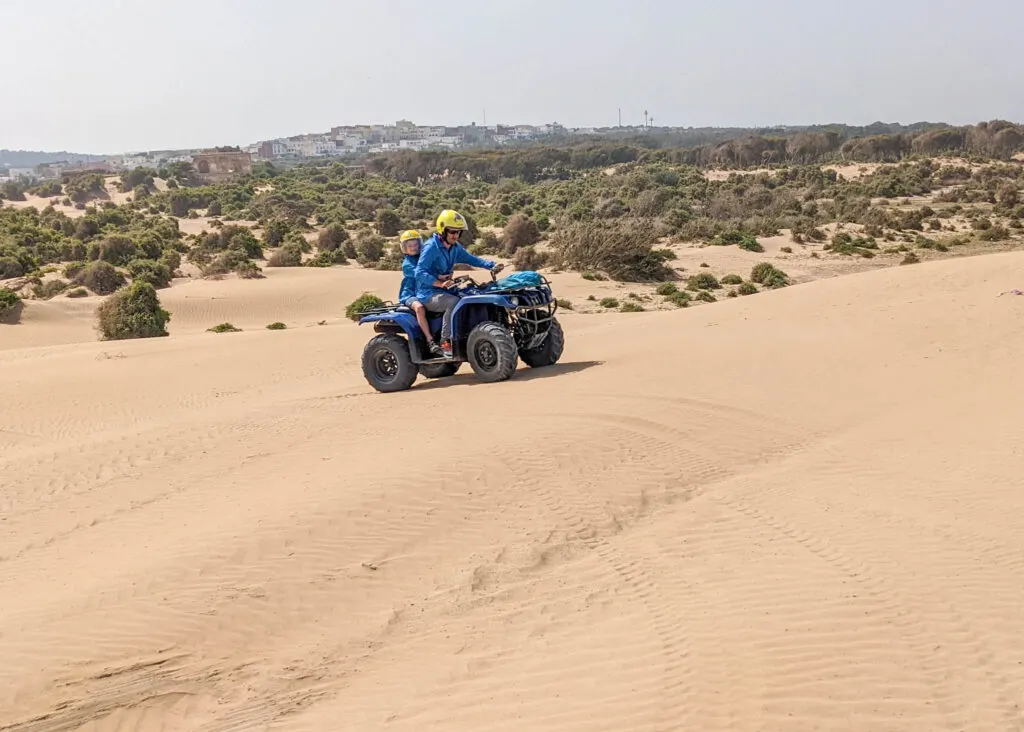 Top 25 things to do in Essaouira
Wondering what to do in Essaouira? Whether you're seeking adventure, or need to relax and unwind, here we provide a detailed guide to all the things to do in Essaouira, so that you can get the most out of your visit. From surfing to souks, we've got you covered.
Final thoughts on staying at Dar Loulema
Dar Loulema is a wonderfully charming riad, staff are very welcoming and accommodating, and the breakfast spread was a perfect way to start the day. The sunset and sunrise views from the rooftop are very special. Plus, our studio was a fantastic space.
It's a convenient location, but a huge shame that the riad is immediately next to the booming nightly music of Taros. This riad ticks so many boxes, but the noise level means that Dar Loulema hasn't made it onto our list of best hotels in Essaouira.
However, the noise isn't actually a deal-breaker. Ear plugs do indeed do the trick if you're someone, like us, who doesn't feel the need to join the party until 2am and would rather sleep.
Also I should mention, Taros is a great rooftop bar for a sundowner and earlier in the evening there's often more relaxed acoustic music playing. Don't avoid the place completely. You never know, you may be on the dancefloor at closing time!
Click here to check availability and rates for Dar Loulema.
---
Explore Essaouira ebook
Updated for 2023, the Explore Essaouira ebook is the only travel guide you need for exploring Essaouira. It is jam packed with inspiration on what to do, where to eat, where to stay, and also includes a step-by-step self-guided walking tour (with photos).
This is a PDF download for use offline and on the go (and ad-free!). Save it to read on the plane to Morocco, download to your phone to follow the self-guided walking tour around the medina, or print it off at home before you leave on your adventures and highlight all the bits you want to remember for your visit.
If you have found this website useful for planning your Essaouira adventures, you can show your support by buying Jenny a coffee. Thanks so much!